Visiting the south of Sicily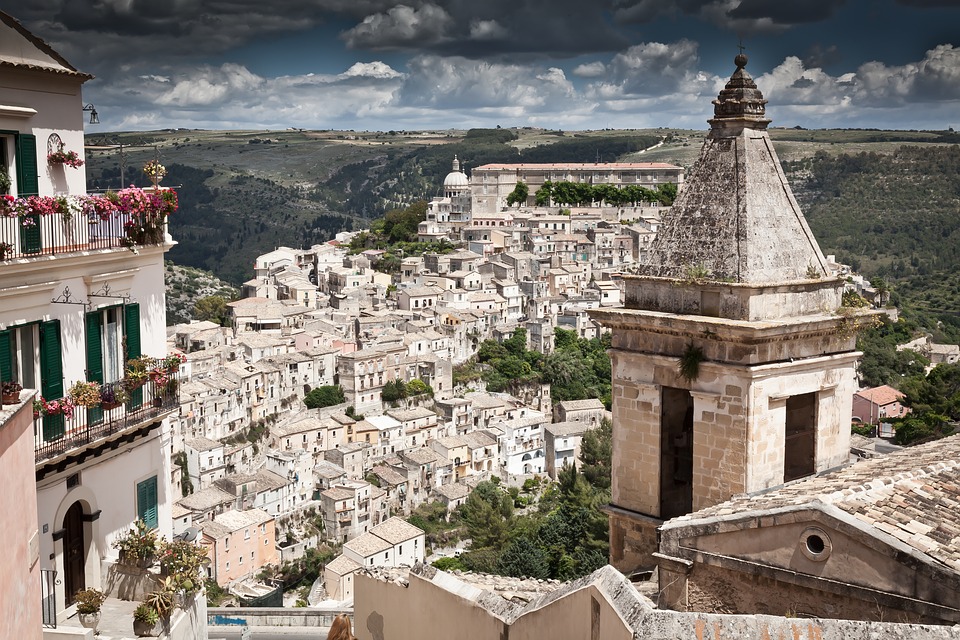 Sicily, known as the Island of the Sun, is the largest island in the Mediterranean Sea. Its south-west part is only 100 km from the coast of Africa. The landscape is more hilly and mountainous with steep shores. What to see in this part of Sicily? What dishes characteristic of this largest region of Italy are worth trying? We invite you to read!
Tourist attractions
Let's start with Ragusa, which is one of the main cities of the southern part of Sicily. The main attractions of visiting Ragusa should be the valuable baroque monuments of sacred art - the Cathedral of San Giovanni, the Duomo si dan Giorgio and the Church of San Giuseppe. Apart from them, take a stroll through the historic city center, full of narrow streets that are climatically inscribed on the UNESCO World Heritage List. Interestingly, the city was almost completely destroyed during an earthquake in the 17th century, and after rebuilding it was divided into two parts - Ragusa Superiore and Ragusa Ibla - the latter is particularly interesting due to the romantic atmosphere among quiet alleys with a Baroque history in the background. Another point of family holidays in Sicily - one of the most important cities of the ancient world. It is worth seeing the cathedral, behind the facade of which is the temple of Athena from the 5th century BC. Then you can check out the city of olives and almonds, or Noto. From the monuments you will see the cathedral with two twin towers and the Church of Santa Chiara. In turn, 50 km from Marsala you will find excavations in Selinunte - to this day most of them are hidden in the ground. The last, but equally important, stop should be Agrigento with its famous Valley of the Temples. There is also a large port nearby, from which the ships on the Pelagie Island - Lampedusa and Linosa depart.
What to eat in Sicily?
Food in Sicily doesn't disappoint. The main elements of the kitchen are fresh seafood, meat and vegetables. There are also aromatic fruits, especially citrus. While on the island, you must try some flagship dishes. These include - arancini di riso, i.e. deep-fried rice balls with meat and vegetables, caponata - a cold vegetable appetizer for main courses and spaghetti alla Norma with eggplant, sprinkled with a large amount of locally made smoked ricotta. Pasta lovers will also love spaghetti al nero di sepia, a seafood paste tinted black with squid ink. The real pride of the island is also pasta con le sarde - a classic dish made of pasta baked with sardines and the addition of raisins. An expensive but noteworthy delicacy is bottarga - dried and salted tuna roe, which is often added to pasta dishes. The main dishes are just the beginning - the greatest culinary surprise of Sicily are the desserts served there. The most popular of these is cassata - a sponge cake with ricotta cheese, candied fruit and marzipan. You will also try "envelopes" of cannoli, filled with sweet ricotta cheese, cookies with the addition of semifreddo pistachios, a frozen dessert served with fruit. There is also no shortage of great thick ice cream in many flavors that you will have the opportunity to try on your trip to Italy .
Camping in Ragusa
Are you looking for the perfect campsite for a family holiday in Italy ? Camping Luminoso , open all year round, will surely be to your liking. Its main advantages include its direct location over a sandy beach. There are nearly 90 designated motorhome pitches on the premises, and for people without their own cars - bungalows and cottages for rent, and even a campsite. Water sports enthusiasts will not be deceived. Diving equipment, kayak rental and pedal boats are available for them. There is also a café and a solarium on site. Children can have fun in a special playground. It is close to bars and restaurants serving excellent Sicilian cuisine.
I like closer and longer journeys - with an analog camera and a great appetite, because I always like to get to know the local cuisine during the trip. My favorite region in Europe is the Balkans, especially Montenegro, Albania and Bosnia with Herzegovina, which I have visited several times. I dream of returning to beautiful and unpredictable Iceland. I am currently in Southeast Asia.
Enjoyed reading this article? Share it!