All the colors of Lefkada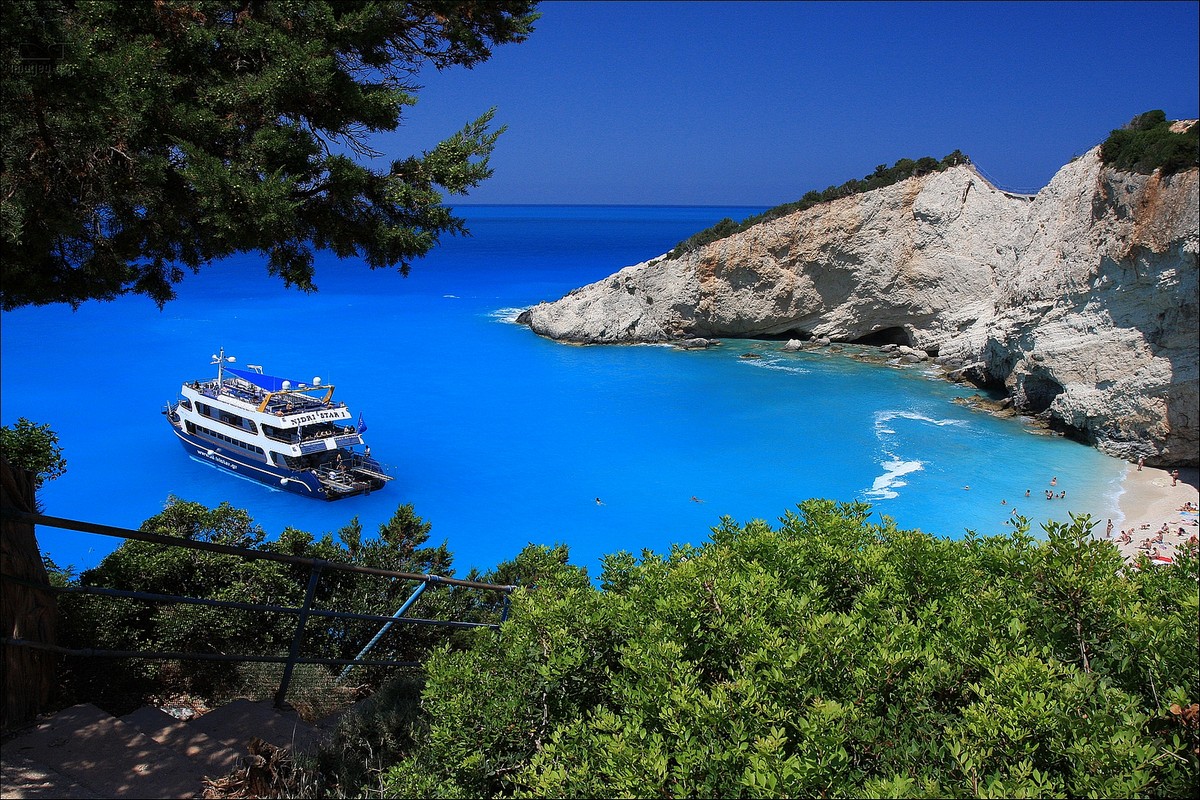 Lefkada is one of the most beautiful islands in the Ionian Sea. It is surrounded by turquoise waters flowing into picturesque coves with clean, powdery sand. It is mountainous and covered with citrus trees, cypress trees, olives and almond trees.
Each Greek island is beautiful, but there are some that are amazing and speechless. There are those where life flows so fast and so intensely that they twinkle in the sea like constellations, blinking their lights until late at night. Lefkada is just such an island - it does not fall asleep, and everyone will find their place on it, regardless of whether they came to relax on the beach, face the waves while windsurfing or go sailing.
Each corner of it offers different attractions. To the west, there are slender cliffs and the island's most magnificent beaches, made of tiny white pebbles, including the famous Porto Katsiki . In the south there are romantic coves with crystal clear water. To the east, the gently sloping hills are overgrown with lush vegetation, and the outlines of Scorpios, Kastri, Sparti and Meganisi on the horizon. The north is bustling and dancing, and the island's capital, Lefkada, is one of the favorite destinations for sailing enthusiasts. It is worth remembering that in the north there is Agios Ioannis beach, loved by kitesurfing fans.
Big cities...
One of the oldest towns on the island is Karia, situated on the mountain slopes. Thanks to its location, it provides tourists with beautiful views of a large part of Lefkada. In the center of the resort is the main square with many restaurants and cafes where you can sit down between sightseeing and sunbathing. Narrow, impassable streets of Karia hide many secrets.
Amateurs of skateboarding will probably stop in the southern part, near Vasiliki . The resort has a reputation as one of the best places to go windsurfing - not only in the Ionian Sea, but all over Europe. Several schools with qualified instructors offer their help, and apart from taverns and bars, there are also many restaurants where you can eat the best seafood on the island. There are ferries to Kefalonia and Ithaca from the city.
Kathisma will appeal to paragliding enthusiasts, while Nidri is besieged not only in the season by diving enthusiasts. Tourists from all over the world populate the beaches and streets to such an extent that the heart of the resort turns into a pedestrianized promenade. A multitude of restaurants, bars and discos open until dawn await them, not to mention a very extensive hotel infrastructure. It houses a diving base that organizes training courses and diving trips.
… And small towns
On the route from Nidri to Lefkada lies Ligia , a small resort where restaurants serve delicious dishes made of fresh fish bought from fishermen stationed in the port. Syvota, located in the south-eastern part of the island, is also small. It is visited by fans of water sports, as well as people who value peace and quiet.
Those who prefer a quiet and unhurried stroll through small resorts to crowds and bustle should visit Vafkeri . This tiny village, hidden in the mountains, is surrounded by olive groves, and the atmosphere in it will allow you to calm down and uninterrupted joy from the views.
Azure dream
You can spend a 2-week vacation on the island and it is impossible to get bored with it, because it offers a wide range of entertainment. We can easily find accommodation there - be it in a hotel, in a guesthouse or at a campsite . For example, in Vasiliki you can rent a 4-person studio apartment for a week for about PLN 1,200 (e.g. at Mario Rooms).
Lefkada has clean and warm water, canyons and waterfalls and the sun. It is an ideal holiday destination and its beaches are among the most beautiful in the world.
A writer by profession, a passion of a cat. One day he will see what is behind the Urals - good to Vladivostok. So far, when he can, he enjoys the sun of the countries of southern Europe. And it's also fun;)
Enjoyed reading this article? Share it!