Camping Porto Sole - holidays in Croatia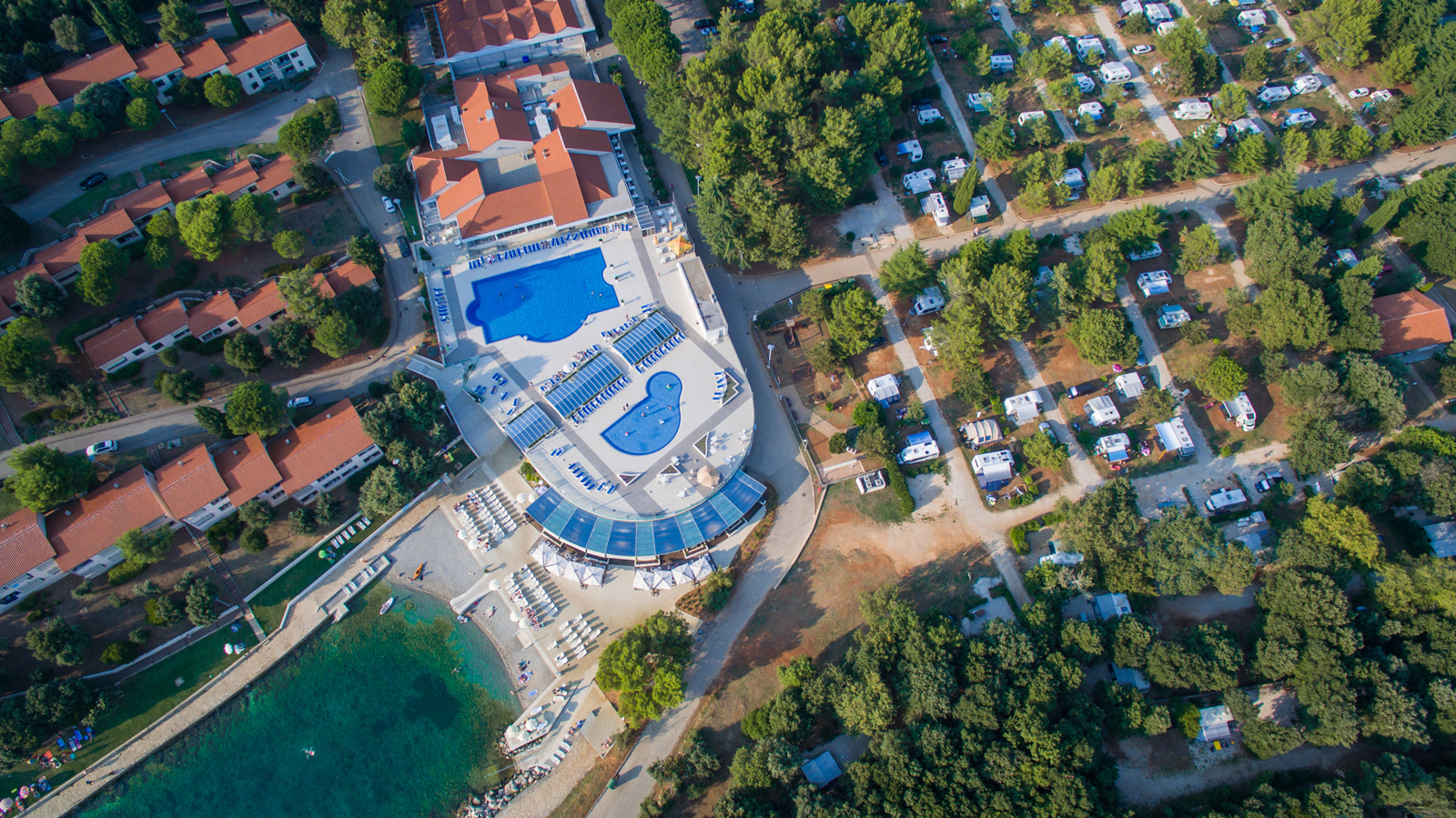 Croatia, oh Croatia! A country of crystal clear water, rocky coastlines, with a Balkan climate and untouched nature - you just need to get to know it to want to come back again and again. If you are planning to relax in Istria, in the picturesque region between Italy and Slovenia, we encourage you to come to the vicinity of Vrsar. You will love this place! For everyone interested in holidays in Croatia, we especially recommend the year-round Camping Porto Sole , beautifully situated on gentle hills, surrounded by pine groves.
Accommodation at Camping Porto Sole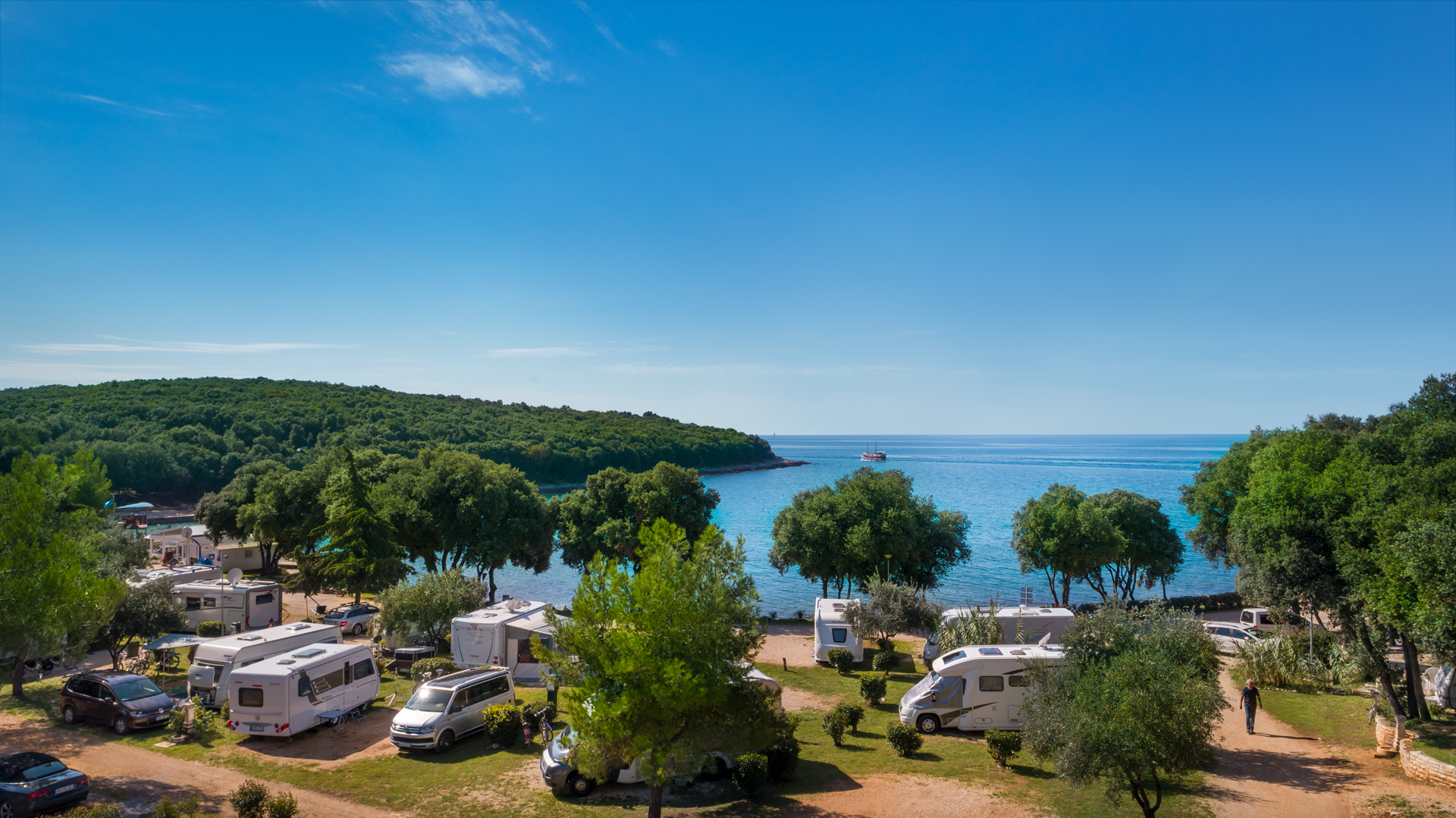 There are several accommodation options for vacationers to choose from. Those who come with their own camper or have a trailer can choose one of the 800 plots with an electricity connection available to tourists. The pitches are spacious, located both in the sun and in the shade, and some of them are located right on the seashore, so guests are lulled to sleep by the sound of the waves. The camping zone is also waiting for those who love sleeping in a tent. Vacationers praise the well-kept and modern sanitary facilities .
The second variant is an air-conditioned mobile home that can accommodate 6-8 people (e.g. Superior Family Mobile Home offers accommodation for 6 adults and 2 children). Just like plots, cottages are available in various standards. They have well-equipped kitchenettes, bedrooms and bathrooms, as well as covered verandas with furniture sets.
Beach at the campsite
Camping Porto Sole is located right by the sea , so its guests have direct access to the beach, which is over a kilometer long. This is a very diverse stretch of coast; in individual parts it is covered with gravel, stones and concrete. Beachgoers can rent umbrellas and deckchairs, and there are also showers on site. Be sure to remember to take water shoes. Not only will they make it easier to move on the stones - they will protect your feet from close contact with sea urchins.
The beaches of Porto Sole are distinguished by their safety and cleanliness, confirmed by the Blue Flag status. The stunning color of the sea in this part of the island invites you to snorkel.
Pools and water attractions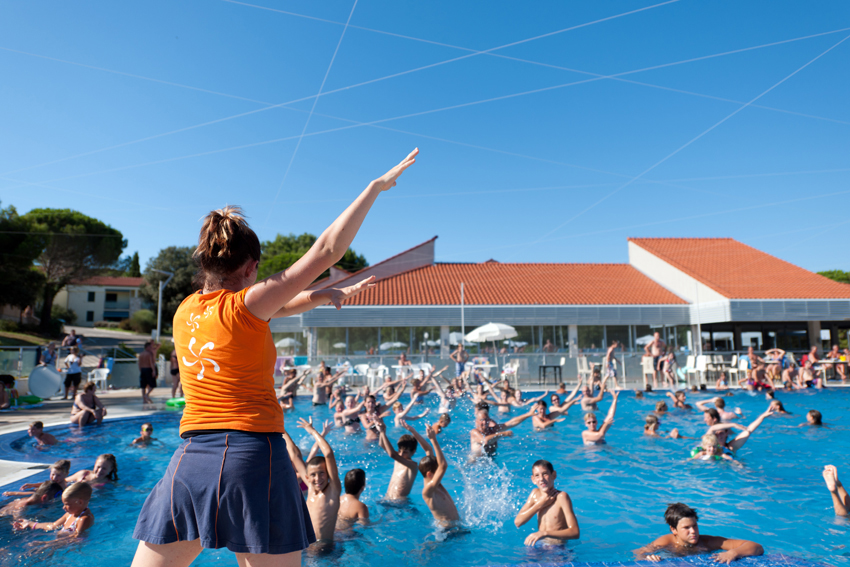 The campsite has a swimming pool located close to the beach. It is a not very large tank with water with a depth of 0.85 to 2 meters, connected to a paddling pool dedicated to the youngest guests. Its surface reaches a level of 45 cm.
Attractions and animations for children
Little ones have a playground at the campsite and another, water one, located by the beach. The mini club takes care of the well-being of young vacationers, providing participants with a lot of interesting entertainment. Children aged 4-11 participate in art, music and sports activities. Additionally, they can play video games or ride scooters in the alleys.
Other amenities
Camping Porto Sole is a well-equipped tourist facility. It has, among others, a supermarket, a restaurant, a pizzeria and a bar, there is an ATM and a currency exchange office, and there is also a wireless Wi-Fi network. Valuable items can be left in the safe at the reception for an additional fee. Those interested can easily rent a bicycle or a car, and boat owners can moor them at the shore. After intense sightseeing, it's good to relax with a massage, and there's nothing stopping you from fixing your hair (there is a hairdressing salon on site).
The campsite has a sports zone with tennis courts and a multi-functional pitch for playing basketball, football or badminton. There is also a diving school, a mini golf course and a fitness studio. Camping it will appeal to fans of Nordic walking, aqua aerobics and zumba, and will also appeal to those who would like to learn to dance.
Porto Sole is a dog-friendly campsite , but your pet's stay is subject to a fee. Pets have a chance to have some fun, and owners can enjoy the view of the sea on a separate part of the beach.
Diving in Croatia
The entire region is a paradise for sports enthusiasts, including diving . There is a diving base at the campsite. This is a place where, under the supervision of instructors, you can obtain international PADI diving certificates.
Diving in the crystal waters of the Adriatic Sea is an opportunity to discover the wonderful underwater world. Divers can visit places such as a coral reef, caves and as many as 7 wrecks from World War II!
Diving in Croatia is a great adventure not only for qualified people. Intro - is a common name for diving that takes place strictly under the supervision of a supervisor - a divemaster. No additional skills are needed here. All you need is a good attitude and peace of mind to enter the world of underwater nature.
The presence of a diving base at the campsite proves that the surrounding waters are clean and full of marine life. Campsites in Croatia are the destination of many diving enthusiasts. But Croatia also attracts them with its richness of nature and nearby "land" attractions.
What to see in the area?
If not the biggest, then certainly one of the biggest advantages of the Porto Sole campsite is its location near Vrsar . We can reach the town on foot, following a picturesque route along the sea shore. From a distance you can see the church of St. adorning the highest point of the resort. Marcin, which is worth visiting. In summer, it hosts classical music concerts. Noteworthy is the Renaissance-Baroque building of the church of St. Anthony and the former residence of bishops.
Cheap holiday homes in Croatia
The Maistra camping network often organizes great promotions for booking cottages or pitches. These are Early Bird and Last Minute promotions - you can find these campsites in our campsite search engine .
A writer by profession, a passion of a cat. One day he will see what is behind the Urals - good to Vladivostok. So far, when he can, he enjoys the sun of the countries of southern Europe. And it's also fun;)
Enjoyed reading this article? Share it!