Chain of attractions in eastern Poland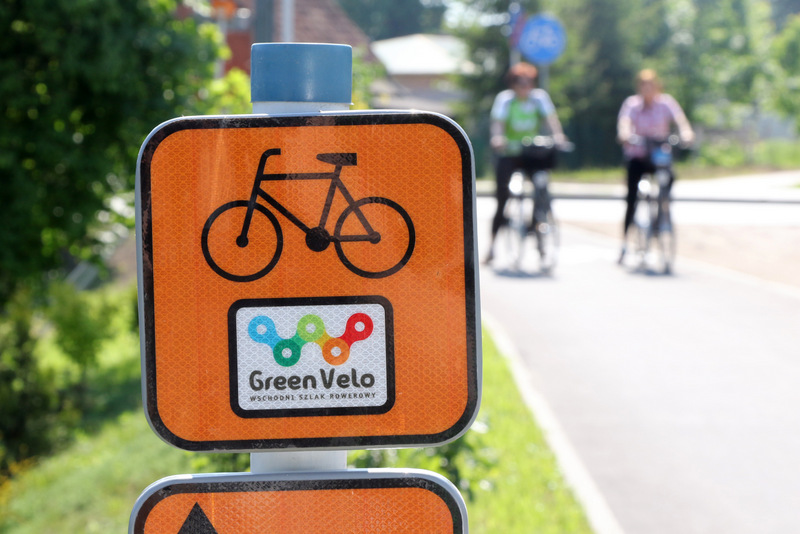 Will Poland become a country particularly friendly to bicycle tourism? There is hope so. Street bike rentals are more and more common in large cities, there are more and more bicycle paths, and tourist routes are being built outside cities. The largest of them is the Green Velo Eastern Bicycle Trail.
Green Velo is a unique project, because it is implemented not only between communes and counties, but also between provinces . More than 200 institutions are involved in its implementation, and a specially marked out route stretches for almost two thousand kilometers, running through the provinces of Warmia and Mazury (420 km), Podlaskie (592 km), Lubelskie (351 km), Podkarpackie (428 km) and Świętokrzyskie (190 km). The bicycle path runs to a greater extent on asphalt roads, but part of the route can be covered on renovated dirt roads.
To the forest and to the castle
The route runs along forests and river valleys, so that cyclists will encounter many breathtaking views along the way. Tourists will also be able to visit many historically and culturally significant places in Poland . On the route there are, among others the cathedral in Frombork, the castle in Lidzbark Warmiński, the monastery complex in Supraśl, the former Jewish towns of Tykocin and Leżajsk, the cities of Chełm, Włodawa and Szczebrzeszyn, the Bug sanctuaries in Kostomłoty, Kodeń and Jabłeczna, the old town in Przemyśl, the castle in Łańcut, the medieval castle ruins in Sandomierz, and the medieval castle ruins in Ujazd.
What is particularly surprising about the Green Velo project is its complexity. Care was taken not only to designate an interesting route. This route has been divided into sections for which there have been prepared suggestions for trips of various lengths and levels of difficulty . Descriptions of all routes can be found on the project website - Greenvelo.pl.
Thanks to this division, both an advanced tourist who is ready to spend a few or several days on a bicycle trail, as well as a person looking for an idea for an original weekend or even someone who, living in the eastern part of Poland, decides to spend a few hours alone or a family trip. The descriptions of the routes even include information on the difference in the height of the terrain in a given section, thanks to which we can assess whether we will travel in flat or more diverse and therefore more difficult terrain.
Stop under the shelter, overnight at the hotel
As part of the project, 230 Cyclist Service Points will be built, equipped with stands, shelters and benches, as well as litter bins and information boards.
In addition, there are over 200 Cyclist-Friendly Places waiting for tourists, i.e. accommodation, catering and service facilities providing services dedicated to cycling tourists. The authors of the project assume that their number will increase by more hotels or restaurants that will agree to meet strictly defined requirements in the hope of higher turnover.
The recipients of the program are to be, I will say, not only tourists from Poland. The creators of the project count on cyclists from abroad, with particular emphasis on Germans and Austrians . Will they be tempted by Polish monuments, amazing nature and specially prepared infrastructure?
Let's hope so, because the success of Green Velo will also be a success for everyone who loves cycling. The success of this project may also encourage others to implement similar ideas in other parts of our country.
Sometimes it is better to get lost than to ask for directions too much. Aldous Huxley
Enjoyed reading this article? Share it!