5 things to do in Garda Trentino in spring

The cold is slowly giving way to moderate temperatures. There are more and more sunny days: spring is coming! And in the region of Garda Trentino, landscapes are more and more imaginative!
Fresh spring air will soon arrive on the shores of Lake Garda . The piercing cold that has accompanied us over the last few weeks is slowly giving way to moderate temperatures, and the days are getting longer. The slogan: for fresh air! The white down blanket of snow is slowly melting, and from underneath it already looks intense green. This is the color that fields shyly look like after a long period of winter dormancy!
Spring at Lake Garda is especially beautiful. It is not only the season of the year, it is rather a lifestyle that can be enjoyed at our campsites . Below are 5 things to do on Lake Garda if you want to welcome spring here and get some positive energy from it! Winter makes us purr and lethargic, but when warmer days come, we start getting ready for the attractions of the new season: walks, parties, fairs and outdoor sports. Let's get into the spring mood now! A few suggestions to start with:
1 On two wheels
Probably every cyclist looks forward to spring. It's time to switch from the car to the beloved two wheels! The many and varied cycling routes in the Garda Trentino area will allow you to experience an unforgettable cycling adventure in beautiful natural surroundings!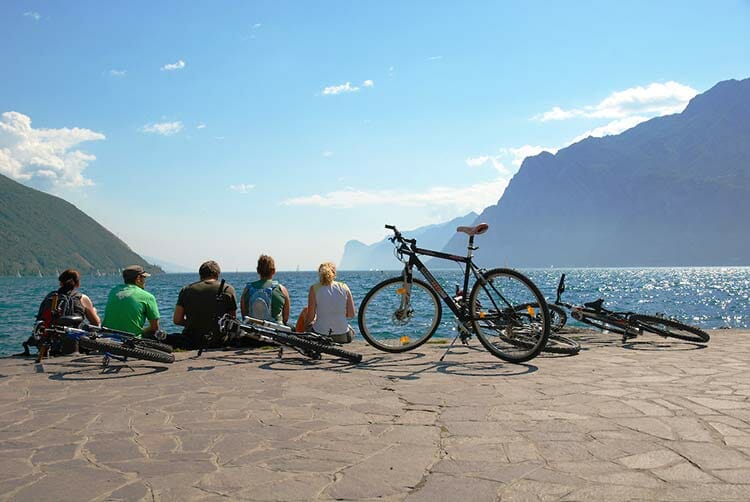 2 Lemons et al
Everyone knows that the Lake Garda area is a lemon paradise. The Mediterranean climate makes the soil perfect for fruits that like moderate temperatures. In spring, an unforgettable sight awaits us here: juicy yellow lemons against the background of intensely green leaves. (That we won't mention the wonderful citrus scent!)
3 Water sports
The lake is ready to welcome sailing, canoeing and even windsurfing enthusiasts. This is a great time to have an adventure. In spring, it is worth trying water sports on the lake. This is an obligatory point of every trip!
4 Spring Parties
In the spring, the Garda Trentino area also hosts a number of unique events to keep in mind. From Arco Bonsai or Arco Zen (for lovers of Eastern culture) to the Welcome Season (the official opening of the cycling season) or the famous Bike Festival! And these are just a few of the many events in this region.
5 Fairs
Fairs and markets are already a tradition in Garda Trentino! In spring, most of us want to go shopping, and as you know, the best deals are just around the corner, in this case at flea markets, weekly markets or themed fairs. Let's go for a walk through the local market squares, where you can enjoy the multitude of scents and colors!
Above we have presented just five ideas for spending free time on Lake Garda , but in spring everyone will find something for themselves. You can have a coffee in the garden or have an aperitif by the lake , you can go for a walk on one of the many excursion routes or around the lake - spring is the queen of Garda Trentino !
Camping on Lake Garda - an option for everyone
At campsites close to Lake Garda you can enjoy a holiday at a reasonable price all season long. The campsites are located near a lake and surrounded by lush vegetation - perfect for those who appreciate closeness to nature.
Bicycles, windsurfing equipment, canoes and pedal boats can be rented on site. The campsites are adapted to different requirements. Guests can choose to stay in a tent, motorhome or caravan. Many lakeside campsites also offer a wide range of entertainment services, bars and restaurants: click to find out more.
Garda Trentino - Your Destination, Your Home
The Garda Trentino region has thought of absolutely everything to make your holiday better and safer and to make every day of your holiday a wonderful experience.
This is where you can breathe fresh air and the Garda Trentino mountains will be the perfect spot for an active and safe holiday. All the hotel and restaurant services here work very hard to provide everyone with the necessary security measures, incl. organizing the space in such a way as to ensure a safe distance for everyone. The rooms are disinfected, gloves and masks are used. But remember that behind them are the same smiling faces eager to welcome all the tourists.
We have created the CampRest portal for people who value freedom and travel on their own.
Enjoyed reading this article? Share it!