Comfortable rest on Piani di Clodia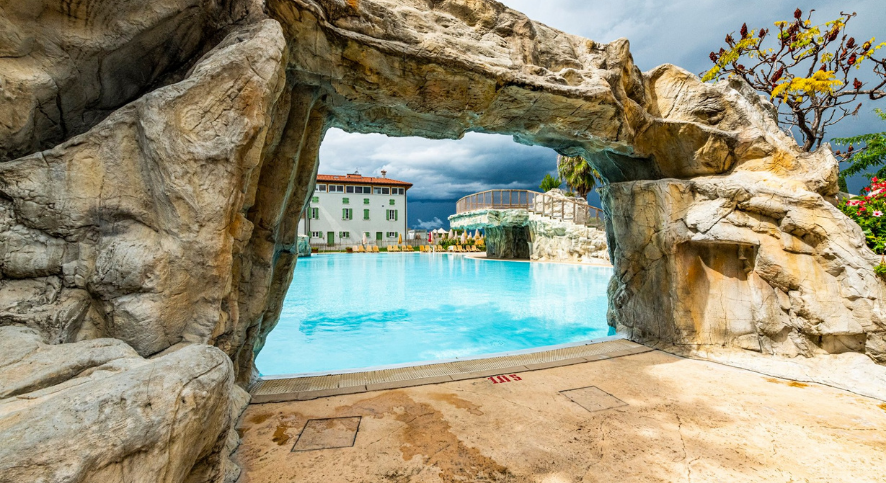 Can you find a place in Europe with a beautiful lake and majestic hills? Where will we see crystal clear water and eternally snow-capped mountain peaks? Where in one place tourists have peace and quiet, their own space and a huge, well-organized accommodation base? Of course - just go to Lake Garda .
The Little Mediterranean Sea is located in the northern part of Italy. They are filled with the cleanest water in the whole country. In the north, there is an alpine chain of mountains, and in the south, the terrain is covered with plains and small hills - here the real alpine foreland begins. It is an ideal place for a vacation for many reasons, from nature to tourist infrastructure. There are also intimate campsites and large complexes with an offer for people looking for comfort. Camping Piani di Clodia belongs to the second category. Get to know him better.
Modern bungalows for small and large groups
The first look at this five-star facility will reassure guests that they have landed in a luxurious resort. Camping Piani di Clodia offers holidaymakers accommodation in bungalows made with the use of modern ecological technologies, including photovoltaic panels. This option is addressed to customers who require comfort, but respect nature .
The first proposal is a two-room Spring house, designed for 4 people. The standard includes a bathroom and a fully equipped kitchen. The property has a balcony with garden furniture and a private parking space. Spring is inside the complex, but guests have access to the water park (very close).
A group of 6 people will love Summer , which on 60 m² has two bedrooms, a bathroom with toilet and shower, and a kitchen. Guests who stayed in this chalet also have their own balcony and a parking space.
Pets are not allowed in Spring and Summer. This does not mean, however, that holidaymakers with pets will not find accommodation for themselves. A bungalow Valpolicella is waiting for them. The three-room house can accommodate a maximum of 5 people, and upon prior reservation, it will be a home for a shaggy pet. Inside you will find two bedrooms , a living room, a kitchenette and a bathroom. Outside there is a paved lawn, patio with garden furniture and a parking space.
Pets can also stay in the Lugana bungalow. As in Valpolicella, guests must inform the property in advance of their dog arrival.
Glamping for lovers of luxury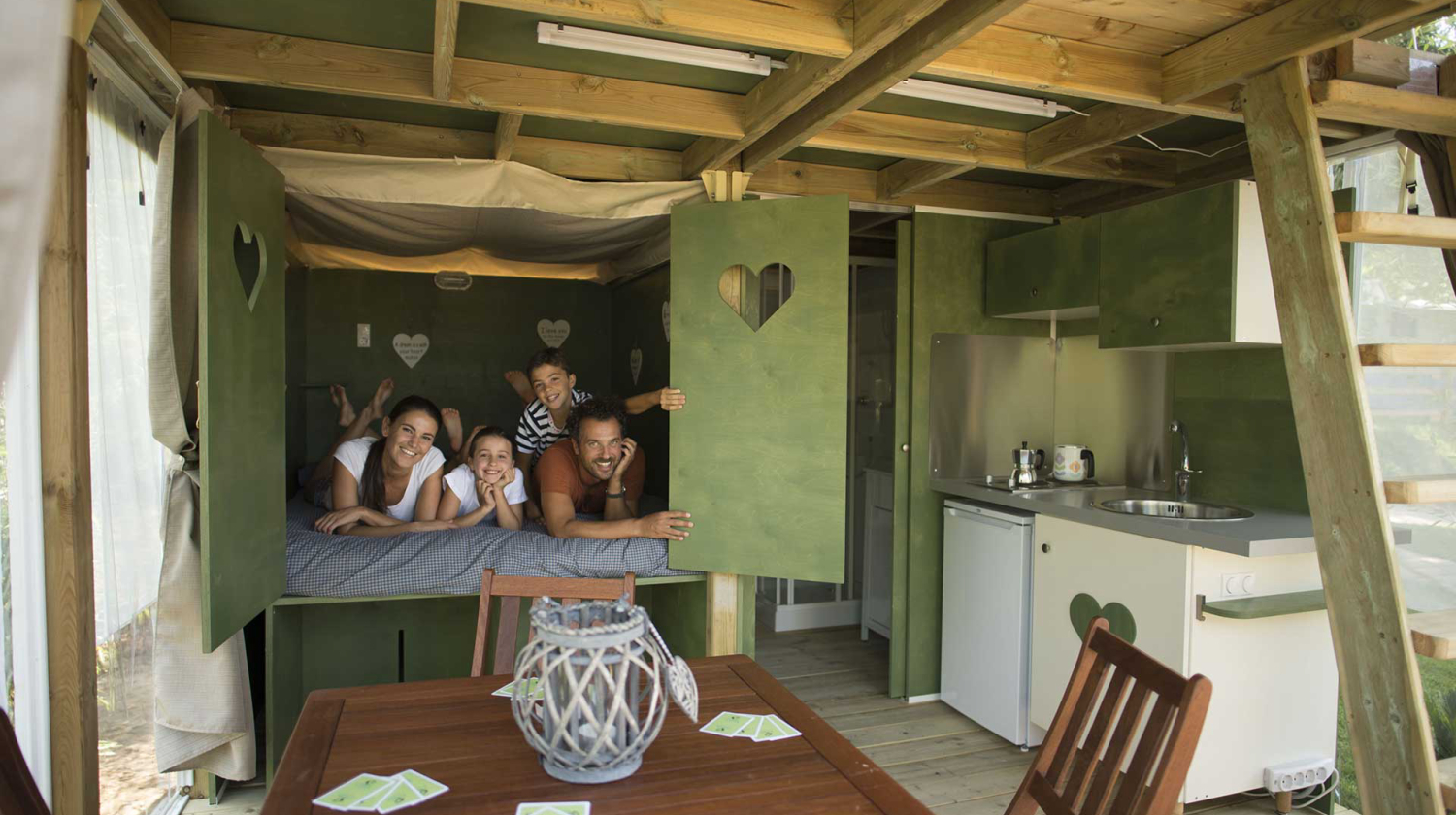 One of the greatest advantages of the resort is the offer dedicated to amateurs of relaxation closer to nature, but with all the comforts. Glamping at Piani di Clodia includes two types of luxury tents. Bardolino is a solution for up to 5 people. On 28 m², there are two bedrooms, a living room , a bathroom and a kitchenette. Guests love to hang out on the spacious terrace, which offers a wonderful view of the lake.
Sky is a bit smaller - a two-story tent that will be perfect for up to 4 people. On the ground floor there is a living room, a kitchenette, a bathroom and a recess with a double bed. On the first floor there is a room with a double bed . Like Bardolino, Sky has a terrace from which you can see Garda and its surroundings.
Maxicaravany for camping fans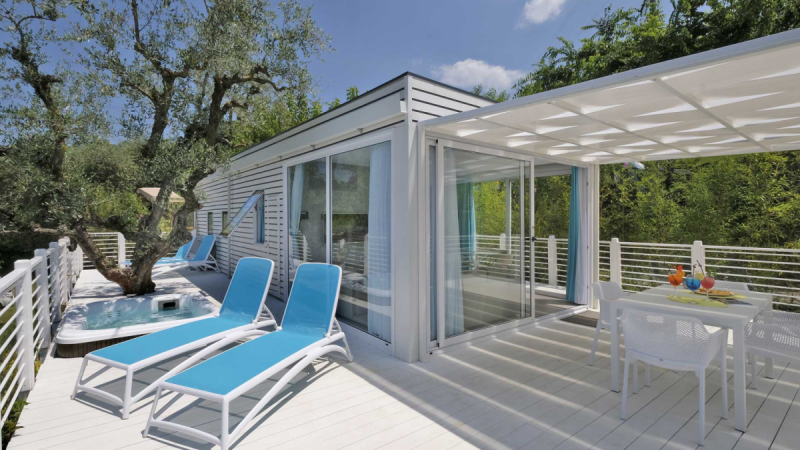 The complex also offers its guests comfortable maxicaravana. Those interested have a choice of locations - inland and on the shores of the lake. The Lake variant is an accommodation option for groups of 4-5 people (depending on the type). The standard includes two bedrooms, a living room with a kitchen and a bathroom. All facilities located by the lake are equipped with a hot tub . Located outside, it invites you to relax after a day of sightseeing or sports.
The maxicaravanas, which are located further from the shores of the Garda, in the interior of the center, are slightly larger. Piani di Clodia has made available as many as 7 types of caravans, differing in the number of guests. Depending on the selected version, maxicaravana can accommodate from 4 to 6 people, and also has additional amenities.
All facilities have two bedrooms, a kitchenette and a bathroom / bathroom. Those who want to spend their holidays on Lake Garda with a pet can book the Naturalgreen.
As you can see, the complex made sure that tourists had plenty to choose from. Regardless of which accommodation option suits you best, you will spend an unforgettable time here. We strongly encourage you to visit Garda . You will love this place!
A writer by profession, a passion of a cat. One day he will see what is behind the Urals - good to Vladivostok. So far, when he can, he enjoys the sun of the countries of southern Europe. And it's also fun;)
Enjoyed reading this article? Share it!