Croatia for sailors - 7 campsites with a slip-on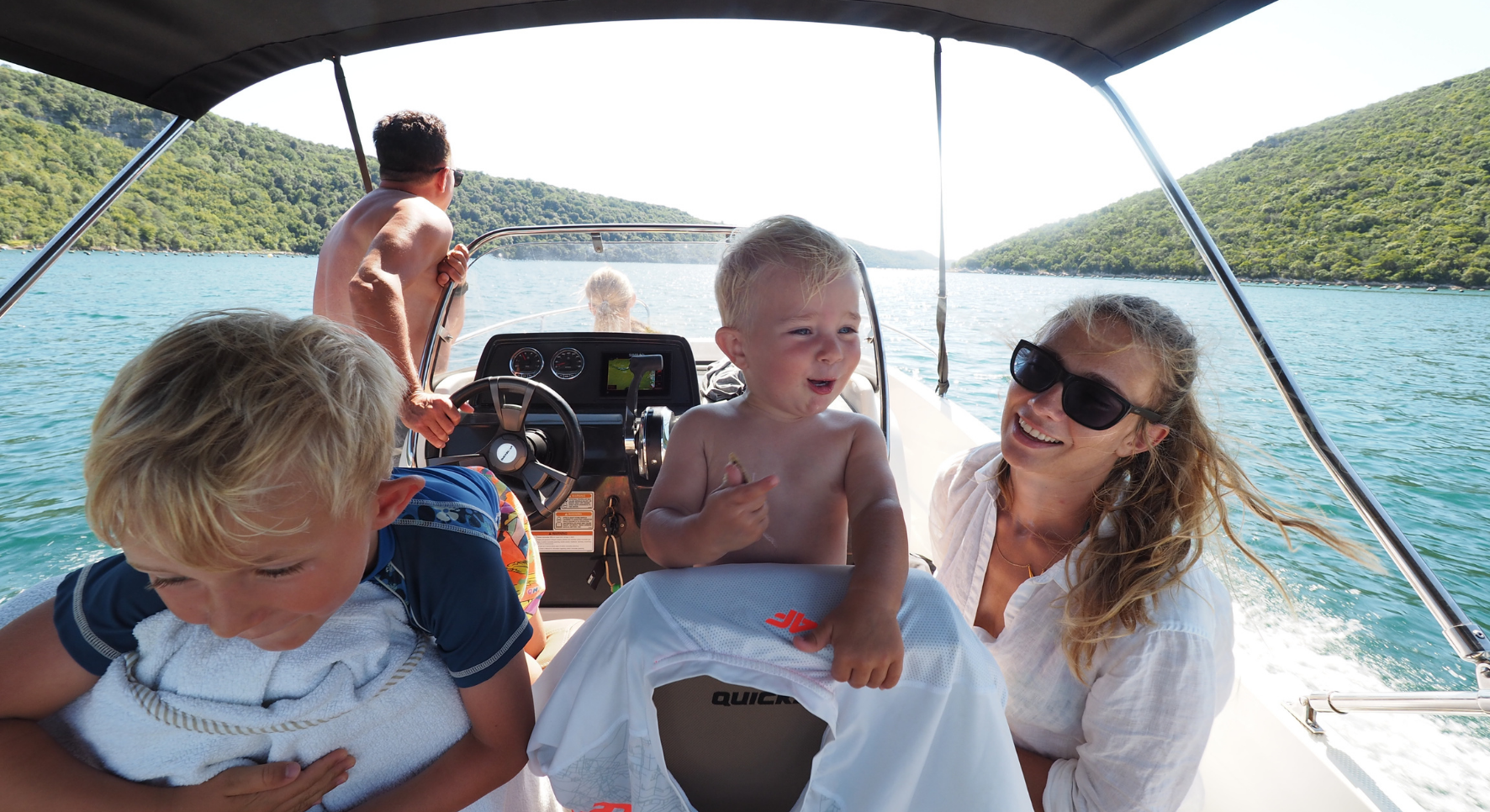 For sailing enthusiasts, Croatia seems to be a paradise. Kilometers of the coast, hundreds of islands, and the wonderful colors of the water ... Azure, blue, aquamarine and dozens of other shades, all fabulously transparent. On many postcards you will see smaller and larger boats swaying on the water. If you want yours to join them, don't wait. Book an overnight stay at one of the campsites and come on your dream vacation.
In the article below, we present only a fraction of the offer of recreational facilities. These are campsites with the possibility of launching boats, with their own marina or the so-called briefs. If you are wondering which one is worth visiting, we have some suggestions for you.
Terra Park Phalaris - campsite with a slipway on Pag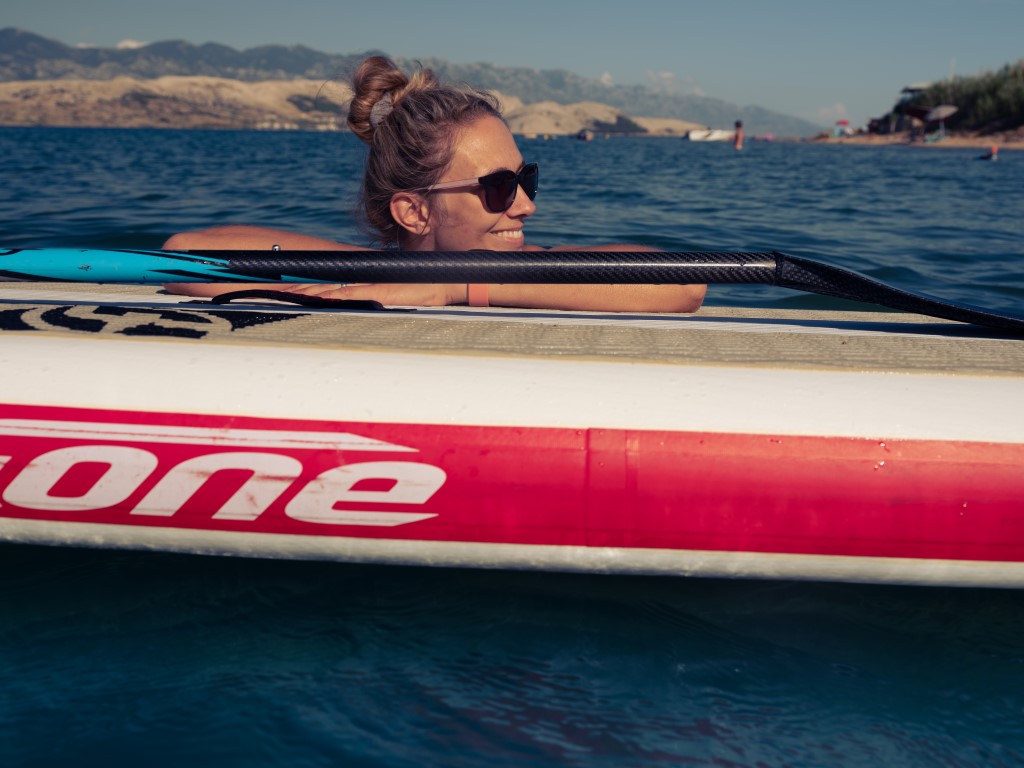 The first place we want to tell you about is Terra Park Phalaris . It is located on the south-west coast of the island of Pag, near the town of Novalja. There are separate lots, a campsite, houses and bungalows waiting for tourists. If you want, you can rent a trailer. The accommodations offered by the property deserve a few words to say. The camp site is divided into two areas. One is a zone for caravanners and glamping fans. In the second one there are mobile homes . They all have covered terraces, and some have their own swimming pools. It is a campsite that is pet-friendly, and they must stay on a leash there.
You will love this place if you like relaxing by the water. The crystal clear Adriatic Sea invites you to go boating. Picturesque pebble beaches are nearby. When you go ashore, you can admire the views from a blanket or a deckchair.
If you are planning to come here on vacation, take the opportunity to try Kolan. This is the famous cow's milk cheese, the most popular in the whole country. Paški sir is built on the island of Pag. Its aroma comes from herbs (including thyme, rosemary, sage) and salty plants eaten by sheep.
Camping Park Umag - launching a boat at a campsite in Istria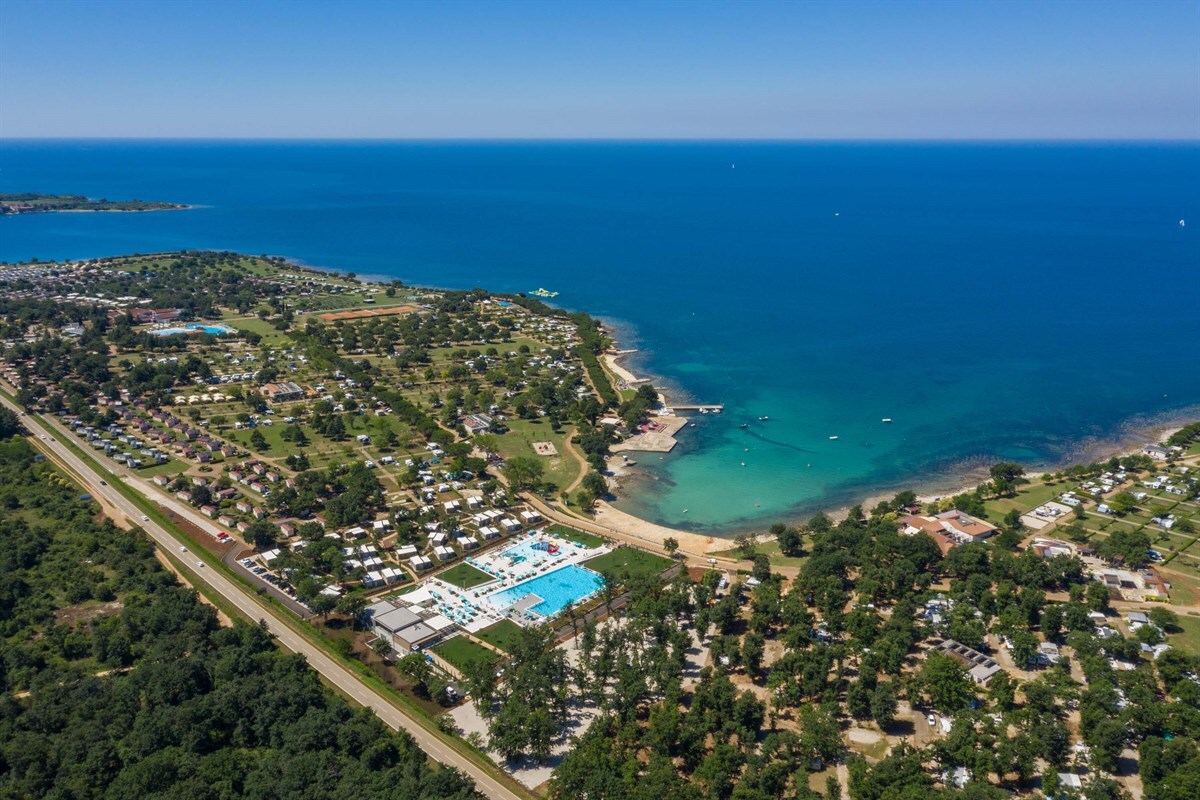 When looking for a holiday destination, do you only consider a campsite with a slip-on? If so, we recommend Camping Park Umag . It is situated on the coast of Istria, in close proximity to the town of Umag. Novigrad is 9 km away. Thanks to its location along the shoreline, it has access to a long stretch of beach. It's easy to understand why this place is so crowded. They are chosen by enthusiasts of water sports (mainly windsurfing and water skiing). They are liked by sunbathers who appreciate the beauty of this part of the coast. It is not without significance that there is a large water park with several swimming pools. Adults, teenagers and toddlers will find something for themselves. The latter will be delighted with a paddling pool with slides and toys (e.g. a water ball).
Families with children constitute, if not the majority, a significant percentage of guests. The animation team makes every effort to ensure that the little ones do not get bored. Visitors to this campsite with a slip can play football, beach volleyball or tennis. There are many options for entertainment available, including morning and evening activities of various kinds.
There are bars and restaurants on the campsite. There is also a pizzeria, ice cream parlor, supermarket and gift shop. You can buy takeaway or fresh fish from the stall and grill it. Fans of local flavors will not miss the opportunity and will go to one of the nearby restaurants. You can find a lot of them in the mentioned Umag . It is worth using the time you stay in this area to get to know its attractions. From land and sea - especially if you have your own boat. Camping Park Umag has a marina for boats, so you will have it literally at hand.
Sailing romantic in Croatia - Camping Stella Maris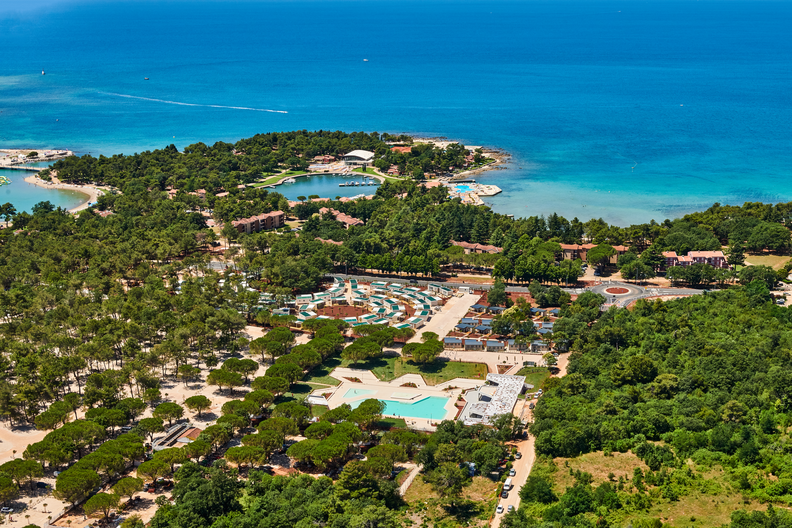 Let us not stray away from this part of the country yet. The next place is Camping Stella Maris . It is situated a short distance from the town of Umag, right on the Adriatic coast. You can swim in blue water, dive or surf. There is a water sports center nearby. You can also use one of the swimming pools in the camping complex. In the evenings, guests can enjoy live music and a disco (for children).
A few years ago, Stella Maris was renovated, so today it can boast of modern infrastructure. Virtually everything in the facility has been modernized, from the aforementioned swimming pools to sanitary facilities. It does not matter whether you are going camping or relaxing in a motorhome. You will surely like it here, especially if you love sports. Not necessarily water - check yourself, for example, on the climbing route. If you come in July, you will be watching the annual ATP Croatia Open tennis tournament. It takes place at the stadium on the outskirts of Umag. You can easily reach your destination on foot from the campsite.
Camping with a slipway in Istria - Camping Zelena Laguna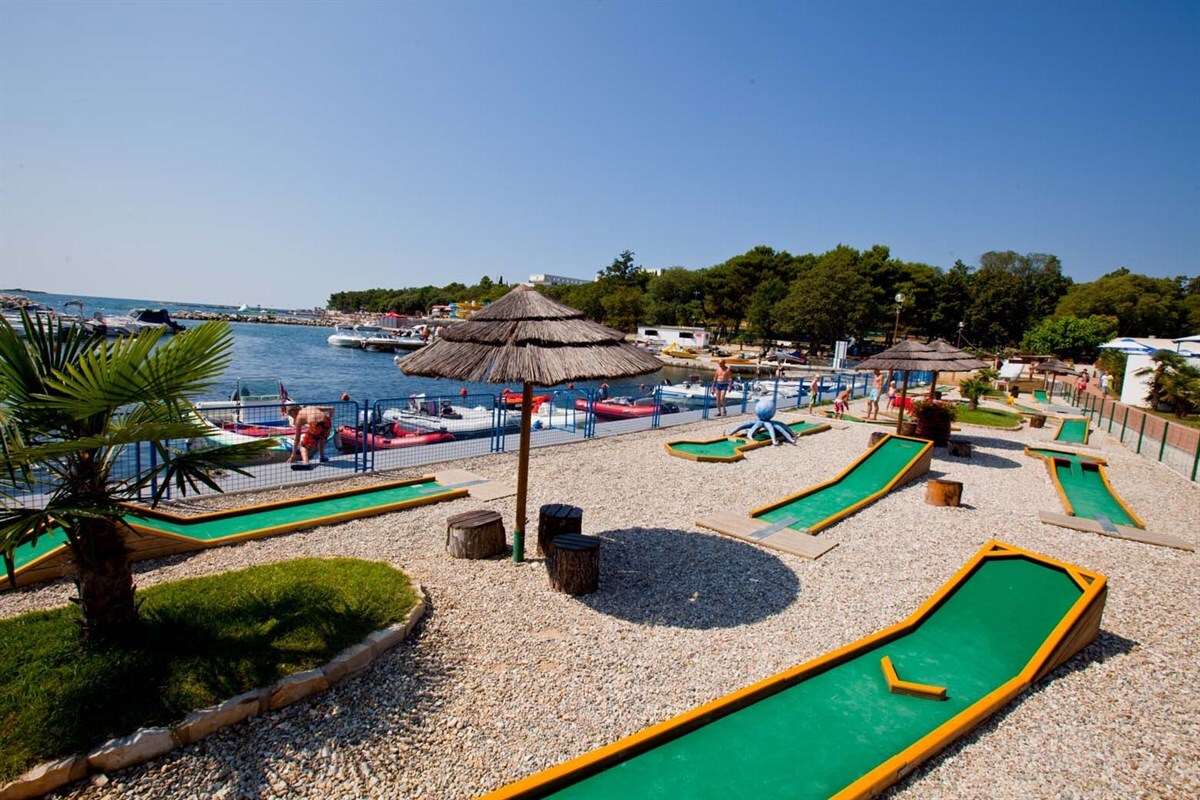 Now let's move to the northern part of Istria, near Poreč. Camping Zelena Laguna is waiting for the guests there. It advertises itself as a large facility that provides the atmosphere that can be found on small campsites. It has a large area and offers hospitality to families with children, sports enthusiasts and naturists. Fans of free sunbathing have a separate area at the seaside at their disposal. Nobody will disturb their rest there. On the other hand, lovers of sports activities will have a problem with selecting one field. Besides, they don't have to do it. Nothing prevents them from spending their time playing basketball, badminton or handball, and then playing volleyball or table tennis. The sports center provides not only a place to play, but also the opportunity to participate in various types of tournaments.
Zelena Laguna is a campsite with a slip-on which has swimming pools overlooking the Adriatic Sea. It also has two restaurants and provides plenty of options for active leisure. An exceptionally large number of activities were prepared for young people. Throughout the day, animators encourage you to take part in activities or games. Performances, DIY workshops, dance evenings and fitness classes are held here.
The location by the shore allows you to enjoy water sports, from more dynamic to gentle sailing. Noteworthy is the beach with sunbeds, umbrellas and tiled sections. A huge attraction (especially for kids) is a huge inflatable obstacle course located by the beach. You can have fun on it and splash in the water at the same time.
Cruises in Croatia with your own boat
If you are interested in launching a boat at a campsite, Zelena Laguna is the right place. The campsite has a small port with mooring points, so you can easily secure your boat. If you don't have your own, you can rent one - there is a boat rental on the premises.
You can get to Porec in several ways. Owners (or lessors) of the boat will reach it from the sea, as will those who order a water taxi. He can take you there from the campground itself. Those traveling by land will reach the resort via road number 75. If you want to go for a longer walk, you can follow the route along the shore. You will have plenty of opportunities to admire the sea, the surrounding islands and the mass of greenery covering the area.
A boat launch at a campsite by the Adriatic Sea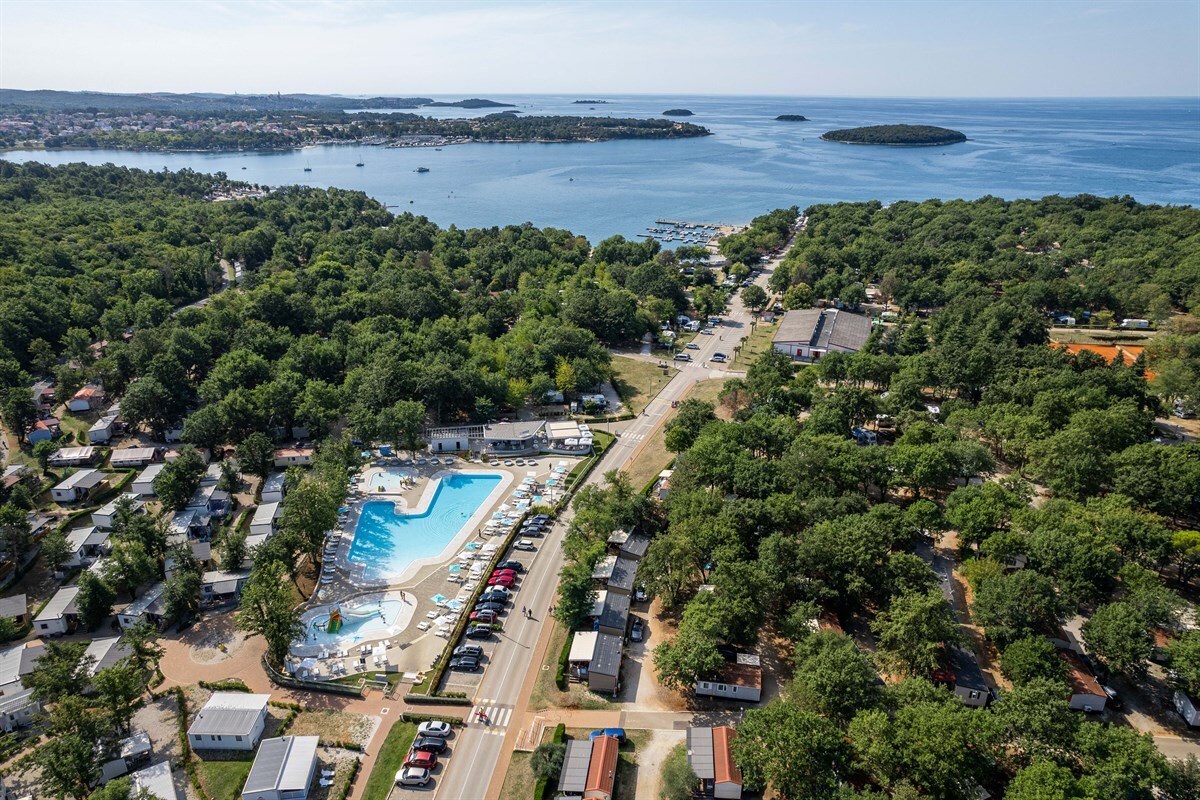 It is not difficult to notice that there are really many tourist centers around Porec. The resort enjoys enormous popularity both in the region and throughout Croatia. Pay attention to another object in this part of Istria. It is a cozy family campsite Bijela Uvala , liked not only by people traveling with children. It is quite large, but guests are guaranteed privacy, incl. thanks to separate plots surrounded by vegetation. When it comes to accommodation, there is a campsite, pitches for campers, caravans or a tent waiting for them. There are also mobile homes and bungalows.
The campsite is bustling day and night. Children can participate in various activities, workshops or games, and adults in sports tournaments or other activities. Animators provide entertainment in the evenings. Live music fans will also enjoy their stay. A diverse range of entertainment does not mean that a fan of relaxing with a book or blissful relaxation will get tired here. Nothing like that - and he will find a suitable place for himself.
Speaking of relaxation, it is worth mentioning the possibilities of sailing . The campsite has several berths for boats and a small harbor right next to it. Nothing prevents you from spending time in the Adriatic Sea and enjoying the sun.
Sailing in Croatia on Krk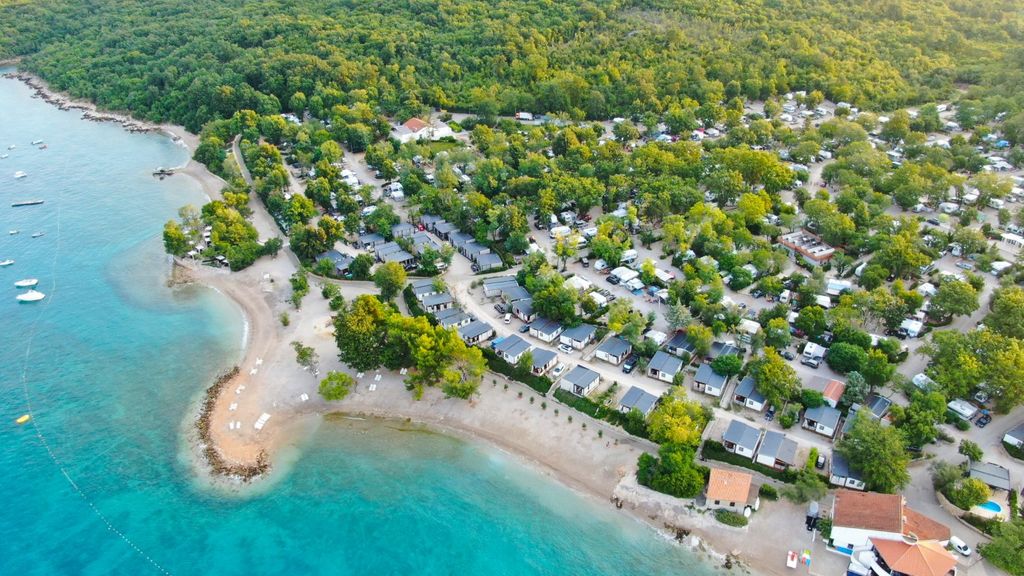 Do you like really big campsites? If so, we have a proposal for you - go on vacation to Kvarner Bay. It is a perfect place for sailing enthusiasts. The bay stretches between the coast of northern Croatia and the Istrian peninsula. Tourist attractions such as Krk, Cres, Rab, Pag and Lošinj are concentrated here. In the western part of the island of Krk there is a town and port called Aminess Atea Camping Resort . The location in the main part of the bay is one of the biggest advantages of the facility - apart from its size (14 ha). Tourists can book one of the pitches right on the beach, stay in a cottage or choose a campsite.
Aminess Atea is a superbly equipped campsite. Not only luxurious accommodation awaits guests, but also animators, a fitness club and a beauty salon. You can explore the area on foot or by bike. The resort organizes sightseeing tours. There is no shortage of people willing to relax on the boat, windsurf or snorkel. You can also try water skiing.
The campsite has a restaurant and pizzeria, and you can easily buy fresh bread. It is worth getting to know not only the beach (although it is picturesque), but also the surrounding area. You can take the promenade straight from the property to Njivice, where you have a huge selection of restaurants with delicious food. As Krk is connected to the mainland by a bridge, you can easily get to the nearby resorts. Get to know interesting points of the bay such as Krk, Rijeka, Baška or Malinska. If you feel hot, you can return to the campsite and take refuge in a shaded lot.
A luxurious campsite with a slip-on - Zaton Holiday Resort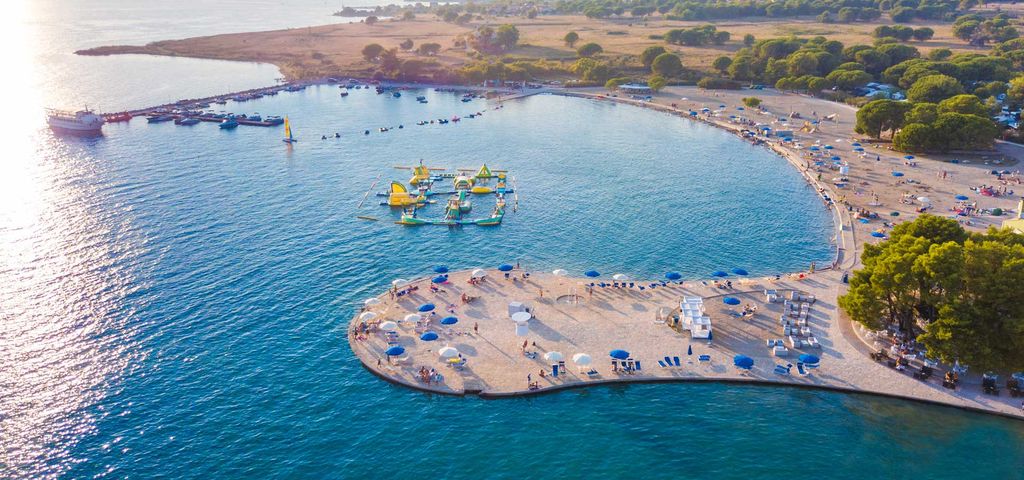 The last campsite is a real tourist pearl of Croatia. It is located in Dalmatia, about 3 km from the city of Nin and 15 km from Zadar. Zaton Holiday Resort is one of the most awarded facilities of this type in the whole country. Just browse through its offer to make sure it deserves all the accolades. I offer tourists accommodation at a high level. Among other things, it has over a thousand large plots with electricity, water and sewage systems. They are surrounded by lush Mediterranean vegetation, so they not only provide privacy. They are just beautiful.
Guests appreciate both the comfort of rest and other amenities. Zaton Holiday Resort attracts all age and social groups. It is especially popular among families with children. This is not surprising - there is a swimming pool complex, playgrounds, animations, and sanitary facilities adapted to the needs of families (also with babies).
Among the strengths of the campsite is a nice long beach. It is mostly covered with sand and partly with stones. It also has a tiled path, which allows people with disabilities to visit it. Many people consider it one of the best beaches in all of Croatia, which is easy to understand. The purity of the water and the beach itself confirm the status of the Blue Flag . In addition, it is distinguished by a lot of attractions for holidaymakers of all ages. The little ones can splash in the shallow water, and the older ones have plenty of entertainment at their disposal. They can also lie on a deckchair or under an umbrella (for rent). Fans of active leisure, including sailing enthusiasts, love to come here. In a word, it is the perfect holiday facility for anyone who ... No, just anyone, no matter how they like to spend their time.
Croatia for sailors - and more
We have listed above just seven out of several dozen Croatian camps with a boat rental service. The described objects have briefs, a private marina or a bay, and there is a beach next to them. They are just waiting to be visited, so if you are dreaming of a Croatian boat vacation, consider one of them.
Of course, attractions for sailing fans are not only on the Istrian peninsula. Nevertheless, it must be admitted that this is an area with exceptionally good conditions for boating. This applies not only to wonderful landscapes with cities located right on the shore, islets or charming lagoons. The conditions also apply to virtually guaranteed weather. If you can afford to spend more time in Istria, check out the Pula. It has the largest marinas in the entire peninsula. Numerous Istrian sailing routes pass through it, and it is also an extremely beautiful city. Go to the Brioni National Park. You can moor in the bays of Mali or Veli Brijun and experience the beauty of this archipelago.
Sailing in Croatia on intimate routes
It is worth going to the east coast. We recommend the trip to those who would like to stay in a place where there are not (yet) crowds of tourists. You will like Raška Bay, which is overlooked by supporters of commercial sailing routes. It has poorly grown, steep edges and a curving shape. It is enough to swim through it to get to the village of Trget. Make a stop there, and if you feel hungry, take a look at a nearby restaurant. It enjoys a reputation as a place with excellent cuisine.
You can end your sailing around Cape Kamenjak. Another name for it is the Premantura peninsula. It is a wonderful place that has already stolen the heart, not only of lovers of boating. Due to its beauty, it was recognized as a nature park. A trip to it relaxes and calms down wonderfully.
As you can see, you can write and write about Croatian sailing areas, and the topic will not be exhausted. Do you love boats? Choose a campsite with a slip-on and come here on vacation. We highly recommend Croatia!
A writer by profession, a passion of a cat. One day he will see what is behind the Urals - good to Vladivostok. So far, when he can, he enjoys the sun of the countries of southern Europe. And it's also fun;)
Enjoyed reading this article? Share it!