Dolenjske Toplice - Slovenia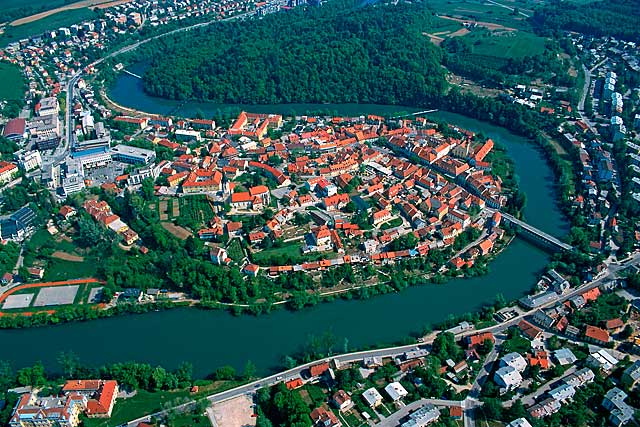 Kupa or Kolpa?
It will be a slightly different story than usual. It will be a story about a journey along the border of two countries, along the Kupa, one of the cleanest rivers in Croatia, and at the same time about a place where visitors can rest in body and spirit, i.e. one of the oldest spas in Europe - Dolenjske Toplice in Slovenia.
So let's get started. Kupa, also known as Kolpa, is the main outlet of the Sava River. One of its sections is the border between Croatia and south-eastern Slovenia. The river flows among wonderful landscapes, and the most beautiful of them belong to the Kolpa Landscape Park (Krajinski Park Kolpa). The park stretches within the Crnomelj district, its main attraction is undoubtedly the river itself with its picturesque, vast valley, in some part even forming a canyon with high cliffs on both banks.
The park is a monument of nature, it is a reserve that protects many species of plants and animals. Wandering along the Kupa, you will also come across numerous mills, sawmills and castles.
Dolenjske Toplice
During their stay in Slovenia, apart from admiring the beauty of nature, which can touch the heart in this country, tourists often look for a place where they could truly rest and undergo various beautifying, relaxing and regenerative treatments. They eagerly choose the Slovenian Dolenjske Toplice (exact address: Terme Dolenjske Toplice, Zdraviliški trg 7). One of the oldest spas in Europe, surrounded by vineyards along the valley of the Krka River, attract visitors with hot springs. These springs are characterized by a low degree of mineralization and a temperature equal to body temperature - therefore their effect is soothing and beneficial to health. People with rheumatic diseases as well as women suffering from various gynecological diseases come here.
Right here, in Dolenjskie Toplice, in the vicinity of a beautiful park, the Wellness Center Balnea awaits them, offering a wide range of nourishing saunas, strengthening baths, and revitalizing massages.
These are not all the attractions that the town tempts with. You can have a wonderful time here, both in summer and in winter. Ski lovers have at their disposal routes on picturesque slopes, which can be reached quickly by ski bus, there are also an exceptionally large number of cross-country ski runs. In turn, in summer, those who are willing can play tennis or ride a bike, getting to know the beautiful surroundings. Those looking for peace and relaxation can go fishing for hours. There are also a lot of cafes and restaurants, a concert hall and a casino.
A camper along the border
Visiting Slovenia, motorized tourists have great opportunities. Not only are they free to plan their trip and get to know places that are not written by the guides, but they can also stay at one of the many camps located in an exceptionally beautiful area. A good example of such a camp is Otočec camp (Grajska cesta 2, 8222 Otočec). It is located in the immediate vicinity of the Otočec Castle, on the right bank of the Krka River, and can accommodate 160 visitors. It is open from April to October and from October to March. It invites lovers of fishing and sailing, as well as cyclists and people who like long walks in a wonderful environment - many beautiful routes await them. An adult will pay 7-8.50 euro per night, youth (3-18) 3.50-4.25, and the price for access to electricity is 3 euro / day.
It is also worth staying at the Podzemelj Ob Kolpi campsite (Podzemelj, 8332 Gradac) Here the prices are within the following limits: adult - EUR 9 / day, children under 7 - free, 7-14 years - 6.30 EUR / day, car - 5 euro, dog - 3 euro, electricity - 4 euro. The campsite is open from April to September and offers tourists 50 places right by the river. It is a real paradise for families with children - there is a large playground, a place to play volleyball and table tennis. In summer, when Kolpa is warmest, you can go kayaking, sailing and fishing, but these are just some of the entertainment that camping owners offer.
The next place is the camp Jankovič - Stari pod (Gorenjci pri Adlešiči 15, 8341 Adlešiči). The location next to the river allows tourists to fully enjoy nature. In addition to fishing and contemplation on a boat, they can also arrange romantic picnics by the landscape park. For stays longer than 10 days, you get a 10% discount, no fee is charged for the accommodation of children up to 7 years old, and for children aged 7-14 the cost is 5 EUR / day. The price of a parking space is 3 EUR / day, and access to electricity - 3.50 EUR / day.
Visiting Slovenia
A trip to Slovenia is a real experience, not only of an aesthetic nature (memories of beautiful nature will accompany us for many years), but also of health, if we stop in Dolenjskie Toplice for a series of treatments. Walking along the border with Croatia, we will have the opportunity to see the landscapes that both countries are proud of. We can also decide whether to go further deep into Slovenia, or divide the trip into two parts and thus double the impressions of the trip. Whatever the decision, it will be a great time.
A writer by profession, a passion of a cat. One day he will see what is behind the Urals - good to Vladivostok. So far, when he can, he enjoys the sun of the countries of southern Europe. And it's also fun;)
Enjoyed reading this article? Share it!