Holidays with a dog in Croatia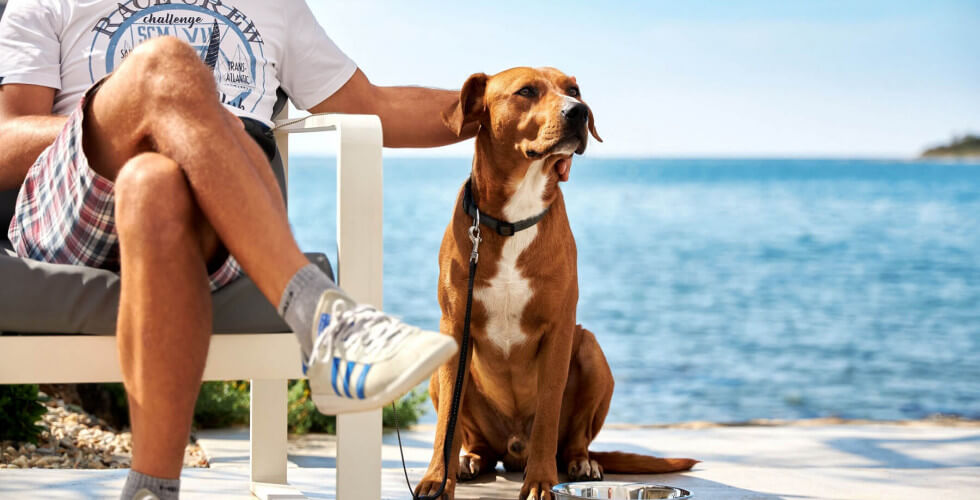 Are you planning a vacation in Croatia and wondering whether to look for a doggy hotel? Or maybe ask your friends to take care of your pet again? There is one more solution: a joint trip.
Going on vacation with your pet, especially if it is a foreign holiday, requires good organization. Prepare well for it, otherwise there may be a lot of (unpleasant) surprises waiting for you. It is definitely better to save yourself and your pet unnecessary stress. Some tourist establishments require an additional fee for his stay and also have specific requirements. The guidelines may concern, for example, walking around the grounds on a leash, putting on a muzzle in public places or walking on a specially designated part of the beach.
Where in Croatia with a dog?
If your destination is Croatia with a dog, in this beautiful country you will find quite a lot of dog friendly campsites. For our part, we suggest you take a look at the Maister chain's offer. These are modern holiday resorts located in great locations - mostly in Istria. They provide holidaymakers with attractive accommodation options and a rich infrastructure. There are bars, cafes and restaurants serving delicious dishes for everyone, from traditionalists, through people on various diets, to allergy sufferers. There are swimming pools (often large swimming pool complexes), wellness centers, saunas and gyms. You will have a lot of fun on them in sunny weather and in rain.
Dog-friendly Maistra campsites
Get to know several holiday facilities belonging to this chain. Some of the described campsites are located in the near or further vicinity of Vrsar. Others can be found in Rovinj. Both resorts are relatively close to each other - you can drive from one to the other in about an hour. What does it mean? That you can freely choose from among the resorts in one region. In an exceptionally beautiful region, let us add.
Dog-friendly places - Camping Valkanela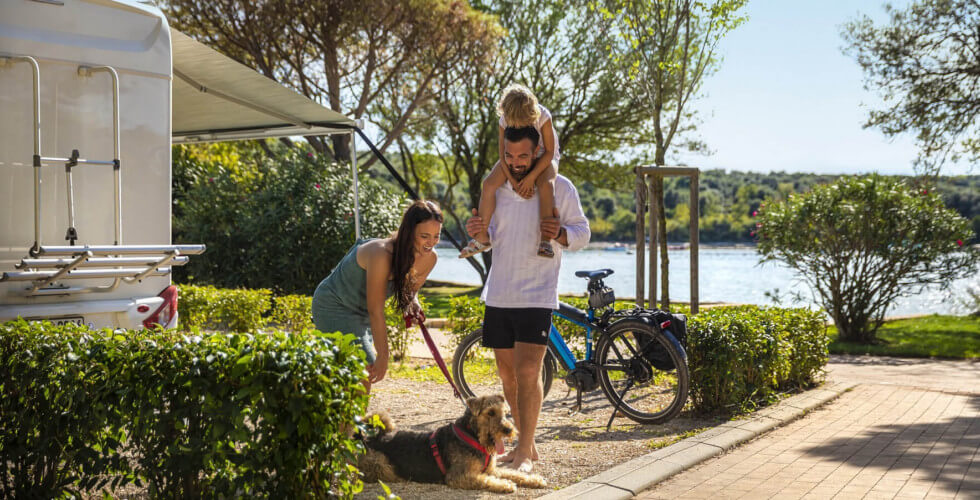 The first recommended point is Camping Valkanela . It is located on the Istrian peninsula, between the towns of Vrsar and Funtana. This is a great place for people who would like to take their pooch with them on vacation. They and the pet will be happy with their stay. The camping itself is very popular with families with children. It is also eagerly visited by enthusiasts of active leisure, who have plenty of entertainment options here. You will have a lot of opportunities to walk along the seashore with your pooch, as well as to swim in warm, clean water.
Valkanela is an impressive holiday complex offering less than 1,800 plots with water and electricity connections. It waits for guests from April to October, and its greatest advantages include continuous development. At every step, you can see the comfort of holidaymakers and the expansion of the range of services - both accommodation and attractions. The campsite has great new pitches in a beautiful location, it also invites you to mobile homes with a shared swimming pool. It attracts tourists with a nice beach and swimming pools. And this is just the beginning of a long list of his strengths.
If you are interested in dog-friendly places, Valkanela will meet your expectations. It is a perfectly organized camping, where dogs are welcome (for an additional fee). You must check in advance which accommodation option includes a stay with your pet. Among other things, not every mobile home can stay with him. But you still have a lot of choice - 73 Standard, 40 Deluxe and 30 Family cottages are waiting for your pet, as well as all the pitches. There are beds for dogs (smaller breeds) in the houses. In addition, you can take your four-legged companion to 3 beaches and 10 showers. On request, you will get fecal bags at the reception. You can also introduce your pet to 5 camping bars and 2 restaurants.
Holidays in Croatia with your dog - Camping Porto Sole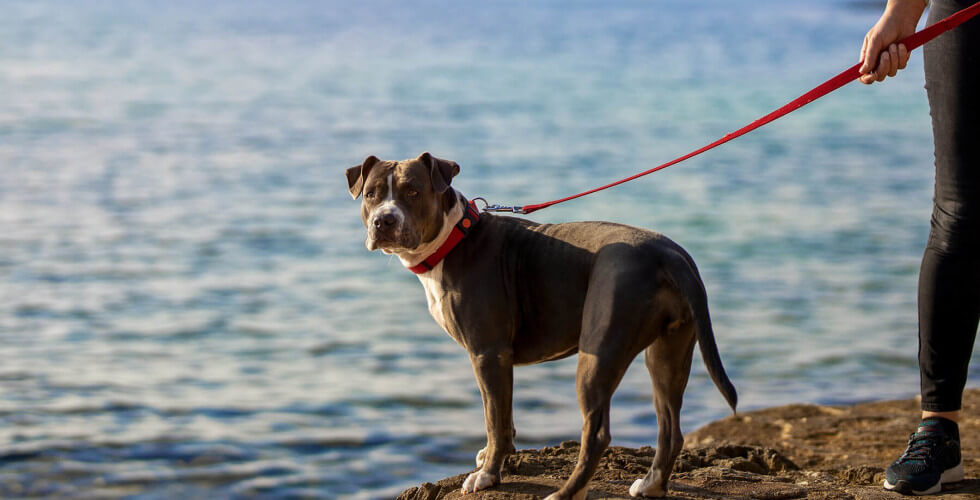 Another place that we would like to draw your attention to is Camping Porto Sole . It is a few minutes' walk from Vrsar. Unlike its predecessor, it is a year-round resort. This means that you can come here with your dog for a picnic, New Year's Eve, holidays or a welcome to winter. It is a very picturesque place surrounded by greenery, situated on a gentle hill. Nature lovers as well as sports fans love him. They have a diving center and a range of activity options in the recreation area at their disposal. There are, among others sports fields and tennis courts.
When it comes to offers for animal lovers, they will surely appreciate the dog beach. Quadrupeds can also enter the Porto Sole Snack Bar located next to it. The camping has 690 pitches with power connections and mobile homes that will meet the expectations of even the most demanding. You can stay with your pet on each lot and house. In addition, in the bungalows, pets have prepared beds and bowls for food and water. Fecal bags are available at the self-service dispensers next to the baskets (and on request at the reception). At the campsite reception, there is a prominent number of the veterinary clinic, so if necessary, you will get help right away.
Guests renting plots have access to 5 sanitary facilities located at different points. There are showers, sinks, washing machines and dryers, and bathrooms adapted to the needs of people with disabilities. In 4 there are special showers for dogs.
Where in Croatia with a dog - Koversada Camping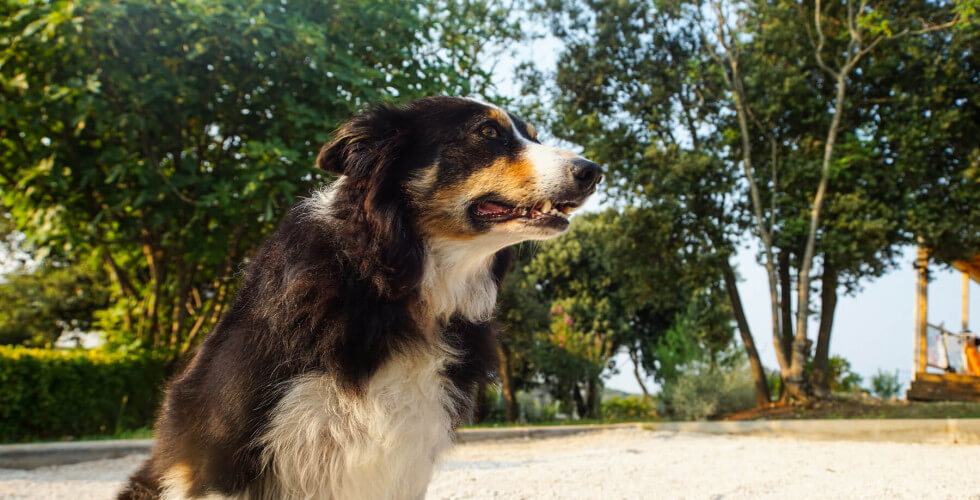 The next center has an enormous reputation, but definitely not because you can come here with your dog. Koversada The campsite is known throughout Europe as a naturist site with the longest history on the continent. Like the two previous ones, you will also find him in the vicinity of the town of Vrsar. It is a gigantic holiday complex that extends not only on land - it also includes a nearby island. Is it regularly visited by the next generations of tourists? Why? Mainly because of the freedom that reigns there. It is not just about freedom in terms of clothes. It is simply a wonderful place where you can take a break and relax in nature.
However, let's focus on the quadrupeds. Koversada offers hospitality from April to October. So you can spend here not only holidays with your dog, but also a picnic or an autumn holiday. The campsite has 2 beaches for dogs and 3 showers, and pets are also available on lots and in cabins. Dogs are accepted at all stands and in camping houses. In the latter, there are specially prepared beds for little dogs.
You will immediately realize that all points on the campsite map are dog-friendly places. Pets are allowed to enter any restaurant and bar. Additionally, on request (for free), you will receive bags for dog droppings at the reception.
Holidays with a dog in Croatia - Camping Vestar
In Istria, there is another point of interest for tourists traveling with a dog. This is Camping Veštar , approx. 5 km from the popular resort of Rovinj. It is also one of the most popular centers of the Maistra chain. It attracts tourists with a gravel and sand beach, a water park with swimming pools and a varied range of water sports. It has great places to play for the youngest guests. As for the package of accommodation options, it includes pitches, mobile homes and a camping site.
If you've been wondering where to spend your vacation with your dog in Croatia, you don't have to. Camping Vestar offers accommodation on 442 pitches and in all types of mobile homes. The houses have beds and bowls for your pets. All restaurants and bars on the campsite are open to pets. What's more, there are bowls for food and water waiting in the premises. In addition, the dogs have 2 showers and 2 beaches for themselves. If necessary, you will quickly find information about the available vet (on duty or simply the closest one). Just like in the previous campsites, you will also get the appropriate bags at the reception desk on request.
Vacation with your dog in Croatia - Camping Polari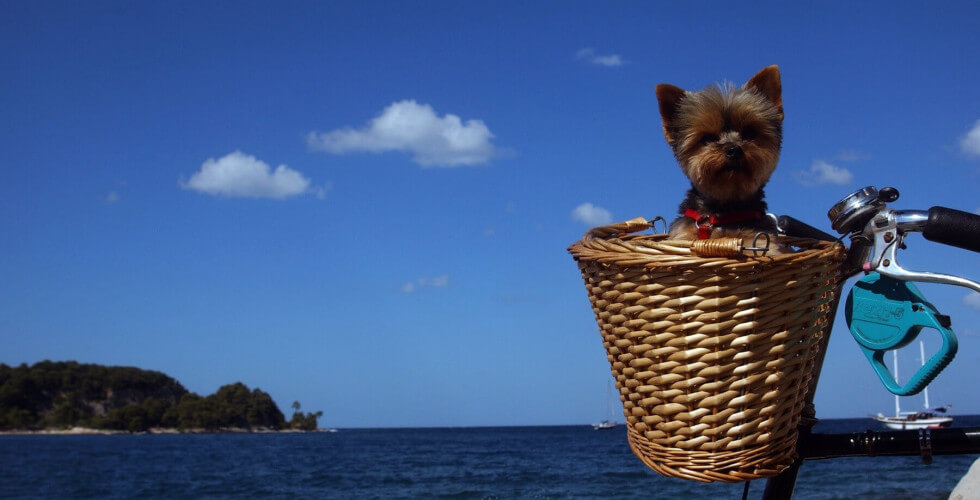 If Vestar seems a bit too far from Rovinj, we recommend Camping Polari . It is located in the immediate vicinity of the city, right by the sea. It is connected to the resort by a tourist trail along the coast, as well as a nice bicycle path. On its premises you will find a large water park with a swimming pool complex, a swimming pool bar and a really wide range of sports and recreational options. The surroundings of the campground are also important - both on it and around it is fabulously green!
Vestar is considered by many to be the best facility in the chain, while Polari is undoubtedly the largest. It offers vacationers a considerable number of 5,000 plots. So there is a lot to choose from. It is worth noting that you will see the pools here in many places. Among other things, there is a large spray park by the beach and several smaller, shallow ones, while in the back of the camping there is a diving and recreational pool. A couple of tiny private pools are also located between the houses. If you decide to book one of these houses, you will be able to splash around on your own property. There will also be free sun loungers.
Unfortunately, the cabins with a swimming pool are not dog friendly. On the other hand, pets can stay on all plots and in 78 Standard, 70 Family and 91 Deluxe cottages. You will also find bowls for food, water and bedding. In addition, dogs can enter 5 camping bars and 2 restaurants. They have 2 dog beaches and 5 showers.
Where in Croatia with a dog - Camping Amarin
The last place we invite you to (together with your dog, of course) is Camping Amarin . Compared to its predecessors, it has recently changed the most. In addition to new sanitary facilities and plots, another accommodation option has appeared. This is glamping, a proposition for lovers of luxury. The facility attracts holidaymakers with a rich animation program for children and teenagers, a swimming pool complex, bars and restaurants. It also has a great offer for enthusiasts of water sports and other activities. Additionally, Amarin advertises itself as a campsite with lots with the most beautiful view of Rovinj. As you can see, there is something to tempt tourists.
And does the center have anything to tempt dog handlers? It has, and how! It invites you to all the pitches and all the mobile homes. In cabins for pets there are bowls with pads and bags for excrement. These bags are also available at the reception desk upon request. Dogs can enter the terraces of any restaurant and bar - except for the swimming pool. They have 1 beach and 2 showers to themselves. It is worth emphasizing that when the reception is called, the veterinary service appears. Here you will get help as soon as possible.
Of course, these are not all places where you can relax with your pet. Certainly, there will be more and more pet-friendly campsites. Be sure to check us out, because we will write about them. We also encourage you to read our article on how to plan a camping trip with a dog . From it you will learn what formalities you need to take care of, what to take and what to pay attention to. Treat it as a guide for traveling with a pooch.
See you on the road!
A writer by profession, a passion of a cat. One day he will see what is behind the Urals - good to Vladivostok. So far, when he can, he enjoys the sun of the countries of southern Europe. And it's also fun;)
Enjoyed reading this article? Share it!