In a camper van to Vienna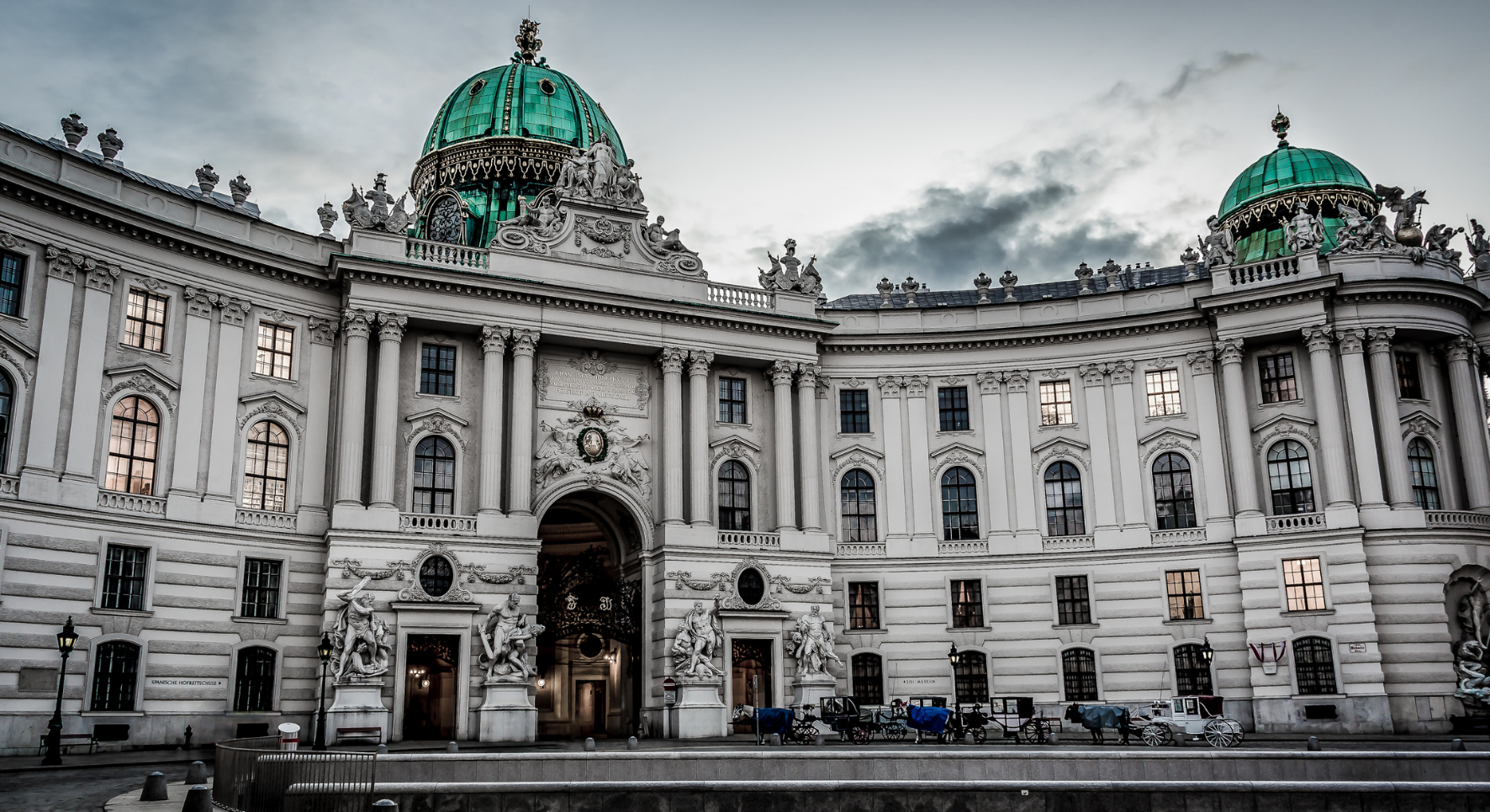 If you would like to visit one of the most beautiful capitals of Europe, plan your trip well. Vienna is a vast city full of attractions for every traveler, from a lover of temples to a fan of amusement parks. You can get here by plane, train or your own vehicle. If you prefer the last solution, apart from the sightseeing plan, you also need accommodation.
The Austrian capital impresses with its architecture, but not only lovers of monuments love it. It is a city where the past and the present create the perfect combination. It has lots of beautiful buildings, squares and monuments, as well as green areas. In addition, Vienna is a multicultural and modern center. It is fascinating not only to wander its streets, but also to travel to it. For example, in a motorhome. Read which campsites in Austria are worth visiting on your way to Vienna. Check where you can stay if you are looking for a place as close as possible to Viennese attractions.
We're going to Austria in a motorhome!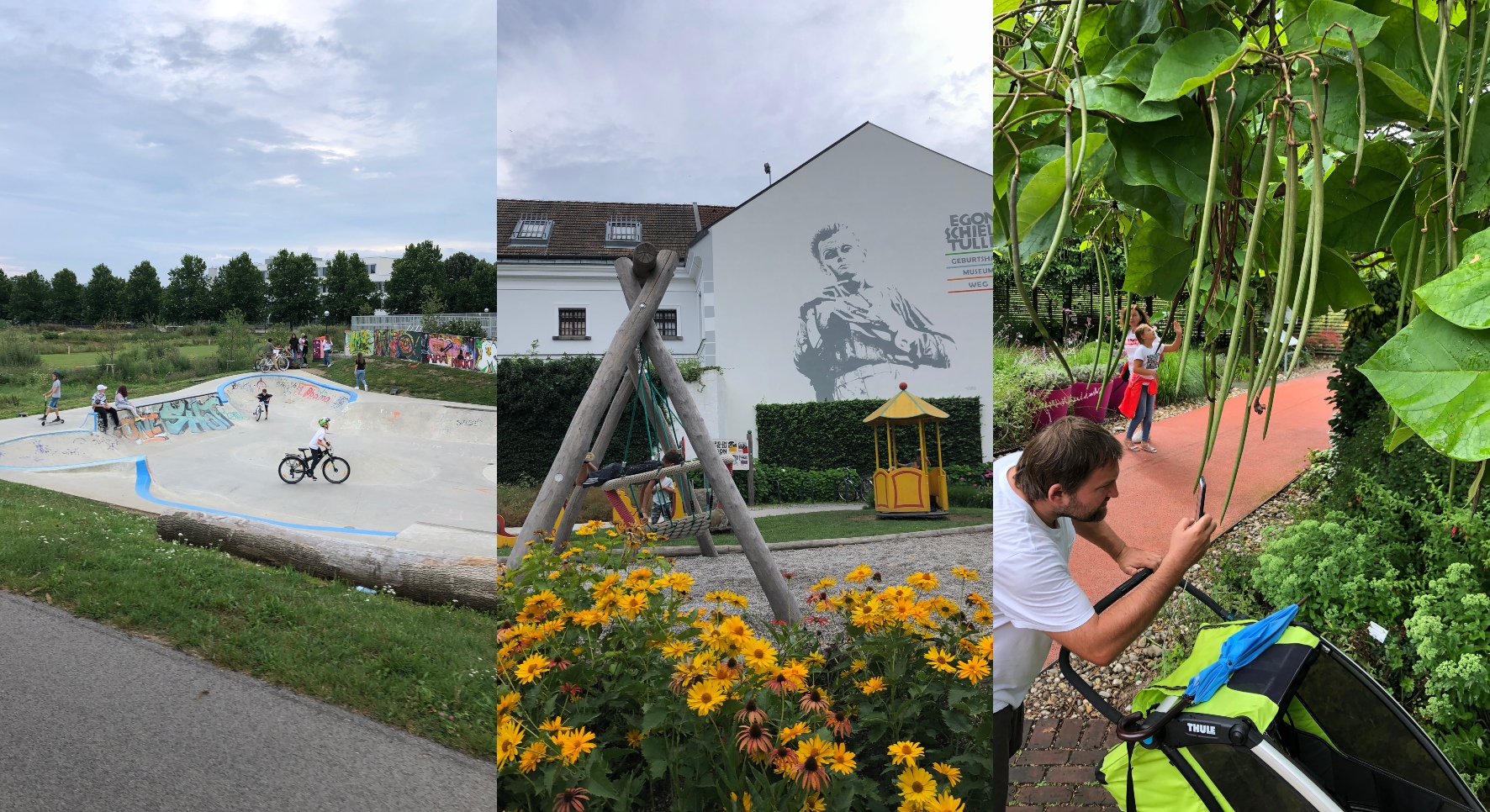 Caravanningists in Austria have nothing to complain about. There are many facilities that offer their hospitality. Usually these are well-equipped resorts, clean and modern with many amenities. When you add a picturesque setting to it, you don't need more luck. Well, possibly the proximity of the main point that we want to see during the vacation. If you are going to Vienna by motorhome, the campsites close to it will enchant you. Not only are they great as a starting point to the city. They are well organized and have high quality accommodation options. It is a real pleasure to rest on such a campsite.
The first example is Donaupark Camping Tulln . This is a very nice property located next to the small town of Tulln on the Danube (Tulln an der Donau). It is extremely beautiful in itself, and the place it is located is an added advantage. It is located on the Austrian Danube, in close proximity to the Aubad artificial recreation reservoir. The surrounding landscape is decorated with numerous hills and the greenery of the Vienna Woods. Nature lovers and those who want to visit Vienna eagerly come here.
Donaupark Camping Tulln - accommodation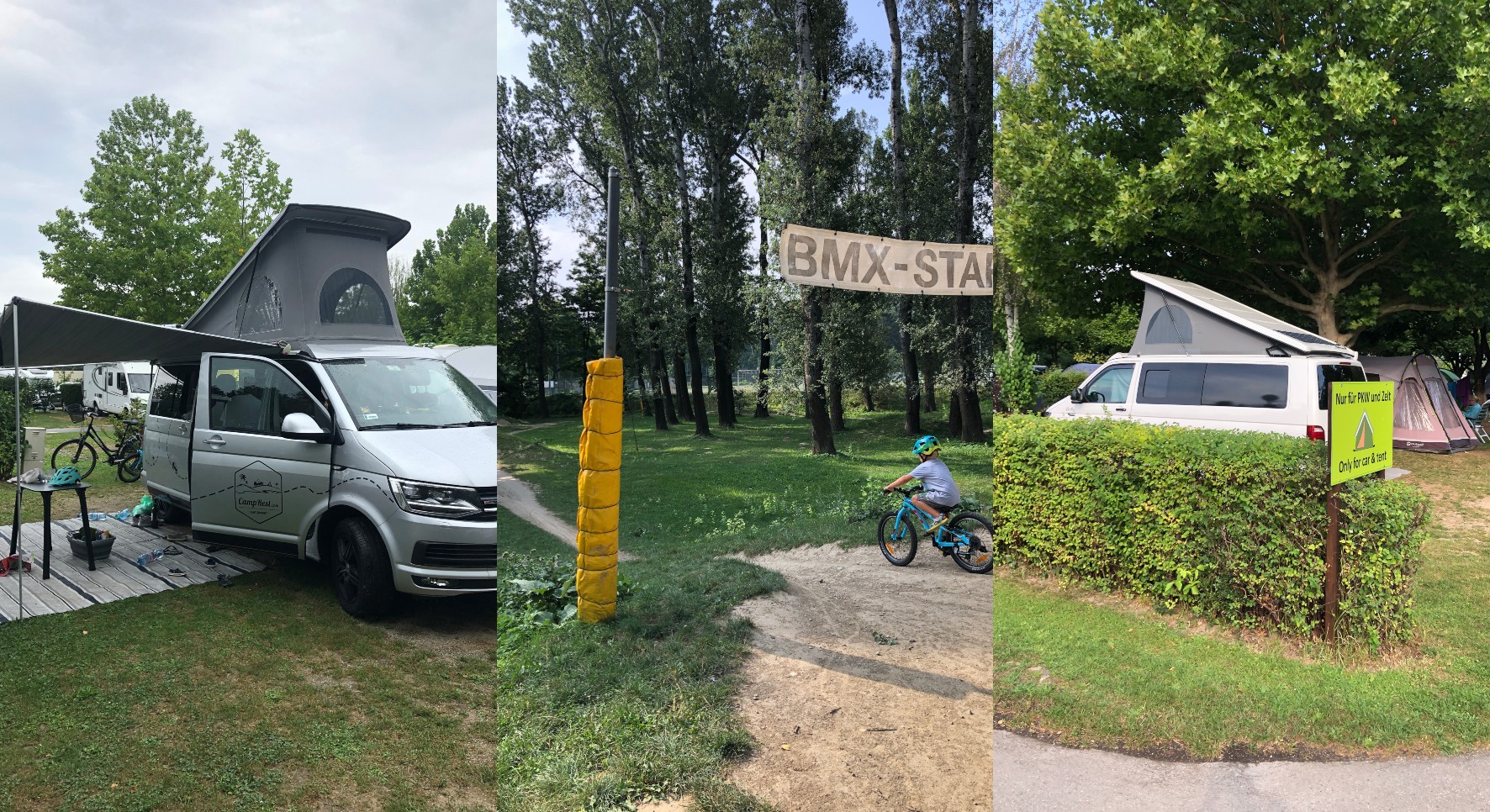 The campsite has a campsite and pitches for campers and caravans. For those who do not have a house on wheels, there are places in mobile homes with terraces. The property has 20 mobile homes with a comfortably furnished seating area, separate bathroom, toilet and kitchen. Depending on the chosen option, guests can choose from 2 or 3 bedrooms. Unfortunately, pets are not allowed in the cabins. It is worth noting, however, that this is a dog-friendly campsite. There is no need to pay for their stay. The keepers only have to make sure that they keep their pet on a leash all the time while walking around the grounds.
As for the plots, you will find about 130 of them here. They are of various sizes, from 90 to 120 m², which means that you will even accommodate a large motorhome. The sites are arranged in circles around water sources. All plots have power connections. The luxurious ones also have their own access to water and a sewage disposal point. You can stay in the lot in a sunnier or shaded area. There are trees everywhere, so it's incredibly green.
From April to September, the camp site has a restaurant called Taverne2. It serves delicious dishes made of regional products. You can order lunch there from Monday to Friday. In addition, the restaurant organizes themed evenings for gourmets of grilled meat several times a week.
Camping in Austria - a holiday on the Danube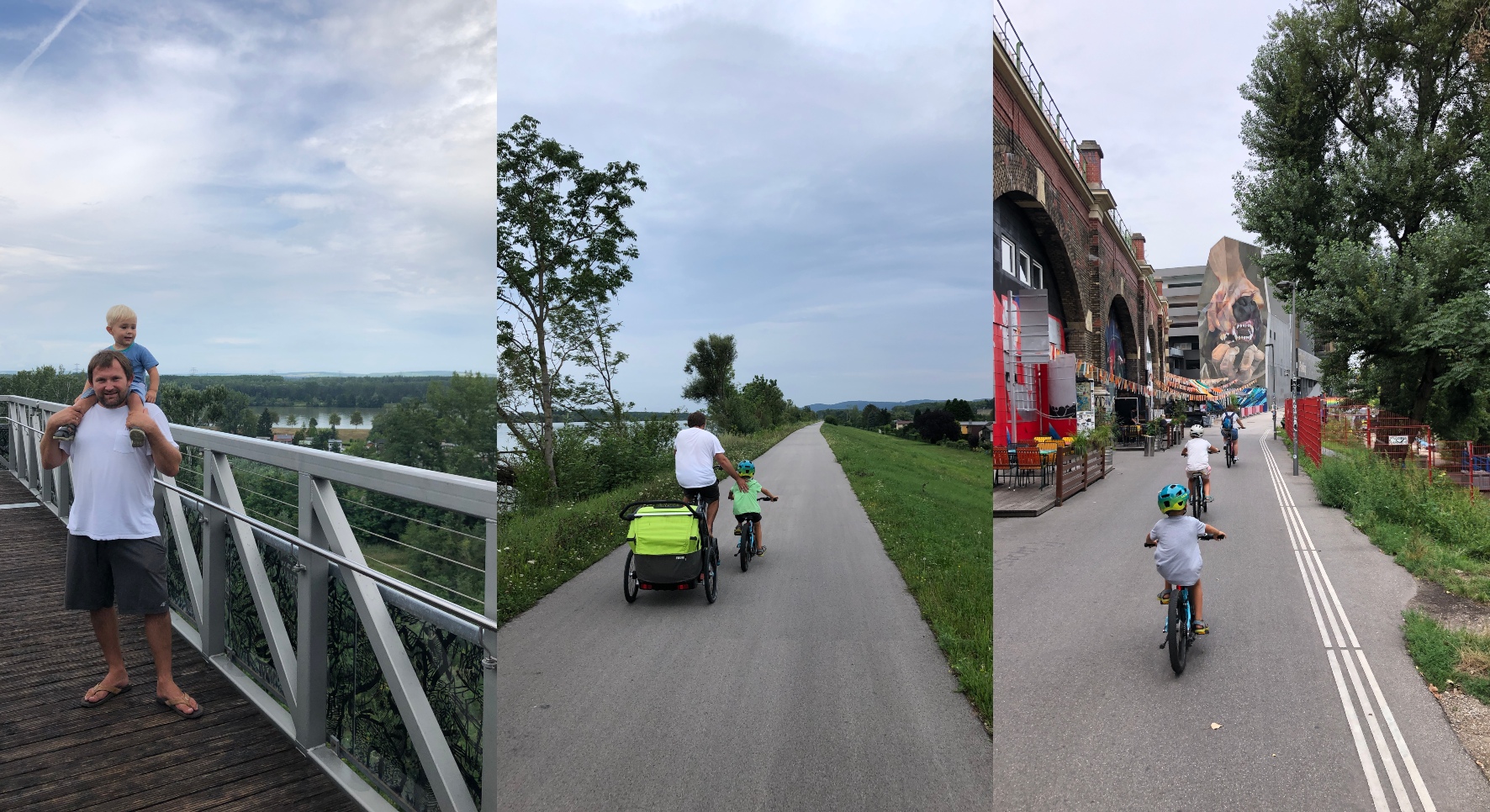 Even when you came to Vienna by motorhome, do not focus solely on it. The surrounding towns also deserve attention, especially when they are as full of flowers as Tulln an der Donau. From the campsite you can quickly reach the center of the town, which has stolen the hearts of many visitors. In warm months you will see lots of flowers here. Due to the numerous parks, the resort is even called the city of flowers. It is famous as the birthplace of the controversial painter Egon Schiele. It is also the final port for cruise ships from Vienna and a city full of fountains. You will see them in many places.
We recommend a trip to Thulln when staying at the campground. You can also use the support of a guide and get to know the surrounding attractions under his supervision. Another option is bike tours - one of the routes runs right next to the campsite. It stretches along the Danube, so great views are guaranteed.
Make sure to go to Aubad, an artificial lake, especially since as guests of the facility you have free admission. You can go swimming, rent a boat or try water skiing. Sports fans will play football, basketball, volleyball and baseball. If you don't feel like it, there is a sandy beach with a sunbathing area waiting for you. The youngest ones will love playgrounds and slides.
Rest by the Vienna Forest
As you can see, coming to Vienna by motorhome is a great idea. However, if you'd rather stay with your mobile home closer to the city, no problem. Approx. 22 km east of Donaupark Camping Tulln is another noteworthy site. This is Donaupark Camping Klosterneuburg . Many tourists consider it to be the best place to visit Vienna. It is located in the beautiful surroundings of recreational areas, called the green lungs of the city.
The Vienna Forest (Wienerwald) stretches on the west side of Vienna, from the Danube valley to the thermal springs. The location of the campsite right on its edge allows campers to enjoy the closeness of nature. At the same time, in 2 minutes you will get to the bus station or city rail station and you will get to the city. Klosterneuburg with its medieval abbey is also nearby.
There is a bicycle path just outside the campsite. As with its predecessor, also here it stretches along the Danube. It is easy to understand why both objects are so popular among fans of two wheels.
The offer of Donaupark Camping Klosterneuburg will appeal to both active people and families with children. The little ones will have fun on the playground and go crazy on the trampoline. For those who cannot imagine a vacation without swimming, there are two options. The first is a riverside bathing beach , while the second is a visit to the nearby Happyland Leisure Center. There are outdoor and indoor swimming pools as well as numerous sports fields waiting for those willing.
Donaupark Camping Klosterneuburg - accommodation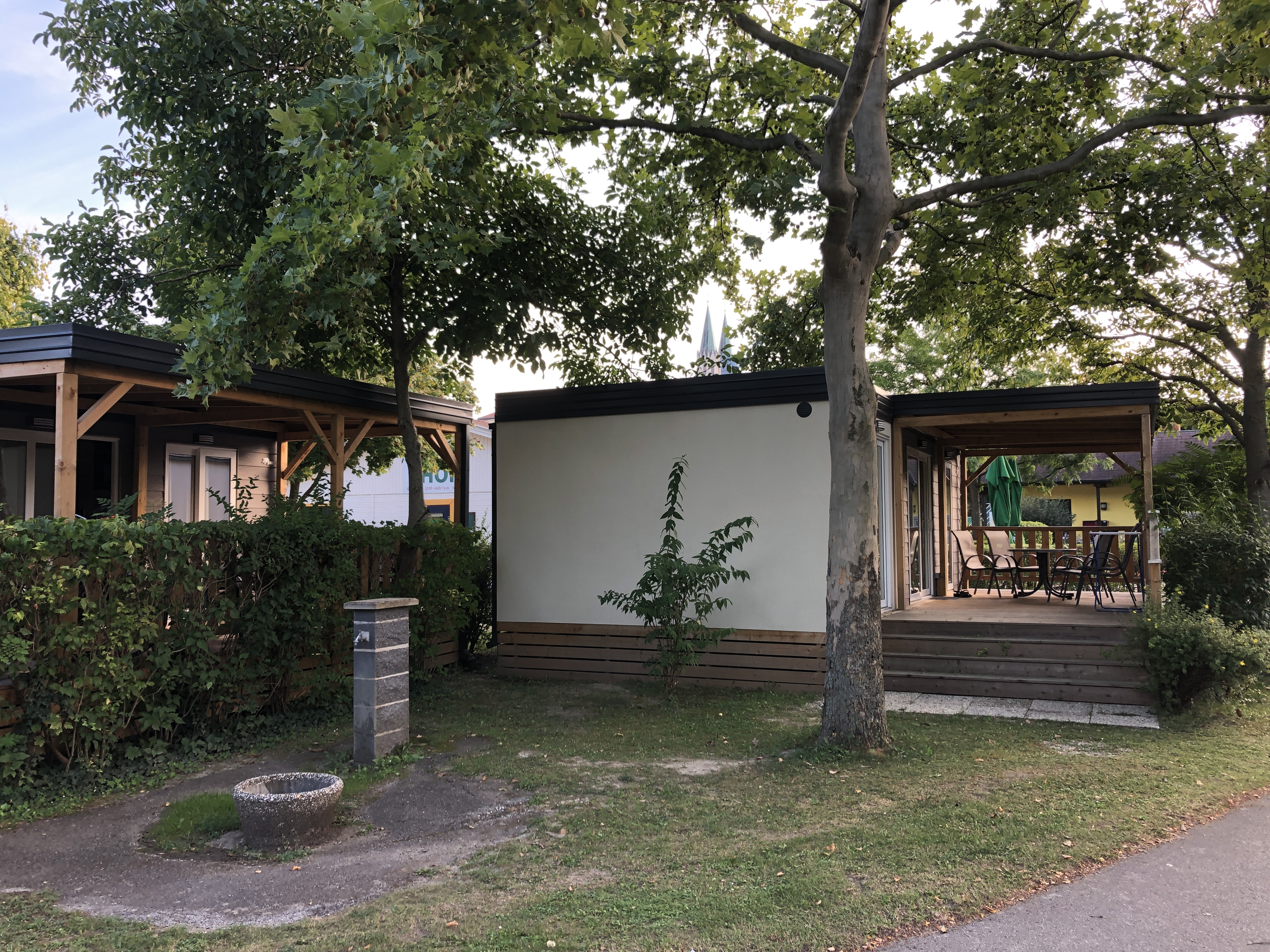 The campsite has around 100 pitches, 70-90 m² in size. All pitches are dedicated and equipped with a 6.3 amp CEE plug power supply. Some additionally have a TV connection. Enthusiasts of sightseeing from the height of the bicycle seat can set up a tent on the campsite. Two such zones have been designated in the area of the center.
Those who prefer more convenience can rent a mobile home. The campsite has 6 of them, each of which provides comfort in a seating area. It also has a bathroom with toilet and a fully equipped kitchen. On warm days, you can sit out on the terrace and enjoy your stay outdoors.
As with the property on Tulln, pets are not allowed in the mobile home's guests.
If not camping, then what?
We realize that for the multitude of people going to Vienna by motorhome, what matters most is ... Vienna. During their vacation, they want to see as much as possible. They plan to spend time on long trips, get to know the local cuisine, soak up the culture ... Generally speaking, they are planning to go on a very active trip. As a result, they expect a minimum from the accommodation, because they will practically only sleep in it. For this group of tourists, the right solution may not be a campsite, but a camper-park . Caravanningists have a parking space there and access to appropriate connections (water, electricity, sewage). What more could you want if you mainly want to visit?
Stop at Reisemobil Stellplatz Wien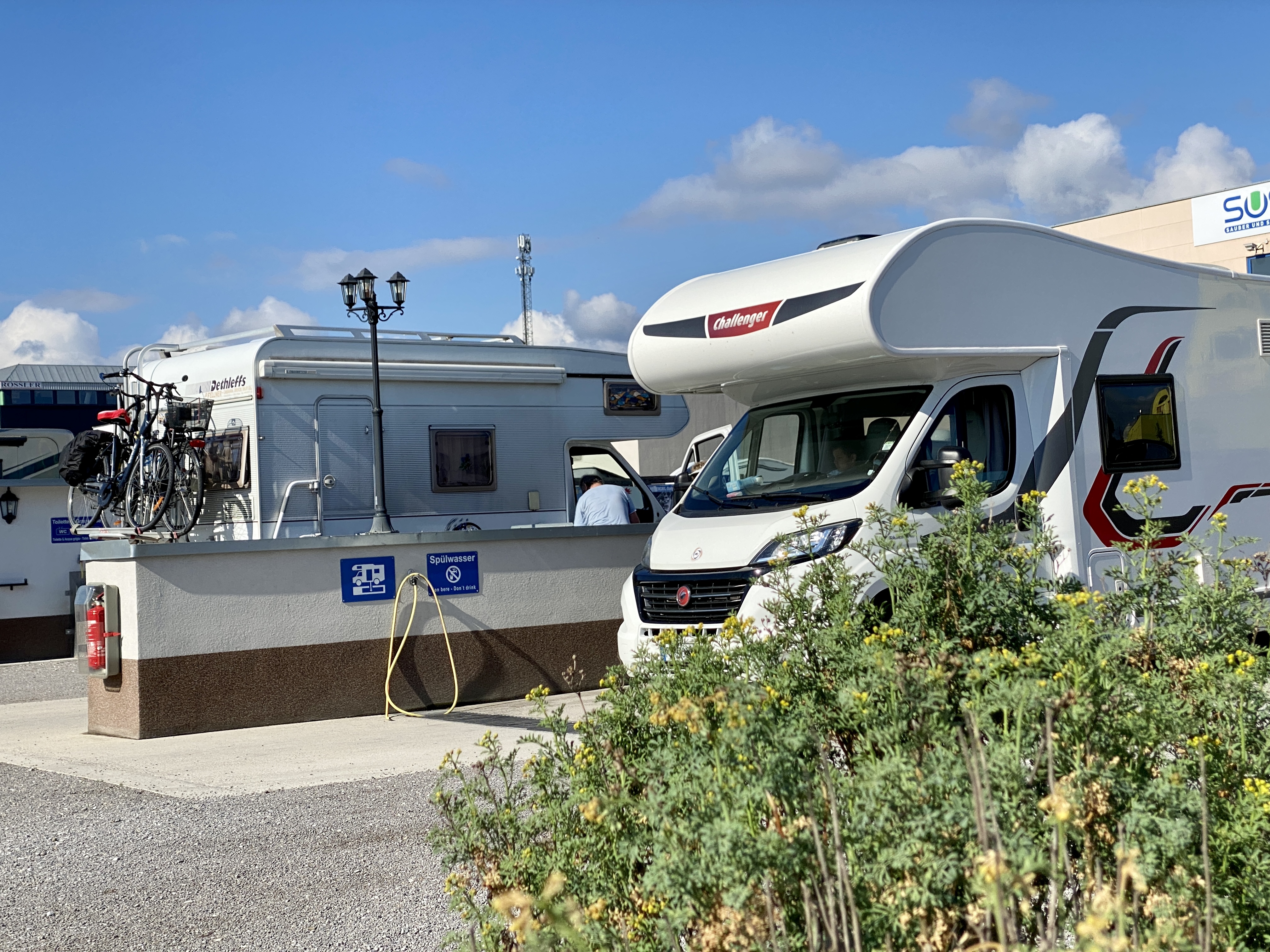 Overnight in a special car park is an option willingly chosen by amateurs of free travel. They use it, whether it is going to Vienna by motorhome or to another city (and country). The all-year-round and round-the-clock Reisemobil Stellplatz Wien is an ideal example of a point intended for owners of this type of vehicle. It is designed to make it as easy as possible to move around its area. One glance is enough to make sure that the way of managing the space has been carefully thought out. It is impeccable.
Motorhome owners have enough space for themselves. This applies to both the size of the plots and the traffic areas. This is not a parking lot where you have to perform complex maneuvers. The property has a wide entrance and a parking lane for arrivals. Drivers can make large turns freely and without stress, which is especially important after long hours of driving. You must admit that you would like to rest as soon as possible, tired of sitting behind the wheel.
It is worth praising not only the fact that the organizers did not spare parking space for those who went to Vienna with their motorhome. The sanitary facilities are extensive and, above all, well-kept. There are numerous showers, toilets and urinals, not to mention the sinks. There was also a garden for dogs.
By camper to Vienna - what to see on the spot?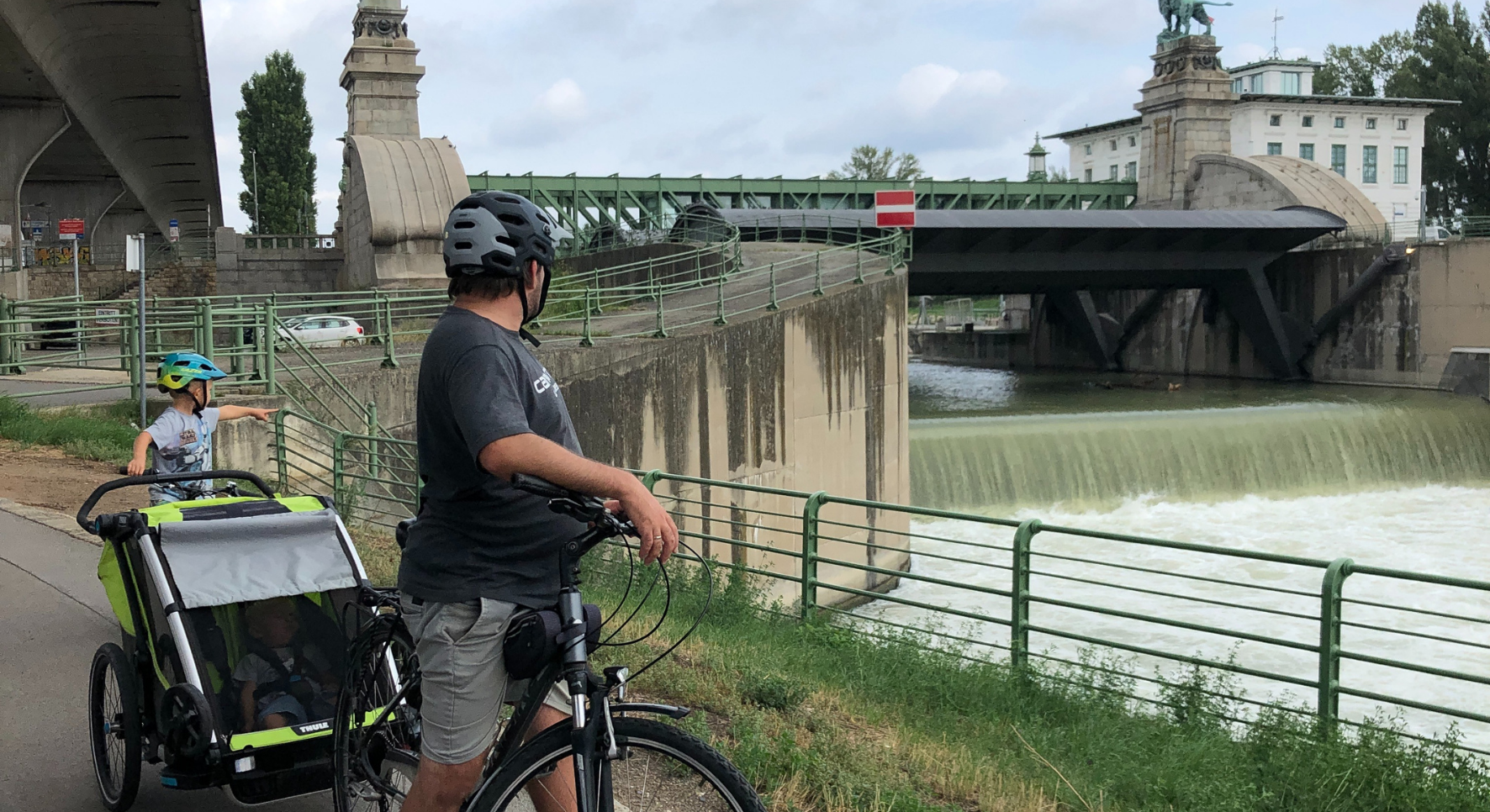 One of the greatest strengths of Reisemobil Stellplatz Wien is its location. This is a really great spot for caravanners. They will feel at home here. It is important, however, that they have it almost everywhere. This is a car park from which you can reach the center of Vienna (outside rush hours) in less than half an hour. There is a bus stop next to the building. A distance of 150 meters separates the camper-park from the metro station. You can reach the city center or Schönbrunn, a palace complex with a park, in a quarter of an hour.
You can buy food and other necessary products on the spot. There is a grocery store approx. 30 meters away. Equally close is a shop with electrical products and accessories for bicycle owners. You can also use the services of a hairdresser, visit the post office or eat dinner in an Italian restaurant.
All these points operate across from the parking lot. If you want more choice, Shopping City Süd is easily accessible. It is not only the largest shopping center in Austria, but also one of the largest in Europe. It is located approx. 3 km from the camper-park and you can reach it by public transport. Like to other restaurants, pubs and cafes or to Höpflerbad. It is a large swimming pool complex, very liked by the locals.
Speaking of physical activity, it is worth noting that the facility is only 500 meters from the PaN-Park athletics field. It's a great place to exercise, play basketball, beach volleyball or basketball. There is also a skatepark . A kilometer further there are tennis courts and a large gym. At a distance of 3-5 km from the camper-park there are two world-famous golf courses. If you like this kind of sport, you can do it on the Viennese hills.
Camper parks and campsites in Austria
Several campsites are located in the closer and further vicinity of the city of Johann Strauss. You can view their offer and then choose the one that interests you the most. Some will choose a modern parking space, others will choose a camping surrounded by greenery. Both will achieve the same goal - they will visit one of the most beautiful cities on the continent. It is sometimes called the musical capital of Europe, an imperial city and a center where even banners are beautiful. No matter where you spend the night, you will remember the trip for a long time.
If you want to go to Vienna with your motorhome, you will find good campsites both on the way and in front of the city. It is only up to you which one you choose. For our part, we recommend all three of the above-mentioned facilities. We tested them and were satisfied. As you can see, we didn't focus on the attractions of Vienna, because that's a topic for a completely different story. And you can talk about this city endlessly.
A writer by profession, a passion of a cat. One day he will see what is behind the Urals - good to Vladivostok. So far, when he can, he enjoys the sun of the countries of southern Europe. And it's also fun;)
Enjoyed reading this article? Share it!