Italian Florida - Lignano Sabbiadoro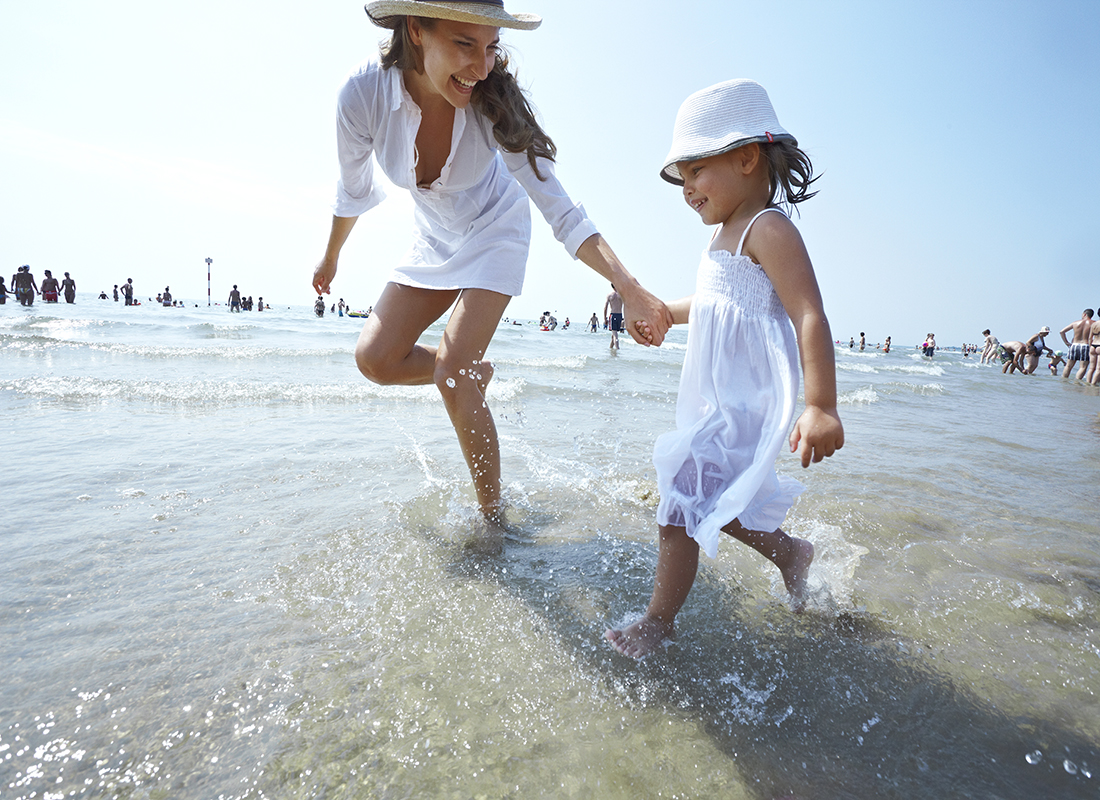 Thanks to receiving the renowned Blue Flag award from the Foundation for Environmental Education since 1990, which rewards excellent sea quality and services, Lignano Sabbiadoro is the perfect vacation town that allows you to rest and spend time in nature!
It offers many options to choose from, ready to meet all your needs; Lignano, called by Ernest Hemingway "Italian Florida", is a peninsula made up of various natural treasures: on one side there is an 8-kilometer long strip of soft golden sand, a wide beach from which the city takes its name, and on the other side the shore is covered with lagoon waters; and the third element is the real "green lung" of the city, that is, the pine grove characteristic of the Mediterranean region.
Accommodation in Lignano in a comfortable campsite
Camping Sabbiadoro is the perfect solution for enjoying a holiday surrounded by nature without sacrificing comfort - the perfect solution for families with children, groups of friends as well as our faithful animal companions! Thanks to its central location (600 meters from the city center and a 2-minute walk from the beach), the campsite offers a wide range of accommodation, plus a water park with three swimming pools and a fitness area, where our entertainment team will liven up your day. All our guests can use the free beach in front of beach point No. 19 or, alternatively, they can rent umbrellas and sunbeds at a special price. Parents can safely entrust their children to the beach animation team: the children will surely have fun during group activities and dances. In addition, a free beach for dogs will be available: Sunny Pet is equipped and designed for the animals of our guests, you can enjoy a sunny day at the seaside here without parting with your beloved dogs!
Swimming on SUP boards
The beach of Lignano is the perfect place for any sports lover: it is basically a year-round meeting point for athletes from all over the world; who come here in search of a place to practice Nordic walking, surfing, windsurfing, kitesurfing, as well as sailing and riding fatbikes. In summer, you can also rent kayaks, swim on the "banana" along the entire coast or take advantage of parasailing. In addition, Lignano has been organizing Sup Race competitions (stand rowing rowing race) since 2010.
Trips in the vicinity of the campground
Lignano is the perfect destination for day trips as it is easy to set off from here and explore other beautiful cities such as Venice, Trieste or the famous Postojna caves in Slovenia. All you have to do is ask for advice at the information desk on our campsite or talk to our tour operator: our staff will be happy to help you and recommend a solution that will satisfy all your desires; boat trips are also available: after departing from the road of Lignano, you can immerse yourself in the picturesque atmosphere of the Marano lagoon; we enrich our guests with local wine and traditional fish dishes.
Our tour operator also offers an alternative option for any athletic fan of combining tourism, communing with nature, culture and enjoying sports: we offer a choice of 5 different bicycle routes that extend from Lignano to Grado, Aquileia - a city reminiscent of the Roman Empire - and Marano, through the Risorgive grounds.
Lignano Sabbiadoro is the perfect place for everyone!
We have created the CampRest portal for people who value freedom and travel on their own.
Enjoyed reading this article? Share it!