Italian holidays on Lake Garda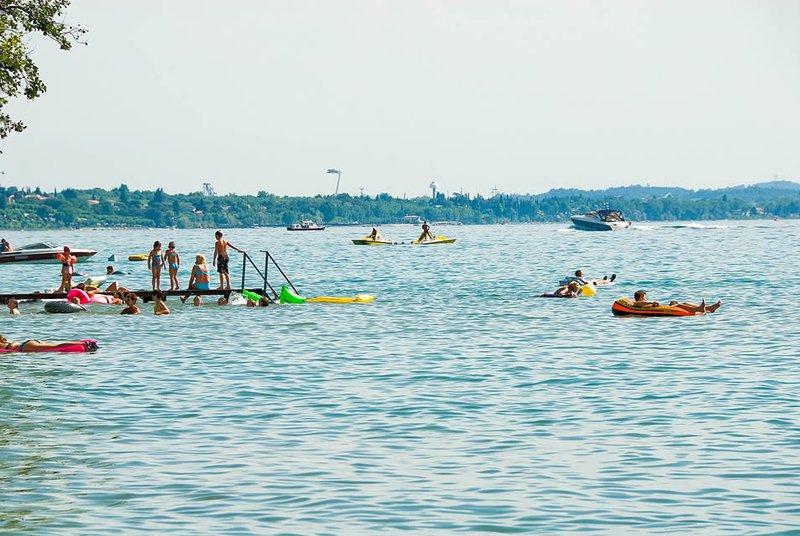 Are you planning a family vacation in Italy? Or maybe you are looking for a place in Italy for a romantic motorhome trip for two? Today we recommend and introduce you to the northern part of the country, in particular the picturesquely situated Lake Garda. The reservoir in the Veneto region, or Veneto, is a unique place that will provide an unforgettable experience to everyone, regardless of age. We invite you to read the practical guide!
Attractions of the North
Lago di Garda is the largest lake in Italy, whose unique beauty is determined by its phenomenal location among mountain slopes. The water is also unique in it, because it is the cleanest in the country and with a color reminiscent of the waters of the Adriatic Sea. Surrounded, typically Italian towns - with narrow streets and panoramic terraces in restaurants serving flagship Italian cuisine complete the image of the region. Its popularity is also due to the ideal climate, conducive to water baths. Interesting stops around the shores of the lake are towns such as Riva del Garda, Navene, Malcesine, Brenzone sul Garda, Sirmione and Torbole. Almost all of them have access to their own free beach with a gentle slope into the water. You can spice up your vacation in Veneto with short trips to nearby cities known in the region. We especially recommend you a trip to Verona , which owes its fame to Shakespeare's work - Romeo and Juliet. In the city, you will find many book marks, including the famous Juliet's house and a balcony where one of the scenes took place. You can also go to Padua, where you will find such monuments as the Palazzo del Bo, the Basilica of St. Antoni or Prato della Valle. During your vacation in Italy, you can go to Venice. This city does not need to be introduced to tourists - the dense network of canals with characteristic gondolas, the Venetian carnival with richly decorated masks and the film festival taking place during the summer holidays are just a few of the excuses to visit the city on the water.
Souvenirs from the journey
It is worth returning from a trip to Italy with souvenirs that we will give to our friends, put them in the room or ... consume them! The choice of local products is huge, and you can only be limited by the capacity of the motorhome. The most popular gifts from Italy are those typical of the region. From Venice, it is worth bringing a Venetian mask, colorful glassware or lace products. Many people decide to buy miniatures with images of characteristic buildings, such as the Leaning Tower of Pisa or the Rialto Bridge in Venice. More affluent lovers of elegance can return to the country with a suit of one of the Italian designers. Italy is famous for its excellent wines, so it is worth stocking up on at least one bottle of good wine before returning. In Veneto, it can be the perfect prosecco or the widely available Tuscan citrus liqueur - limoncello. Italian pesto and pasta in various flavors and colors will also be a good idea. By preparing dishes for friends from them, you will create a truly Italian atmosphere in Poland. Dried tomatoes in brine, Parma ham and cheeses - pecorino, mozzarella, gorgonzola or mascarpone - are just as great.
Campsites in Veneto
The comfortable Camping Cisano San Vito is the perfect place to stay in Veneto . Offering space for tents, campers and caravans, it tempts with a perfect location right on the shores of Lake Garda. Shaded by trees and plants, swimming pools are just a few steps away. You will have at your disposal fully equipped sanitary facilities, also adapted to the needs of the disabled. A washing machine and dryer are available on site. There is also a mini golf course, a jacuzzi, and a swimming pool and kindergarten for children. The on-site restaurant serves regional cuisine daily. Camping guests can go to the points where clean water can be refilled and chemical toilets can be emptied completely free of charge. The short distance from Verona, only 20 km, will be a great opportunity to visit this historic city as well as other points in the area.
I like closer and longer journeys - with an analog camera and a great appetite, because I always like to get to know the local cuisine during the trip. My favorite region in Europe is the Balkans, especially Montenegro, Albania and Bosnia with Herzegovina, which I have visited several times. I dream of returning to beautiful and unpredictable Iceland. I am currently in Southeast Asia.
Enjoyed reading this article? Share it!