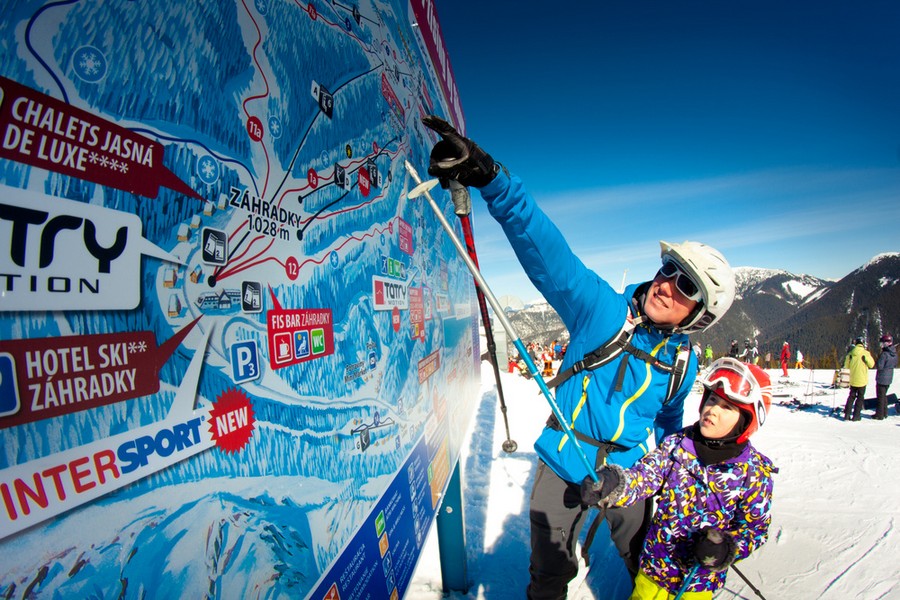 If skiing and snowing, it's not necessarily Switzerland or Austria. It may well be Slovakia and the center of Jasná Low Tatras. Modern lifts, beautiful slopes and the proximity of Tatralandia - that's it!
In the vicinity of Szczyrk, Żywiec and Žilina, there is a large ski resort - Jasná Low Tatras . It is the most popular and largest resort in Slovakia, and its routes stretch along the southern and northern slopes of Chopok Mountain, creating one large resort since 2007. We can find it at the end of the village of Demänovská Dolina, in the foothills of the Low Tatras. The ski season in Jasna usually starts at the beginning of December and lasts until the end of April.
The southern slope of the mountain can be reached from the village of Myto Pod Dumbierom / Bystra, while the northern slope can be reached from Liptovský Mikuláš. Previously, when the weather was good, skiers could ski alternately on both slopes, but with the capricious aura, there were problems with getting from one to the other. At the beginning of the 2012/2013 season, both the north and south sides were connected by modern cable cars .
Jasná Low Tatras
In the last few years Chopok and its slopes have gained a lot of fame, thanks to huge investments in Jasna. The combination of Chopok North and Chopok South has significantly expanded the range of attractions that visitors can count on. At every step you can see that Jasná is developing at a rapid pace, gaining more and more interest from tourists. It is visited by more and more skiers and snowboarders, attracted by all types of routes, from blue to black. Jasná Low Tatras offers visitors over 45 km of ski slopes served by 29 ski lifts and cable cars. The length of easy routes is 11.2 km, moderate - 17.9 km, and difficult - 7.3 km. 26 km of trails are artificially snowed, and a modern system of preparing the trails guarantees skiing for 5 months a year. The highest point is at 2,004 meters above sea level, and the lowest - 880 meters above sea level. The difference in levels is therefore 1,124 meters.
In addition to the designated routes, experienced fans of skis or boards have several "wild" sections at their disposal, where they can prove themselves. There are also freeride zones and a snow park. In turn, less advanced skiers will feel great on not too steep and wide slopes, which are not lacking here. There is a ski school for beginners in Jasna, so those who intend to stand on the board for the first time will also be satisfied. In the evenings, you can use several illuminated slopes, skiing or tobogganing.
For families with children, there is the Maxiland children's park in Bielá Púti. Children can learn to ski or snowboard. Instead of traditional drag lifts, children have at their disposal a movable belt, which makes it easier for the youngest to get on the slopes.
Ticket prices in the Jasná Low Tatras resort in the season 2013/2014
The Jasná resort cares about its guests and prepares new attractions for them. A great convenience is the introduction of a contactless ski pass , thanks to which, despite the great interest in the slopes of Chopok, there are no long lines under the lifts. Another advantage of the resort are new, free parking lots and free buses that take skiers to the slope. In addition, those willing can buy one common ski pass to the Low and High Tatras, covering a total of 53 km of slopes.
Those who want to focus on the slopes of Jasna will pay 28 euros for a day of skiing in the off-season (until 21/12). A ticket for seniors costs 22 euros, and for children - 20 euros. In the high season, i.e. from December 22 to January 11, adults pay 37 euros per day, seniors - 27 euros, while a 1-day children's pass costs 26 euros. The price of the 7-day pass is EUR 217 (adults), EUR 174 (seniors) and EUR 152 (children), respectively.
Tourists who decide to go to Jasna can take advantage not only of perfectly prepared ski slopes of various levels of difficulty. Cross-country and freeride trails await them, as well as great conditions for ski mountaineers. In addition to traditional skiing, they can also learn less popular disciplines, such as snowbike, skifox or snowscoot.
Overnight in Jasna
The excellent infrastructure of the center guarantees that visiting skiers will not run out of ideas for spending free time. They will also have no problems finding a suitable restaurant and accommodation. They can stop in the aforementioned Liptovský Mikuláš, which is the starting point for the slopes of Chopok. There are many hotels and larger or smaller guesthouses waiting for guests, so everyone will find something for themselves. The stay in the village can be divided into passive recreation, skiing, and water madness - one of the main local attractions is Tatralandia , one of the largest water parks in Europe.
If, however, we care about the proximity of the slopes, we can spend the night directly in the Jasna ski resort, but we must take into account higher rates. In Demänovská Dolina there is a year-round Camping Bystrina . Caravanningists have the opportunity to refuel with fresh water and pour out dirty water. The entire area of the campsite is monitored, and there is also wireless Internet. A day of stay for an adult costs € 3.40, a child - € 2.00, and for a motorhome pit we will pay € 3.00.
Jasná Low Tatras advertises itself as the most modern, largest and most famous ski resort in Slovakia. It is located only 70 km from the Polish border, so when you think about skiing and madness in the snow, it is worth considering a trip here.
A writer by profession, a passion of a cat. One day he will see what is behind the Urals - good to Vladivostok. So far, when he can, he enjoys the sun of the countries of southern Europe. And it's also fun;)
Enjoyed reading this article? Share it!