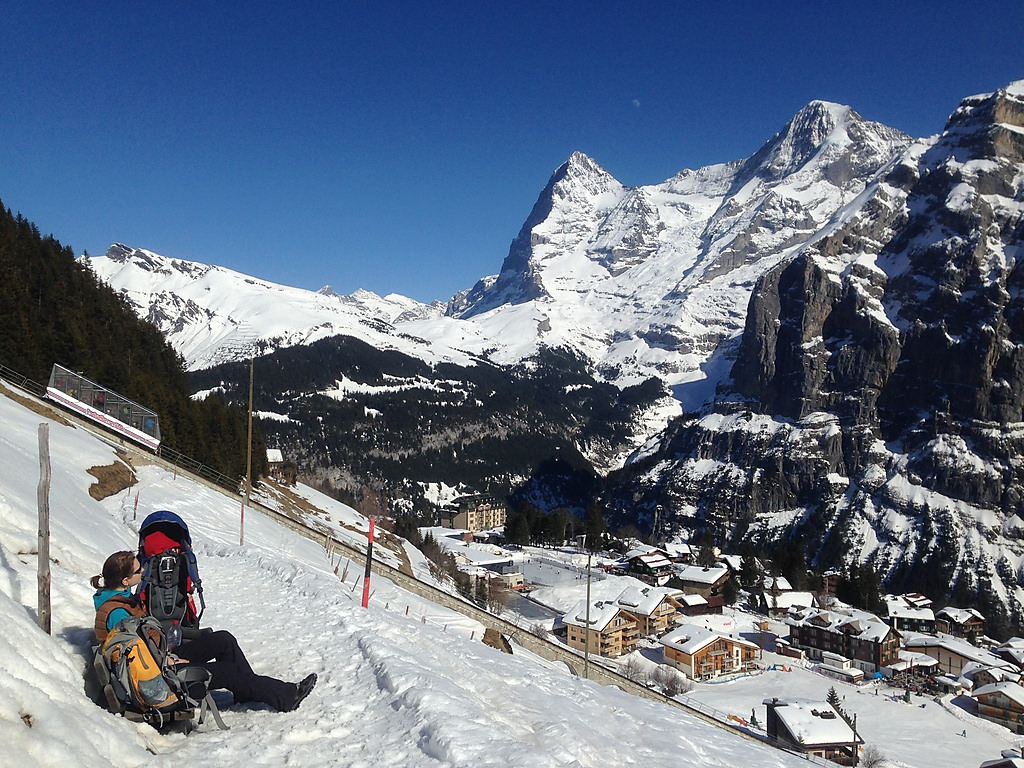 In Zakopane you can buy a commemorative ciupaga, in Krakow a figurine of the Wawel dragon, amber jewelery by the sea, and in Swiss Mürren - gadgets from the James Bond movie.
Mürren is a popular town in Switzerland and is the highest permanently inhabited settlement in the canton of Bern. It is situated at an altitude of 1,650 m above sea level, above the Lauterbrunnen valley. Both in the resort and in its vicinity, you can spend time practicing various types of sports, ranging from traditional winter sports such as skiing and snowboarding, ice hockey or skating, to squash in a sports hall, curling or swimming in the pool.
Guests of Mürren can relax in a beautiful mountain scenery amid the Eiger, Mönch and Jungfrau peaks. In winter, the region attracts skiing enthusiasts, and in summer - lovers of long hikes. Clean air, a great microclimate and great fun are guaranteed here.
Winter in Mürren
Schilthorn is the highest peak in the Bernese Alps. It can be reached from Mürren by cable car or on foot. In winter, advanced skiers like to use the black slope and slide it back to the resort.
The Mürren-Schilthorn area offers everything a winter sports fan could want - modern lifts, well-groomed pistes, long and steep slopes and beautiful views. There are 20 km of blue, 24 km of red and 10 km of black runs waiting to be explored. There are 16 ski lifts at the disposal of skiers.
A particularly tempting offer has been prepared for families with children . Among other things, children can rent their ski equipment free of charge at one of the locations in Mürren or Lauterbrunnen. In addition, in the winter season, young people up to 16 years of age can ski on the slopes for free every Saturday. A 1-day pass for an adult costs CHF 63, and a child ticket CHF 50.
Daredevils who love acrobatics on one or two skis and test their skills on numerous rails will not leave the "Im Rad" fun park . Cross-country skiers will be delighted with the scenic routes (20 km), and tobogganers will also lose track of time here.
Eat like James Bond
One of the highlights of Mürren, aimed primarily at fans of the series about agent 007, is the menu of Piz Gloria, a revolving restaurant at the top of the Schilthorn. Classic James Bond 007 Breakfast Buffet is served here between 8.00 and 10.30. Would Bond really go for muesli, sausages or fried bacon? Hmm ... We can't start the day with a shaken, unmixed Martini with vodka - Bond's breakfast can only be washed down with a polite non-alcoholic drink, such as Rimus or Prosecco. Well, "In Her Majesty's Secret Service" was filmed over 40 years ago, a lot has changed since then.
The Bond menu prices range between CHF 14.50 for a child aged 7-12 and CHF 27.50 for adults. Toddlers under 6 will eat breakfast for free.
Overnight in the Mürren area
After a day on the slopes, warm up with a fondue in a revolving restaurant or rest in one of the three Après Ski bars. And then you can relax in a hotel, guesthouse or camping, for example at Camping Jungfrau . Situated in Lauterbrunnen, it offers guests an overnight stay for CHF 11.90. A motorhome pitch costs CHF 24 per day. You can come here with your pet (CHF 3). It is also possible to rent a motorhome, which costs CHF 100-120 / day. The stay must be min. 2 days.
In Mürren, you can not only have breakfast for the hero of the Ian Fleming series, but also buy a themed souvenir. People who are not necessarily fans of agent 007 can go to Interlaken. As befits a large city, it has dozens of shops where - unlike the rather modest offer in Mürren - shoppers may not have a day to browse the shelves.
A writer by profession, a passion of a cat. One day he will see what is behind the Urals - good to Vladivostok. So far, when he can, he enjoys the sun of the countries of southern Europe. And it's also fun;)
Enjoyed reading this article? Share it!