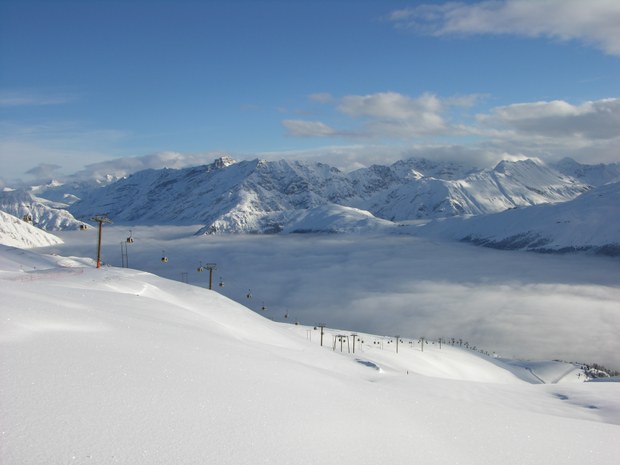 The beginnings
In 1887, Antonio Cederna, president of the Milan section of the Italian Alpine Club, said: "If Livigno had a passable road connecting them to Bormio and Poschiavo, it would become the second Davos." These were prophetic words, but it took almost a century to build the Munt la Schera tunnel connecting Livigno with Switzerland. From the very beginning, there is one-way (shuttle) traffic in it, and you can pay for the ride only in cash and only in euros or Swiss francs.
After the tunnel was opened, the town changed beyond recognition - it was first and foremost loved by winter sports enthusiasts. So much so that it even received the "SnowTrex Award 2012" distinction. No wonder, the snow cover stays here for up to 7 months, and the resort is called Europe's Tibet or Italian Tibet, because it is the place with the highest sunshine in the whole Alps. For this reason, tourists especially like it, for whom the guarantee of nice weather is important.
In recent years, Livigno has also become fashionable among Poles. They are attracted by the high-altitude slopes, ensuring snow from the beginning to the end of the season, and the extensive ski infrastructure on the two opposite slopes of the valley, i.e. the Mottolino and Carosello runs. In total, on each slope there are 115 km of ski slopes with various slopes available for skiers and snowboarders - everyone will find something for themselves. Trips on sewn will be facilitated by 13 chairlifts, 6 gondolas and 11 drag lifts. Those who want to take a break can jump to one of the many bars on the slope.
Not only for competitive skiers
Livigno is a good place to learn to ski, as there are many typical school, easy slopes. You can practice as much as you want, and transport between both routes is provided by free ski buses. Snowboarders have two snow parks at their disposal - the smaller one in Carosello and one of the larger ones in the Alps, on Mottolino. Cross-country skiing enthusiasts are also available - in total, they have at their disposal 40 km of cross-country trails (10 km difficult, 25 km medium and 5 km easy) and a 2-km loop illuminated until midnight. As for the ski passes, you have to pay between 32 and 42 euros for an adult per day of skiing on the slopes. For a 6-day pass for an adult in the season 2012/2013, the price will be from 135 to 208 euros, depending on the month (season).
Not only hotels
Not only hotels, but also campsites await tourists. From what you can read on travel forums, such places are most often run by entire families and due to the high competition they care about the customer very much. Camping Pemont is the closest to Livigno, you can walk to the center in 8-10 minutes. For 1 euro we will use a shower, for a night we will pay from 3.5 to 6 euro, and for a parking space from 10 to 16 euro.
The customers of Camping Palipert will not be disappointed either. Here, for a motorhome (with access to toilet and electricity) you have to pay approx. 18 euros per day, in addition, there is a restaurant on site with affordable prices. There is a Porsche driving school nearby, so you can watch the beautiful cars racing on the snow track, shining in the sun. You can also go crazy on a snowmobile or go-kart adapted to driving on ice.
Another campsite is recommended by tourists, the Confortola Learco Area Sosta Camper. It is a 5-minute walk from the nearest slope, and if you do not want to strain yourself before skiing, you can use the free ski bus that goes anywhere. The price of accommodation here oscillates around 15-20 euro per night.
Other entertainment in Livigno

There's a lot going on in Livigno in winter. In addition to countless opportunities for skiing, you will also find other attractions here. In December, Art In Ice (the art of carving in ice), La Sgambeda (mass ski run) and car racing on ice are held. In March, the Freestyle snowboarding competition is organized at the Mottolino Snowpark, and in April, the Worldwide Telemark Enthusiast Rally. There is a toboggan run, a climbing wall, a swimming pool and a SPA center, and plenty of bars and restaurants - from upscale and expensive to pizzerias where you can eat for a few euros.
There is also a rich offer for those who like evening entertainment. Kokodi disco, famous apresska parties (for example in the Allegra bar) and pubs (Kuhstall, Homelywood, Mickey's, Helvetia) await them. After all, we are in the city of the original Bombardino - if you do not know, you must try this drink here. Its ingredients are 3 scoops of milk, 2 scoops of egg yolks, 1 scoop of whiskey. After drinking two Bombardini, you can fly away without skis.
Another attraction of Livigno is the duty-free zone, which allows cheap shopping in one of the 200 shops on the promenade that stretches along the town. Tourists take advantage of the opportunity to buy perfumes, electronics and alcohol en masse. This is a plus of modern lifts, beautiful weather and certain snow conditions, combined with the stunning landscape, which attracts people like a magnet. You can forget about the world outside of this one-of-a-kind place.
More information about the resort can be found directly at https://www.skipasslivigno.com/it

A writer by profession, a passion of a cat. One day he will see what is behind the Urals - good to Vladivostok. So far, when he can, he enjoys the sun of the countries of southern Europe. And it's also fun;)
Enjoyed reading this article? Share it!