Rhythms of the South - RV through New Orleans, Memphis and Nashville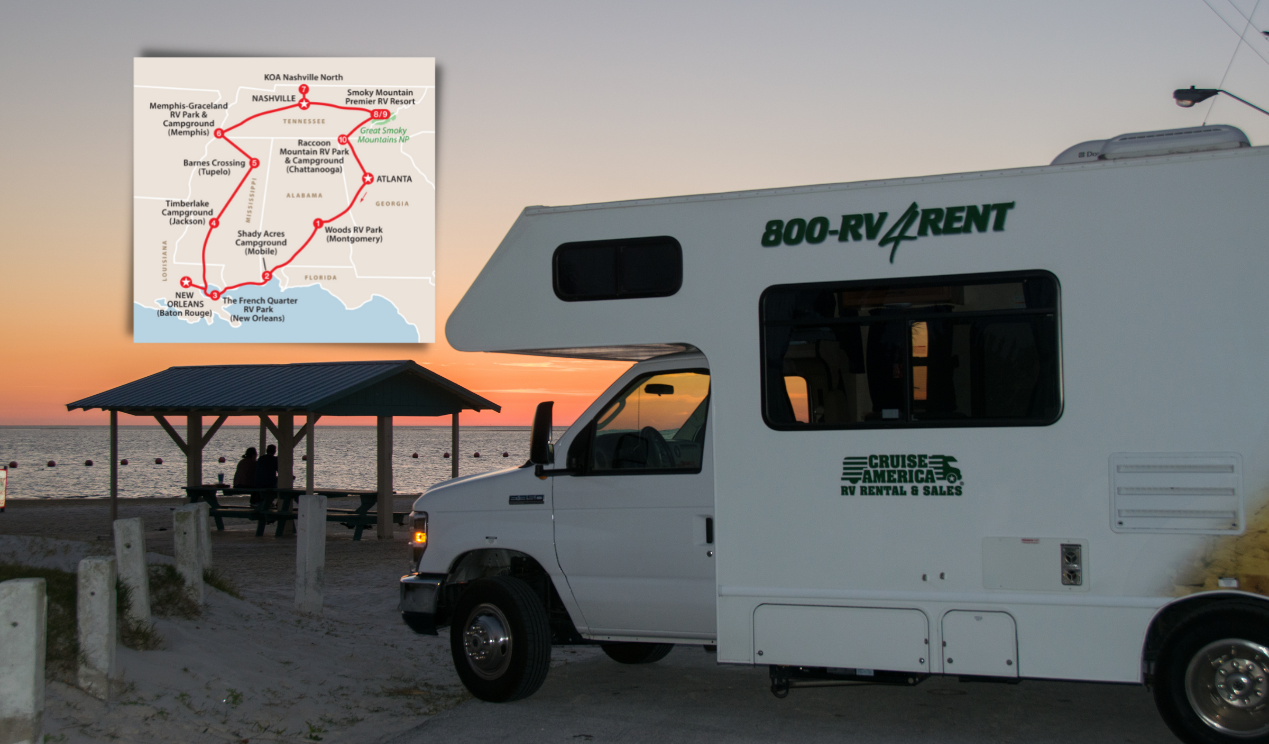 On this tour, you have the opportunity to visit three large centers associated with American music: New Orleans, Memphis and Nashville: in these cities music was created that has gone down in history. The route goes from town to town. It is not difficult because you are driving on the interstate highways.
Travel Details:
Departure: Altanta, New Orleans or Nashville
Duration: 9 days
Length of the route: 1,450 miles
Motorhome travel route
Day 1 - RV to Alabama
When you pick up your campervan, 2.5 hours ahead of you on the interstate to Alabama. There you will spend your first night in the state capital, Montgomery. The Jefferson Davis' Confederate White House and Old Alabama Town are worth a visit.
Day 2 - Memorial Park
We're off to New Orleans, but we'll need a break along the way. Mobile, Alabama is a good stopover. The ships at Memorial Park and the Conde-Charlotte House museum are worth a visit.
Day 3 - New Orleans
This time we are going to a unique city where history meets culture: ahead of us is New Orleans, the cradle of jazz. The heart of New Orleans is within walking distance of French Quarter RV Park. Although the campsite is like a regular car park, you can use any connection here and the classic New Orleans Clubhouse has all the amenities you need. Here you will find great restaurants, unique music, lively places and lots of festivals and other events that will make you want to stay here longer.
Jackson Square, Basin Street and Audubon Park are worth a visit. A good idea is also a cruise on the Mississippi River on a steamboat or a day trip to the nearby swamps and beautiful plantations, which are abundant in the area.
Day 4 - travel towards the Mississippi
We head north to the place everyone associates with Elvis. We have a long journey ahead of us, so we will finish today's stage north of Jackson, the capital of the Mississippi state, and spend the night at the Timberlake campground.
The Old Capitol, Governors Mansion and Capitol Building are worth visiting.
Day 5 - Meeting with Elvis
We leave the expressway and follow the scenic Natchez Trace to Tupelo, where Elivs Presley was born. He lived in this city for the first thirteen years of his life. After a short stop, we go to the Barnes Crossing camping, located just a minute north of the city.
See where Elvis Presley was born and visit the museum dedicated to his life and music.
Day 6
Today we have a few hours' route through the Holly Springs National Forest to Memphis. And where better to stay overnight than at a campground just outside Graceland, Elvis Presley's mansion? Camping Memphis- Graceland RV Park & Campground covers an area of just over seven hectares and is located near Elvis Presley Boulevard, behind the famous Heartbreak Hotel from Elvis' song.
Graceland does not need to be praised to anyone, it is obvious, but it is also worth visiting the Civil Rights Museum in the building of the former Lorraine motel, where Martin Luther King was shot. Besides, you can also see Sun Studios and Beale Street, associated with composer WC Handy, who became famous as the father of blues. www.graceland.com/rv-park-campground
Day 7
Today we are going to the cradle of country music, to the city where Dolly Parton and many other stars of the international music scene began their careers. Just north of Nashville lies Goodlettsville and the Nashville Country RV Park. You can take advantage of some of the Grayline tours to major tourist attractions such as the Grand Old Opry (Tue, Mon, Fri, Sat evening), the Country Music Hall of Fame and the Jack Daniels Distillery.
You should visit the Grand Old Opry, Jack Daniels Distillery and some other places where trips are organized from the campground.
Day 8
Only two hours away from the last stop on this route near Chattanooga. Raccoon Mountain RV Park & Campground is the campground closest to the main attractions: Tennessee Aquarium, Lookout Mountain, Southern Belle Riverboat, IMAX Theater and Chattanooga city center. Not far from here is the Raccoon Mountain Caverns complex - almost 9 kilometers of caves. There is nowhere to walk!
It is worth visiting the Battlefield of Lookout Mountain - you can get there by cable car. A walk in the caves will also be a good idea.
Day 9
Just 2 hours / 130 miles away from Cruise America in Atlanta, where you will drop off your camper van.
Do you want to know this route better?
This route, but described in more detail, along with the indicated stopping points, is available for free download here: USA Camper - tourbook . In addition to this tour, you'll find 15 more around America and Canada, as well as tons of tips for overseas campervan hire.
Costs for renting a C25 motorhome in Cruise America
We present the cost of the trip for a 5-person camper today (October 26, 2020). The price is valid this week only and changes every Sunday. The C25 is a 5-person camper, in fact 4 + 1. You can read more about the types of motorhomes in the article: Types and equipment of motorhomes for rent in the USA and Canada
The cost of renting a motorhome in Atlanta for 14 days:
in October 2022: Approximately $ 2,400
in May 2023: Approximately $ 1,600
July 2023: Approximately $ 3,500
(The price is only valid this week and changes every Sunday.)
For comparison, we also checked the current prices of motorhome rental in New Orleans for 14 days:
in October 2022: Approx. $ 1,800
in May 2023: approx. $ 1,130
July 2023: ~ $ 3,450
You need to add to the rental:
Cost of purchased miles: $ 555 for 1500 miles,
Deposit: $ 500
Environmental tax: $ 9.95
Fuel Costs: With an average fuel price currently in New Jersey of $ 4.06 / gallon, the cost of a 1,000-mile drive is approximately $ 406-673. Motorhomes from Cruise America and can be driven anywhere from 6 miles to 10 miles on 1 gallon of fuel. Hence the forks.
You can add to the rent:
Additional insurance abolishing deductible up to $ 0. The cost of this insurance is $ 14.95 per day
Early Bird Departure: $ 480
Personal kit (i.e. pillows, sheets, sleeping bag, towels): $ 75 / person
Vehicle Provisioning Kit: $ 125
We are the only official representative of Cruise America and Cruise Canada in Poland. From 2020, you can easily and safely book a motorhome in the USA or Canada. We know when and where it is best to rent a motorhome. We will answer all your questions and doubts by e-mail or telephone.
Enjoyed reading this article? Share it!