San Marino is located in Croatia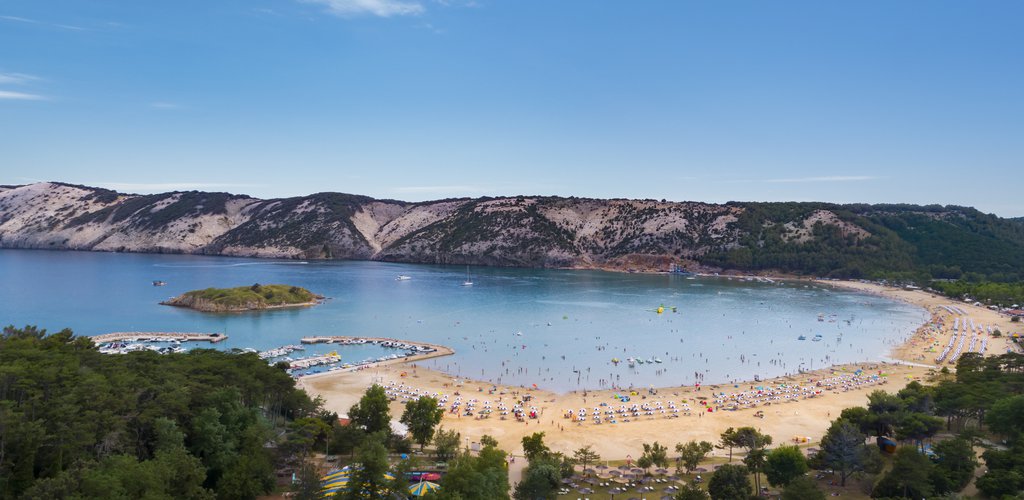 Contrary to appearances, San Marino is not only one of the smallest countries in Europe, constituting an enclave in the area of Italy. It is also a paradise campsite on the Croatian island of Rab.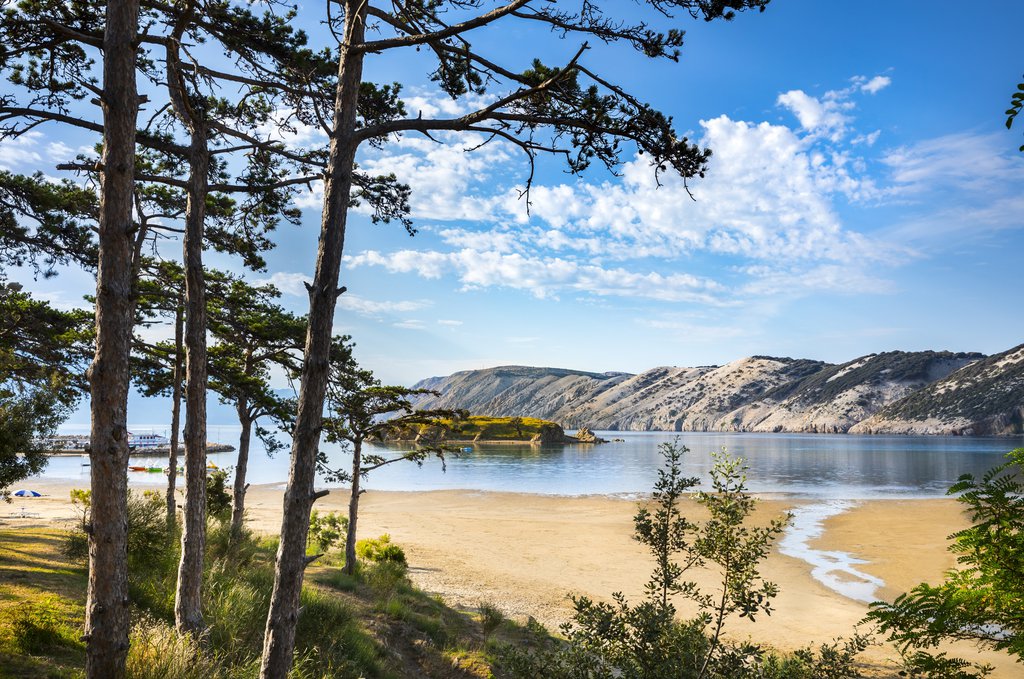 San Marino Camping Resort is situated on the Lopar peninsula on the island of Rab , next to the wonderful sandy Paradise beach, 12 km from the island's capital. Rab can be reached by ferry Jablanac - Mišnjak, the journey takes only 12 minutes. An alternative solution are long-distance ferries from Zadar (3.5 h), Korčula (15 h) or Dubrovnik (18 h), but due to the long journey time, they are not very popular.
Paradise Island
The campsite offers everything you could need for a perfect family vacation. On flat, sandy grounds shaded by poplars and pine trees, you will find well-equipped pitches , beautiful rooms at the San Marino Residence , and comfortable mobile homes .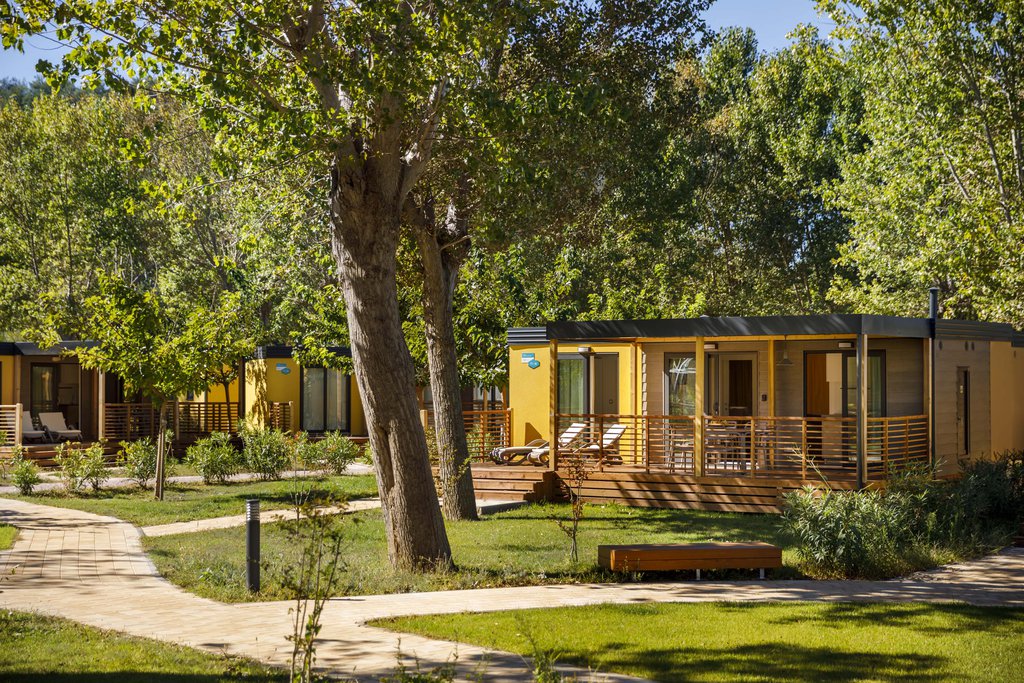 Children will enjoy playing in the sand and the shallow sea, as well as a clubhouse, an excellent entertainment program and numerous amenities tailored to their needs. Adults can enjoy lounging on the beach while sipping cocktails or enjoying aromatic massages in the modern wellness center .
Active tourists can use the beach volleyball court and the possibility of practicing water sports at will, or go on a trip on one of the bicycle routes that are available on the island.
Accommodation overlooking the Adriatic Sea
Most of the pitches available at San Marino Camping Resort are located on flat, shaded grounds next to the magnificent Paradise Beach . Premium pitches overlook the sea. The area of one place ranges from 70-90 m2. All plots have water and electricity connections and are located near the sanitary block.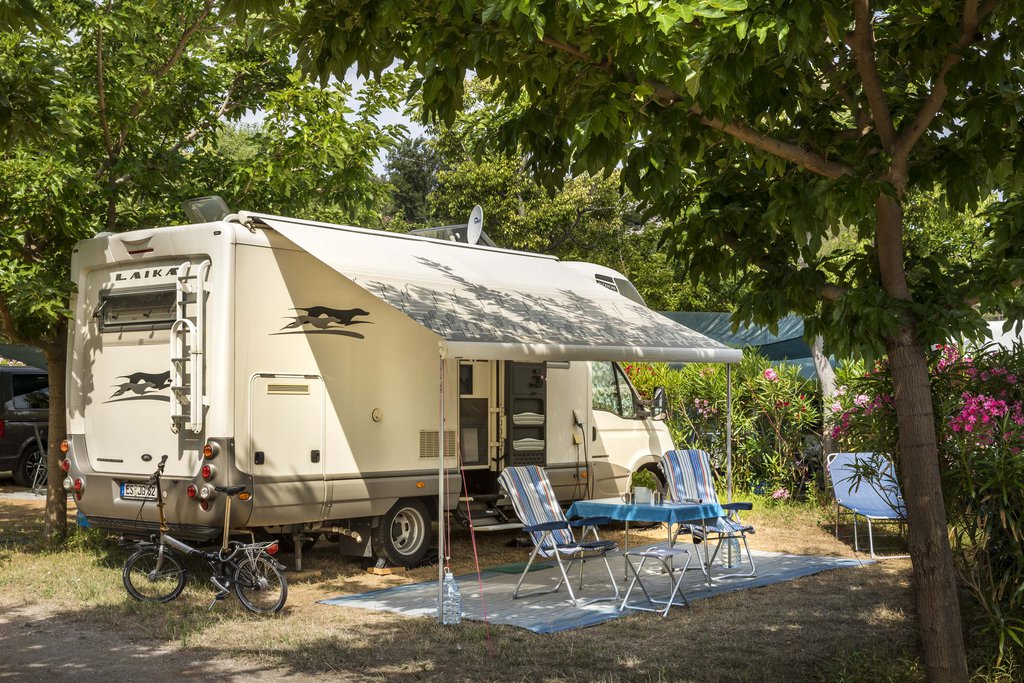 Guests can also use camping houses with an area of 20 to 22 m2 with a 22-meter terrace equipped with garden furniture. The cottages are situated in a green area in the quiet south-west part of the resort, close to central amenities. Depending on the type, they can accommodate up to 8 people.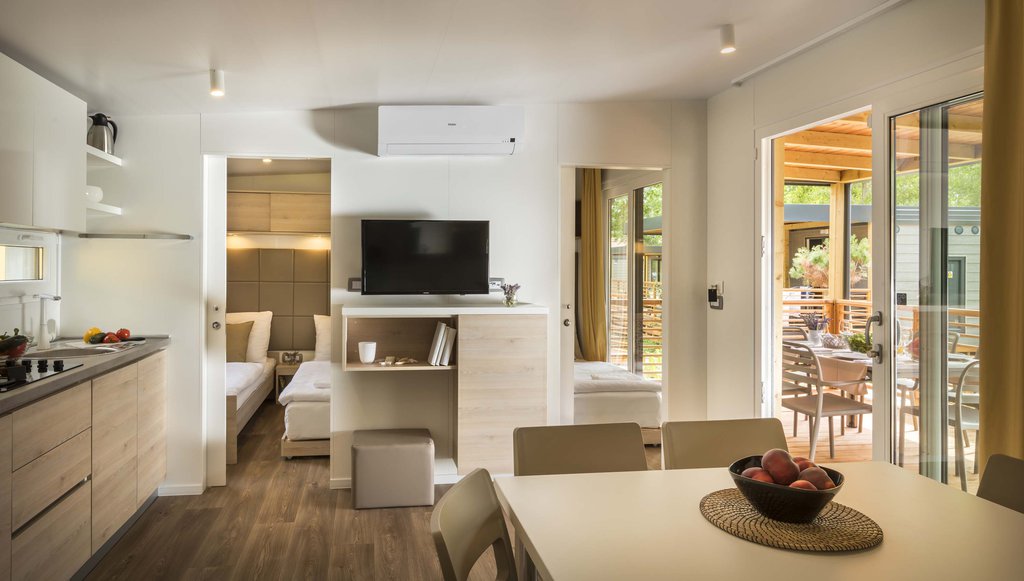 Each cottage has a private parking space , one to three bedrooms, a dining room with a sofa bed, a well-equipped kitchen, one or two bathrooms with shower, air conditioning, satellite TV and a covered terrace.
Anyone looking for an apartment will find it in the San Marino Residence . It offers stylishly furnished rooms equipped with modern amenities. There is also an option to purchase meals in the restaurant and use the services of a modern wellness center.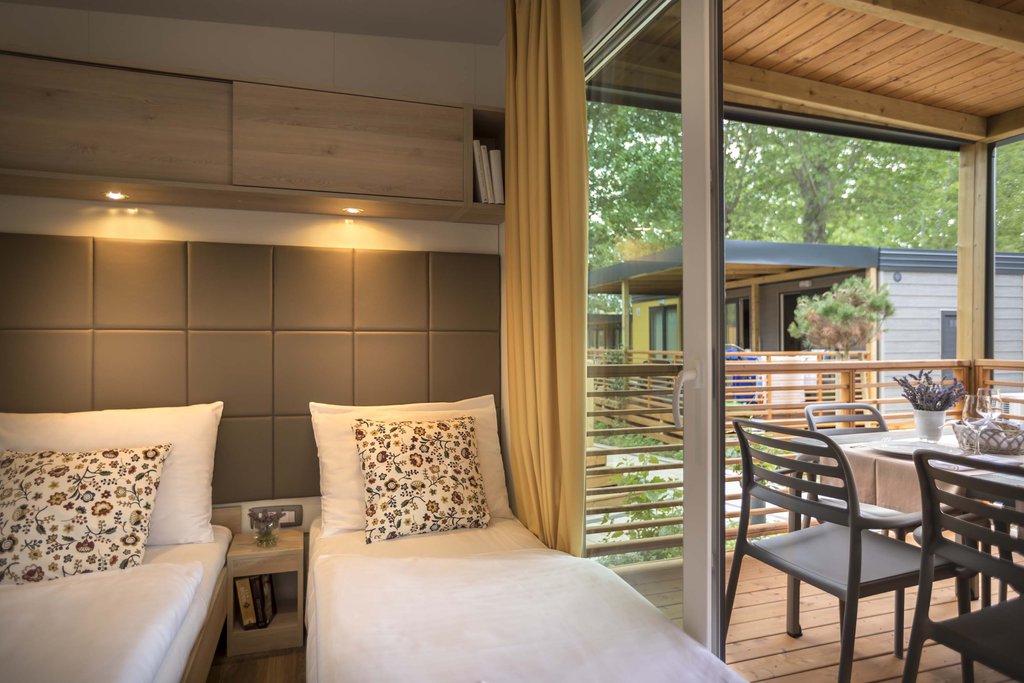 Double rooms (21 m2) are air-conditioned and equipped with a double bed (possibly with an extra bed), bathroom with shower, telephone, satellite TV, free Wi-Fi and a minibar. Some rooms have a balcony.
The San Marino Residence apartments (37 m2) have a double room, a living room with a sofa bed and a bathroom with shower. They can accommodate up to four people.
Facilities and attractions for children
The campsite has a modern and well-equipped sanitary building with bathrooms (also adapted to the needs of disabled people and children), washing machines, dryers and changing rooms. There was even a special shower for pets.
In the central building you will find a conference room, internet corner , kiosk, hairdressing salon and a mailbox (at the reception).
San Marino Camping Resort offers plenty of activities for the whole family. Fully equipped playrooms for children aged 3 to 7 and 7 to 12 are available.
On the large playground, the youngest can go crazy at will, and in the early evening, animations are organized especially for them. Twice a week you can take part in excursions as well as themed games and activities that will involve the whole family. And when parents want a moment of peace, they can leave their children under the care of professional staff who will organize creative activities for them.
Feel the relaxation
The wide range of restaurants, bars and shops available at San Marino Camping Resort allows you to plan your meals in a way that suits you best. You can cook in your own motorhome, caravan or cottage or eat dinner in one of the restaurants.
In the central part of the campsite is the San Marino Restaurant where you can try pizza, pasta, fish and grilled dishes. Along the beach and promenade you will find plenty of restaurants, pubs and bars where you can enjoy a tasty meal or order a drink while admiring the view of the sea.
The standout feature of San Marino Camping Resort is its modern wellness and beauty center. There you can enjoy an underwater massage in a hot tub or book an aromatic massage, go for a beauty treatment, or a salt or Finnish sauna. There is also a fitness center with modern exercise equipment.
For all families who love Croatian islands, the proximity of the beach and the Adriatic Sea is the perfect place for this year's vacation.
A lawyer who loves traveling. Always with a book on the go. I collect memories of the color, taste and smell of every place I visit.
Enjoyed reading this article? Share it!