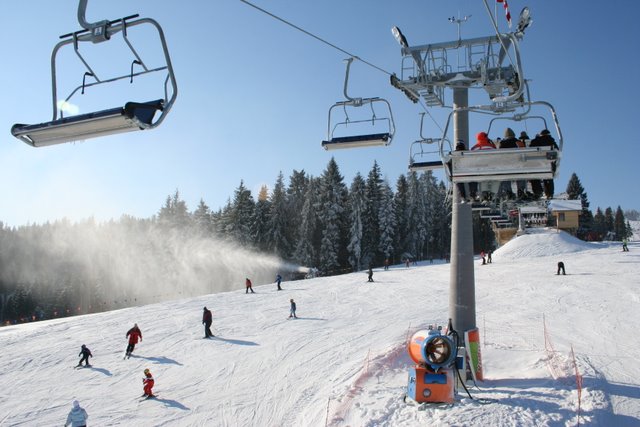 This is by no means an article about the promotion of drunk skiing. Bania is a charming, intimate ski resort, perfect for a family trip and learning to skate on two boards.
Those who love skiing and counting down the days to winter holidays, probably dream of medium or large ski resorts with a wide range of lifts and slopes. They can't wait to test their skills, get an adrenaline rush and gain the recognition of the observers. On the other hand, beginners do not always feel comfortable in such resorts, especially when they see the performances of advanced skiers on the slopes, and they stand on skis, swaying with every movement. In such a situation, it may be a good idea to go to a smaller resort and gain self-confidence on specially prepared slopes, among other skiing adepts. Learning is then great fun, without stress, that someone will look at us disdainfully.
What's most important, to learn to ski well, you don't have to travel hundreds of kilometers. In our beautiful Polish mountains you can find many intimate resorts with a very interesting offer for beginners. A good example is the Bania ski resort , located in Białka Tatrzańska. It is an ideal resort for people who have fallen in love with skiing this year.
Bania - a paradise for families with children
Immediately after taking the first step in the resort, you will notice that its offer is aimed primarily at families with young children. Bania attracts younger and slightly older skiers with a 4-seater chairlift, there is also a winter carousel for children and a ski kindergarten made of "inflatable" toys, i.e. huge inflatable toys (eg castles).
This is not the end of attractions for kids. In Bania, no one will laugh if we go to the slopes or donkey meadows with an "apple" under the arm. Nobody's eyelids twitch as we eagerly drag the sledge behind us. Age does not count here, there is no "appropriate" thing - only having a good time is important. You can also ride on "tires", because the center has prepared a snow tubing track for its guests.
Winter 2013/2014 - ticket prices in Bania
The Bania ski resort is directly connected to the Kotelnica Białczańska resort, so after getting used to two boards, you can exercise on other slopes. What's more, when buying a TatrySki ski pass , skiers can use the routes of 5 resorts (Bania, Kotelnica, Jurgów Ski in Jurgów, Kaniówka in Białka Tatrzańska and Czorsztyn Ski in Kluszkowce). In the high season, the price of a 1-day pass for an adult is PLN 95, for a child - PLN 80, and for a senior and youth - PLN 85.
All Bania slopes are lit and regularly snowed, so you can practice on the slopes as much as you want from the first frost until Easter. The resort has a professional ski school and equipment rental for snowboarders and skiers. For those willing, it offers 5 routes, supported by 5 lifts - a chairlift, 2 T-bar lifts, a ribbon lift and a supportless lift number 7. There is also a snow park in the resort, and next to the lifts there is a large free car park (also for buses).
What besides skis?
After intensive learning to ski, you can relax in Termy Bania , relaxing in thermal pools, in a sauna or with a massage. The resort also has Karcma Bania and the Zielony Szałas Grill, where we can taste hot dishes of highlander cuisine. The tourist infrastructure is perfectly organized and extremely rich, so we will have no problems finding a restaurant serving meals that best suit our palate, or accommodation.
Polish mountains have a lot to offer. It is worth finding out for yourself.
A writer by profession, a passion of a cat. One day he will see what is behind the Urals - good to Vladivostok. So far, when he can, he enjoys the sun of the countries of southern Europe. And it's also fun;)
Enjoyed reading this article? Share it!