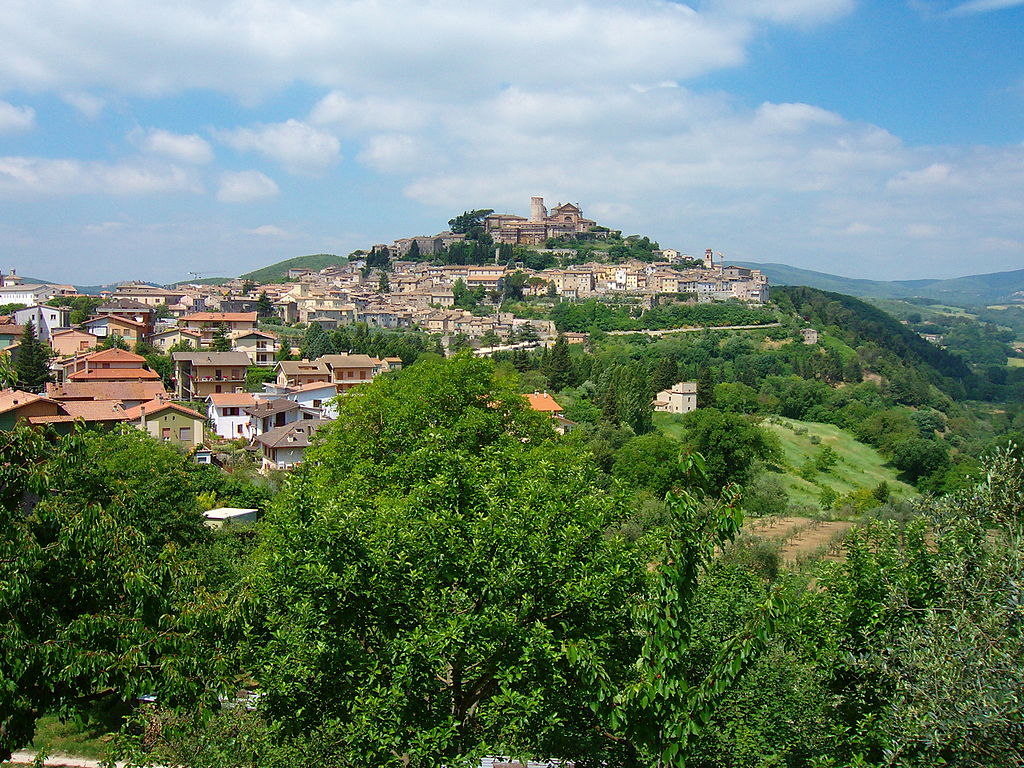 Amelia tastes of dried figs and chocolate. It is green, smells like pears in winter and olives in summer. We can find it in the Italian province of Terni, on a hill among the rocks.
In the Italian region of Umbria, less than 16 km from Narni, lies a city bearing the extremely romantic name Amelia. It stretches over a rocky hill above olive groves and oaks. The green belt that wraps around them like a shawl is broken only by the uneven ribbon of the Tevere River. It is a very old center - the remains of the first defensive walls come from the 6th century BC
Palaces on ruins
Today Amelia is a dynamically developing city, one of the most interesting in southern Umbria. It is over 2,500 years old and you can see it when you wander its streets. In addition to the ancient walls, it has a number of religious monuments from various periods, including the church of St. Augustine and the church of St. Francis from the end of the same century. It is also impossible to ignore the cathedral from the 9th century, completely destroyed by fire eight centuries later and rebuilt from scratch in the baroque style.
Architecture enthusiasts will surely be interested in Amelia's palaces, especially because some of them were built on the ruins of earlier buildings. For example, when building the Geraldini Palace , the construction of the Roman palace on this site was used as the base.
Cansacchi Palace was built using fragments of Roman walls that can still be seen in some places today. There is a collection of tombstones in the palace courtyard.
In the cellars of Palazzo Venturelli there is still a black and white mosaic floor from the 2nd century AD. In its elegantly furnished interiors you can spend a romantic weekend - the minimum cost of accommodation in the palace apartments is 150 euros.
A hike through southern Umbria
The surroundings are as interesting as the city itself. About 18 km north of Amelia is Dunarobba, a village that attracts tourists with its petrified forest. If we choose to travel the other way (south-west to be precise), we can stop in Bomarzo and see the Parco dei Mostri (Garden of Bomarzo), a rather disturbing place full of mannerist works of art carved in stone. There is one of Hannibal's elephants, the mythical monster-faced Cerberus, mermaids and tritons, Pegasus and Aphrodite, as well as the terrifying, wide-open mouth of the death demon Orcus. It is not fully known whether the figures were placed in the park according to some plan, or whether they appeared like crazy visions of Salvador Dali. It is known, however, that a night walk between monstrous sculptures requires a lot of courage.
About 30 km east of Amelia there is an equally interesting, but certainly less controversial place - Parco archeologico di Carsulae . You can see that the world known to us today has shrunk to sizes that are easy to overcome by airplanes, but the old one was powerful not only because it did not have such technological achievements as it does today. The ruins of the old walls and gates are respectable with their size, as well as the remains of an ancient theater.
Amelia's flavors
The pride of the local menu are filling vegetable soups and pasta dishes, including handmade strozzapreti. The province is also famous for its delicious fruits - their taste was already admired in antiquity. Apples were praised for their health benefits, and winters in Amelia were sweetened by the taste of ripening pears.
Fichi Girotti is also a typical product of this region. It is difficult to say whether it is more of a bar or a cookie - it is in the form of a pressed disc, and it is prepared from dried figs and chocolate, roasted almonds or nuts. It will certainly give us energy during our further journey through Umbria.
A writer by profession, a passion of a cat. One day he will see what is behind the Urals - good to Vladivostok. So far, when he can, he enjoys the sun of the countries of southern Europe. And it's also fun;)
Enjoyed reading this article? Share it!