The best mobile homes at campsites in Croatia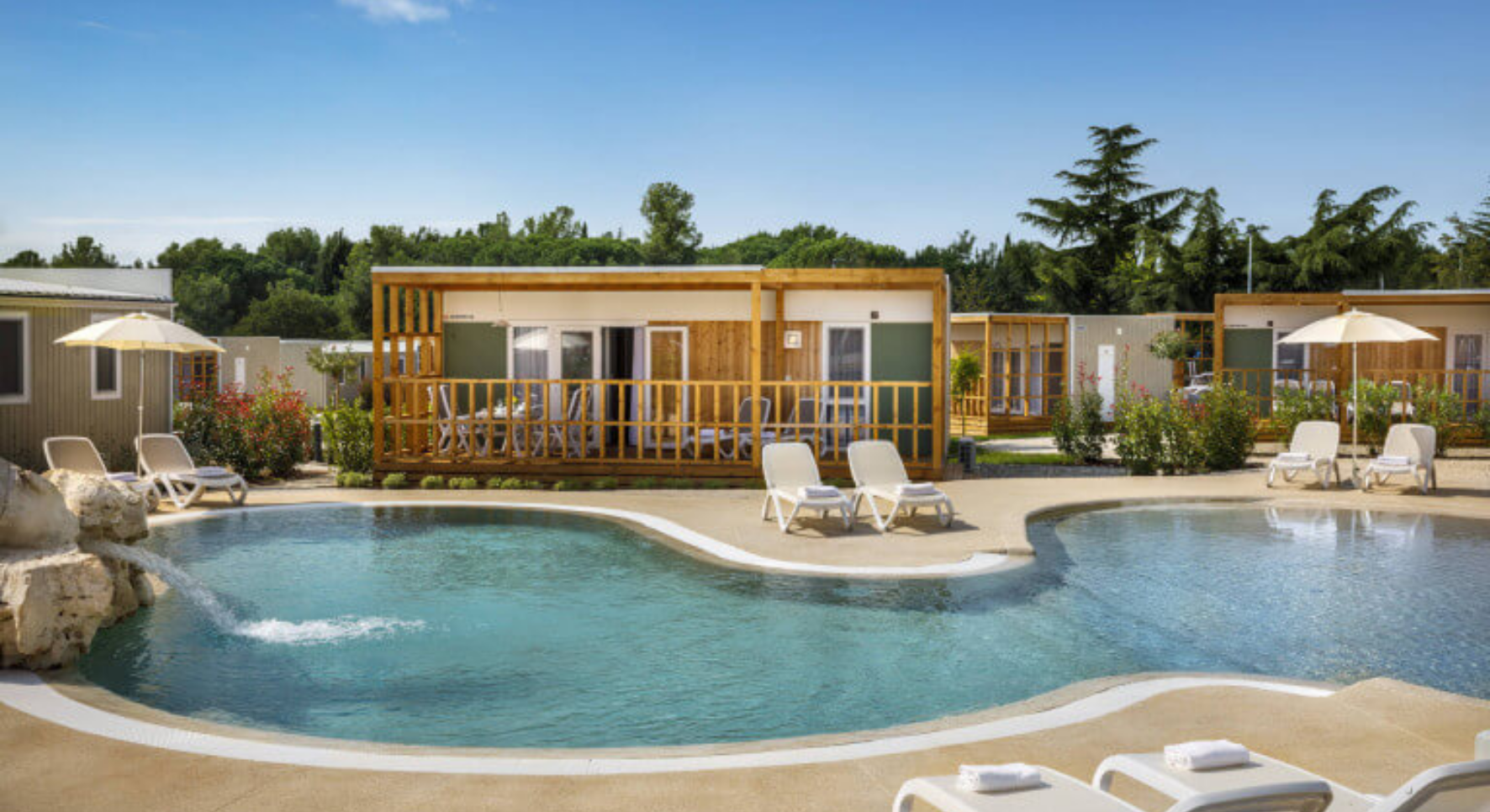 Pebble beaches, crystal clear water, lush Mediterranean vegetation ... Sounds like a description of Croatia. If you love spending your free time in this part of Europe, you probably have favorite places. Maybe you visit the same resort regularly? Even if this is the case, we encourage you to get to know about a dozen campsites from different regions of the country. Who knows, maybe you will plan your next vacation in one of them?
In recent years, you can observe the growing popularity of mobile homes. Tourists who spend their holidays at the campsite are more and more willing to stay in them, instead of choosing a room or a plot. This applies to both large leisure complexes and smaller facilities. It is easy to find out about it, among others in Croatia. More and more often, you will find mobile homes on the campsites there. These are not only intimate summer houses, but also modern, all-year-round fully equipped points. Their décor does not differ in any way from the exclusive apartments. If you can have the comfort of a multi-star hotel, why not take advantage of it? In today's article, we will introduce you to a dozen or so Croatian campsites offering accommodation in cottages.
Cozy cottage at the Zaton Holiday Resort camp site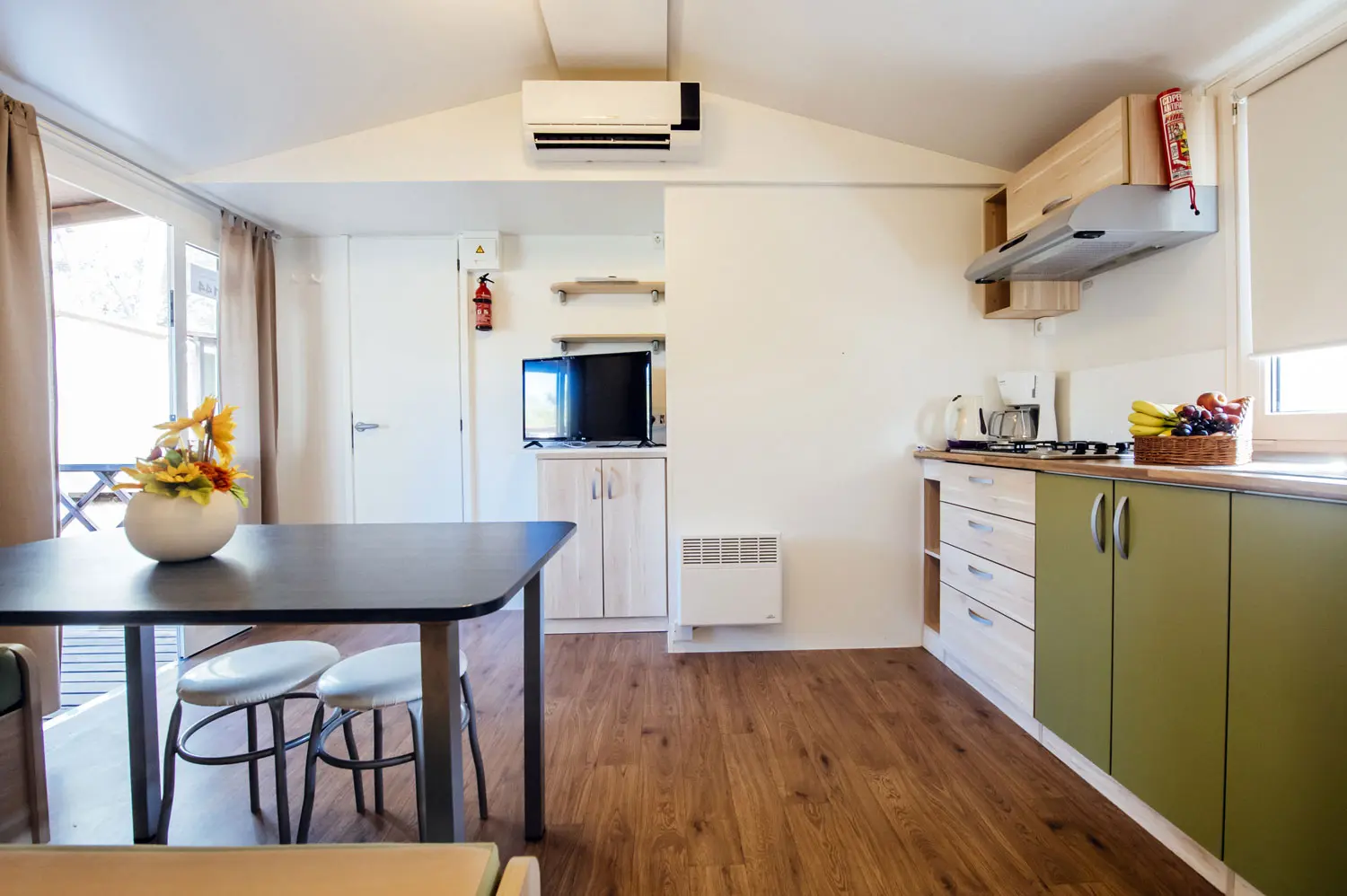 Our first proposal is a real pearl of relaxation. Zaton Holiday Resort boasts the highest number of awards of any Croatian campsite.
Zaton Holiday Resort is a dream location for everyone who wants to relax in Croatia, but away from the noise typical of famous resorts. Here you will find beaches with pine trees. There are also many monuments in the area, such as burial mounds, Liburnian tombs, a defensive tower from the 16th century or an 11th-century church. Approx. 16 km from Zaton lies the cultural and economic center of the region - Zadar. It is worth visiting them while relaxing at the campsite.
But let's move on to the most important thing, which is what kind of accommodation the resort offers. It has a campsite, apartments, a glamping option and mobile homes. If you want to rent a house, the Comfort, Premium and Superior variants are waiting for you. These are air-conditioned mobile homes with the necessary kitchen appliances and TV. There is a set of garden furniture on the covered terrace, so you can enjoy relaxing outdoors. The campsite is pet friendly.
Vacation homes in Croatia - Falkensteiner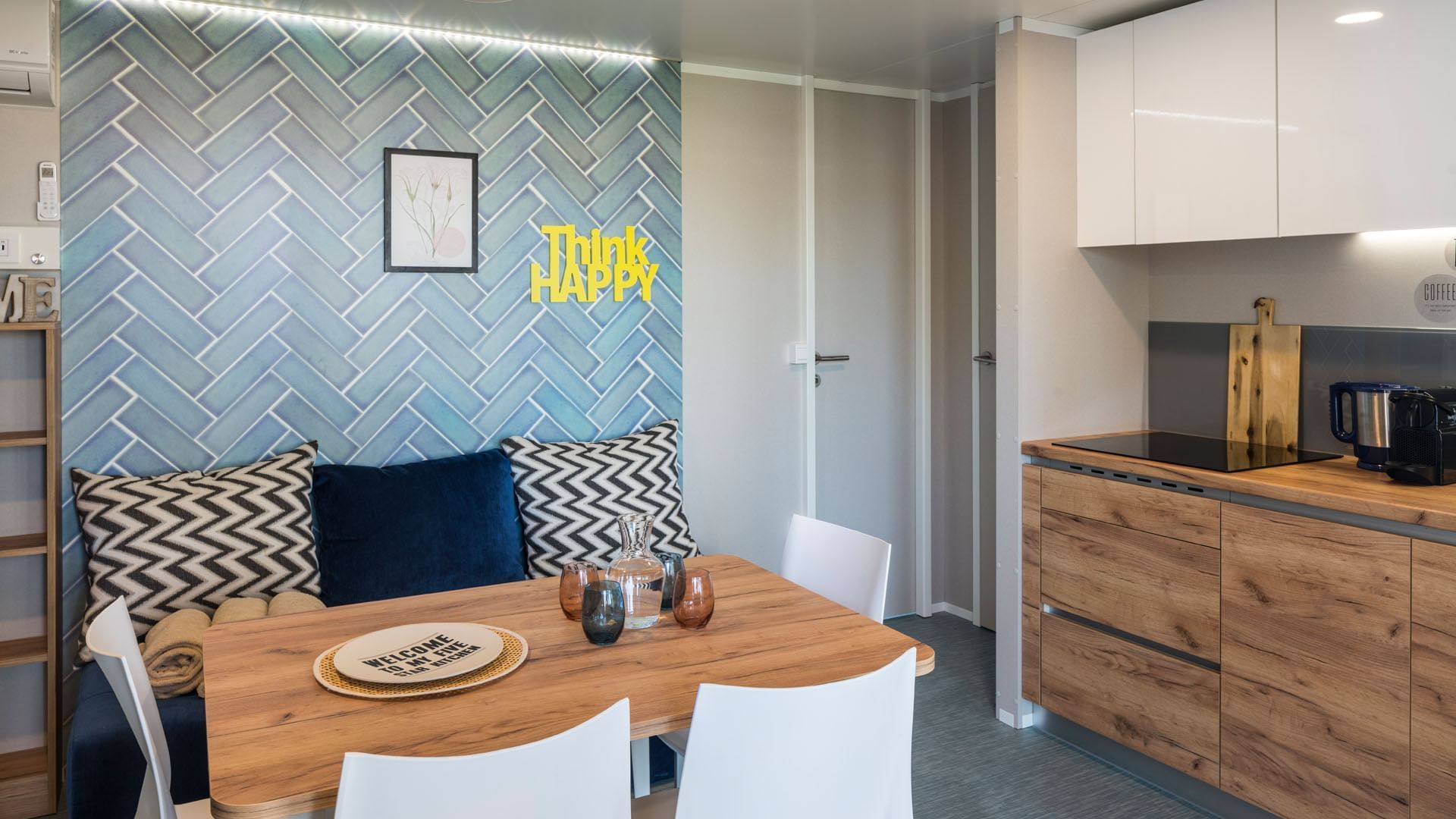 Did we mention Zadar? Another recommendable holiday resort offers hospitality near the city. Falkensteiner Premium Camping Zadar is situated in the middle of a pine forest, right next to a pebble beach. It invites you to apartments, plots and mobile homes. All proposed accommodation points have modern equipment. They have been nicely decorated, so you will have a great rest in them.
If you rent a bungalow at a campsite , you will have access to a range of sports facilities, swimming pools with slides and a wellness center. The resort also has restaurants, shops and areas for children. The mobile homes have furnished and covered terraces. You can say hello or goodbye to each day outside and admire the views while you dine. Mobile homes vary in size and facilities. Each one is cozy and has a unique atmosphere.
Mobile homes in Croatia - camping Lanterna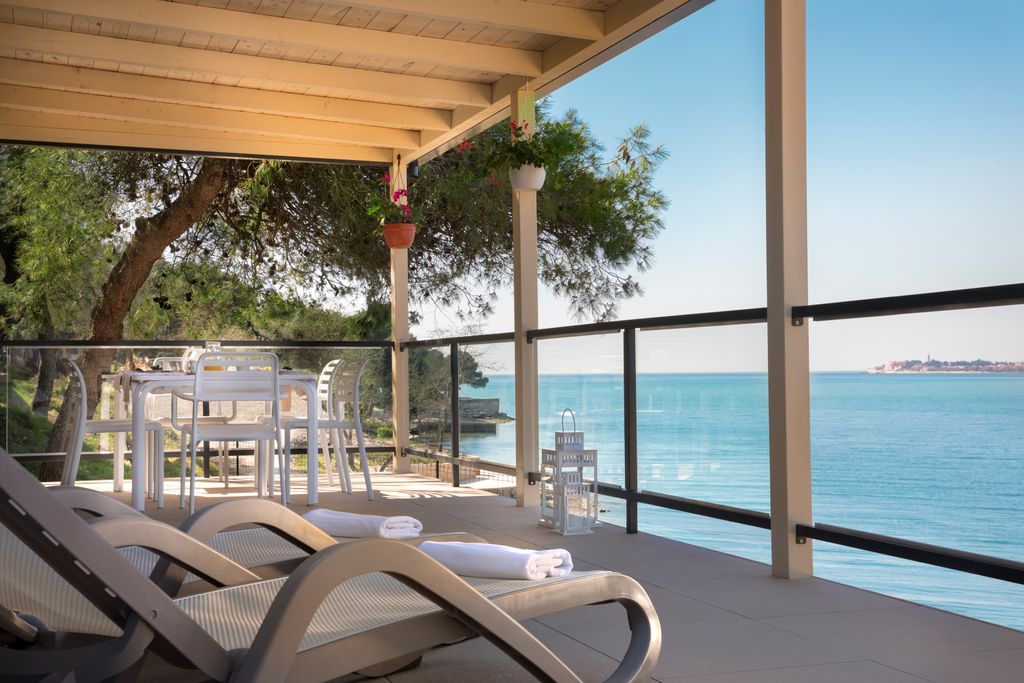 The next place is a large, well-equipped campsite, actually a camping town. Lanterna Premium Camping Resort is located halfway between Novigrad and Poreč. As befits a large holiday resort, it offers guests a wide range of accommodation options. It invites you to a campsite and lots, it also has bungalows and what interests us the most, i.e. mobile homes. It is them that we will devote the most attention to. Mobile homes are divided into several zones, or rather theme villages. This makes it easier to choose the place where you will feel best. For example, if you love the beach, you can book a sea view bungalow (Vista Mare Premium). New items for tourists in the coming season include 30 stylish cottages in Punto Blu Premium Village. This is a great option for couples in love who want to spend time on the Croatian coast. The cottages are perched on a hill above the bay with spectacular views from their windows and terraces. You can enjoy the landscape of the estuary or the sunsets over the Adriatic Sea.
More houses will be loved by families with children - or young people with soul and body. They are waiting for their guests in the most entertaining part, Maro Premium Village. The zone takes its name from the camping mascot, the lovable crab. If you choose this area of the resort, you will come back to the colorful lodge (or glamping tent). Children have playgrounds for themselves, and they can use the swimming pools and other attractions of the water park at will. Parents will also like Istria Village. Similarly to Maro Premium, the mobile homes in this part are located a short distance from the aquapark and other facilities for children.
People who prefer luxurious conditions should rent a camping cottage in the Marbello Premium area. It is located near the beach, in the immediate vicinity of the reception, shop and restaurant serving delicious dishes. In addition, they will like Mediterranean Garden Premium Village. There are not only luxuriously furnished houses, but also a lot of greenery.
For those interested in pet-friendly holiday homes in Croatia , we recommend Premium Happy Dog Village. It is a zone adapted to the needs of pets and their guardians. Has access to a dog beach. There are special playgrounds, a shop with pet supplies, a grooming salon and a shower where you can rinse your pooch after a walk.
Mobile homes at Camp Polari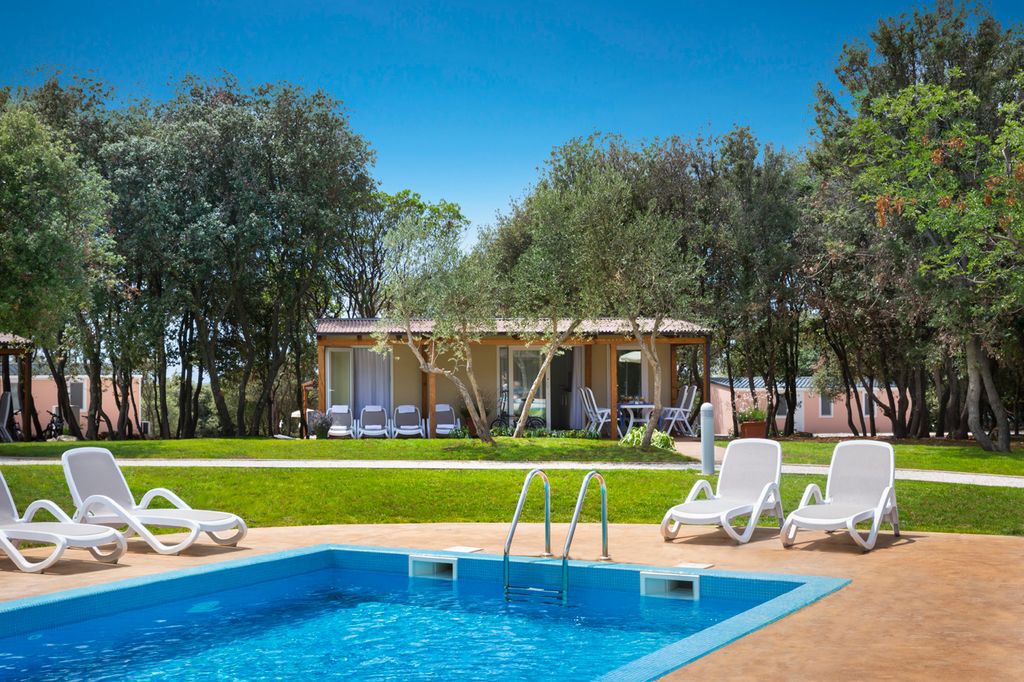 Camping Polari is located near the popular tourist resort of Rovinj, right next to the beach. It is the largest holiday center of the Maistra chain. A bicycle path connects it with Rovinj. Take the opportunity to explore the area on two wheels if you come here. We also recommend a nice hiking trail along the coast. The campsite itself has much more to offer than an attractive setting. It is surrounded by lush vegetation, and includes, among others large swimming pool complex. You will not be bored here for a moment, especially if you like sports activities.
People planning to book a camping house can choose between Standard, Premium, Deluxe and Premium Family. In other words, there is a suitable mobile home for everyone. They are fully equipped. Depending on the variant, they have hot tubs and covered terraces. Inside, there are annexes, bedrooms with double beds and single beds, bathrooms with shower and toilet. The chalets have air conditioning, TV and Wi-Fi access. In selected facilities, you can stay with your pet for an additional fee.
Cottage at the Koversada camp site
Another holiday resort also belongs to the Maistra chain. Naturist park Koversada Campsite has a well-earned reputation as the oldest naturist park in all of Europe. Nudist fans have been visiting him for years, and more specifically for decades. The campsite is located in the immediate vicinity of the town of Vrsar. It provides guests with relaxation surrounded by greenery, with direct access to a nice beach. It is surrounded by the sea on three sides, so if you love carefree sunbathing, you have plenty of space and opportunities. This is a brilliant option for amateurs of blissful lounging on the seashore.
If you would like to rent a cabin at a naturist campsite , you have two models to choose from. Mobile homes Superior Couple are located near the Limski Canal or close to the sea. Their size varies between 22-34 m². These are intimate, cozy summer houses for two holidaymakers. They have a fully equipped kitchen, bathroom and toilet. They have a double bed and a sofa with the option of unfolding. Amenities include air conditioning, satellite TV, Wi-Fi and a covered terrace. Renters also have access to a car park, and for an additional fee they can bring their pet to the campsite.
This resort is distinguished by an amazing atmosphere. Many guests have been coming to him for years. Enthusiasts invariably choose his houses, despite the thriving competition.
Mobile homes at Terra Park Spiritos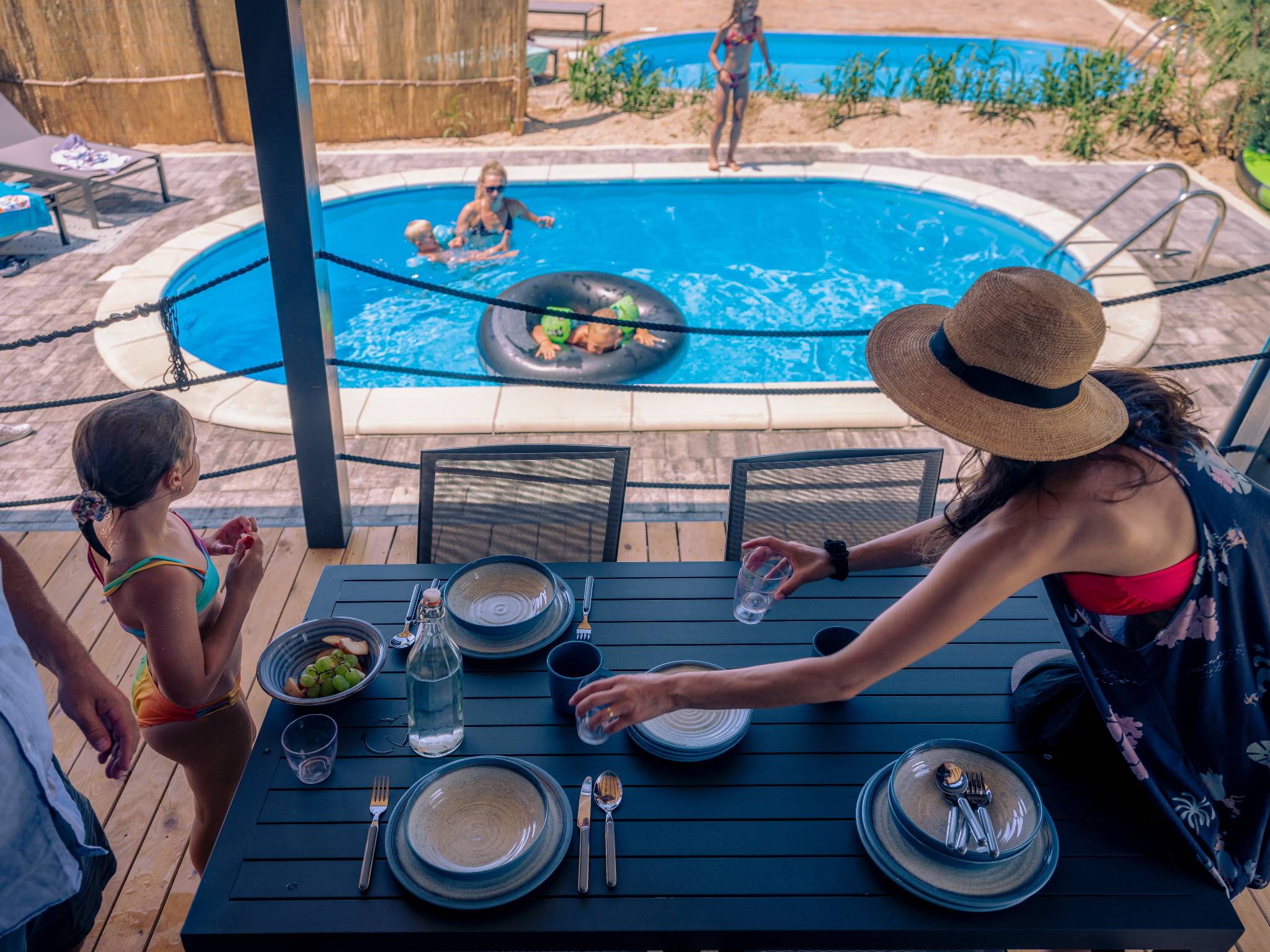 Terra Park Spiritos camp site is located on the Dalmatian coast, on the island of Pag. It is a great place to relax in comfortable conditions. If you expect luxury, you will be satisfied. Among other things, you will have the swimming pool all to yourself! Yes, you will not only book a camping cottage here. You will receive a luxuriously furnished mobile home overlooking the beach and a large terrace where you can sunbathe as much as you want. Imagine enjoying the sunset over the Adriatic Sea while soaking in your own swimming pool. And then you enter the cottage, where modern equipment and the delightful coolness of air conditioning await you.
Not all mobile homes have private swimming pools. It is worth noting, however, that each house at the campsite is available for guests with dogs.
Modern cottage at camp Umag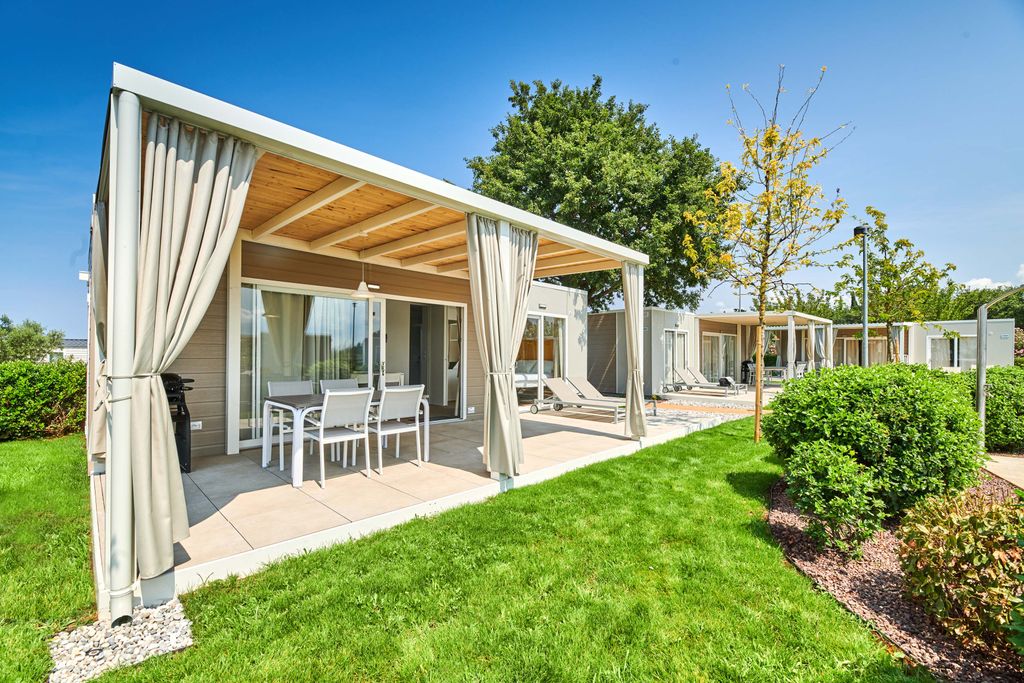 When describing Croatian holiday homes, we simply have to mention Umag. It is an Istrian town and a port in a beautiful bay on the northwest coast of Istria. Are you looking for a seat at the marina? The resort boasts one of the most prestigious ACI Club marinas. Nice, clean beaches distinguished by the Blue Flag status are also important.
This is where Camping Park Umag is located. It is an object worth recommending, both because of the location and the offer. Especially families with children will be happy to stay there, but other groups of tourists will not complain either. In 2022, they have a modernized beach at their disposal. In addition, 30 new-smelling Premium mobile homes have been prepared for vacationers. Mobile homes can accommodate 6 to 8 people. They are located near the new swimming pool complex, which further increases their attractiveness.
Accommodation in cabins at Arena Grand Kazela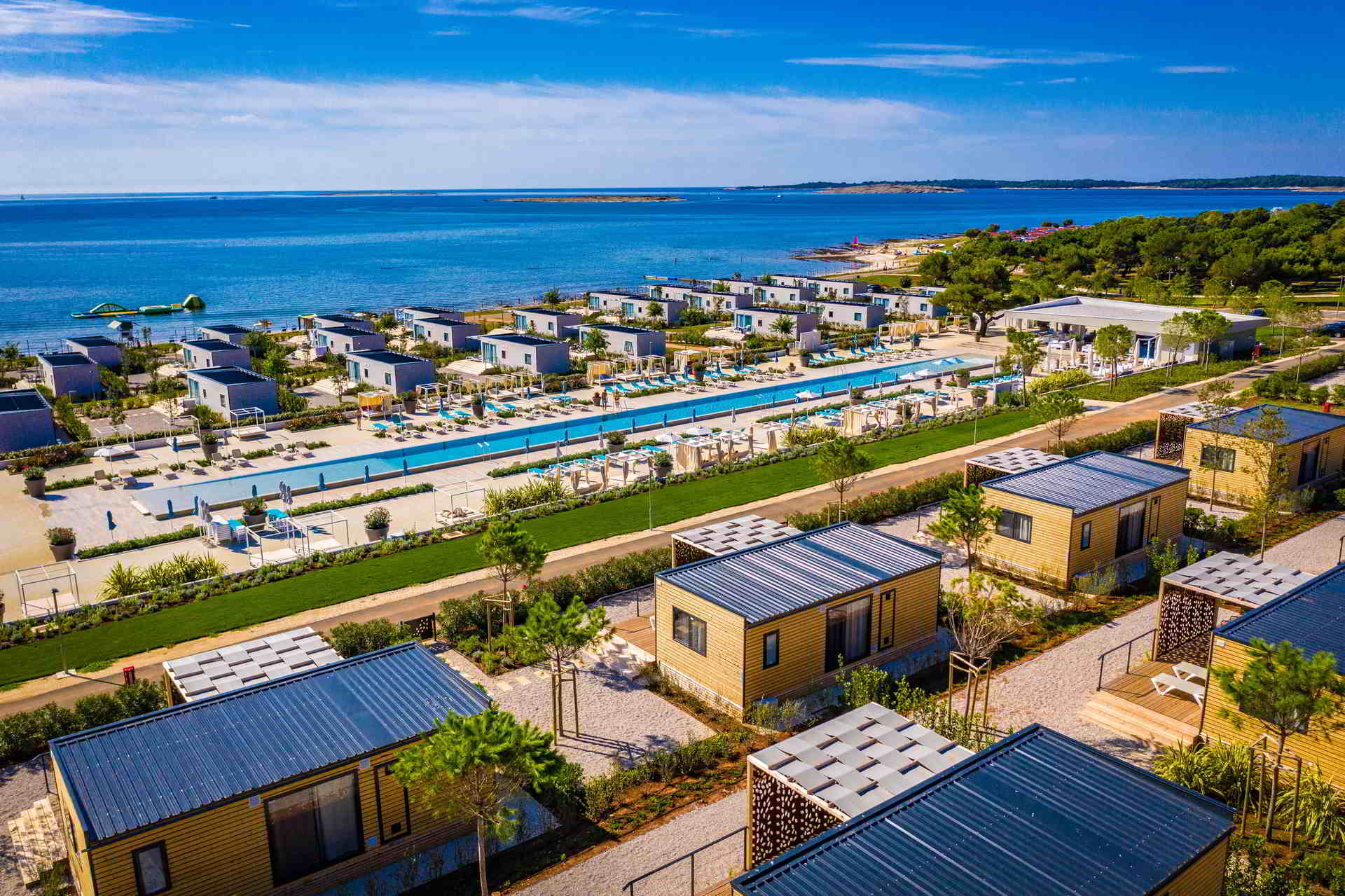 If you love Istria as much as we do, pay attention to the next object. This is Arena Grand Kazela Campsite , located in the southernmost resort of Istria. Medulin used to be a tiny fishing village in the past, and today it attracts many tourist facilities. Camping Arena Kažela stands out from their background with an important element - it is the only one with a naturist zone. Do you like an even tan, complete freedom and contact with nature? You will surely like it here. The more that it has spacious plots and invites tourists all year round. Willing people can stay on one of them or choose a cottage at the campsite .
It is worth emphasizing that this is a holiday resort that focuses on modernity. The holiday homes are brand new, carefully designed (ecologically) and furnished. You will find everything you need on vacation. Let's add Mediterranean vegetation, proximity to the sea and swimming pools. It is already known that without prior reservation, it is better not to come there.
Comfortable cottage at Bi Village camp site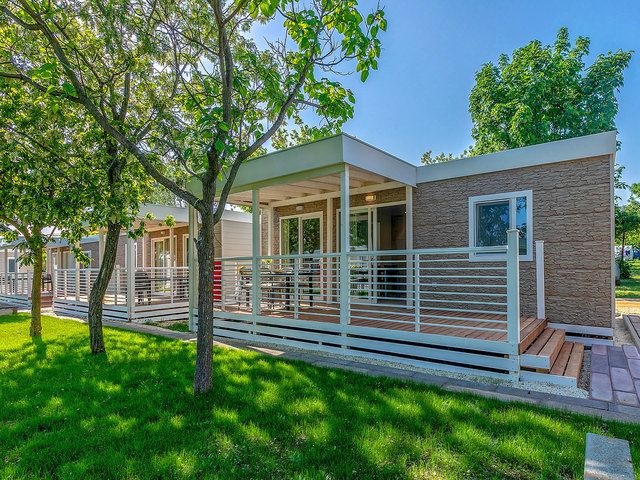 Another holiday resort on the Istrian coast is the Bi Village Holiday Center . It is located near the town of Fazana, approx. 7 km from Pula. Tourists love its location - opposite the island of Brijuni. If you choose it, you will have easy access to the attractions of the famous national park of Croatia. You will love the scent of pine needles floating in the air, as well as the local beaches, regularly awarded with the Blue Flag.
Bi Village has a lot to boast of when it comes to mobile homes. The new facilities prepared for the 2022 season deserve a few words. If you are traveling in a larger group, you can choose Mobilhome Premium Relax. It is approx. 35 m² in size and provides a comfortable stay for five people. The interior has a living area with a sofa bed, a kitchenette, there are also two bedrooms and two bathrooms. There is a wooden terrace outside with a table and chairs. Do you want more luxury? A private hot tub will provide you with a lot of fun in the fresh air (located on the terrace).
Animal lovers will find a suitable cabin at the campsite .
Mobile homes at Istra Premium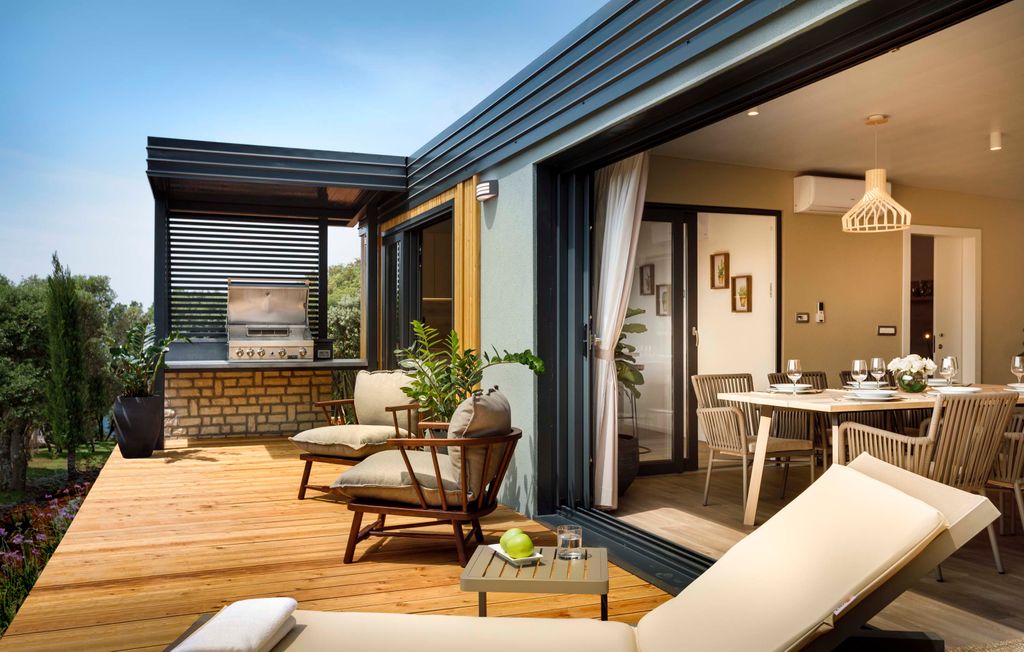 We are still not leaving Istria. I must admit that this is a region that is extremely friendly to caravanners. Near Poreč (Funtana) you will find the year-round Istra Premium Camping Resort , a holiday resort belonging to Valamar. It advertises itself as having the best holiday homes out of all the campsites in the chain. This alone should intrigue you. The property has pitches, villas, apartments and glamping tents. But let's focus on mobile homes. Fans of houses can choose accommodation a stone's throw from the beach (Marbello Premium Village). If they want a comfortable cottage in a campsite overlooking the sea, they will love it. The largest variants have a spacious terrace.
The Bella Vista cottages are also luxuriously equipped. They can be divided into proposals for a family or a group of friends (Bella Vista Premium, Bella Vista Premium Family). In this zone, there is also a Bella Vista Premium mobile home and an option for those who expect exclusive conditions. The modern Villa Bella Vista Deluxe Camping with a private swimming pool will surely meet the expectations of even the most demanding tourists.
Vacation in a mobile home at camping Cikat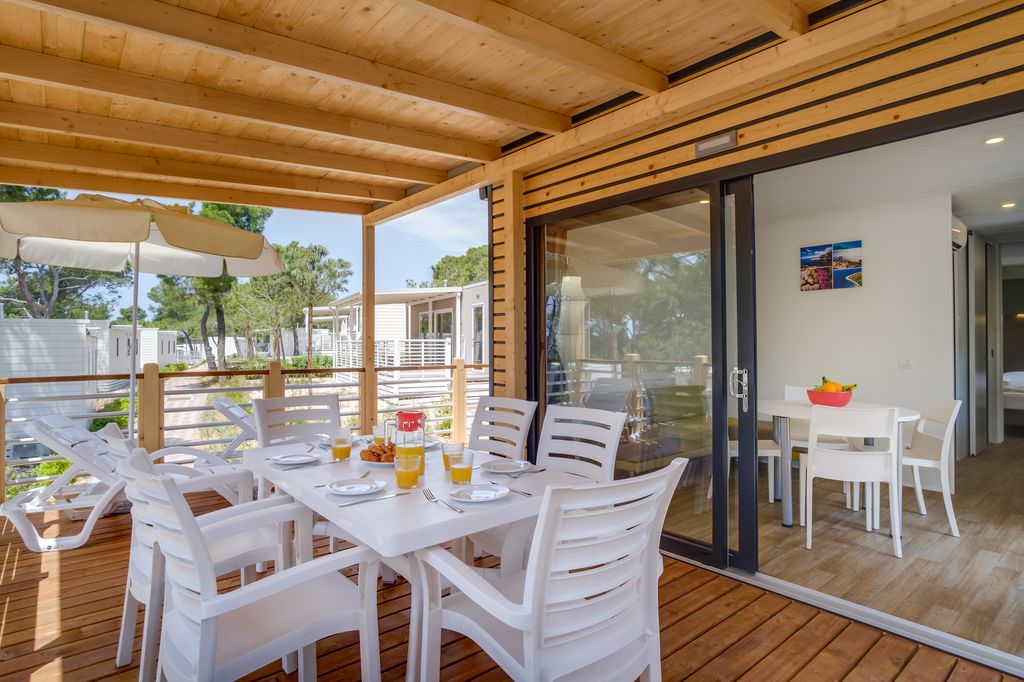 Are you interested in a holiday resort perfect for a family vacation? So pay attention to Camping Cikat . It is located in the beautiful bay of Čikat, surrounded by a pine forest. The close proximity of the largest island city in Croatia, Mali Losinj, is an added advantage. It is a large holiday resort open all year round. Its location allows easy access to the attractions of the area. It encourages long walks and biking tours as well as visits to the center of Mali Lošinj. It is located about 2 km from the campsite.
If you dream of a camping house , Cikat has a lot to offer. He has prepared himself perfectly in this respect - new summer houses are waiting for the guests. They are well equipped. What's more, they can be safely called exclusive. The range of accommodation includes five types of mobile homes: Freed-Home, Easy Freed-Home, type C, type A and I. We assure you that you will like every mobile home on the property. Freed-Home catches the eye with a large amount of glass and bright colors. They have spacious terraces from which you can admire the sunsets over the sea. Easy Freedhome is eagerly chosen by families with children, appreciating, among others, two separate bathrooms. In the western part of the complex, there are Type C mobile homes. They have a covered terrace and inside there are a large living room, a kitchen, two bedrooms and a bathroom.
A, I and D type mobile homes are located right by the sea. The last ones are adapted to the needs of guests with disabilities. Two of them are equipped with a special elevator that allows you to reach the seashore.
Croatian holiday in cottages on Poljana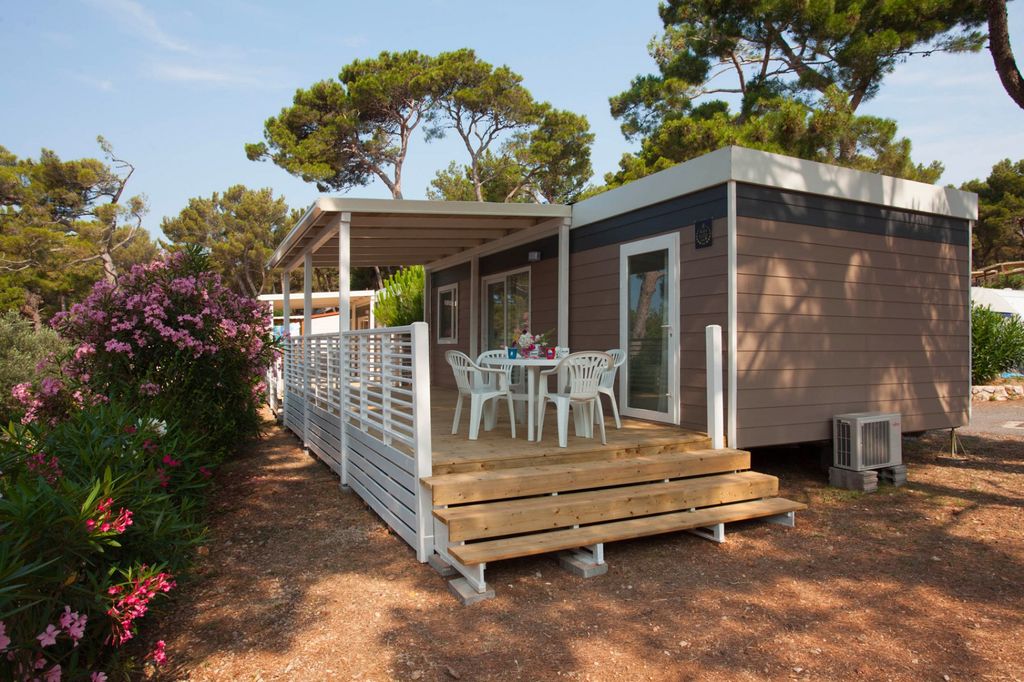 The last place we would like to present to you is also on the island of Mali Losinj. This is Camping Village Poljana , located in the picturesque Kvarner Bay. It has a great view of the nearby island of Krk. It is joyfully green around, and the object itself is washed by the waters of the Adriatic Sea on both sides. It is not surprising that guests praise the location so much. There is a small tourist harbor on one side and a beach on the other. Nothing but relax and admire the landscapes.
Like the rest of the campsites mentioned, Village Poljana offers holidaymakers various types of accommodation. Willing people can book caravans, bungalows, and bungalows right next to the sea or with a view of the waves. Mobile homes are air-conditioned, have access to TV and other amenities. In some of them you can stay with pets, so if you want to come with a pooch, check in advance which ones offer this option.
Comfortable holiday homes in Croatia
Eh, you can write for hours about great vacation spots. Especially when the topic concerns a country as abundant in them as Croatia. You will spend your dream vacation, vacation or at least a city break there. Just choose one of the recommended resorts to be sure that your stay will be successful. Advanced accommodation base combined with delicious cuisine and other advantages of the country attracts like a magnet. Seeing the enormous tourist interest, it is easy to see why campers are so eager to expand their range of services.
Do you need heated pools for your holiday happiness? We have put together some suggestions here: Campsites with heated swimming pools in Croatia
In conclusion, fans of mobile homes have a huge choice when it comes to holidays in Croatia. Each described holiday resort provides them with at least very good conditions. And this is a drop in the ocean of possibilities. See for yourself! A large part of the campsites offering mobile homes in Croatia are open all year round. Regardless of when you decide to come, they will guarantee you high-quality hospitality.
A writer by profession, a passion of a cat. One day he will see what is behind the Urals - good to Vladivostok. So far, when he can, he enjoys the sun of the countries of southern Europe. And it's also fun;)
Enjoyed reading this article? Share it!