Top 5 bike routes in the Garda Trentino region

Uli Stanciu, founder of Bike and Emtb magazines, presents his list of the top five MTB and EMBT routes in the Garda Trentino region.
"Lake Garda is a great place to practice mountain biking ." This opinion was expressed by one of the precursors of mountain biking, Ulrich Stanciu , a well-known German journalist and editor of Bike and EMTB magazines, emphasizing the clear connection between this sport and the largest lake in Italy.
The Garda Trentino region has always been closely associated with cycling. The beauty of the area can be much better admired from the perspective of two wheels. It can be said that each ride reveals a different face of the landscape and allows us to see a mountain peak that is otherwise unattainable.
Already in 1989, "Uli" understood that Lake Garda is a unique place to be discovered on subsequent bicycle tours. As Uli knows all the trails in the Garda Trentino region very well, he has compiled a list of the Best Cycling Routes especially for us that you must follow on a mountain bike !
Here is a list of his favorite cycling routes prepared by Uli Stanciu.
1. Ponale
Here is the route with the most beautiful views in all of Europe: you drive up gently up to Pregasina, while enjoying a wonderful view of the northern part of Lake Garda. In Pregasina you can take a break for a little something; from here there is also a breathtaking view of Torbole and Riva del Garda. At this point, you have the choice of either returning along the same route or continuing to Passo Rocchetta and on to Bocca Fortini and to Lake Ledro. You can also pass the iconic place - Tremalzo on the way.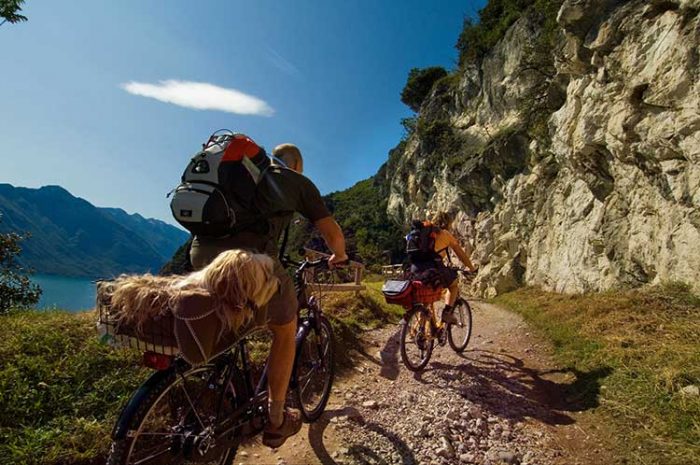 This is an easy trail that follows the path through Arco, at the foot of the majestic rocks surrounding the Sarca Valley. This way we will reach Pietramurata, where the beautiful Lake Cavedine awaits. From here, you can get back on the trail, passing through the Marocche di Dro - a truly lunar landscape dominated by large boulders and fine gravel. It is a one-of-a-kind cluster of monoliths that remained here after the last ice age.
3. Valle dei Molini
Here, a steep climb awaits us all the way to Deva, and from there you can reach Tenno, passing through the romantic valley of Valle dei Molini on the way. Then you go downhill, passing Volta di No, from where you have a wonderful view of Lake Garda. From Volta di No, we continue downhill to Riva del Garda, passing through the vineyards and admiring the beauty of the natural landscape. On this route, from which we will undoubtedly remember the unique views from the vineyards, we will certainly need a good condition and good driving technique. Steep climbs will be especially attractive for Enduro enthusiasts.
4. Ronda Piccola bicycle marathon
It is a true classic among all the trails around Garda. The route begins with a wonderful driveway through Tenno and Calvola - sometimes you follow a path, sometimes a paved road and so on up to San Giovanni al Monte. On the way, a wonderful view of the Sarca Valley with the lake awaits us, and then a moment of rest and delicious food in San Giovanni. The expedition ends with an ambitious descent down to Riva del Garda.
The descent is 1,450 meters, so the route requires good condition, but the descent itself is a lot of fun. It is definitely worth a bit of a struggle!
5. Monte Creino
This is another classic - the Monte Velo route. This time we offer a pleasant variant of a trip through Monte Creino. After a fairly long drive up the path through Pianaura and Carobbi to Santa Barbara, a wonderful view of the lake awaits us, and then we go down a difficult trail straight into the forest and further to Bolognano. You can also choose a rather difficult descent through Maso Naranch all the way to Nago. The route certainly requires good physical shape and skill.
This was the top 5 for cyclists ! In other words, five routes that every two-wheeler should travel on a mountain or enduro bike . Each of these trails is recommended by cycling expert and enthusiast Uli Stanciu !
And when you get to know each of the mentioned routes one by one, all you have to do is ...discover the next ones! Now you have to admit that Garda Trentino will do you good, even if you are physically fit!
Lake Garda campsites
The campsites at Lake Garda are the perfect choice for everyone. At the campsite you can enjoy a holiday on Lake Garda at affordable prices in virtually any season of the year. The camps are situated close to Lake Garda and are surrounded by lush vegetation in an interesting environment. The campsites offer a variety of services, from renting bicycles or windsurfing equipment to the possibility of renting kayaks or pedal boats. Whether you choose a tent, caravan or motorhome, the campsite has everything you need. Many of the campsites on Lake Garda also offer entertainment, bars and restaurants.
We have created the CampRest portal for people who value freedom and travel on their own.
Enjoyed reading this article? Share it!