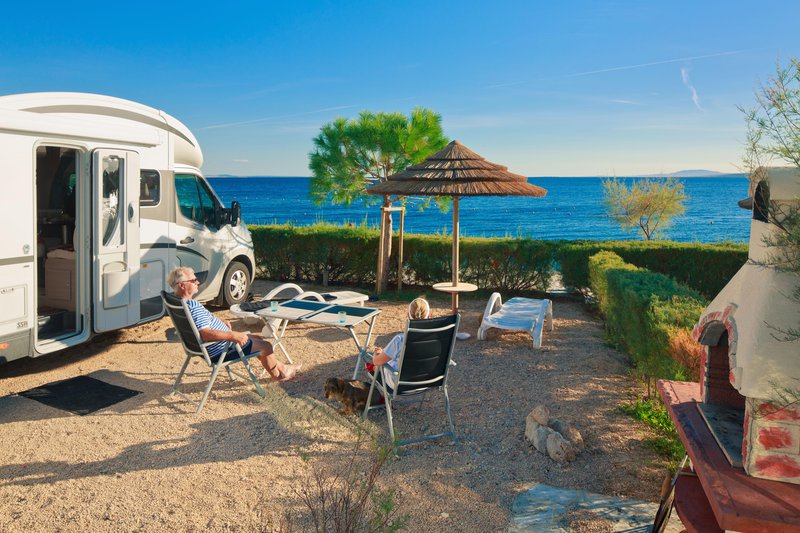 Those who want to get to know Croatia from its strict, "wild" side will probably plan a traveling vacation or a vacation in places that have not been too commercialized. By "sightseeing" they mean admiring the rugged coast with a lot of corners difficult for tourists, as well as driving through areas that are not at the top of national attractions. Which, of course, does not equal the fact that they are not attractive. There are certainly many beautiful and tempting corners on the island of Krk, which is becoming more and more popular with tourists every year, but fortunately still not crowded. A good example of an interesting, but underestimated point of the island is the town of Omisalj.
Gate to Krk
Omisalj is the first stop on a trip to Krk after crossing the bridge connecting the island with the mainland. It is a small town built on a rock, so you have a great view of the Kvarner coast and the nearby island of Cres. It is treated by many as a via point, a gateway to other attractions of Krk, a place that one passes by and continues on. It is wrong, although its charm will be discovered only by people who like quiet towns, where life flows at a leisurely rhythm and where you can hide in one of the narrow medieval streets. Tourists for whom holidays in Croatia involve full enjoyment of the attractions of noisy resorts with a multitude of pubs and restaurants, and beaches dotted with hundreds of umbrellas and sunbeds, in Omisalj will find nothing that would attract their attention for longer. On the other hand, lovers of local color and close contact with "natives" will appreciate the character of the town. The approx. 3 km long bay invites sailing enthusiasts (frigates are organized here every year), and the picturesque old town - lovers of monuments. People who want to swim must remember about appropriate footwear, as the seabed in this part of the coast is full of sea urchins. It is also worth mentioning that for some tourists the disadvantage of Omisalj may be the close vicinity of the oil terminal. On the other hand, there will be those who will find it a curiosity - especially at night, when it is illuminated effectively.
We're going to the capital!
Solina Bay is a few kilometers away from Omisalj. During your vacation on Krk , you can take a bath in the local healing mud, or disconnect yourself from civilization and relax on a wild beach. Rudine, a small village near the bay, is close to a lovely cave called Biserujka. After paying the admission fee, you can visit it - it is said that it hides a treasure of privateers. Going further south, we will reach the capital of Krk, which has the same name as the island. The resort is located on the coast with an uneven line, with numerous small hills and coves. Its buildings fit into the surroundings, creating a whole that is pleasing to the eye. It is especially visible in the old part of the city, surrounded by tall trees. There is also the main square of the resort, Vela Placa, where you can take a break from exploring Krk. Later, after eating in a restaurant or cafe, many vacationers will go on a romantic walk along the promenade.
Camping in Krk
In close proximity to the historic city center there is Camping Krk , a 5-star facility offering tourists accommodation on an area of 11 ha. The pitches are very well equipped, shaded, and the entertainment program will please people of all ages (including games room, Teens Club, water park with lots of attractions for kids, wellness center with a wide range of Wellness & Spa services). The beaches can be reached on foot in a few minutes. The camping welcomes families with children, singles, people who love active holidays and those who just want to relax and unwind.
A writer by profession, a passion of a cat. One day he will see what is behind the Urals - good to Vladivostok. So far, when he can, he enjoys the sun of the countries of southern Europe. And it's also fun;)
Enjoyed reading this article? Share it!