With friends on the Adriatic - holidays at Villaggio San Francesco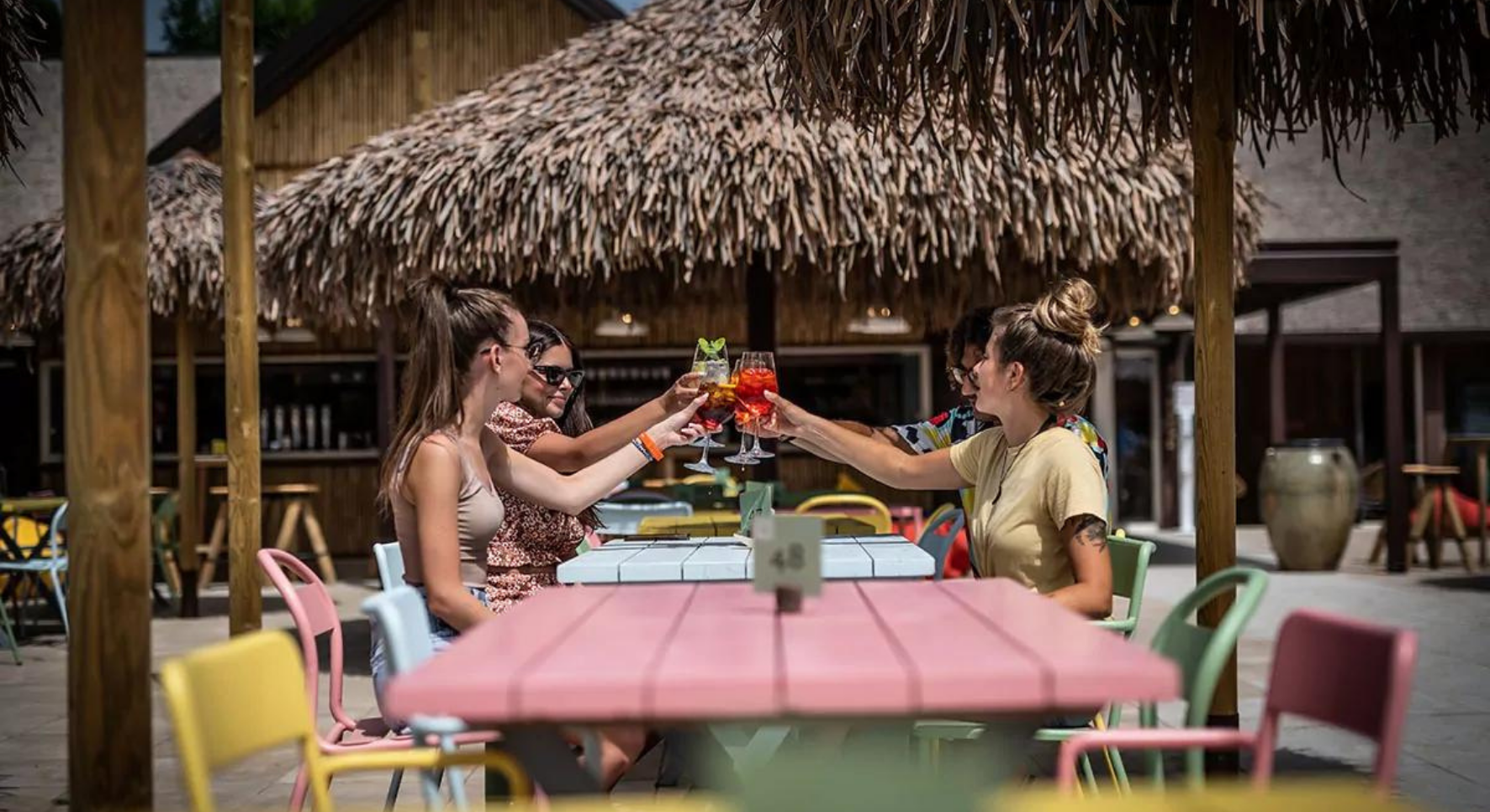 Many campgrounds boast of amenities for families with children. A large part provides numerous attractions for seniors. What about adults without children, students or singles? What entertainment await friends who are going to spend holidays together? If you visit Villagio San Francesco, you will see how great this place is for this group of tourists.
The mentioned facility is not just any camping. It is a huge tourist complex of high standard - it was the first in Caorle to get 5 stars. It is located right next to the beach on the Adriatic coast , surrounded by dozens of trees. Holidaymakers will find practically everything they could wish for on vacation in warm countries. Beautiful weather, sun overhead, blue skies in the distance and greenery where you can hide from the heat. In addition, various attractions at the campsite itself. No wonder it is so crowded throughout the entire period of operation (April-September). Check out what he offers to friends!
Leisure time on the Adriatic Sea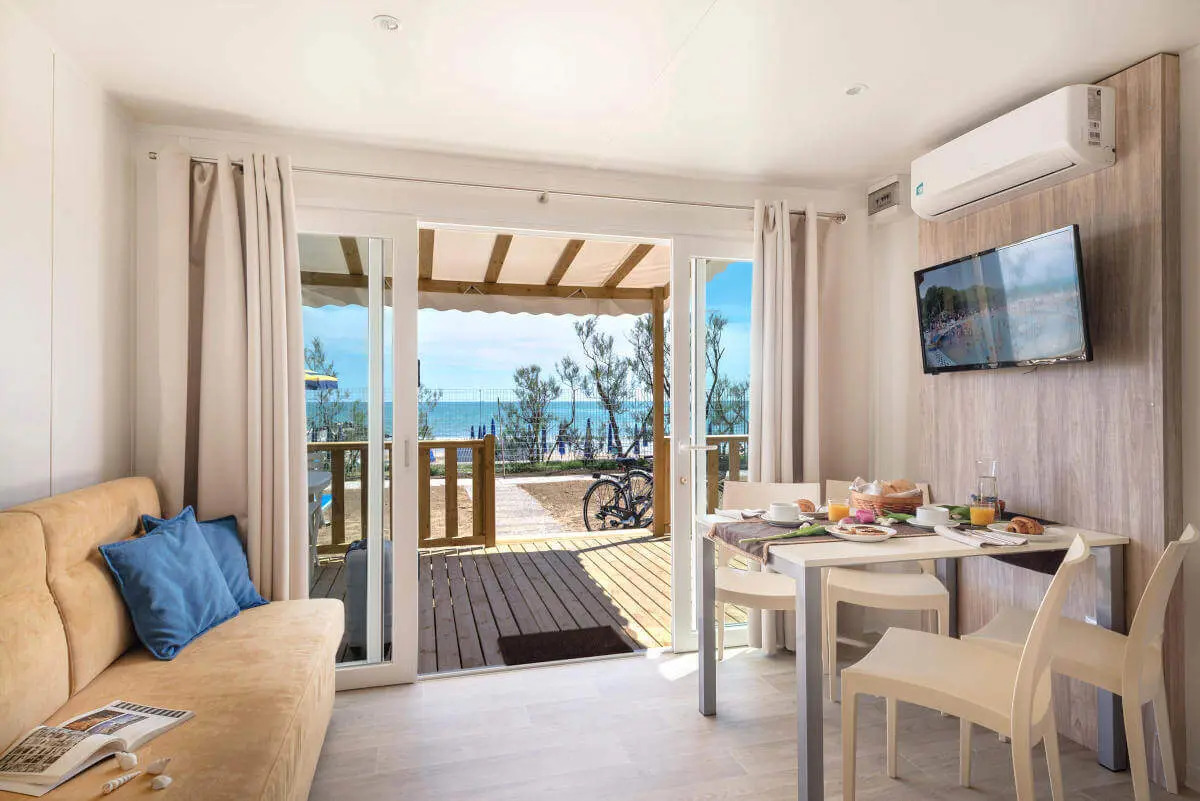 Let's start with the accommodation. A group of people who want to rent a place in Villaggio San Francesco have several options to choose from. Waiting for her include rooms, bungalows and mobile homes, as well as spacious, well-equipped plots. Regardless of whether the guests come by camper, car, or decide to travel by plane, they have a guarantee of relaxation in great conditions on site.
A group of up to 7 people can easily fit into one house. For example, you can book the Excellent Lounge, 35 m² air-conditioned mobile home. The ergonomically furnished interior includes three bedrooms, a living room with an annex, a bathroom and a toilet. In addition, vacationers have a roofed terrace with garden furniture for themselves.
The campsite is pet-friendly, but you won't be able to stay with them everywhere. If you are traveling with your pooch, you must check in advance which accommodation options allow him to stay. They include, among others Comfort Dog bungalow . As its name suggests, the dog is welcome in it. In addition, it is a cosily furnished, spacious house (50 m²), which can accommodate up to 5 people.
Attractions for active people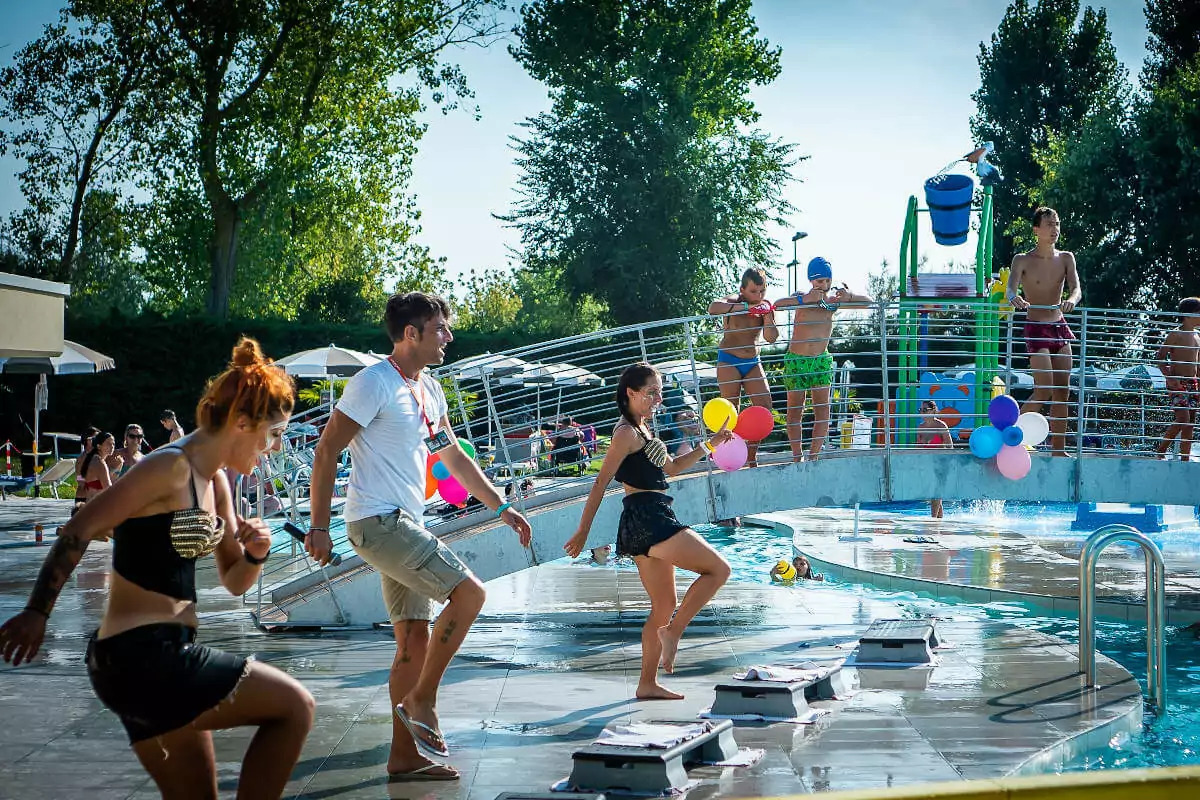 A group trip usually involves compromises. It happens that some people want to lie and sunbathe on the beach all day, others prefer to go sightseeing on foot or by bike, others enjoy entertainment such as football, basketball, volleyball or tennis. Villagio San Francesco has a lot to offer to each member of the team. Its swimming pool complex with slides, jacuzzi and hydro massage is very popular. Some of the group can lie down on the sun loungers surrounding the pools, and some - splash in the water at will.
It is difficult to list all the attractions that await water sports enthusiasts. They can swim together, rent a boat, go surfing or explore the area from a kayak. Those who love adrenaline can go water skiing. Beneath the surface of the waters washing the shore there are landscapes that attract diving enthusiasts. Exploring underwater areas together is often the main reason for coming to Caorle. It is also a great opportunity to try this type of activity. Just visit a nearby sports equipment rental shop.
Animations at the campground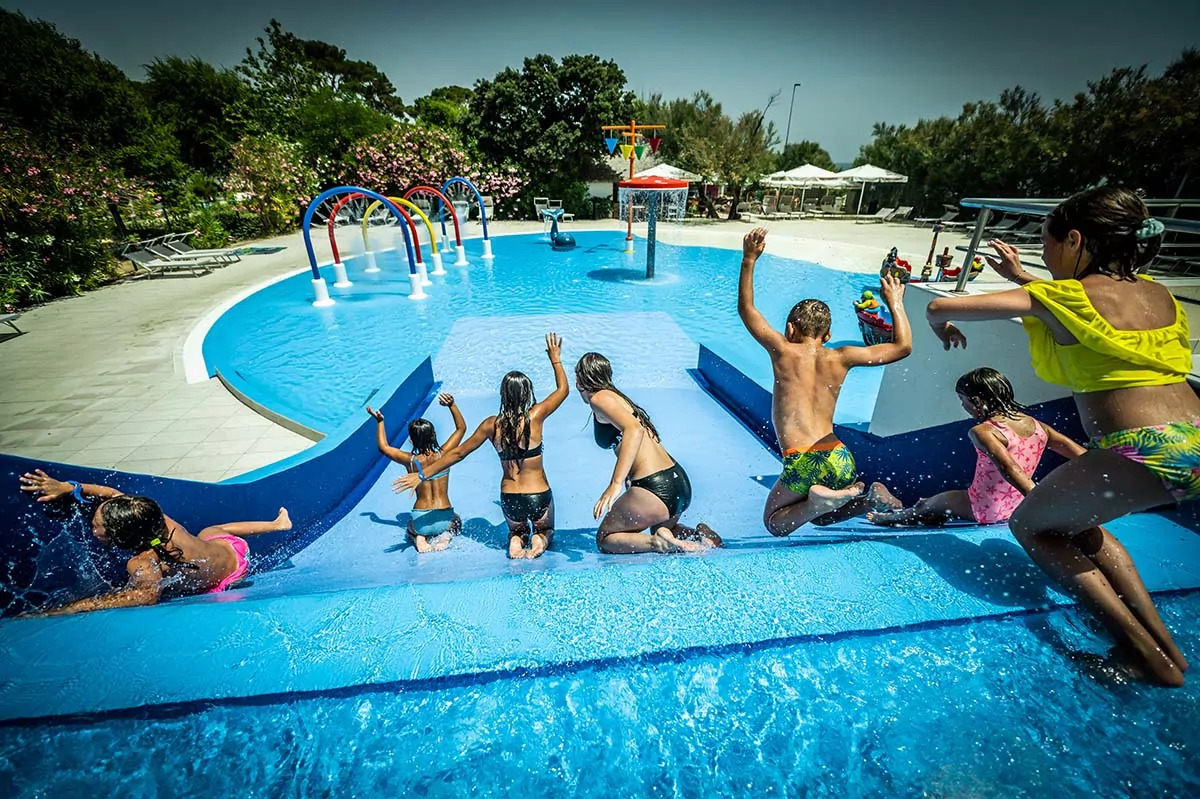 Animations occupy an important place in the offer of the complex. A large part of them was devoted to the youngest (from the age of 4), but there will also be many interesting activities for adults. During the day, there is a range of entertainment for all age groups, and in the high season in the evenings you can count on events such as performances, shows or live music . There is a party in the camping disco around 3 am, so fans of great fun don't have to look far for it.
It is also impossible to skip the organized sightseeing tours. Those who came to the center in a group probably make their own plans for the day. However, if they have a free space in it, and above all, want to, they can sign up for a guided tour. What's worth seeing - outside of Venice, of course? At the beginning, Caorle itself, then Jesolo and the surrounding islands. You can go on a boat trip and enjoy the views from the water. First of all, you will enjoy each other's company and collect memories of your holidays in Italy.
A writer by profession, a passion of a cat. One day he will see what is behind the Urals - good to Vladivostok. So far, when he can, he enjoys the sun of the countries of southern Europe. And it's also fun;)
Enjoyed reading this article? Share it!