The Grand Canyon and Las Vegas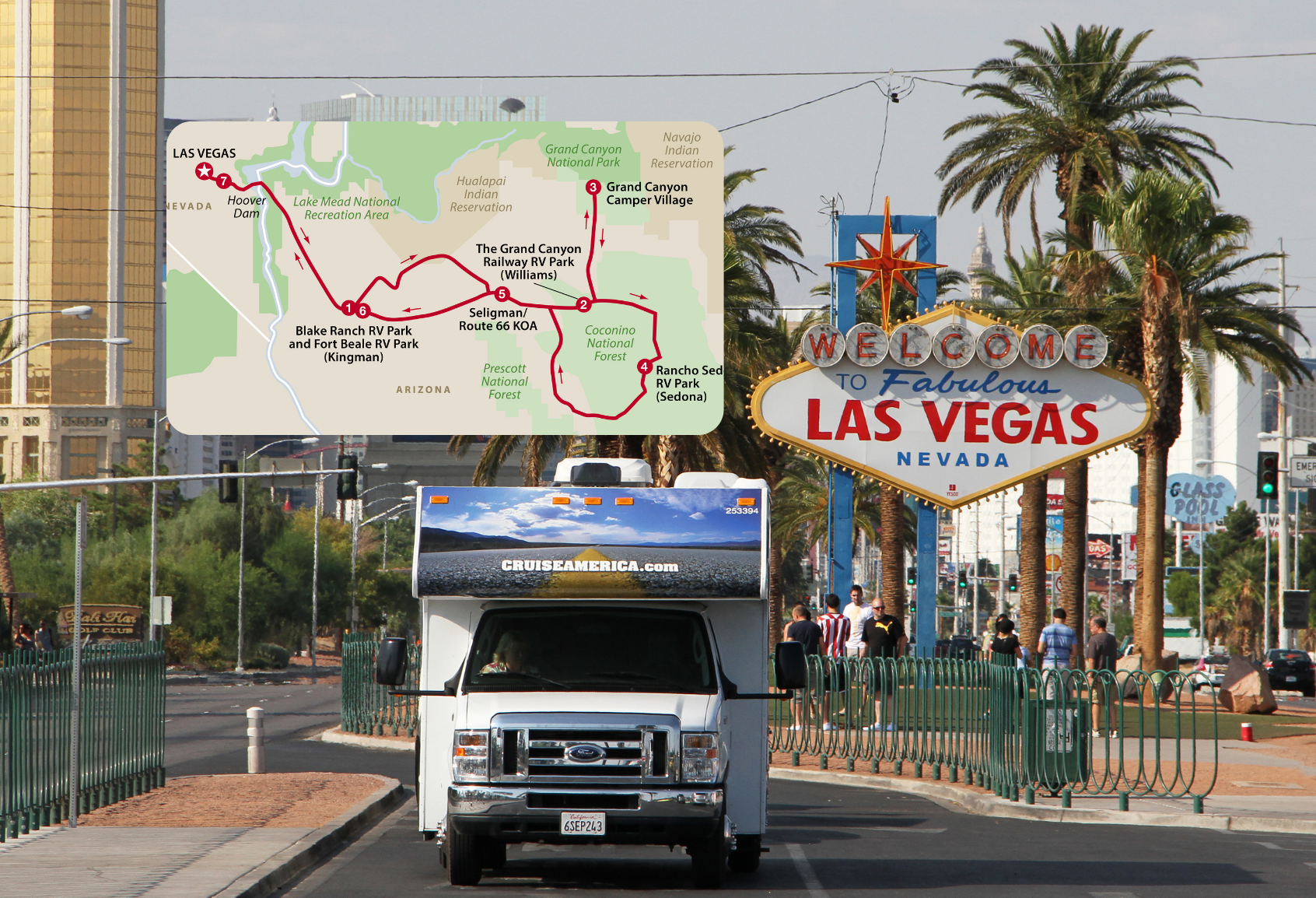 This is a short getaway for those who don't have much time, but would like to see the Grand Canyon on a trip to Las Vegas - not from a bird's eye view, but from up close! You can, of course, extend your trip and stay here longer to visit other national parks such as Zion and Bryce.
Travel Details:
Departure: Las Vegas
Duration: 8 days
Length of the route: 710 miles
Motorhome travel route
The routes we publish on the portal are created in cooperation with Cruise America - the largest motorhome rental company in the USA and Canada. In the fall of 2020, we became the only and official representative of Cruise America in Poland. Plan your vacation with us in a motorhome around the USA. The costs of such a ready route are given at the end of the article.
If you want us to evaluate your individual motorhome trip around the USA or Canada - write to us at: [email protected] . Remember that we guarantee lower prices than when booking directly with Cruise America . Soon you will be able to check the prices in person on our website: www.usakamperem.pl. And now you can download the tourbook from our e-book store and start planning your vacation: 16 US and Canada camper tours . In the tourbook you will find a lot more information about this tour. Above all, there are links to all the campsites we recommend. Renting a camper van in the USA is safe and simple!
Day 1 Pick up your campervan at Cruise America
Pick up your camper van in Las Vegas and head straight to Blake Ranch for your first night. You will enter Arizona via the Hoover Dam, but we suggest you visit it on your way back. It is possible that this area is under the control of the Department of Security, but there is nothing to fear. It is worth remembering that behind the dam there are several million liters of water in the Colorado River.
Day 2 Williams
Today you're heading to Williams and then camping on the Grand Canyon Railway, next to the train depots and hotel. The whole thing creates a quite nice holiday destination. Campsite guests can also use the hotel's indoor pool and jacuzzi, as well as the bar and restaurant.
Day 3 by camper to Grand Canyon
The most awaited point of the day's agenda will be a stop on the border of the majestic national park. This impression will not be captured by any photo, image or film - you have to see it with your own eyes. We recommend camping Mather, which has showers and toilets, although electricity is not available. Maybe you will be tempted by an unforgettable helicopter flight to the Canyon itself or over it?
Day 4 head to Sedona
Continue on I-40 to Flagstaff and then south on I-17 towards Coconino National Forest. Then take the Sedona exit and you will arrive at your next accommodation after a while - Rancho Sedona will soon welcome you. From here, you can walk to restaurants, shops and galleries in the nearby town. The campsite is situated among breathtaking red rock formations.
Day 5 RV through the Prescott National Forest
Today you will loop through the Prescott National Forest and return to Seligman. The tour will take you approximately an hour. On the way, you can visit the museums of western art and Prescott's Indian artifacts. The property of Sharlot Hall, the first seat of the local governor, is also highly recommended. Right after Ash Fork you will enter Route 66 again, and from here it is not far to the KOA campsite.
Day 6 of Route 66 via Peach Springs
There is not much left to travel on the historic Route 66, which is known to run from Chicago to LA. We have one of its longest stretches left, which leads along the picturesque route through Peach Springs, right on the border with the Hualapai Indian Reserve, to Kingman. We're heading to Fort Beale camping. ✪ 90 miles to Kingman ★ Visit the Grand Canyon Caverns, where the air reaches almost 100 kilometers into the ground from the canyon itself.
Day 7 Hoover Dam
Today will be your chance to spend a moment at Hoover Dam. There is a lot to discover here. The Colorado River dam is a remarkable achievement of human thought - turbines run at eighty-five miles per hour and generate power for a large area of three states. We can confidently say that for the last night we selected the best camping in Las Vegas for you.
Day 8 Returning your campervan in Las Vegas
Today there is a short way ahead of you. You'll only travel 10 miles to Las Vegas to drop off your camper.
US motorhome costs - C25 motorhome Cruise America
Cruise America C25 motorhome is the best type of motorhome if you want to go on vacation in the USA with children . How much does it cost to rent a 5 seater motorhome at Cruise America today (04/28/2022)? The price is only valid this week and changes every Sunday. The C25 is a 5-person camper, in fact 4 + 1. You can read more about the types of motorhomes in the article: Types and equipment of motorhomes for rent in the USA and Canada.
Motorhome rental in the USA in July in Las Vegas: approx. PLN 13,500.00
Motorhome rental in the USA in October in Las Vegas: approx. PLN 4,500.00
To rent a motorhome, you need to add:
Unlimited milage: approx. $ 1,050
Camper deposit: $ 500
Costs of stay at campsites. You can assume that an overnight stay at the campground will cost anywhere from $ 20 to $ 150 per night.
Fuel costs. With an average fuel price currently in Nevada of $ 5.07 / gallon, the cost of driving 1,000 miles is around $ 507-840. Cruise America camper vans can be driven from 6 miles to 10 miles on 1 gallon of fuel. Hence the forks.
The following can be added to renting a camper at Cruise America :
Additional motorhome insurance: approx. $ 14.85 per day
Early Bird Departure: Approx. $ 480
Personal kit (i.e. pillows, sheets, sleeping bag, towels): approx. $ 75 per person
Personal kit is an additional option here, because tourists often prefer to buy all the necessary things themselves.
The rates shown include the Early Booking discount from Cruise America, valid for bookings until the end of this year. The price was calculated based on today's USD / PLN exchange rate and is subject to change. The given prices do not constitute an offer within the meaning of Article 66 (1) of the Civil Code.
Download the tourbook from our e-book store and start planning your vacation: 16 USA & Canada RV Tours
Article prepared in cooperation with Cruise America
Portal CampRest stworzyliśmy dla ludzi, którzy cenią wolność i podróżują na własną rękę.
Enjoyed reading this article? Share it!