Bikepacking - we arm the bike and on the road!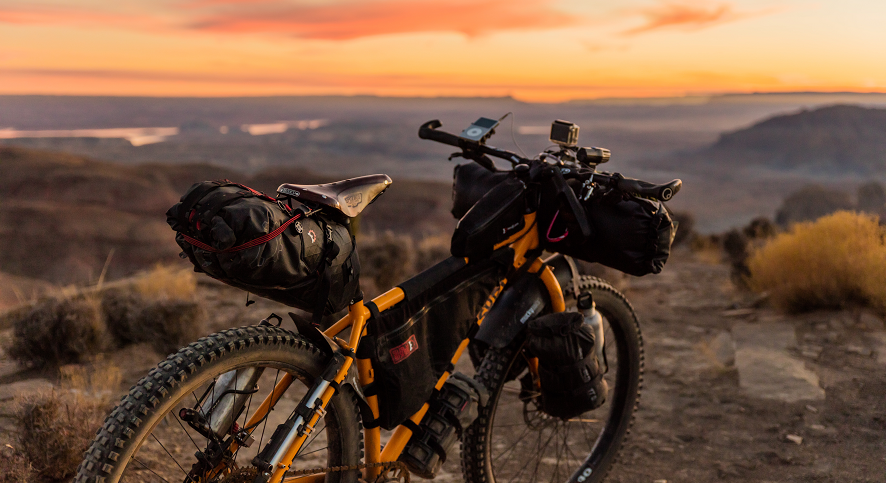 What is bikepacking? This is traveling for lovers of two-wheelers in the style of "fast and light", that is, fast and light! Bikepacking combines the satisfaction of riding a lightly packed bike with the possibility of visiting new places. Thanks to specially selected bags, we pack minimal but necessary luggage, thanks to which the bike is not overloaded, still remains maneuverable, and we can go on a multi-day trip through forests, mountain trails and other areas.
Although bikepacking was born in the USA and its beginning was long-distance mountain races , today it is very popular all over the world, constituting a completely new type of cycling tourism. So it's time to arm your bike with the right bags and go on tour! What to take for a longer trip?
A capacious expedition pannier is a must-have for every long bike trip. Properly selected bicycle panniers allow for even distribution of luggage and provide an excellent space for storing the most necessary things. What to consider when choosing a pannier for a bicycle? First of all, the weight of the equipment that we are going to transport. For longer trips, the luggage will definitely be heavier, and in this case , a pannier for a bicycle carrier will be the best. At the same time, it is a good idea to mount the bag on the handlebar or on the frame at the front of the bike to keep it balanced. Panniers mounted on the trunk at the rear of the vehicle do not hinder driving and do not adversely affect the dynamics of cycling.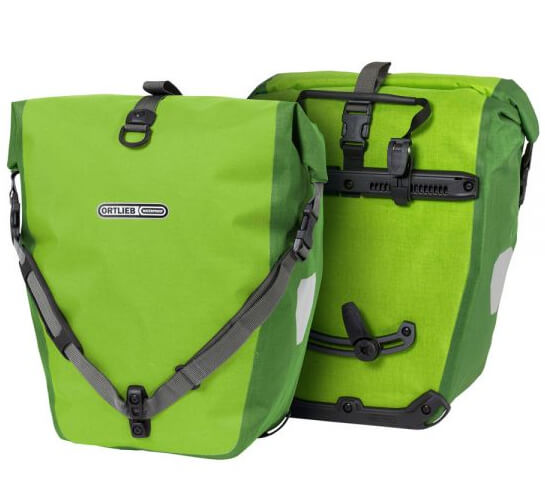 A good bicycle pannier should be made of waterproof material so that in the event of a downpour, our luggage will not be damaged. Additional protection against bad weather is also the method of closing the pannier - the rolled closure effectively prevents water, snow or sand from getting inside. Another aspect that should be noted is undoubtedly the capacity. Panniers are usually more capacious than bicycle bags. For a weekend bike trip, a pannier with a capacity of 20-40 liters is enough, and for longer trips we can choose a model with a capacity of up to 70 liters! The Ortlieb brand is the clear leader in the production of expedition panniers, although models of such brands as Extrawheel and Author also deserve attention.
Classic panniers with rolled closure are not the only packages that can be mounted on a bicycle carrier. Another solution is a bicycle bag for the trunk, one with a flap closure or closed with a zipper. Bicycle luggage racks usually have a smaller capacity than expedition panniers. This category includes smaller 7-9 l and larger 15-20 l models. Good quality bags are also made of waterproof materials, equipped with solid fasteners and reflective elements . Bicycle bags very often have internal and external pockets that allow for convenient transport of various accessories. We can choose a single bag, e.g. the side model Basil Single Bag Golub, a double bag - Basil Double Bag Tour, or even a three-piece bag - Author Tourer 40.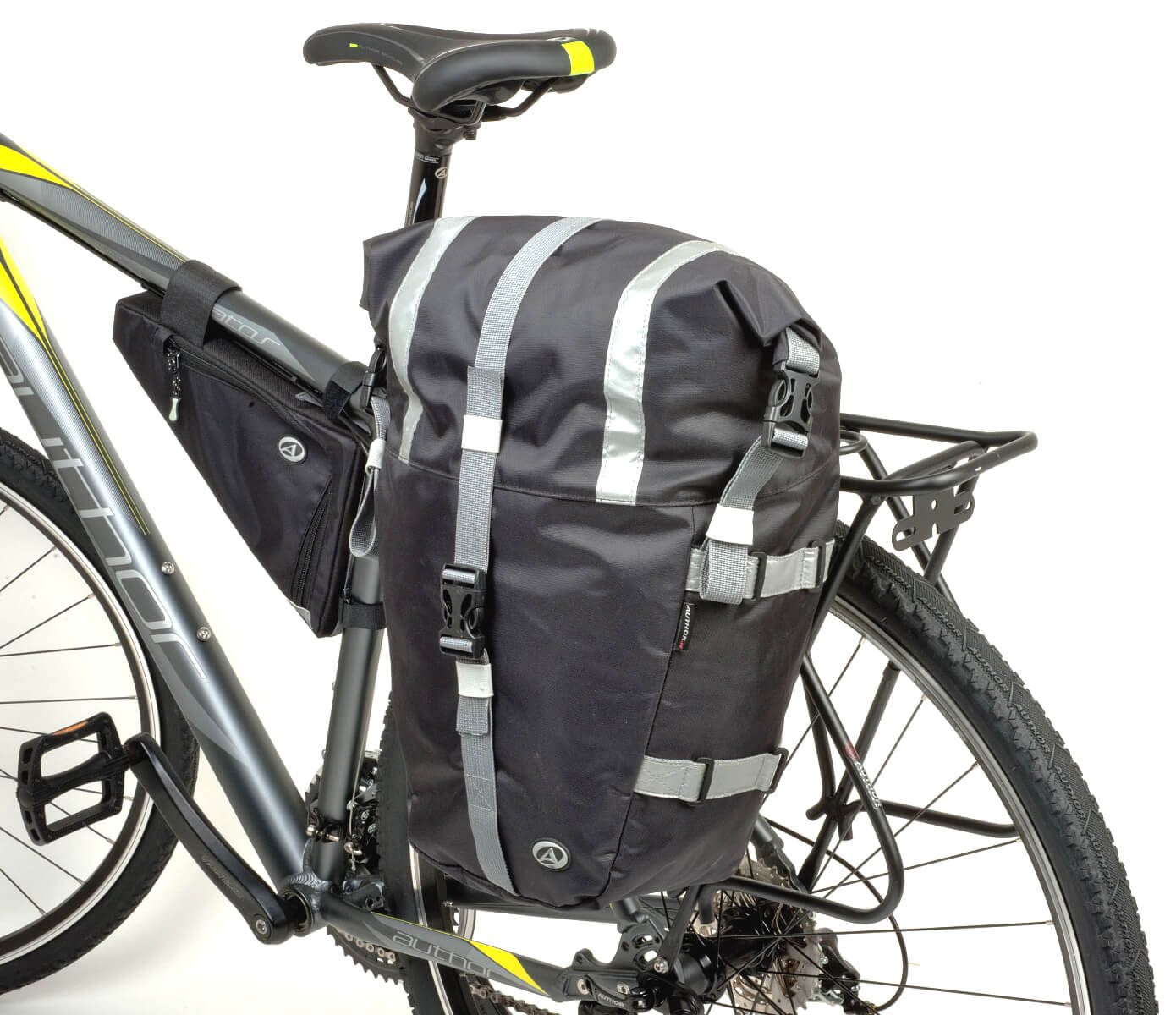 What should a good bikepacking handlebar bag be like? The one made of durable materials, resistant to abrasion and damage, as well as water. Remember that the handlebar is not the best place to load our bike there, which is why the handlebar bags have a smaller capacity than classic bicycle panniers . Most cyclists carry accessories in such bags that they want to have easy access to, as well as valuables such as a wallet, keys, powerbank, camera or telephone. A small hammock or a camping cloth will fit into larger handlebar bags.
These types of products can take the form of bags without attachment, such as those in the Ortlieb Ultimate series, made of waterproof fabric, with an internal pocket and key holder, magnetic closure and reflective elements. These models also have a detachable strap, thanks to which, after removing from the bike, they will serve as a practical shoulder bag. But there are also elongated bags attached with Velcro straps, such as the Explorer EXP bag from SKS Germany , which is a 9-liter bag that can be pulled down on both sides, is water resistant and has reflectors.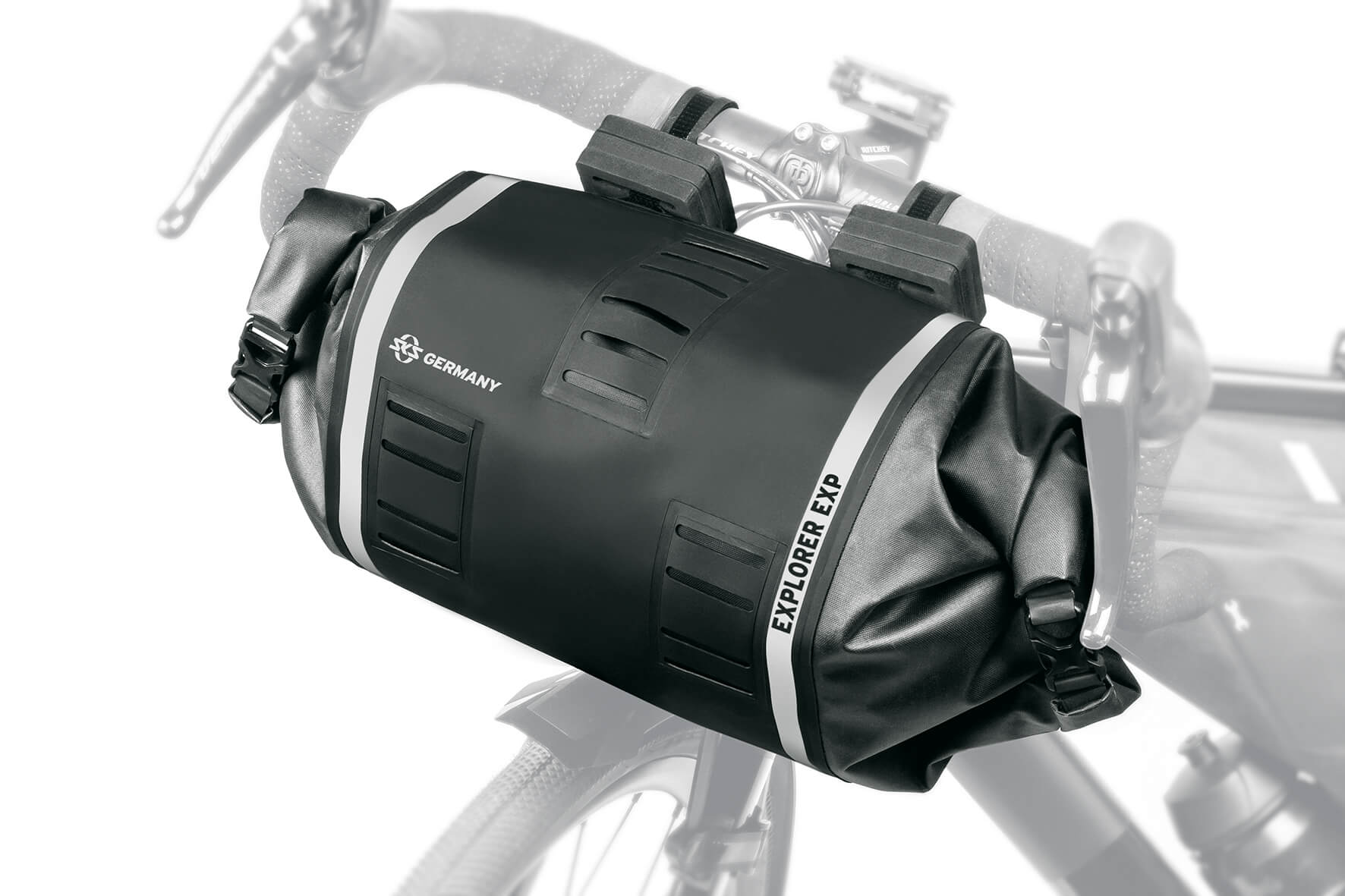 Another recommended model of a capacious handlebar bag, mounted with solid straps fastened with buckles, is the Topeak Frontloader bag. The 8-liter model is designed to carry light but larger items, such as spare clothes, sleeping bags or mats. The bag has an additional inlet for easy access to its contents, as well as a built-in valve that allows you to compress and reduce the volume of an incomplete bag.
Frame bags are attached to the top tube and handlebar stem. They are the perfect place to store your phone or snacks. They allow quick and easy access to the accessories you need, even while driving. Some bike frame pouches even have a hole through which you can pull headphones to listen to music from your phone while riding. They are extremely handy and usually waterproof - they will prove themselves in inclement weather. Perfect for shorter trips. This does not mean, however, that only light and small accessories can be transported in such a bag! It all depends on the model we choose.
It can be a smaller bag, approx. 2-liter, sufficient to hide a phone, battery or a pair of gloves, eg Zefal Adventure, but it can also be a larger model. Such as the bag mounted under the Topeak Midloader frame, with a capacity of 6 liters, allowing you to carry heavier things, including tools that may be indispensable during a longer bicycle trip.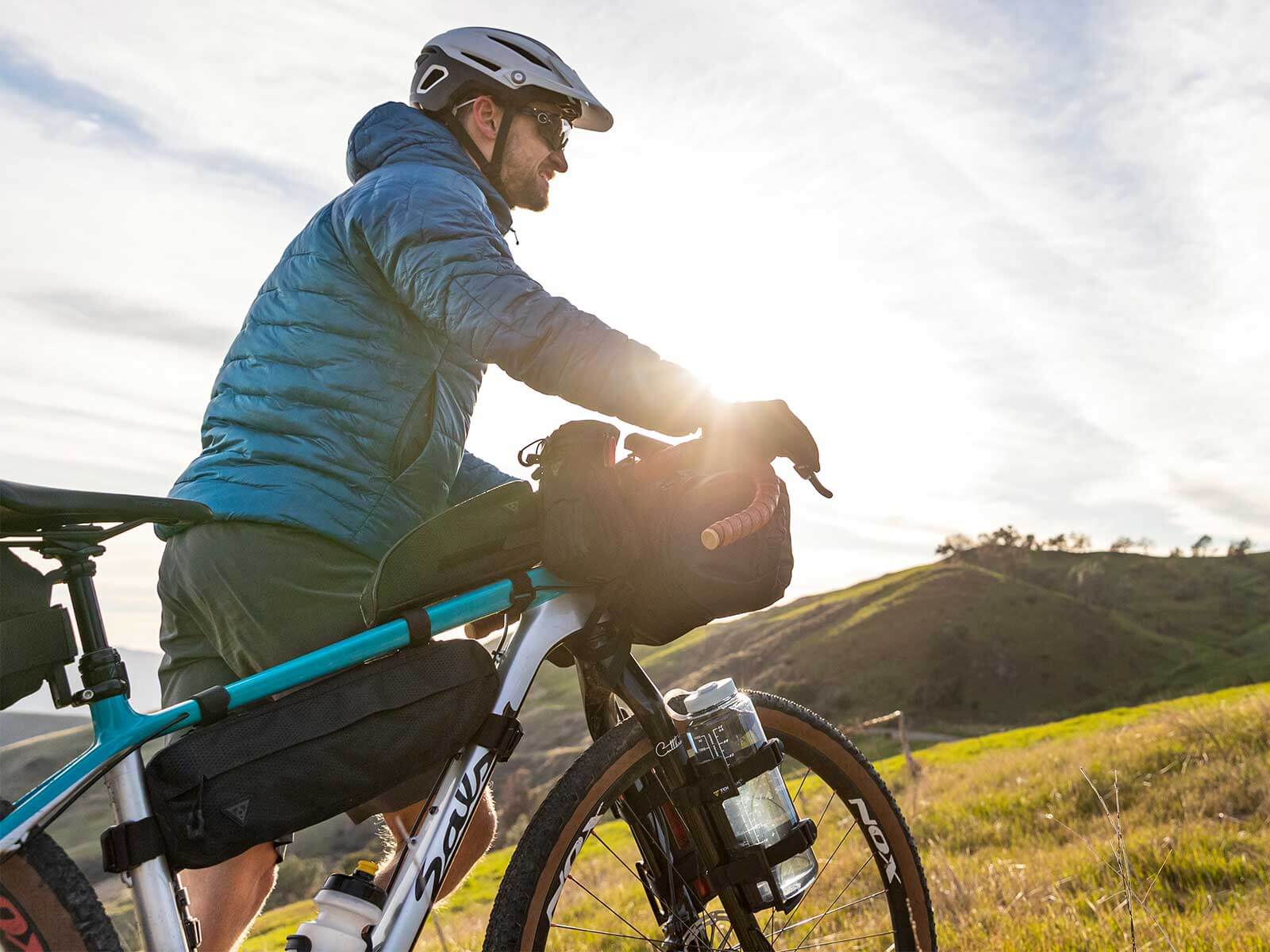 Saddle bag
So it is mounted on a seatpost strap or with a plastic saddle holder. In smaller saddle bags, we will carry a small set of bicycle tools or a spare inner tube. In turn, in those more capacious models that are better to take with you on longer trips, we can fit much more! The capacity of a large seat bag can be from 10 to even 20 liters. Saddle bags are extremely comfortable, because due to their location, they do not get in the way while pedaling. Remember, however, that although they are capacious models, you cannot carry too heavy items in them, which would worsen the bike's maneuverability. However, you can safely pack clothes or a thin sleeping bag into such a saddle bag.
A model worth recommending is the Topeak Backloader saddle bag - with a capacity of up to 15 liters and a maximum load capacity of 5 kg, with a roll-up closure, a loop for a lamp, practical espanders on the top and a waterproof inner bag. The bag has been equipped with an improved mounting system with clamping straps, and an additional option is an air release, thanks to which we will reduce the volume of even a tightly packed bag.
Saddle bags are also available in smaller versions, ideal as a permanent fixture on your bike. The Topeak Aero Wedge Pack Small has an optimal capacity of 0.66 liters, which allows you to store the most necessary things - documents, phone, snacks and even a spare inner tube . The bag can also be used to transport a set of tools for repairing a bicycle.
Bicycle trailer for luggage
Or maybe the bike itself is not enough to accommodate all our bags? When choosing a longer bike trip, you should also consider installing a bicycle trailer for luggage. A luggage trailer should be durable, properly balanced, with good grip and stability while driving. On the trail, single-wheel models will work best - on both sides of the wheel, we put the luggage in panniers or in bicycle bags. One-wheel trailers are the domain of the Extrawheel brand - they are equipped with a solid frame, a pannier rack, a fender and a warning flag. We can buy a model that includes panniers or bicycle bags in the set. Interestingly, in an emergency, the trailer's wheel can be used as a spare wheel for a bicycle!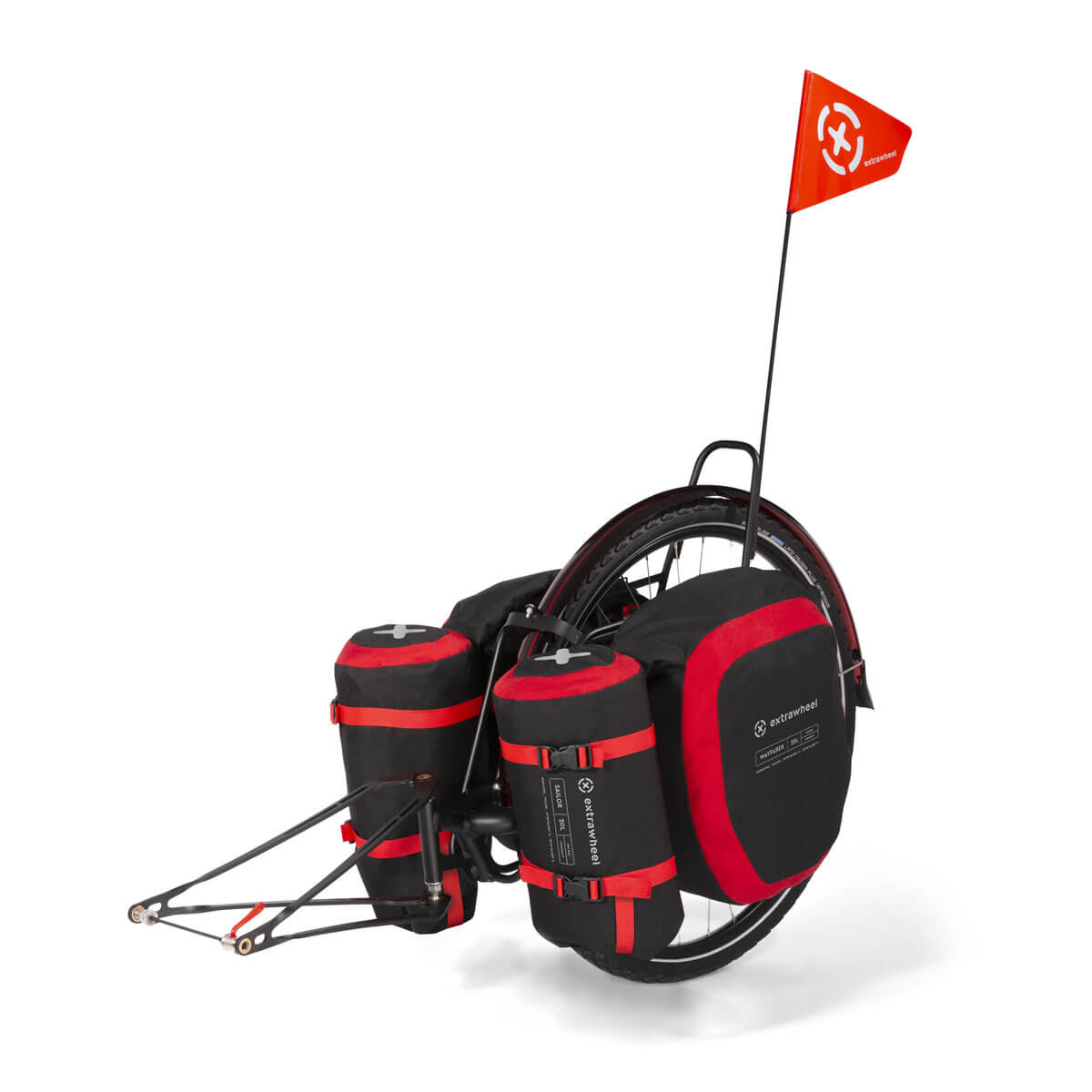 We have created the CampRest portal for people who value freedom and travel on their own.
Enjoyed reading this article? Share it!