Cruise America Motorhome Rentals - Frequently Asked Questions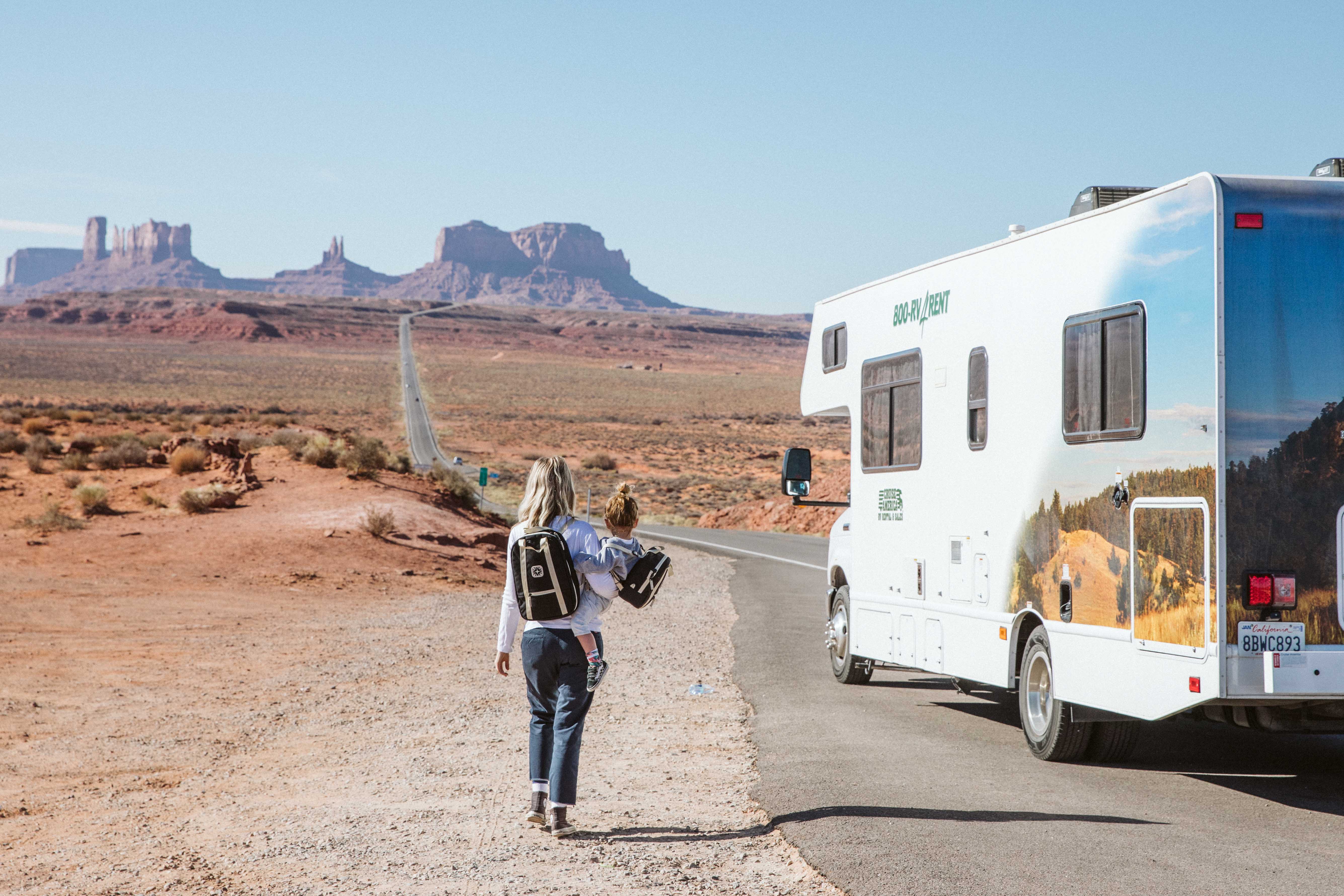 We have prepared for you a list of the most frequently asked questions about renting a motorhome in Cruise America. If you have any further questions, write us an e-mail - it is at the end of the article.
How does the motorhome rental price list work in the USA?
Cruise America's pricing is flexible. This means that the rental prices are different for different weeks of the year. In addition, they change every week. There is no price guarantee. It may be more expensive, and it may be cheaper. A bit like buying airline tickets - you can never be sure of the price. And, of course, there are exceptions to the rule. For example, if Cruise America has too many motorhomes in one (not very popular location), they will probably do a discounted price there. And if they have few of them, they will raise the price. However, we are not able to predict it. The algorithm does it ...
Floating rates are governed by the following principles. There is an appropriate rate for each rental day. The specified rate is valid for a week, from Saturday to Friday. So the correct rate will apply all days until next Friday. From Saturday, the rate for the next week will apply. It will be valid until next Friday and so on.
Are there any permanent promotions? A motorhome in the USA
Cruise America has one permanent promotion for campervan rentals in the USA. If you book your camper by December 31 (for the so-called "summer season" of the next year, that is from April to October), you will receive an Early Bird discount = 15%.
By booking your motorhome until January 31 you get a 10% discount, and by booking until the end of February you get a 5% discount.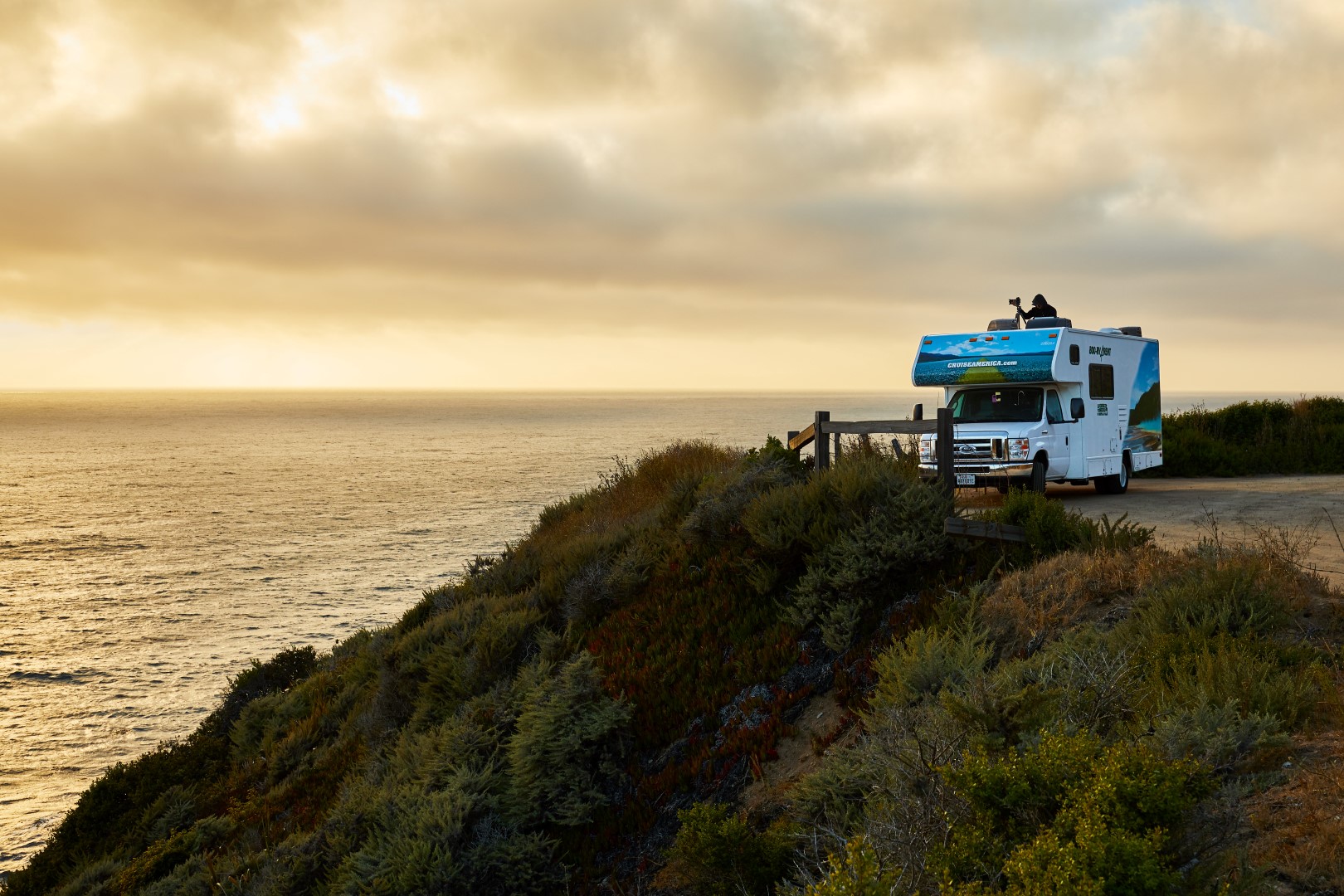 What is included in the motorhome rental price?
Reserved vehicle
Mileage within the limit specified in the booking
Additional charges to be paid by the driver (e.g. Personal Kit or Vehicle Kit - but can be paid locally)
Vehicle preparation fee
All local taxes related to prepaid items
CDW / VIP insurance with deductible of just $ 2,000 per incident
Additional liability insurance (SLI) for the amount of USD 1 million
Cleaning fee upon return of the vehicle
The rental company reserves the right to charge a cleaning fee of up to $ 150 upon return of the vehicle. This happens if the interior of the returned vehicle is excessively dirty and / or if the toilet tank and waste water tank have not been emptied. The propane and fuel tanks must also be replenished to the level noted when the vehicle was released. This is a condition for the return of the campervan rental deposit.
What is NOT included in the motorhome rental price?
Costs not included in the rate from the offer:
Gasoline / diesel / propane
Transfer (if EBDS-Early Bird Departure Special is not purchased)
Charges for picking up the vehicle in a place other than return. Exceptions provided for special offers only.
Charges for Vehicle Equipment Package or Personal Package (except for special offers or Unlimited Milage Plus package)
$ 5 New Jersey Security Fee per day + tax ($ 140 maximum) for vehicles picked up in Newark and New York
Road Safety Fee of $ 2 per day + tax ($ 90 maximum) for vehicles picked up in Denver
Tolls (e.g. Golden Gate Bridge tolls, Florida tolls, etc.) *
Tourist tax of $ 7 per motorhome + tax - All taxes and fees related to services purchased at the time of vehicle pickup
* Note: Information on tolls: There are different ways to pay the toll depending on the region. Cruise America will inform you in this regard when you pick up the vehicle. Please be advised that it is not possible to use the Fastrack and EZ Pass belts, if you do not have the appropriate transponder installed in the camper . Unauthorized use of such lanes will result in a fine, which will be added to the tolls and charged to your account.
What is the mileage limit?
Standard rates do not include mileage limit. Must book at least 100 miles in advance!
Option 1: You can reserve your mileage limit in advance in bundles of 100 miles each.
Option 2: You can reserve your mileage limit in advance in bundles of 500 miles each. If the limit is exceeded, the cost of one mile is $ 0.38. Add local taxes to this. These costs are paid on the spot.
Option 3: You can pre-purchase the Unlimited Mileage package.
Option 4: You can pre-purchase the Unlimited Mileage Plus package (unlimited mileage).
This package includes:
Unlimited mileage
Vehicle equipment package
Personal packages for all passengers
Unlimited use of the aggregate (the aggregate is only available in C19, C25 and C30 motorhomes)
Attention:
These mileage options can only be booked in advance. They are not available from the rental shop
There is no refund for unused mileage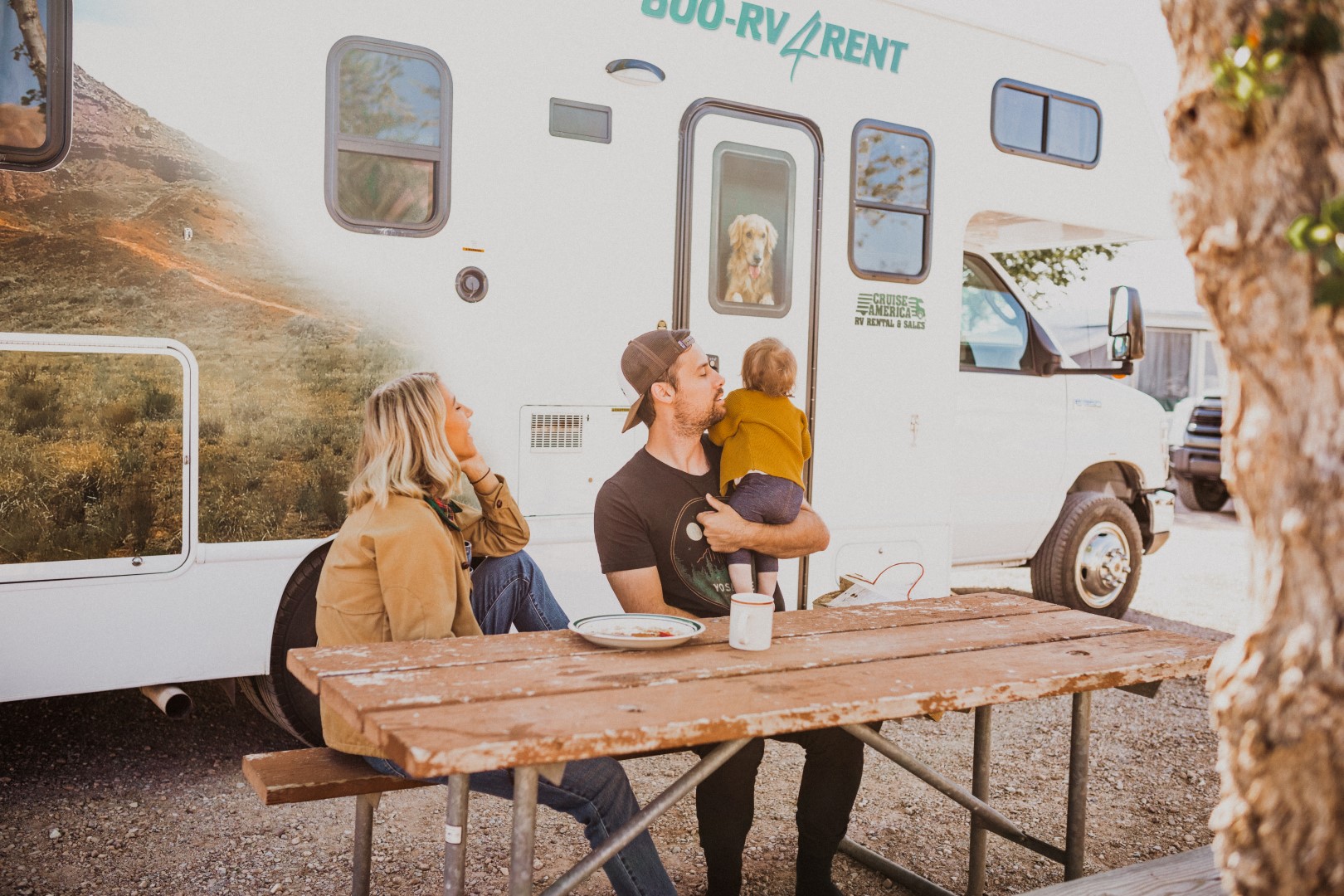 What campers are available on Cruise America?
We wrote an entire article about it: " Types and equipment of motorhomes for rent in the USA and Canada "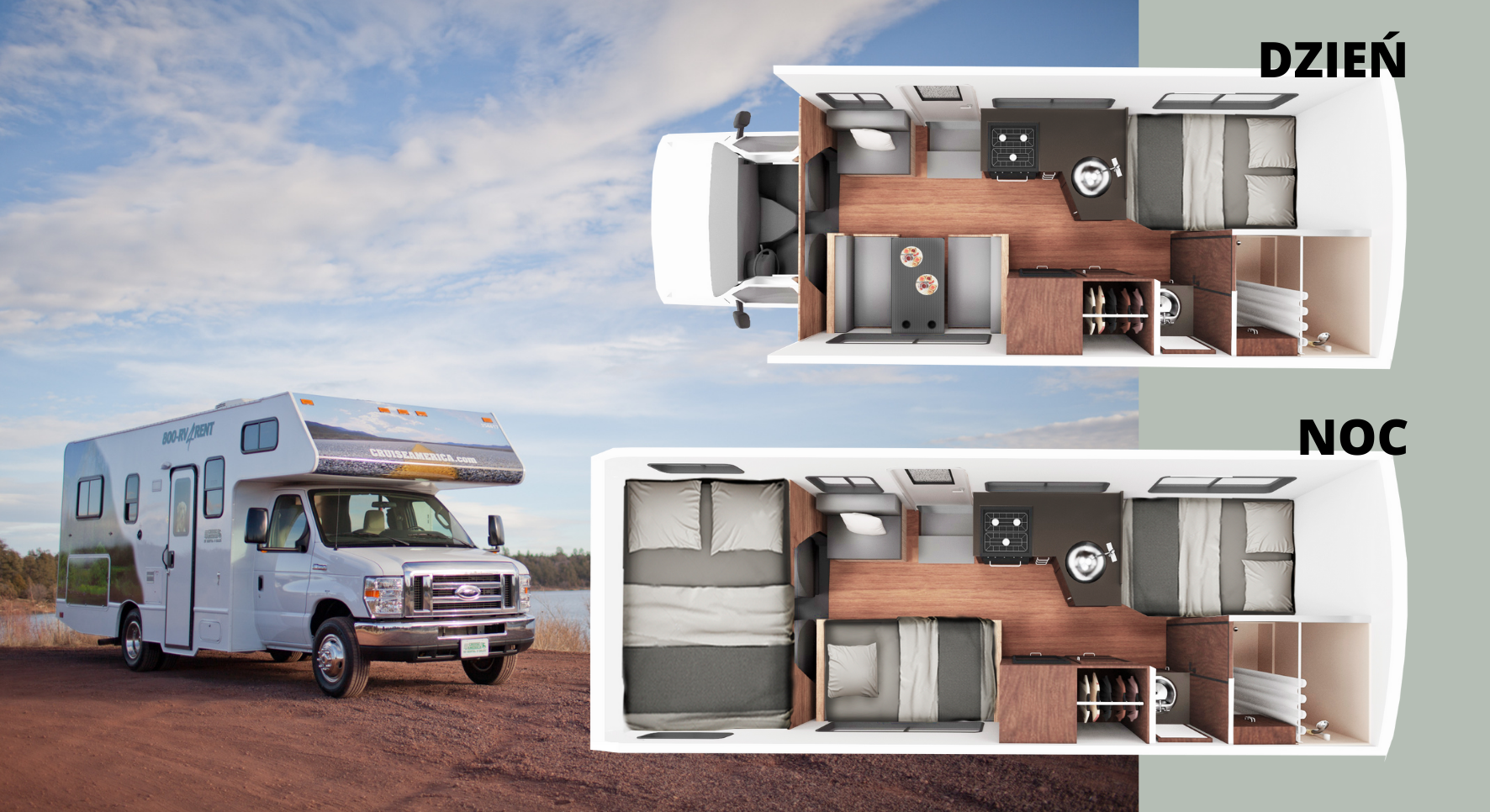 What is the price difference for renting these motorhomes?
The prices do not vary drastically somehow. The Compact will be approximately $ 10 per day cheaper than the Standard camper, and the Large will be approximately $ 10 per day cheaper than the Standard camper. It is known that with a longer rental, e.g. 30 days, even with $ 10 a day, you get $ 300. So it really depends on how long you are going and how much you can spend on renting a motorhome.
What locations are the campers located in?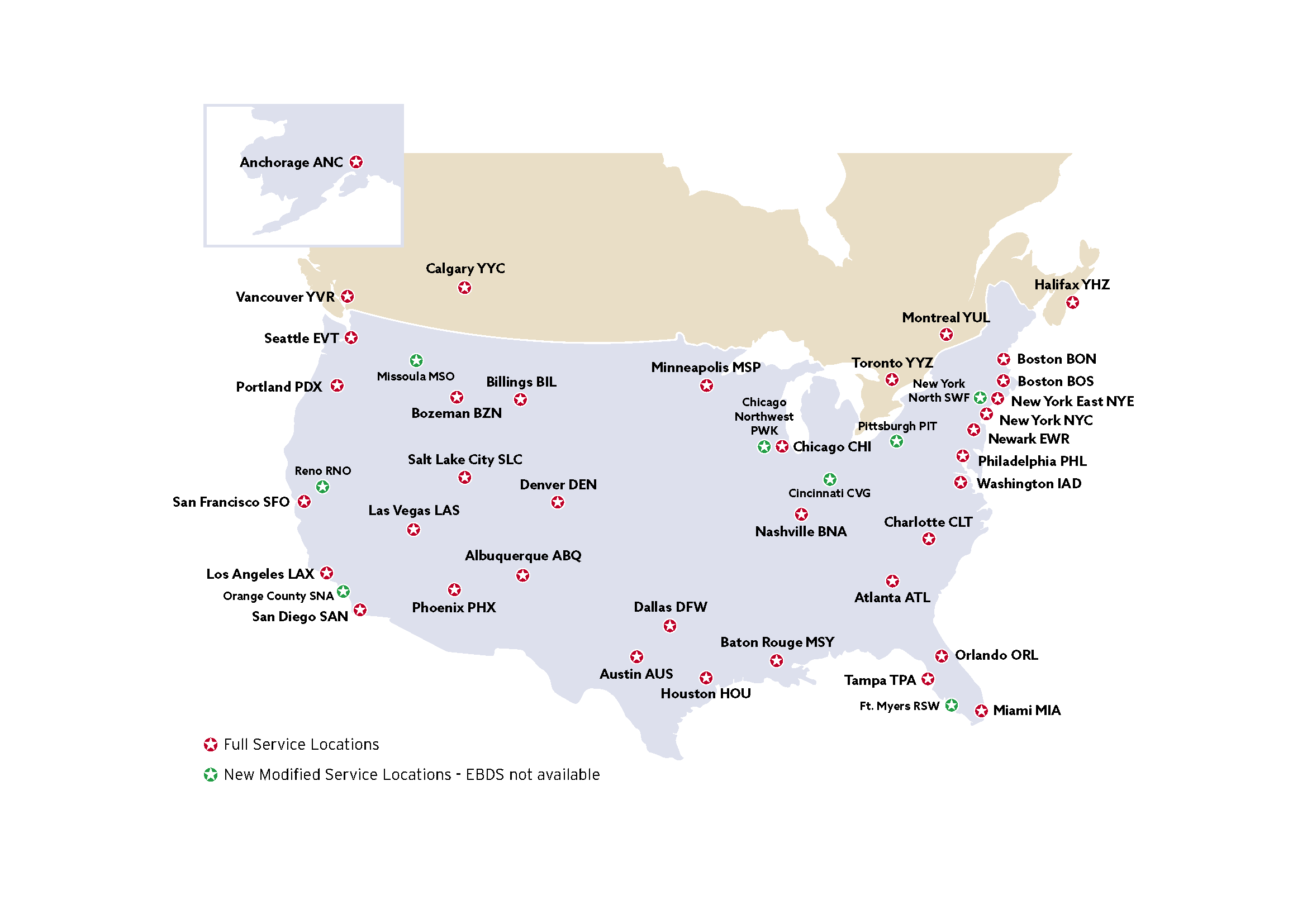 Currently, Cruise America has 127 points located in 33 United States and Canada, where you can pick up and drop off your motorhome. However, there are only 31 international rentals available to foreign guests. They are located in:
Albuquerque, Atlanta, Austin, Boston North, Boston South, Baton Rouge, Bozeman, Charlotte, Chicago, Dallas, Denver, Ft. Lauderdale, Houston, Las Vegas, Los Angeles, Miami, Minneapolis, Newark, New York, Nashville, Orlando, Philadelphia, Phoenix, Portland, Salt Lake City, San Diego, San Francisco, Seattle, Tampa, Washington DC, and during the from April 16 to October 7 also in Anchorage / Alaska.
Note: The Compact Plus Campervan is currently only available for rent in 4 locations: Los Angeles (LAX), Las Vegas (LAS), San Francisco (SFO) and Phoenix (PHX).
Is it possible to return a motorhome in a city other than when it is picked up?
Returning a motorhome elsewhere is associated with additional fees. The maximum amount will be an additional $ 600 . This option is available upon request. This must be requested in advance when booking a motorhome for hire.
How far in advance is it best to rent a motorhome in the USA
Going to the USA in the so-called during the summer period, i.e. from April to October, it is definitely worth booking a year in advance. That is, until December 31 of the year preceding your vacation, because until December 31, a 15% discount on summer reservations applies. If you have a specific trip plan, it is worth booking in advance, because it is not known whether cars will be available in the city you are going to at a given time.
Can you rent campers in groups?
A booking of four or more vehicles is considered a group booking. It requires checking the availability of vehicles in a given location. We have to check such a booking individually.
When is the cheapest motorhome rental
Certainly, the rental is cheaper in the so-called The winter period, that is from October to April. In addition, if you are planning a trip in the summer, it is worth booking a motorhome one year in advance, that is until December 31 of the year preceding your departure. The Early Bird discount will then apply.
Is the motorhome equipped?
Standard equipment is not included in the price. Separately, you can buy the rental of: chairs, Personal Kit, Vehicle Provisioning Kit.
If you are going to buy the Unlimited Milage package, it is worth considering whether to pay extra for the all inclusive option, i.e. Unlimited Milage Plus, which includes unlimited use of genertor, personal kit and vehicle kit.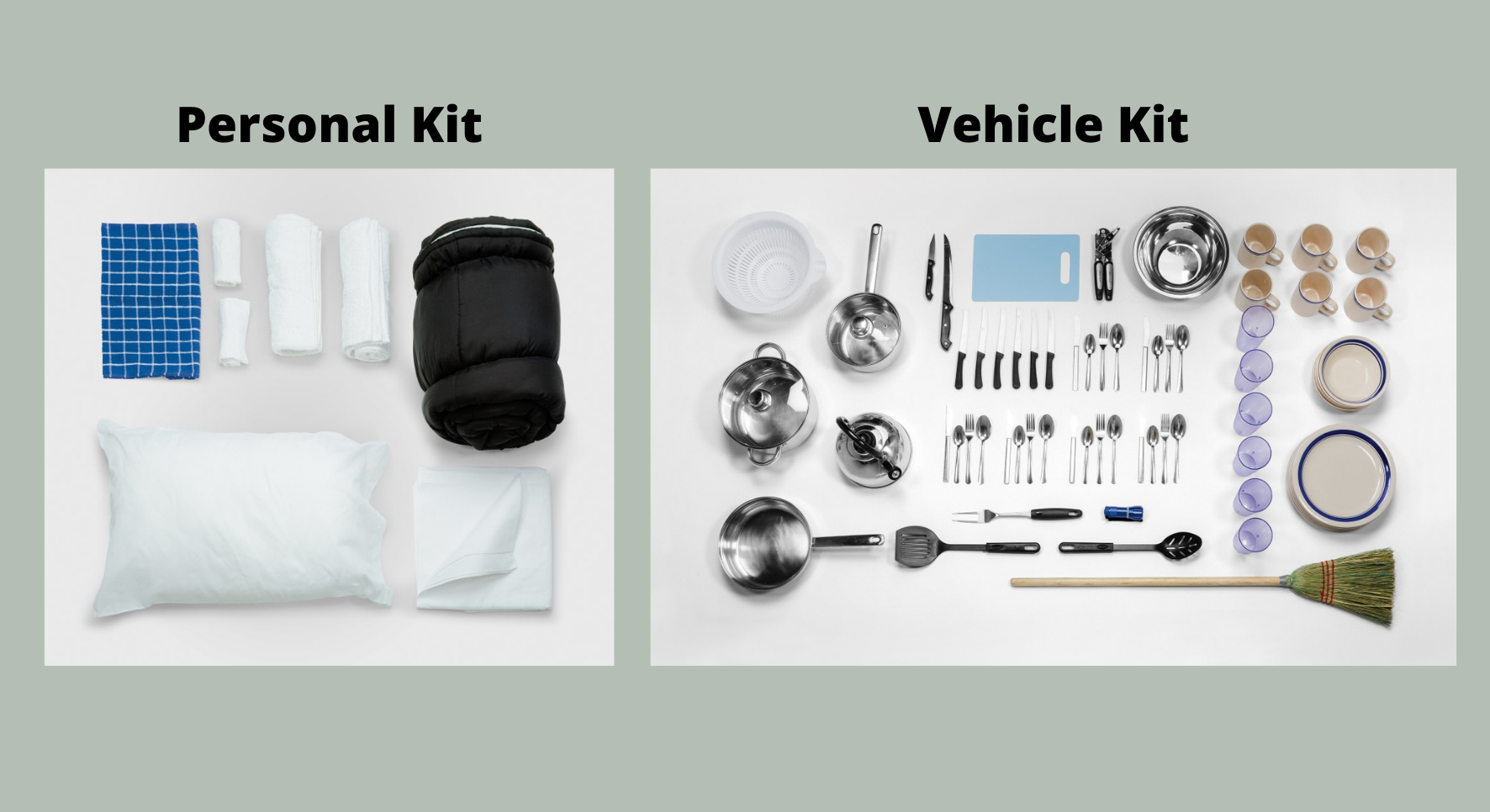 How much does it cost to rent a motorhome in the USA? What does the price consist of
The price per night is from $ 20 to $ 450 per night.
Price for the declared number of kilometers:
500 miles is $ 195
Unlimited Milage $ 1050
Unlimited Milage PLUS $ 1,350
OPTIONAL ADDITIONAL CHARGES - payable at the pickup location (prices net of state tax)
Personal kit (sleeping bags, towels etc…) $ 75 per person
Provisioning Kit $ 125 per motorhome
Unlimited Generator $ 8 per day
Camping chairs $ 12 / pc.
ZDP insurance $ 14.95 per day (max $ 448.50)
MANDATORY ADDITIONAL CHARGES - payable at the pickup location (prices net of state tax)
$ 500 deposit
$ 9.95 environmental tax
Refund elsewhere from $ 250 to $ 600
ADDITIONAL OPTIONS INCLUDED IN THE UNLIMITED MILAGE PLUS PRICE
Unlimited miles
Personal kit (sleeping bags, towels etc ...) (normally costs $ 60 per person)
Provisioning Kit (normally $ 110 for RV)
Unlimited Generator (normally $ 8 per night)
What does motorhome insurance with Cruise America look like?
All motorhomes are insured up to $ 1 million and is included in the rental price. This insurance is deductible up to $ 1,500 per incident. If you want to lower this price to ZERO, you have to take out additional insurance, the so-called "Zero Deductible Policy". This zero deductible additional insurance costs $ 14.95 per day.
This insurance is payable locally.
How much is the deposit?
The deposit is $ 500 and must be paid upon receipt of the vehicle. It must be paid with a credit card. No location will accept cash.
How to estimate how many km will we travel in a given time?
We recommend that you download example routes in the form of an e-book. You will receive them after subscribing to the newsletter on the website: usakamperem.pl The routes have been prepared in cooperation with Cruise America. On this basis, you can estimate how long it will take you to cover the route that interests you. And now you will see how many miles you have to buy.
What data do you need to prepare an offer?
To prepare a motorhome rental quote in the USA or Canada, we need the following data:
Approximate date of departure (or exact date if you already have specific dates)
Number of rental days
Number of people in the motorhome
Camper type. If you do not know what type of motorhome you need, we can choose ourselves. We will adjust its size to the number of people traveling there.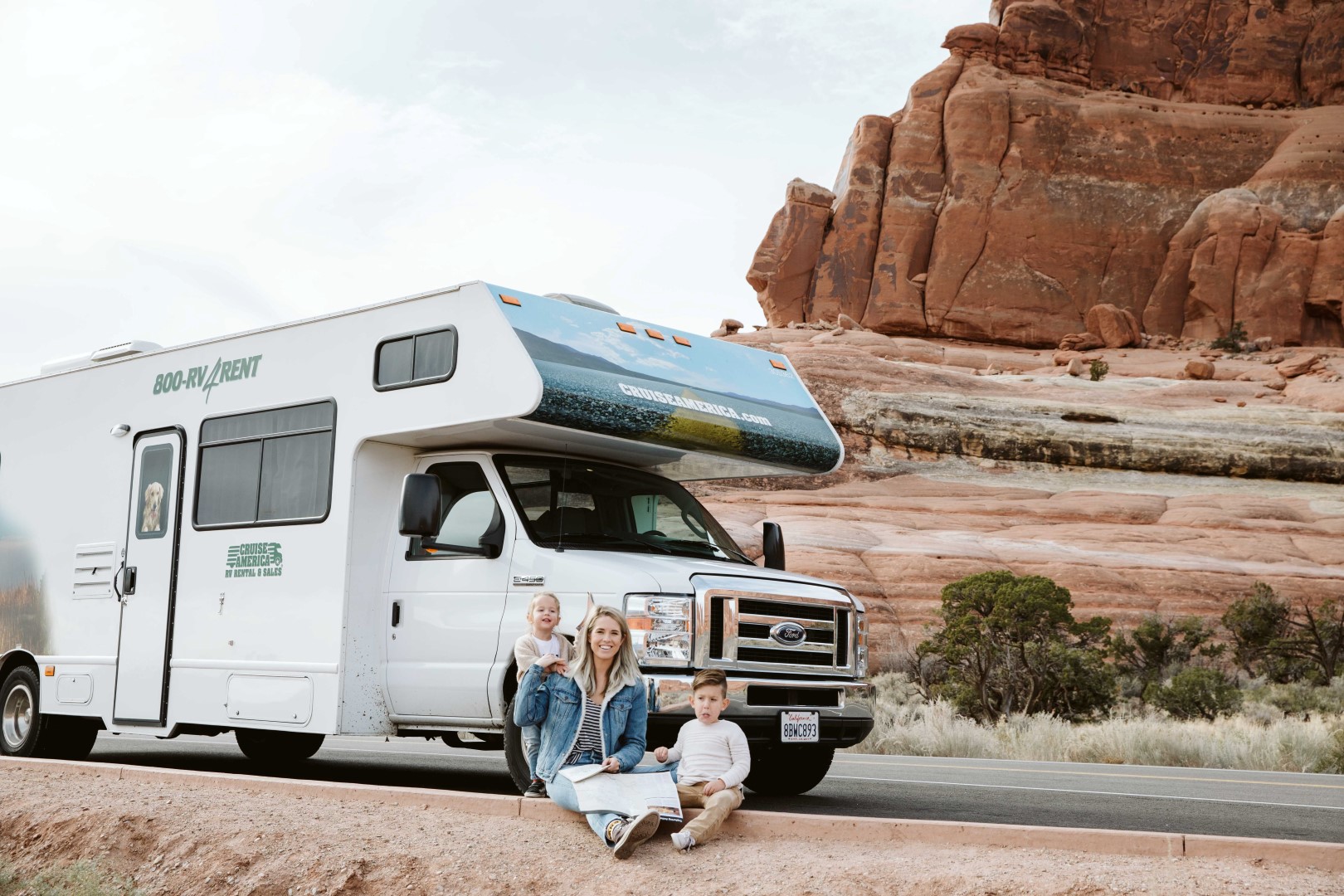 What driving license do I need?
A category B driving license is required for all vehicles available in the Cruise America and Cruise Canada fleet, regardless of their size.
What must be the minimum age of the driver?
For drivers, the minimum age is 21.
On what days and at what times can you pick up your motorhome?
The motorhome can NOT be picked up or returned on Sunday. As for the opening hours of points, each such point sets them individually and we check it for you before departure. Points are usually open: from Monday to Saturday between 9.00 a.m. and 4.00 p.m., although there are points open from 8.00 a.m. to 5.00 p.m. In winter (October to March), opening hours may be shortened, especially on Saturdays. One of the points in Alaska closes for the winter and it is not possible to pick up your motorhome there between October and April.
On Saturdays in low season / during the winter months, some rentals may close at noon if there are few motorhomes to be picked up or returned on a given day. If you are picking up your vehicle on a Saturday, be sure to contact the rental company a few days before the scheduled date or at least in the morning of the pick-up day.
Apart from all Sundays, the rentals are also closed on public holidays.
Holidays in the USA:
1st of January,
March 1 (New Orleans only)
May 30
July 4
July 5
November 24
25th of December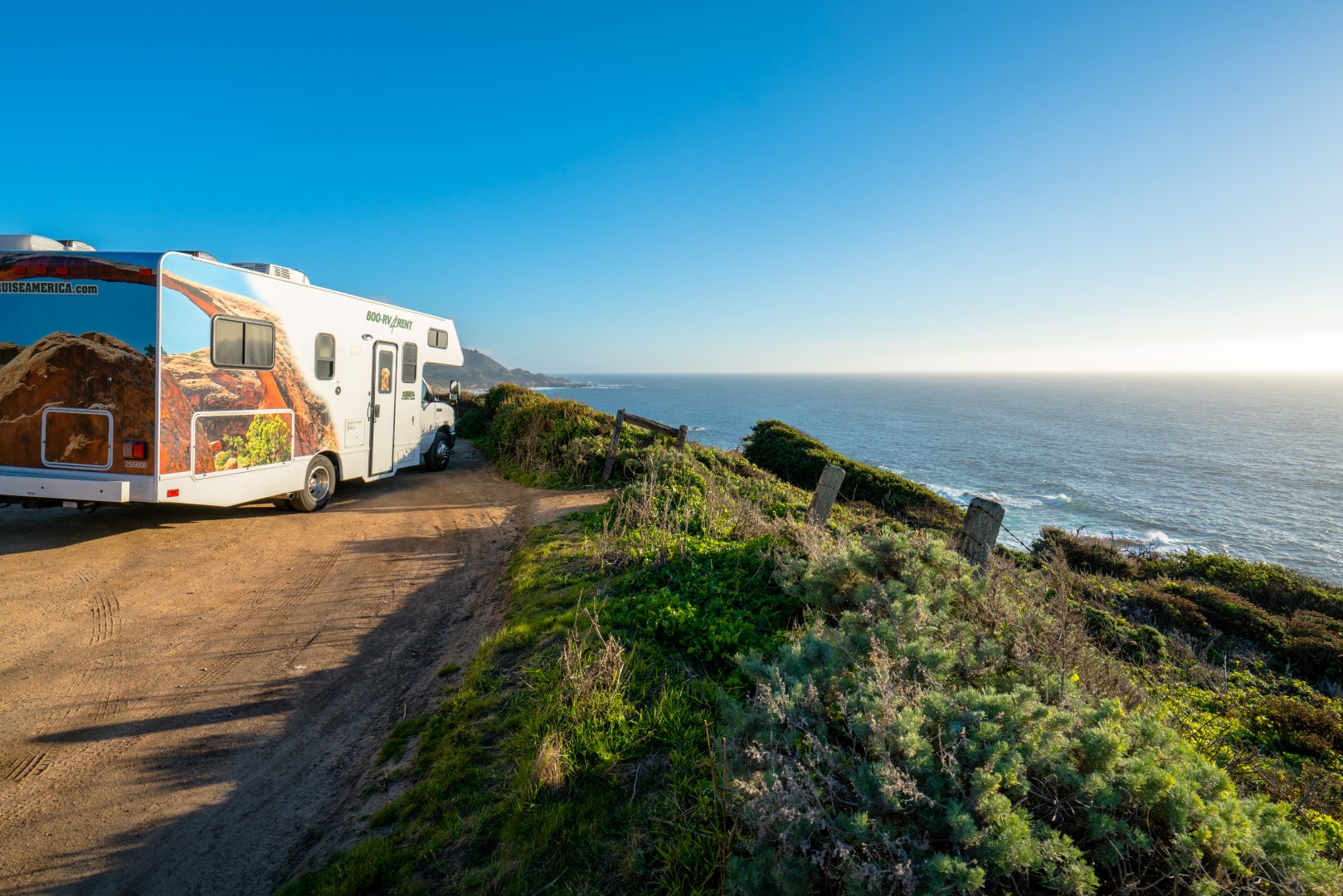 What time can you pick up your camper van in the USA?
If you book an Early Bird Departure Special Package, you can pick up your camper before 12 noon. Otherwise, pickup is scheduled from 1pm to 4pm.
What time can I return my motorhome in the USA?
The rental vehicle must be returned to the Cruise America rental company specified on the booking. The return must be made between 9:00 am and 11:00 am, unless an Early Bird Departure Special package has been purchased - then you can return the motorhome by 3:00 pm.
Tip: If your return flight is midday or earlier, we advise you to return the camper to the rental shop the day before and spend the next night at the hotel.
Can I pick up a camper van in the USA on the same day I arrived in the USA?
Basically, there is a requirement that you spend your first night in the United States at a hotel (or similar) after your flight from abroad. Due to insurance issues, you cannot pick up your RV on arrival in the US.
Is there a minimum rental period?
Yes - 7 days.
What are the requirements for traveling with children in a motorhome?
Laws in the United States include:
Children under 1 year of age or weighing less than 20 pounds (approx. 9 kg) must travel in a rearward-facing baby seat.
In the state of California, children under 2 years of age must travel in a rear-facing baby seat when traveling in a residential area.
Children over 1 year (or over 2 in California) up to 4 years old or weighing less than 40 pounds (approx. 18 kg) must be transported in a child seat and fastened with a seat belt.
Children 4 to 8 years of age or weighing less than 60 pounds (approx. 27 kg) or taller than 57 inches (approx. 145 cm) must use a Booster Seat, which is secured with a seat belt. Only 1 child or infant seat can be installed in Cruise America motorhomes. Additionally, you can also install washers. Cruise America does not rent baby seats or pads. Please note that you must have child seats with you.
Are there any driving restrictions?
Driving on unpaved roads is prohibited.
In July and August, you are not allowed to travel in Death Valley and other desert areas. In May, June and September it is allowed. Travel there at your own risk. Thus, you are not covered by insurance.
You are not allowed to drive into Manhattan, New York City (but you are permitted to travel in New York State by motorhome), and certain highways such as 'The Apache Trail' in Arizona. It is also forbidden to drive through underground or underwater tunnels.
Cruise America camper vans are not allowed to enter Mexico. It is allowed to enter Canada, provided that the vehicle is returned to a pre-determined point in the United States.
The deposit will increase to $ 1,000 for all trips during the Burning Man event. This includes motorhome rentals from locations in San Francisco, Los Angeles, Las Vegas, Seattle, Portland, and Salt Lake City.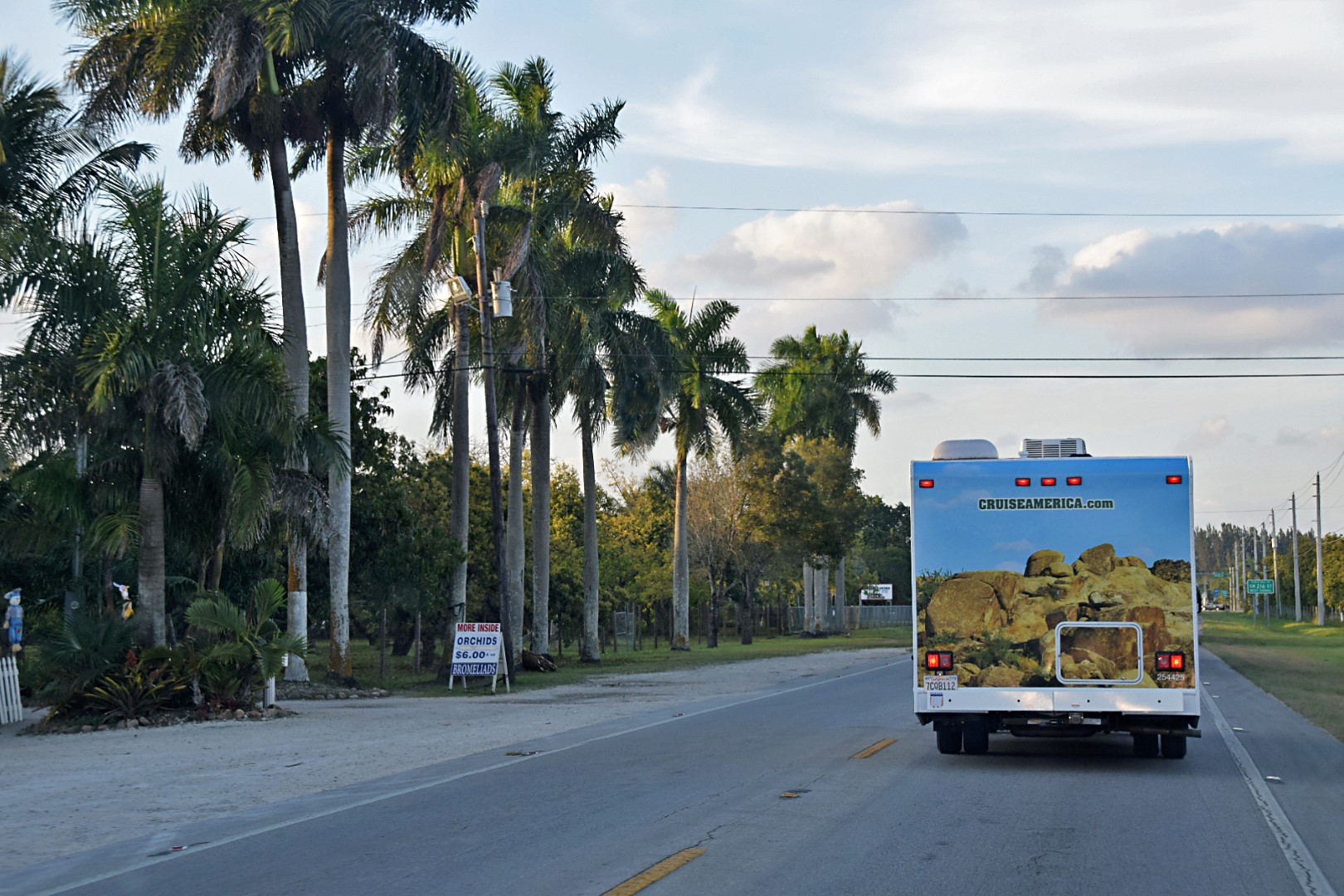 Can you expect a transfer from or to the airport or hotel?
Transfers are only provided if an Early Bird Departure Special (EBDS) package has been purchased. Usually a transfer is provided from the nearest airport (or airport hotel) or from a hotel in the city center. In the other direction, a transfer is also possible.
Can I travel with pets?
It is allowed to travel in a camper with pets, but it is necessary to specify it in the booking.
How much is the down payment and when do I have to pay the rest?
To confirm a reservation, a deposit of 10% (minimum $ 300) must be paid. We must receive the entire amount due no later than 8 weeks before the planned date of departure. If sufficient funds are not credited to our account on time so that the entire cost of the trip can be covered on time, we reserve the right to treat the booking as canceled by the client.
What are the conditions for resignation from the trip?
The following are the conditions for what will happen when the customer resigns x days before departure:
up to 56 days before the date of pickup of the motorhome - we keep 150 $ of the deposited funds
20-55 days before the pickup date - we keep $ 500
12-19 days before the pickup date - we keep $ 750
1-11 days before the pickup date - we keep $ 1000
On departure or no-show - full rental fee
The above conditions apply regardless of the possibility of coming to the USA. Force majeure does not constitute grounds for the payment of compensation or the return of the deposited funds.
Costs in a camper over the USA - Cruise Canada and Cruise America
Do you want to rent a motorhome in the USA ? Write to us. We are currently the official and only representative of Cruise America and Cruise Canada in Poland. If you want us to evaluate your individual motorhome trip around the USA or Canada and you want to know the costs - write to us at: [email protected] . Remember that we guarantee lower prices than when booking directly with Cruise America RV Rental. Soon you will be able to check them in person on our website: www.usakamperem.pl .
A motorhome trip around the USA - sample routes
Now you can subscribe to the newsletter on this page to download the tourbook and not miss the launch of the price search engine! RV rental in the USA is safe and simple!
gallery
We are the only official representative of Cruise America and Cruise Canada in Poland. From 2020, you can easily and safely book a motorhome in the USA or Canada. We know when and where it is best to rent a motorhome. We will answer all your questions and doubts by e-mail or telephone.
Enjoyed reading this article? Share it!