Gotowe, pełnowartościowe i bezglutenowe dania - idealne na wyjazdy kamperem!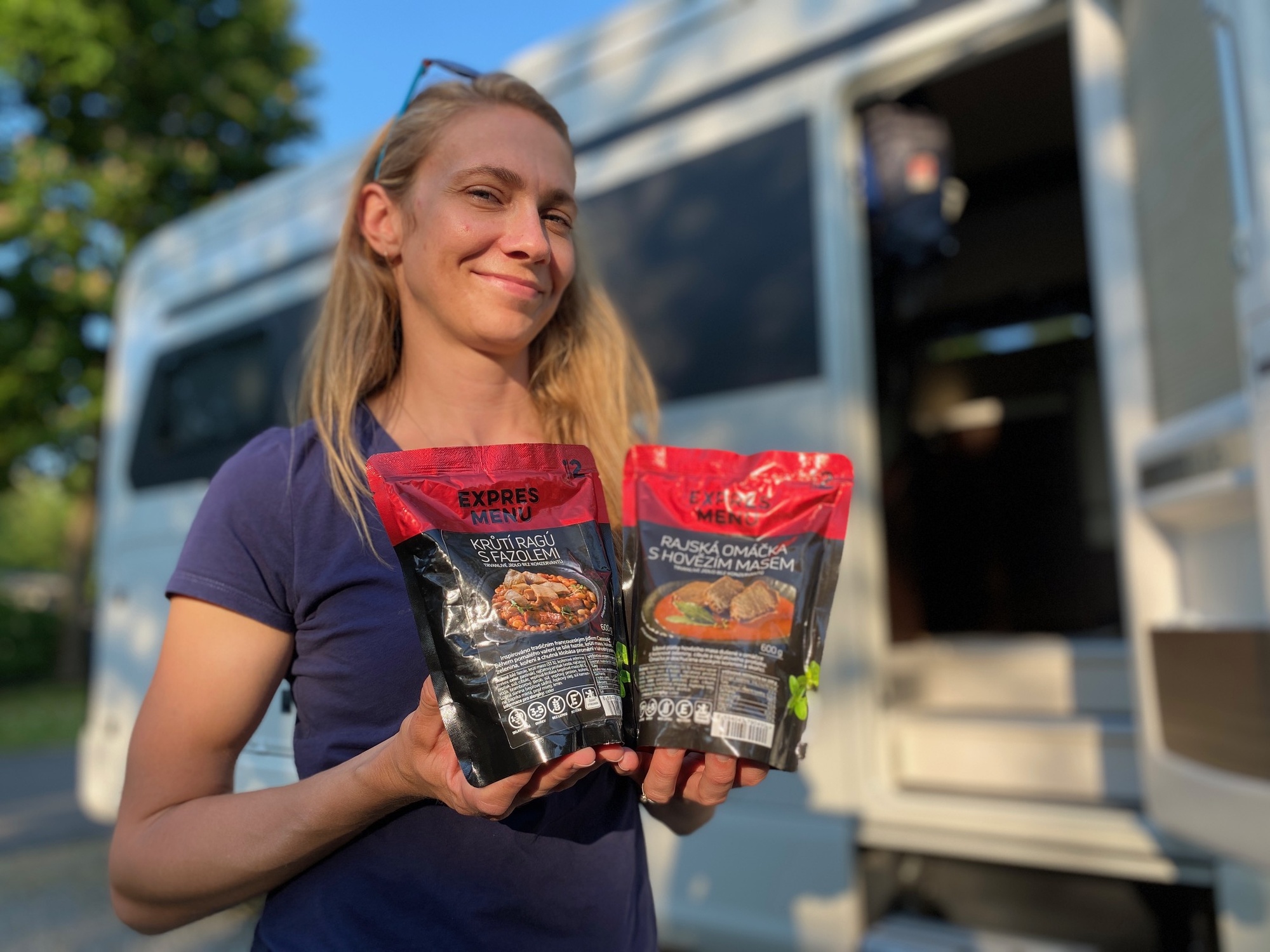 Propozycje z gotowymi daniami, które łatwo można przygotować podczas wyjazdów caravaningowych w ostatnim czasie dosłownie zalewają rynek. Niestety nie wszystkie mogą się pochwalić dobrą jakością. Ja jako osoba, z nietolerancją glutenu szczególnie muszę zwracać uwagę, na to co jem. Podczas naszych wyjazdów sprawdzałem różne produkty dostępne na rynku i wreszcie znalazłem dania, które mogą poszczycić się certyfikatem z przekreślonym kłosem i przede wszystkim są smaczne.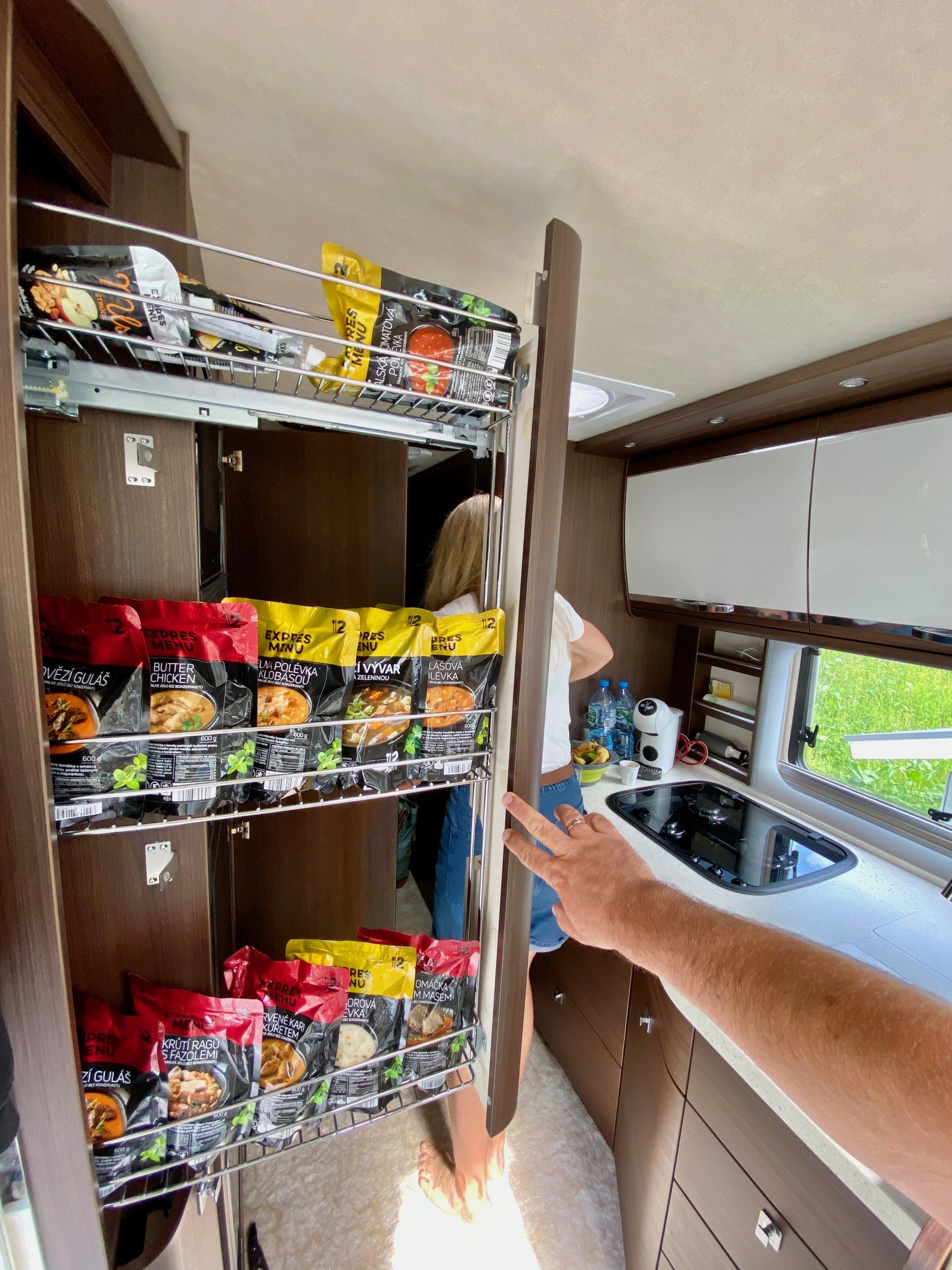 Sprawdziłem różne pozycje z ich menu i dopiero kiedy miałem pewność, że właśnie ich jedzenie będzie już stałym bywalcem w naszej kuchni domowej i kamperowej postanowiłem, że pomogę marce Expres Menu w szerszym dotarciu do klientów w Polsce. Z pełnym przekonaniem polecam ich produkty.
Posiłki podczas wyjazdów kamperem
Planowanie posiłków podczas wyjazdów kamperem może być trudnym zadaniem. Często brakuje czasu i miejsca na przygotowanie pełnowartościowego posiłku, a restauracje po drodze nie zawsze oferują zdrowe i dietetyczne opcje. Zgadzam się, że podczas wyjazdów zagranicznych warto próbować kuchni lokalnej, ale w czasie drogi nie zawsze jest to takie łatwe.
Różnorodność dań oferowanych przez Expres Menu jest zaskakująca. Bez względu na to, czy jesteś miłośnikiem mięsa czy jesteś wege, znajdziesz tam coś dla siebie. Ich menu obejmuje szeroki wybór dań, takich jak zupy, pyszne dania w sosie (np. Butter chicken), aromatyczne skrzydełka z kurczaka z miodzie, przekąski w postaci musów owocowych i wiele innych. Dzięki długiej liście pozycji w ich menu, spokojnie możemy wybrać różne dania na 3 tygodniowy wyjazd i codziennie jeść coś innego.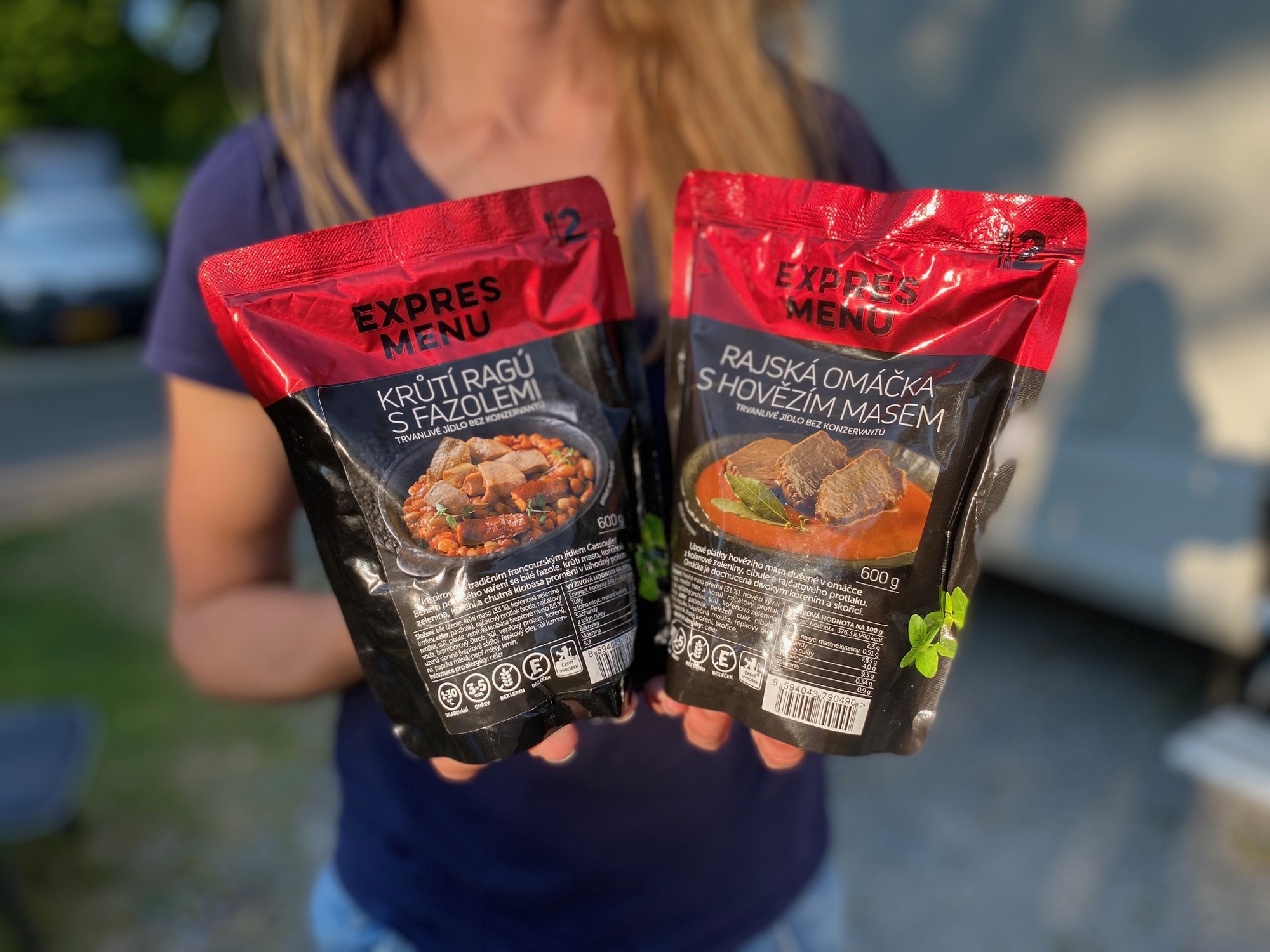 Prostota i pakowanie
Co wyróżnia ofertę Expres Menu, to prostota przygotowania. Dania są już gotowe, wystarczy tylko podgrzać je według instrukcji na opakowaniu. To doskonałe rozwiązanie dla podróżujących kamperem, którzy nie mają zbyt wiele miejsca ani czasu na gotowanie.
Bardzo ważnym elementem w produktach tej marki jest to, że jedzenie nie jest pakowane w ciężkie słoiki, które znacząco ograniczają ładowność w kamperach. Są zapakowane w specjalne nowoczesne wielowarstwowe worki barierowe. Możemy podgrzać jedzenie bezpośrednio w opakowaniu w gorącej wodzie albo wylać do garnka i odgrzać w standardowy sposób.
Świeżość przez 10 lat
Jednak prostota nie oznacza, że trzeba rezygnować z wartościowego jedzenia. Expres Menu dba o to, aby ich dania były pełnowartościowe i zbilansowane. Nie używają chemii do wydłużenia przydatności do spożycia, bo sam proces przygotowania, pakowania i pasteryzacji zapewnia przydatność do spożycia przez 10 lat bez konieczności trzymania jedzenia w lodówce.
Zasługą długiej przydatności jedzenia jest CTP, unikalna, opatentowana metoda gotowania w ciągłym procesie cieplnym, który jest kontynuowany poprzez sterylizację w autoklawie parowym. Dzięki temu firma może przyrządzać pyszne i zbilansowane pod względem odżywczym posiłki o długim terminie przydatności, bez konserwantów, chemicznych stabilizatorów, barwników i innych e-dodatków.
Niestety nie wszystkie produkty mają tak długa przydatność do spożycia. Zestawy z serii Komplet Menu, ze względu na inny rodzaj pakowania mają 2 letni termin przydatności do spożycia.
Podsumowując, Expres Menu to idealne rozwiązanie dla podróżujących kamperem, którzy szukają wartościowego, smacznego i łatwego w przygotowaniu posiłku. Ich różnorodne dania z naturalnych składników i bez glutenu spełnią oczekiwania nawet najbardziej wymagających podróżników.
Posiłki możecie zamawiać bezpośrednio na stronie producenta z darmową dostawą za pomocą paczkomatów. Link do zamawiania posiłków: GOTOWE JEDZENIE DO KAMPERA
The main driver, founder and the brain of CampRest. He is the one who runs the whole mechanism, implements new ideas faster than he is able to invent them. He used to be a professional driver and have run his own freight forward company - as you can see, he has always been drawn to sleep in the car;) He likes to drive large motorhomes and encourages you to get a C driving license and buy motorhomes over 3.5 tons.
Enjoyed reading this article? Share it!