Adria Coral Supreme - Loft style interior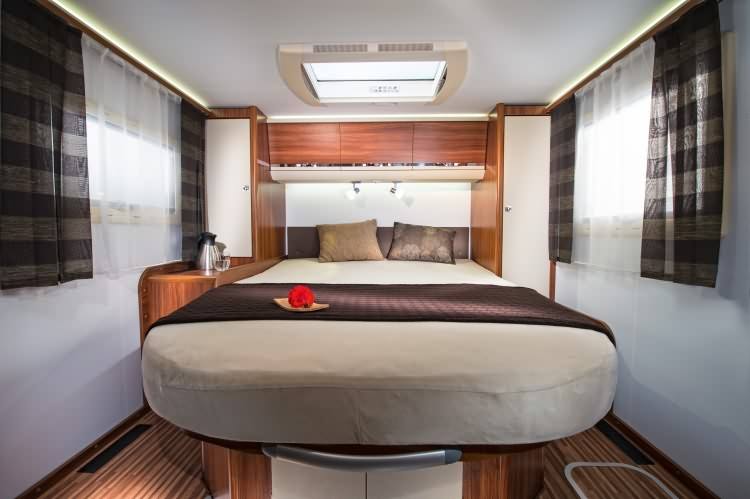 S670L from the Coral Supreme series by Adria will be of interest mainly to motorhome enthusiasts who appreciate aesthetic qualities, interesting design and modern technological solutions. The Slovenian manufacturer focuses on the individualism and creativity of users, hence a variety of choices in terms of colors and equipment.
You can choose the color
The S670L model was designed on the basis of the Fiat Ducato X290 . With a vehicle length of 7.38 m and a width of 2.29 m , we gain quite a lot of space, probably that is why Adria presents the Coral Supreme series as Loft -style interiors, which is to emphasize the modernity and spaciousness of motorhomes. The S670L has 3 beds (the fourth is available as an option) and 4 seats plus 1 approved . The manufacturer offers two versions of interior design - Horizont or Forest (light or dark wood to choose from). The customer also decides about the colors of the fabrics. The offer includes shades of beige, brown and gray ( Mint / White Santos / Calando ). This is not the end, because we also have an influence on the exterior of the cabin and the following options are available: classic white, silver or gray metallic. The possibility of creating the aesthetics of a motorhome is certainly an undoubted advantage, even if the choice may seem limited.
A touch of luxury
The interior of the cabin looks functional, classic and luxurious at the same time. Comfortable dining corner with adjustable table, V-shaped kitchen with refrigerator ( 150 l ) and built-in oven + grill and bathroom with toilet, washbasin and separate shower cubicle . It is worth paying attention to technological solutions. Adria offers a modern multimedia wall (with USB charger and audio input), tablet control system and integrated TV. To increase the comfort of travel, the dining room and bathroom have a double floor, which allows for greater insulation and heat retention. The standard equipment also includes an Alde underfloor heating system (water, sewage tank and garage). A large amount of daylight (including an integrated sunroof in the living room), LED lighting, appropriate storage options (a large garage and wardrobes in the bedroom) are additional advantages.
Greater possibilities
Coral Supreme S670SL seems to be an attractive proposition already as standard, but it is worth checking additional equipment options. Adria offers, for example, the Alde Smart Control system, which allows you to control heating using mobile devices. An extra bed costs around £ 200. Considerable expenses await those who choose amenities such as automatic gearbox (£ 1,920.00), panoramic window (£ 1,199.00) or cabin air conditioning with passenger airbag and speed limiter (£ 1,699.00). The S670SL model currently costs around £ 57,000, is it worth it? As always, the choice depends on our expectations, so if you like to use your ideas, you care about the visual side of the motorhome, as well as the modern solutions of the manufacturer, the S670SL may turn out to be a bull's eye.
Old fashioned travel is what I like the most. How about renovating your own vintage caravan and setting off on a journey through wild spots without a phone?
Enjoyed reading this article? Share it!