Adria Active - Slovenian pragmatism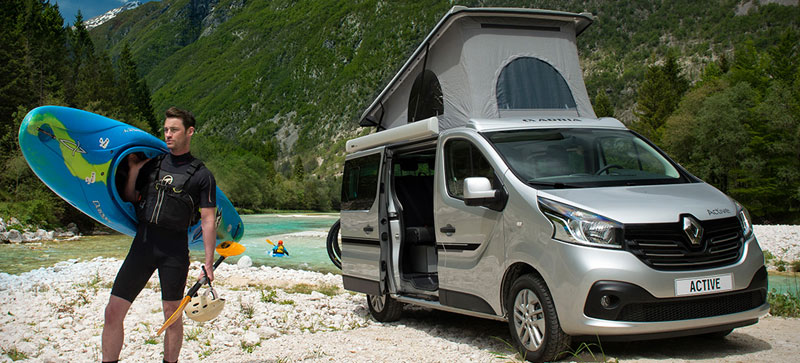 Active is Adria's offer addressed to people who want a multifunctional car, both for everyday use (maybe even for a company) and a camping one. It seems to be an alternative to, for example, the more expensive Volkswagen California.
Adria Active is a motorhome-van built on the basis of the Renault Trafic model. The car is small: it is 4,999 cm long, 1,960 cm wide, 2,034 cm high, and weighs 2,354 kg. In the standard version, the car can travel 5 people (optionally 6), but there are only four places to sleep .
As standard, we will receive, among others ABS, height-adjustable seats, trip computer and airbags for driver and passenger. The side windows of the cab have a blackout curtain , which not only ensures driving comfort, but also prevents the car from heating up when parked. Additionally, all windows are equipped with blinds.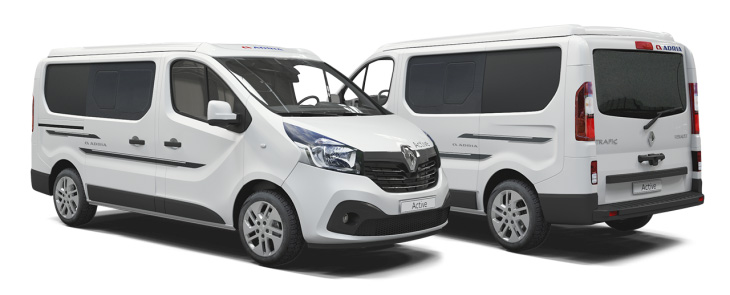 In line with the current trend, the motorhome has a raised roof , providing more space above our heads. There was also a double bed upstairs. As the manufacturer assures, thanks to its small size, Active is suitable for both holiday and everyday use, e.g. for a larger family. It is also facilitated by the 1.6 dCi 120 HP engine, which allows for considerable fuel savings compared to other cars of this class (according to Renault data - on average 6.5 l / 100 km).
All in one
Inside, we have a kitchen with two burners, a lid, a stainless steel sink and a compressor refrigerator with a small capacity. 36 l . Unfortunately, there is no bathroom here . In the car, we only find a separate shower head, mounted in the rear part of the vehicle, and optionally, we can order a pull-out toilet .
The car is equipped with a submersible water pump, 20-liter clean water tank and 30-liter gray water tank. Next to the kitchen there is a lounge area with a folding, adjustable table.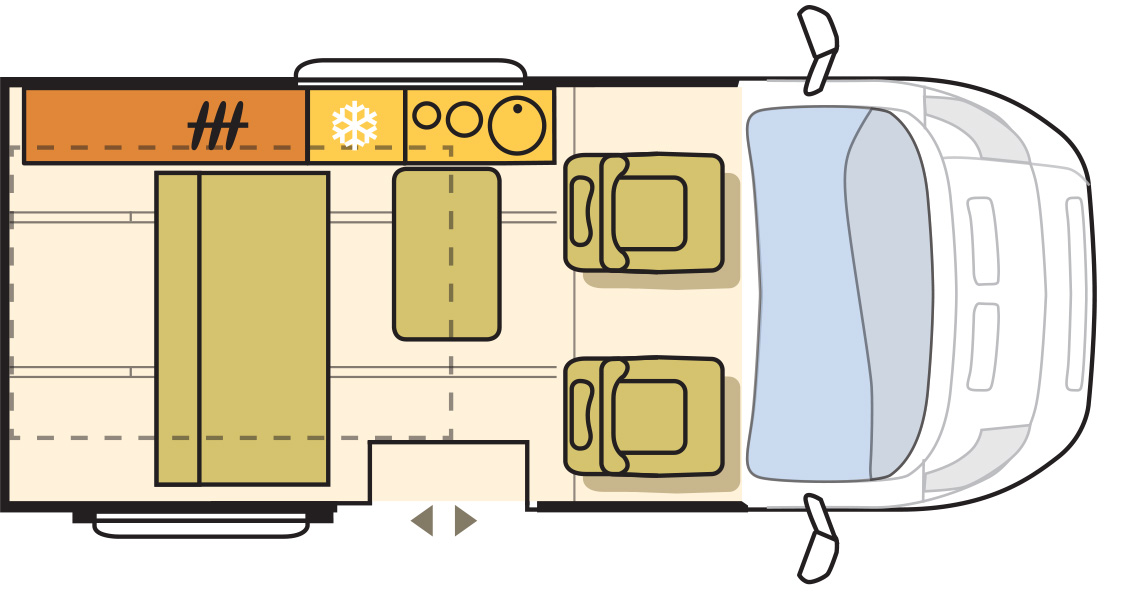 The car has two separate bedrooms (upper, fold-out, 121 x 200 cm and lower 116 x 200 cm) with double beds, providing a maximum of four places to sleep. As standard, we will use ISOFIX seats. Inside, there is also a place for a wardrobe and additional storage space.
It is also worth mentioning that it facilitates everyday use, because if you need to transport larger luggage, the rear seats will easily move forward, providing a larger loading area .
LEDs are responsible for interior lighting, including ambient lights that create a pleasant atmosphere, spot lamps for easy reading and cooking, as well as ceiling lights that illuminate the space. The windows are fitted with roller shutters that enable the blackout of the vehicle windows. The manufacturer took care of the presence of 12 V and 230 V sockets, and even USB (the latter can be found both in the dining room and in the bedroom. Optionally, you can order Webasto heating. The car is available in six colors.
Advantages and disadvantages
When we think about a car of this category, the Volkswagen California comes to mind - the benchmark for five-meter vans with sleeping berths. Unfortunately, California, although valued by its users, has also become an expensive symbol of social status. Adria Active may turn out to be an interesting alternative for people looking for a similarly equipped vehicle, but at a lower price. The cost of buying an Adria motorhome van in the basic version is EUR 44,900 (in Germany), which is about PLN 10,000. Euro less than the price of the cheapest Volkswagen California.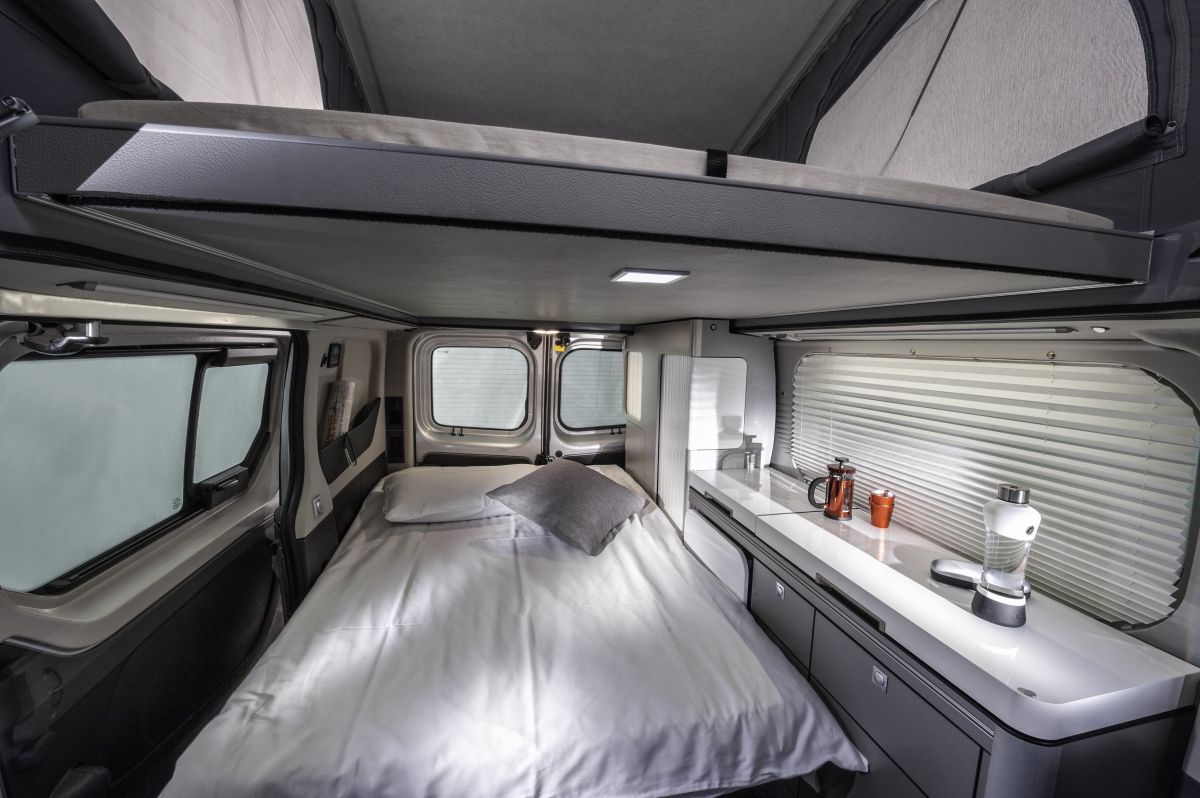 But the price is not the only advantage. In the case of the French base, the driving characteristics are also a plus. On narrow and winding roads, we will appreciate the balance between agility and comfort this van provides.
On the campsite, the roof lifted over the sleeping area allows you to feel the comfort of space. The front seats can be rotated with one touch, setting them in any position convenient for us.
The disadvantage may be the access of the folding table . To unfold it, first move the chair back, then lift the table, attach it to the guide rail, unfold one leg and finally move the seats to the table to use it freely. For comparison - in Volkswagen California, the table is hidden in a recess on the inside of the sliding door. We release it by pressing the button and set it up.
The capacity of the wardrobe and cabinets also leaves much to be desired. Apart from a kitchen cupboard, which seems to be sufficient in a car of this category, storing everything else (from clothes to cosmetics) can be difficult.
We also consider the height of the vehicle as a disadvantage. If it is supposed to be a multi-purpose car, the two-meter height is a critical point, due to the possibility of entering a standard underground car park. Adria Active is 2,035 meters high (VW California 1.99 m). The manufacturer offers a lowering of the car to a height of 1.99 m, but for an additional fee, which is 649 euros.
Overall, however, the car makes a very positive impression. It fully corresponds to the manufacturer's description. It is actually a multi-purpose motorhome. It is suitable for both everyday and holiday use. A bit of a family car, a bit of a transport car and a bit of a camping car. It can easily be a very pragmatic alternative to the much more expensive VW California.
In Poland, the Adria Active model can be ordered from the Elcamp company in Krakow.

Sometimes it is better to get lost than to ask for directions too much. Aldous Huxley
Enjoyed reading this article? Share it!