How to create a substitute for home in the kitchen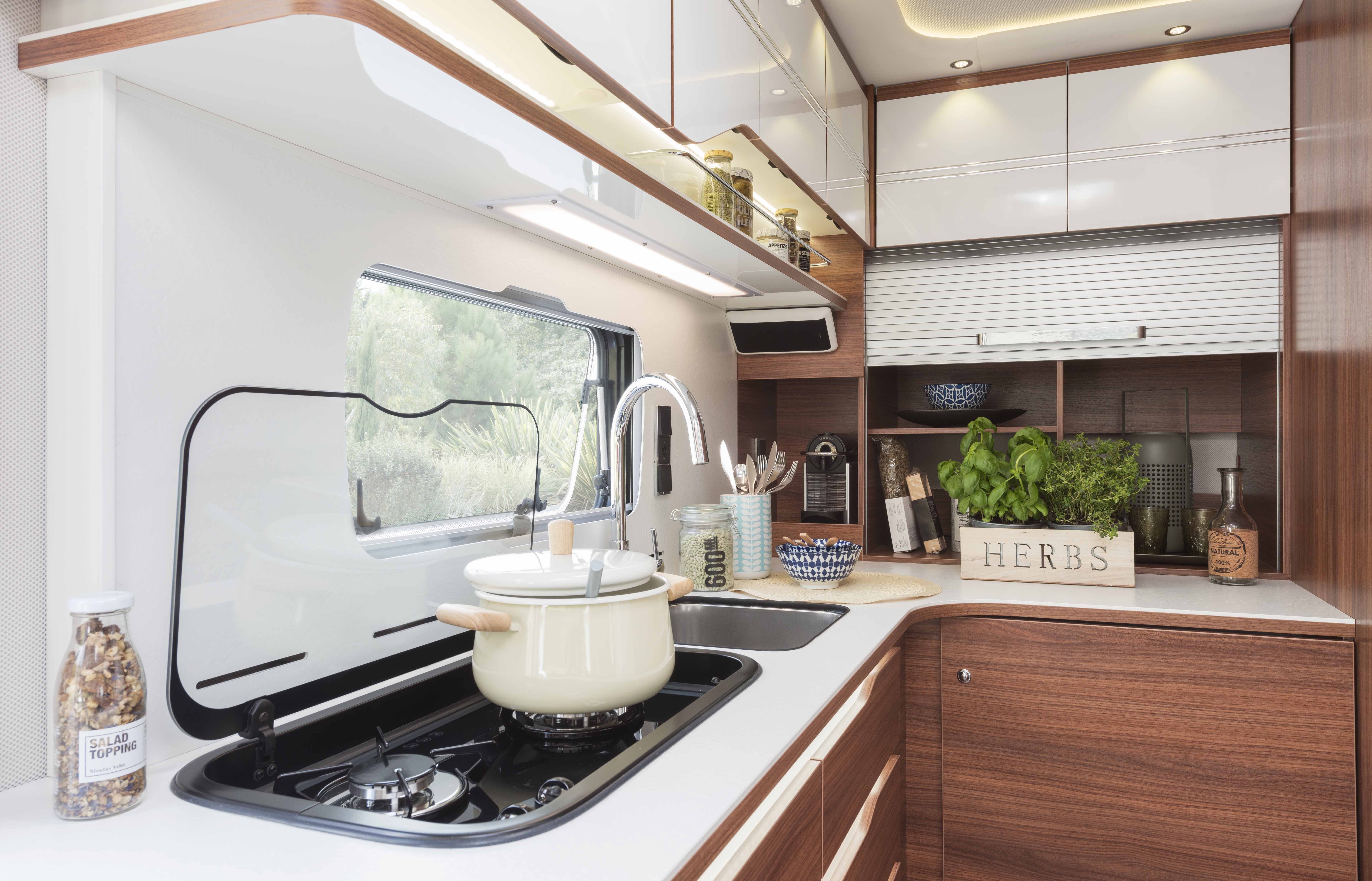 A motorhome, called a house on wheels, provides amenities known from the spaces we use every day. It is no different with the kitchen, which plays a special role in a motorhome - just like at home. After all, one of the main advantages of caravanning is freedom and independence in the area of food preparation. Traveling in a motorhome, you do not rely on eating in expensive restaurants. You can cook - the way you like and only you want. You just need the right equipment for this. What? You can read about it below!
Gas stove
Preparing your favorite meals in a camper van would not be possible without a cooker. Compact, built-in cooktops are perfect even for vehicles of a smaller size. There are many possibilities of using them, because with the help of the stove you can heat up filling soup or fry nutritious scrambled eggs for breakfast. In the camping accessories store you will find a wide selection of models with different number of burners, which will allow you to adjust the device to your needs. An interesting solution are cookers connected to the sink and models with a cover, which allows for additional work space in the kitchen.
Oven
Crunchy chicken legs? Baked vegetables? Or maybe a fruit cake? Even in the most remote parts of Europe, you can prepare your favorite dishes from the oven. The device equipped with temperature control allows you to bake sweet and savory dishes with precision known perfectly at home. And thus - to surprise the palates of your companions! An alternative to gas ovens are devices powered by non-pressurized alcohol fuel, which burns for a long time and is safe to use.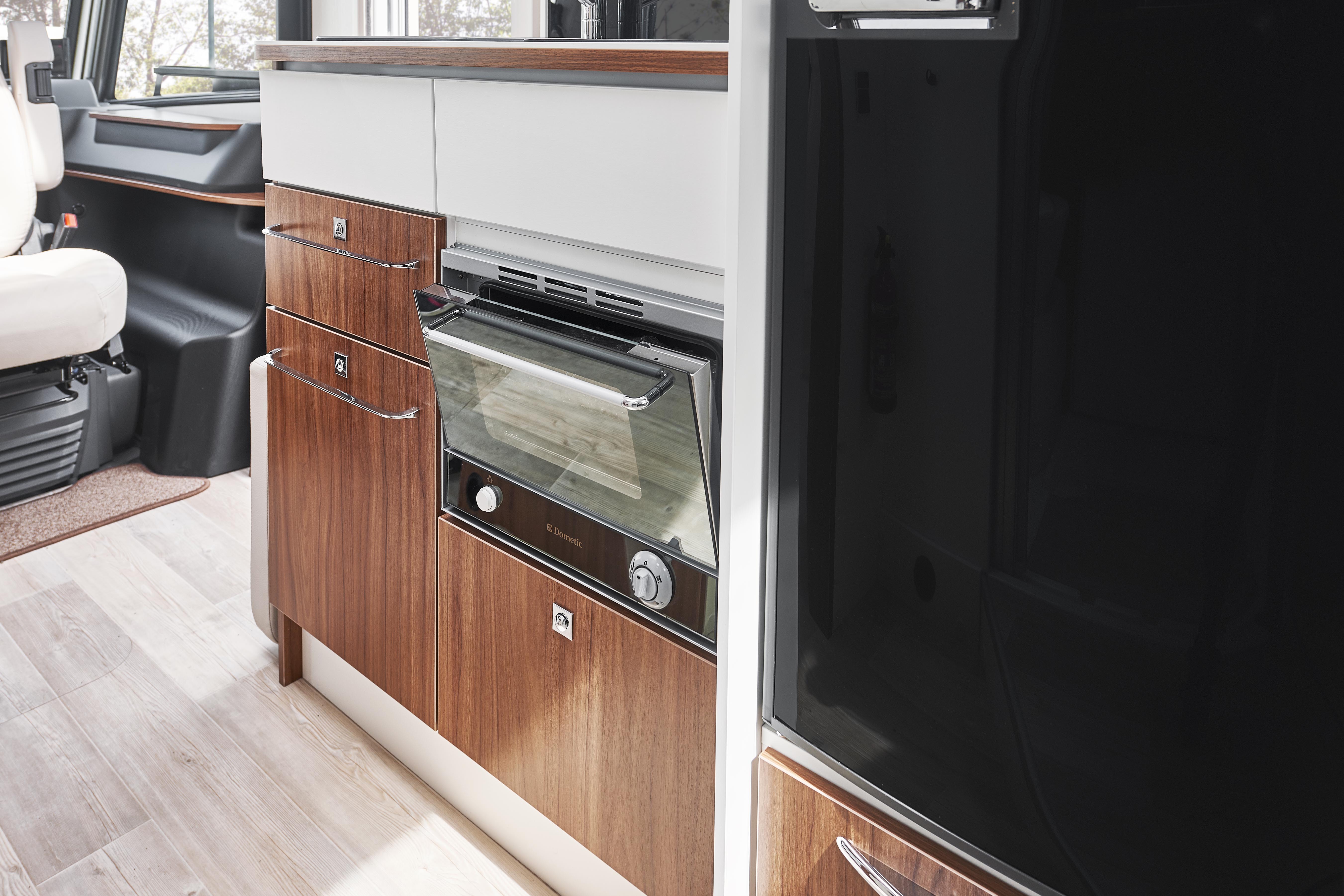 Hood
Cooking smells can be very bothersome. Especially in a small motorhome, where intense odors can penetrate the materials. To prevent this from happening, plan to buy a hood. Just like in the home kitchen, also in the motorhome, it will ensure proper air circulation and will remove the smells emitted during cooking.
Coffee machine or kettle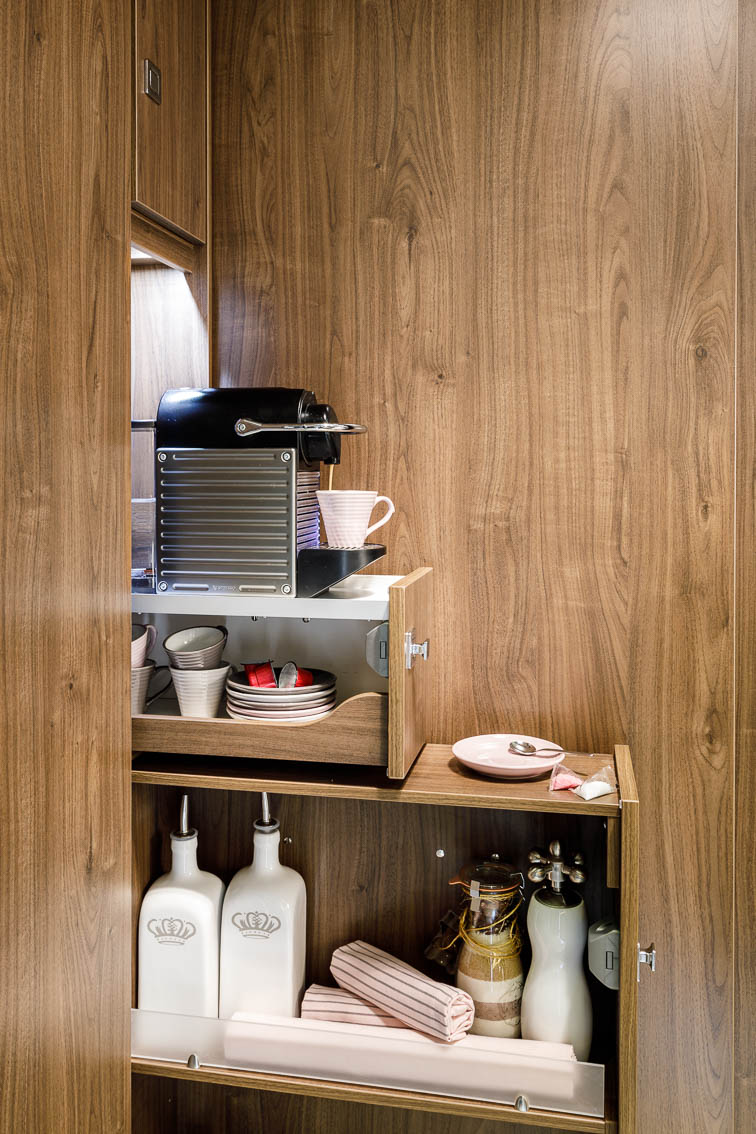 Do you start your day with a cup of coffee? Do you love moments with a cup of tea in your hand? Don't even give up on them when camping. To enjoy your favorite brew, equip your motorhome with a kettle or coffee machine. Pay attention to devices designed for use in a motorhome. The ability to attach the coffee machine or kettle to the wall or table top will protect you from spilling your drink on the road.
Useful accessories

It is also worth taking practical accessories with you when traveling in a motorhome. When eating meals, melamine tableware or glasses with magnetic coasters will be irreplaceable. Cleaning after a meal will be facilitated by a basket and a folding bucket. In an organization limited by the space of a motorhome, various types of organizers - cupboards for pots, dishes or food products - will be perfect. Preparing meals is not everything - after all, you have to eat them somewhere. For this purpose, it will be useful to invest in light, folding camping furniture - tables and chairs that allow you to eat meals together outside the motorhome, among nature.
We have been on the market since 2009 and we are constantly developing the sales segment of camping vehicles of brands such as Pilote, Bavaria or Le Voyageur. In addition, we offer service, purchase and rental of a motorhome and caravan. Many years of experience and extensive knowledge mean that we know the needs of the market and we know how to meet them.
Enjoyed reading this article? Share it!