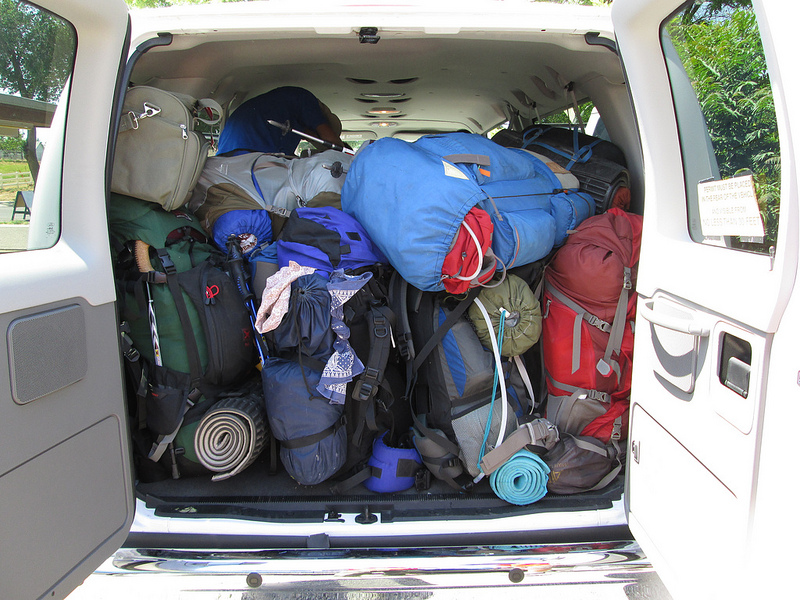 It is hard to imagine a caravanner who blithely goes on the road without securing their luggage beforehand. Already after the first trip, he would have found out that this was at least an unwise move. Badly fastened luggage not only requires cleaning up afterwards - it is also very dangerous.
Regardless of whether we are going on vacation by car, camper or taking a trailer with us, we must secure both the luggage inside the vehicle and the luggage mounted on the roof before the trip.
Safe travel in a motorhome
When it comes to the interior of the motorhome, an alcove is most often used as an additional luggage compartment. You can quickly stuff larger items such as a table or chairs in it. However, it should be borne in mind that improper (not very careful) fastening of such luggage may not only risk damaging the alcove with its windows, but also be dangerous for travel companions.
If there is a roof box on the roof of our motorhome, we must remember to check the condition of its attachment frequently. This applies especially to situations where our route will lead through places that are difficult to reach for a tall vehicle (e.g. in a forest). The box is also exposed to vibrations while driving, which may translate into instability of the transported items.
Securing luggage outside the vehicle
There is no need to convince anyone that the things that we decided to take with us on vacation should be packed in such a way that they can be quickly and easily accessed . However, they must not be dangerous while driving, therefore they must be properly secured. The larger ones - attach to the ground, the smaller ones - place them tightly next to you. This will eliminate both the risk of damage to the things themselves and the interior of the vehicle, as well as the movement of luggage, and thus, annoying noise.
Cutlery can be a source of disturbing sounds. Before you start your journey, simply place them in a drawer lined with a thin layer of sponge or put them in a container to immobilize them. Mugs, mugs and glasses can be wrapped in paper towels or transported in special packaging. Attention should also be paid to pots and their proper arrangement in kitchen cabinets, so that they do not move and do not make noise.
Or maybe instead of ...
You can also think about using disposable paper plates and plastic cutlery or unbreakable melamine dishes during your vacation. These solutions are very convenient, eliminate the problem of transport, noise and water consumption during washing.
Before starting the journey, we also check that the drawers and cabinets are closed. We secure the refrigerator door and we can continue our journey.
A writer by profession, a passion of a cat. One day he will see what is behind the Urals - good to Vladivostok. So far, when he can, he enjoys the sun of the countries of southern Europe. And it's also fun;)
Enjoyed reading this article? Share it!