Own power source during holidays "on the way"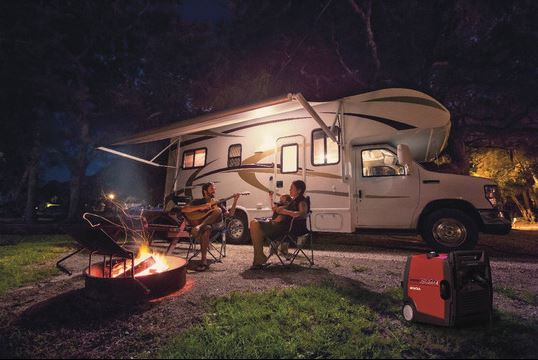 Camping tourism in Poland attracts more and more lovers of independent travel. Family trips, national and international rallies, summer and winter trips with campers or caravans have become a separate lifestyle. Supporters of this form of tourism leave their sedentary lifestyle for a while and set off on a journey - to their favorite places, to new routes at home and abroad.
Traveling and living in a "house on wheels" requires good organization and preparation for the trip, and thanks to modern technology - today it does not require sacrifice. 21st century camping can be just comfortable and truly independent. This aspect of travel is provided by a practical companion - a reliable, small and light generator, i.e. a mobile source of its own electricity. Single-phase units with inverter voltage and frequency stabilization designed for such a form of spending holidays ensure the operation of basic household appliances on board and, if necessary, power tools. Honda EU generators, generating electricity of the highest quality, even better than electricity in household sockets, are completely safe for electronic receivers such as laptops or LCD screens. They are equipped with fuel-saving engines that provide several hours of power on one refueling. They are also quiet and have very low exhaust emissions - far below the required standards.
The selection of the genset should be adapted to the receivers that will be powered by it and to the degree of intensity of its operation. It is enough to define the required target electric power of the generator, which must be greater than the total power of all receivers that will be powered by this generator. An electric meter can be used for this purpose, but because each receiver has a different inrush current - the safest solution is to consult an Authorized Dealer. Due to the sensitivity of the receivers to the quality of current, it is worth paying attention to the units with modern voltage stabilization, the task of which is to eliminate voltage fluctuations that appear during the transmission of electricity. It is worth remembering that the quality of the supplied electricity determines the efficiency and lifetime of the receivers. The most important feature of voltage stabilization is speed of operation.
Inverter - intelligent voltage stabilization
The most technically advanced voltage stabilization system, fast and proven in practice, is an inverter. It is a generator with an innovative structure and almost half the size of traditional generators, which operates regardless of the engine speed of the generator - it reacts very quickly to frequent load changes, during which it maintains the rated voltage and frequency values perfectly. The generator with an inverter generates electricity whose output quality is better than that available in sockets, thanks to which the powered receivers operate with real power. Generators equipped with an inverter are the safest source of power for all receivers, especially those very sensitive to the quality of electricity, ensuring their safe operation and long service life.
Silence on the go
An important criterion for selecting a generator set is its quiet operation, so it is worth considering a device equipped not only with the Eco Throttle option - an economic mode that reduces fuel consumption, exhaust emissions and engine noise, but also having a soundproof housing, specially designed silencers with additional mute and those with an anti-vibration system. Honda generators, a manufacturer awarded as one of the three most environmentally friendly ones in the world, meet the excessively required volume standards in force in the European Union, and the EU series is one of the most silent Honda generators.
Mobile power sources - practical solutions on the go
Tested on board the camper and popular among users is the single-phase Honda EU20i aggregate in the form of a suitcase as well as the portable EU30i and EU30i S models. All are equipped with inverter voltage stabilization and reliably ensure the operation of single-phase receivers taken for a journey with the camper. They also ensure communication with the world - thanks to them, a laptop or a mobile phone can work constantly. They also have an output current (DC) socket for charging car-type batteries. They owe their low weight mainly to the miniaturized generator, and their very quiet operation - to a special sound-absorbing housing and modern silencers. A significant advantage of EU aggregates is the possibility of obtaining greater output power, i.e. supplying them to a greater number of receivers. This option is to use a cable to connect the same models in parallel. They run on fuel-efficient Honda engines powered by pure unleaded gasoline, which additionally, in an economical mode of operation, extend the time of operation on one tank.
One of the most technically advanced suitcase aggregates on the market is the Honda EU20i - a single-phase generator with a maximum power of 2kW. Equipped with a modern inverter, it guarantees the production of high-quality output current, safe for single-phase receivers used in a camper, in a summer house, at a campground - basic household appliances and receivers sensitive to the quality of electricity. An additional auto-synchronization option - parallel connection of 2 models - enables doubling the maximum output power to 4kW. The fuel-saving engine can work continuously for up to 3 1/2 hours, and in the economy mode - up to about 7 hours. The sound-absorbing casing and the silencer system effectively silence the operation of the unit. An easy-to-read front panel, on which all the control elements are located, additionally facilitates the operation of the unit.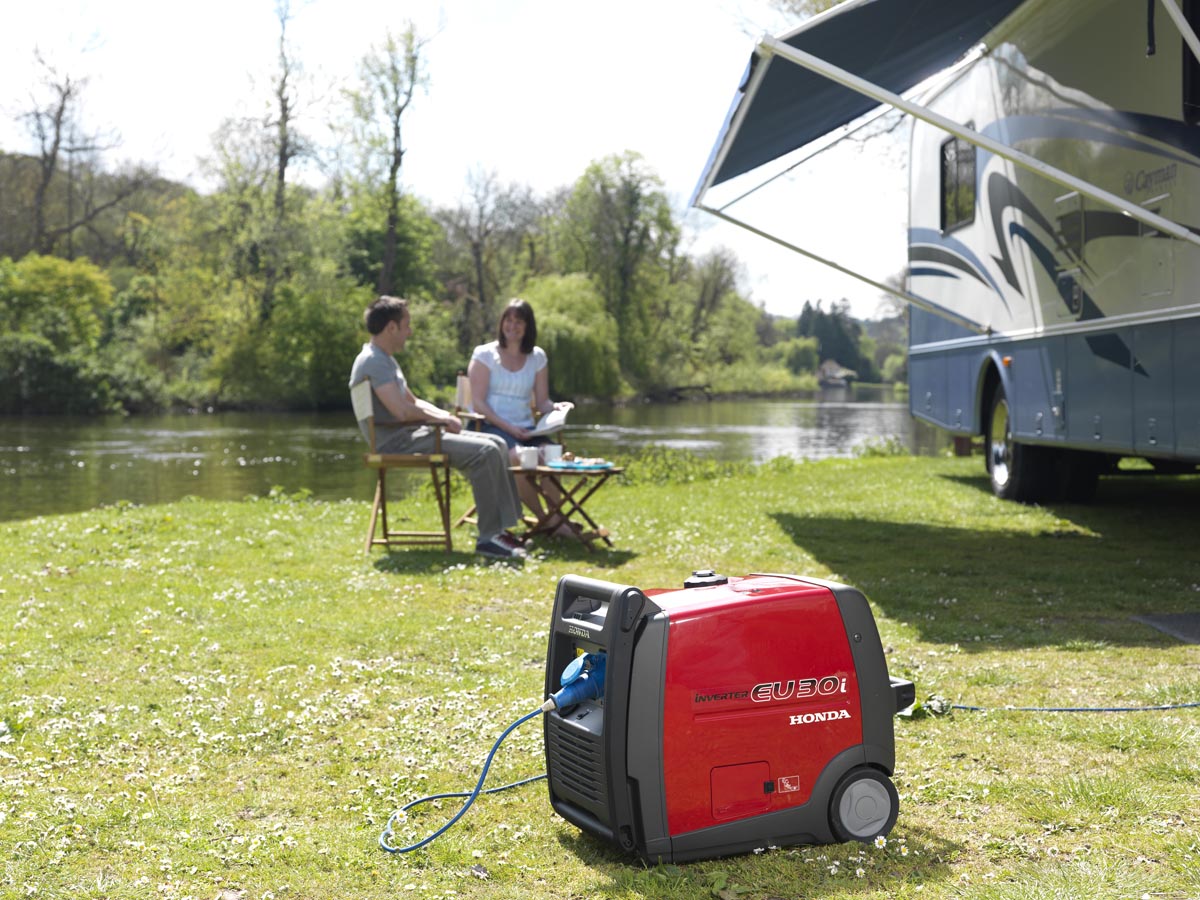 In a camper or caravan, the portable Honda EU30i S generator with a maximum power of 3kW, working up to 8 hours on 1 fuel tank, also works. It is a new generation generator, also equipped with an inverter generator and a direct current (DC) socket for charging car batteries. Its well-thought-out design also enables optional auto-synchronization, i.e. connecting two EU30iS aggregates, when it is necessary to double the output power (up to 6 kW). An electric starter ensures that the unit is started immediately.
Another example of a modern generator with inverter voltage and frequency stabilization, which is appreciated by enthusiasts of camping and caravanning, but also amateurs of holidays on the water, is the Honda EU30i with a power of up to 3 kW. Moving the aggregate to any place is facilitated by a special integrated transport kit. The quiet operation of the engine does not disturb the peace of the participants of the expedition, and the DC socket allows you to charge car-type batteries. The unit also has an economy mode (ECO), which additionally reduces fuel consumption, adequately to the load, and at the same time extends the operation time of the unit on one tank. It is very easy to use - easy to read and convenient LED backlit front panel includes power and low oil indicator lights, overload warning alarm, AC circuit fuses, ECO mode switch, generator parallel connection and ground terminal. Optionally, the EU30i can also be equipped with an hour meter, battery charging cable, auto-synchronization cable and exhaust gas hose.
www.mojahonda.pl
We have created the CampRest portal for people who value freedom and travel on their own.
Enjoyed reading this article? Share it!