We prepare a motorhome for the season, for short and long routes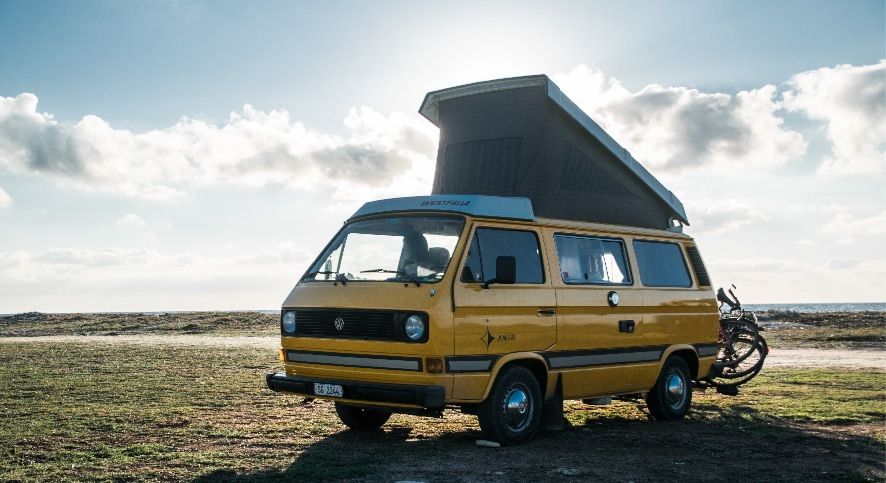 The start of the motorhome season is getting closer and the sunny, spring weather is only conducive to planning holiday trips! If we also plan to go on this year's vacation in a motorhome , in a shorter or longer route, we can already start the first preparations for the trip. Let us take care not only about the route and the designation of the most important attractions, but also about the inspection of the car, as well as its appropriate equipment. Taking care of every detail will ensure that the holiday in a house on four wheels will be successful. What is it worth equipping a motorhome with so that you can feel comfortable in it in all conditions?
Where to start?
Let's start preparing the motorhome for the summer season with a thorough car inspection. Travel safety is essential. Particular attention should be paid to the efficiency of the brakes and the condition of the engine, and to check the tightness of the gas and water installations. We will have time to fix any defects detected before the planned trip. The next step is to complete the appropriate equipment. Let's make a list of the equipment that we already have and are still operational, and the equipment that we need to replace or buy. When traveling, you will certainly need pots, dishes and cutlery to prepare and serve nutritious meals. It will also be a good idea to diversify the menu with grilled dishes prepared on a portable grill. Various accessories for relaxation will prove to be useful - chairs, tables, hammocks or even a sunshade. Below is a list of those accessories that should be included in your motorhome trip.
Fridge in the motorhome
Instead of taking only freeze-dried food with you or dining in inns, it's better to prepare hot breakfasts, lunches and dinners yourself. Even when traveling by motorhome, we don't have to give up coffee with milk, morning scrambled eggs, rice with vegetables or sandwiches with our favorite cold cuts and cheese. However, we must ensure that the food products we take remain fresh for as long as possible. And for this you will need a refrigerator. A great solution is a gas refrigerator , which we can put in a camper, caravan, and even the vestibule of the tent or summer house . It will work wherever there is no access to electricity. Gas powered refrigerators are absorption refrigerators that can also be powered directly from the vehicle's socket or from the mains. They are often additionally equipped with a freezer. As you can see, in the motorhome we will be able to feel at home.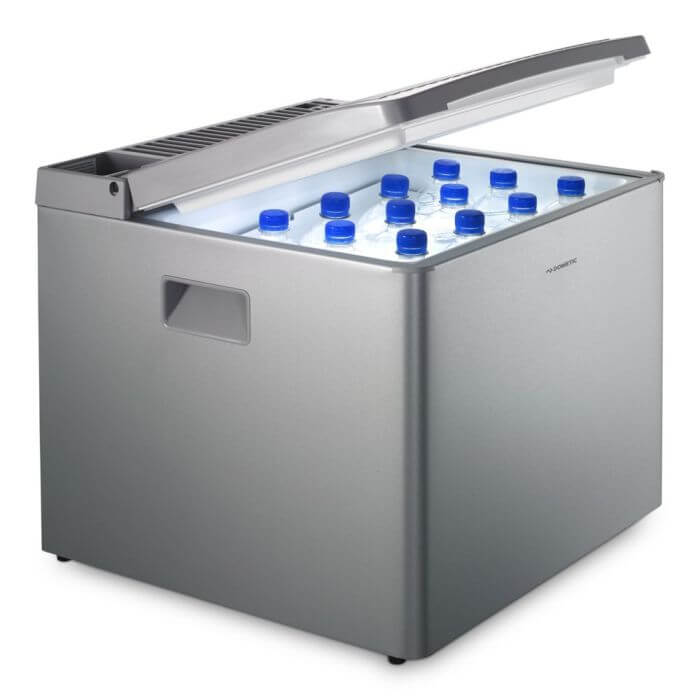 Utensils for cooking and serving meals
Since we take various food products with us to prepare delicious meals from them, let's also make sure that we have something to prepare and serve them on. Everything that is light, compact and resistant to damage will be perfect for travel. This rule also applies to pots, pans, plates, cups and cutlery. We can take the pots and pans from our home or decide to buy special tourist versions that will save space in the motorhome. These will be pans with a detachable handle or pots folded like a harmonica. Reliable, steel mess tins will also prove useful while traveling. Instead of porcelain and glass plates, bowls and mugs, it is better to choose break-resistant tourist dishes , such as those made of steel, light melamine or other BPA-free plastic.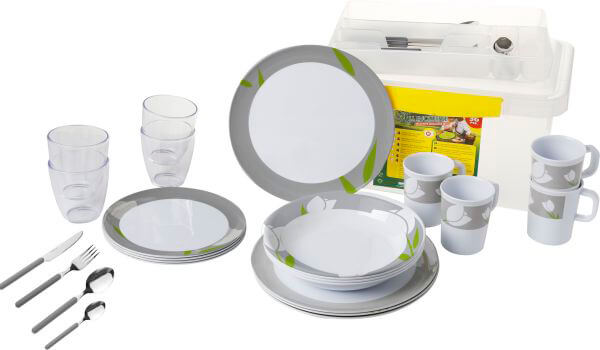 Stove and gas grill
Today, a gas stove and a sink are standard equipment for every motorhome and caravan. As for the stove, it can be a model with one, two, three or even four burners. We can easily adjust the size of the oven to our needs. Manufacturers even offer to buy a cooker connected to the sink, so that instead of two separate devices, we buy one at once. Some devices combine two functions - a stove and an oven, allowing you not only to cook, but also to bake your favorite dishes . If you already have a stove in your camper, inspect it and check if it still works properly.
In sunny weather, however, it is worth trying to prepare meals in the fresh air. Because is there anything better than an outdoor barbecue with family or friends? It is one of the coolest attractions on campsites! Therefore, it is worth taking a portable, compact grill with you. The Campingaz gas grill will work great here - Attitude table models with a lid, Plancha grills with a flat grill plate, or the reliable Campingaz Party Grill , on which we can not only grill on a grill or flat, but also cook and bake.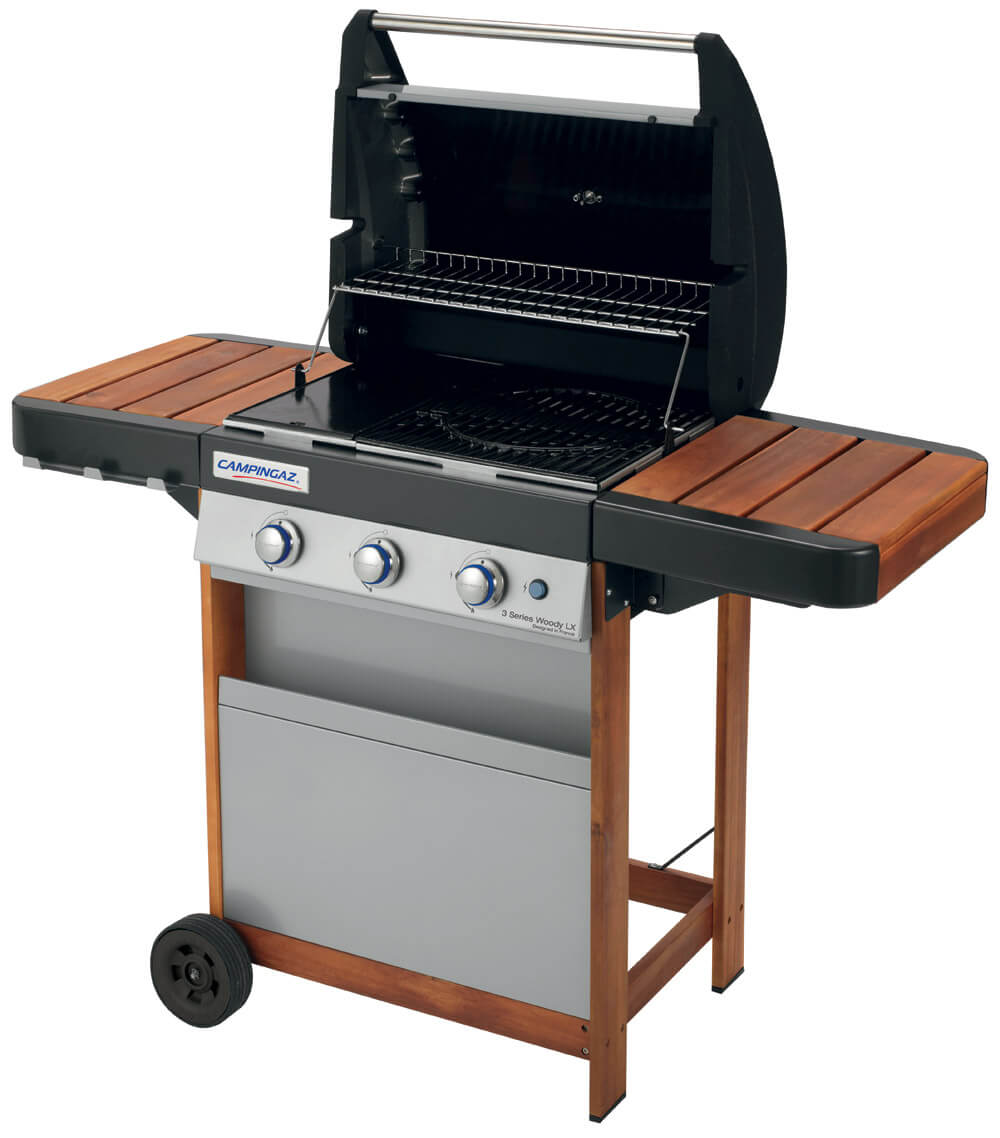 Tourist table and chairs
Remember that the motorhome serves us as a means of transport, and the main attraction is to spend time outdoors. If we take a barbecue with us, let's also think about a table and chairs that will allow you to comfortably eat meals and spend time together with family and friends. At such a table, which we place in front of the motorhome, we can not only eat a meal, but also cut ingredients for dinner, relax over a coffee, play board games or cards with loved ones. It is therefore a tourist must-have for anyone who appreciates comfort. The tourist table is available in various sizes. It can be a smaller model with one or three legs, or a larger, foldable version with four legs. The tables are such a popular solution that we can find them in the offer of many well-known brands, such as Brunner, Coleman, Easy Camp, Outwell or EuroTrail. Similarly to tourist chairs , they are available in the form of folding camping stools or folding stools, comfortable seats with backrests and armrests.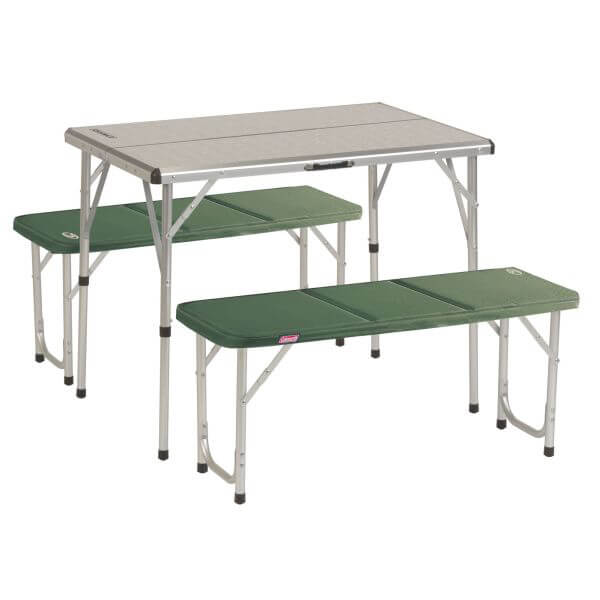 How else to ensure comfort during a motorhome vacation? Let's take a tourist hammock with us! It can be a model for relaxation for one or for two people at once. They are light products, quick to install and made of fabrics resistant to loads, tears and water. Some, such as the Sea To Summit or Eno tourist hammocks, come with waterproof compression bags to make them even easier to transport and store. Depending on the selected model, the hammock can be used not only as a place for a short break, but even as a mobile bed. The Original Ticket To The Moon hammocks or the Nest Eno series hammocks will work great in this role.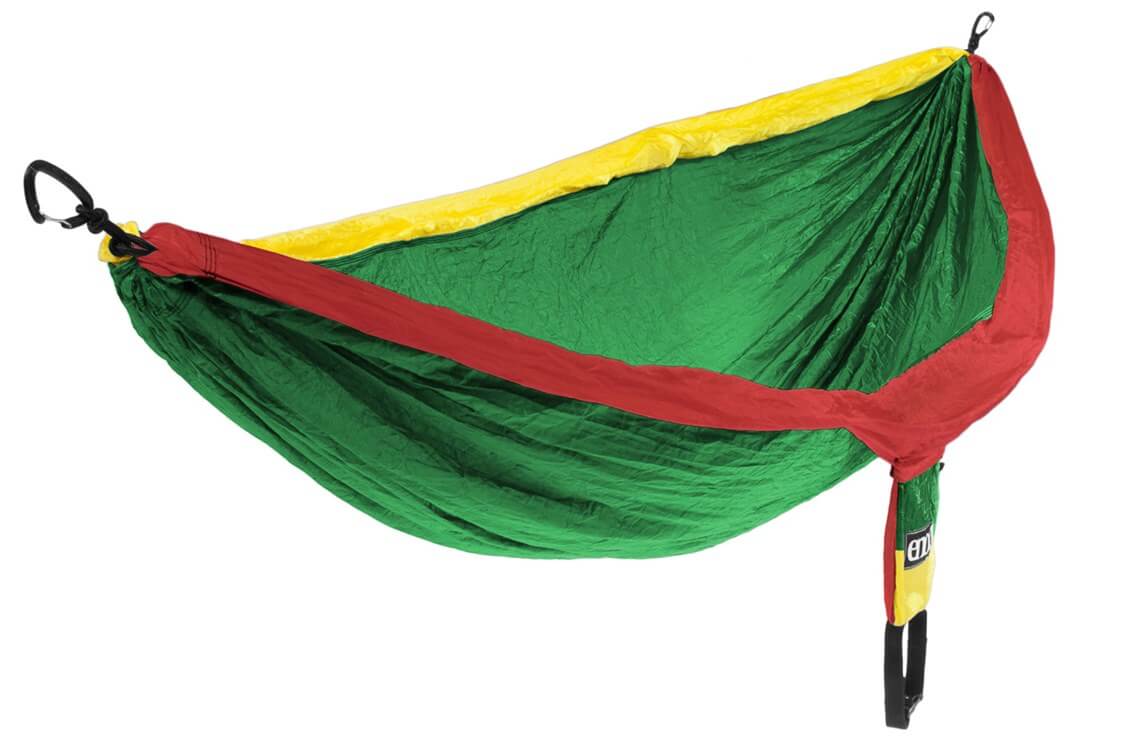 Motorhome starter tents are not meant for sleeping, like classic camping tents, but for spending time together with family and friends with whom we travel. It is enough to put up such a tent and add a tourist car to it, in which we have our accommodation. Remember that the size of the vestibule should be adapted to the size of a motorhome or caravan. It is also worth paying attention to aspects such as depth, frame and connections. The vestibule for the caravan allows you to separate a place for a comfortable rest in the shade. Even a table with chairs will fit in the larger one. We can leave shoes and wet clothes in it. Such an appetizer has another nice advantage - it is a great way to book a camping space when we are leaving by car to explore the area, and in the evening we return to camping. Thanks to the set-up, no one will take our place!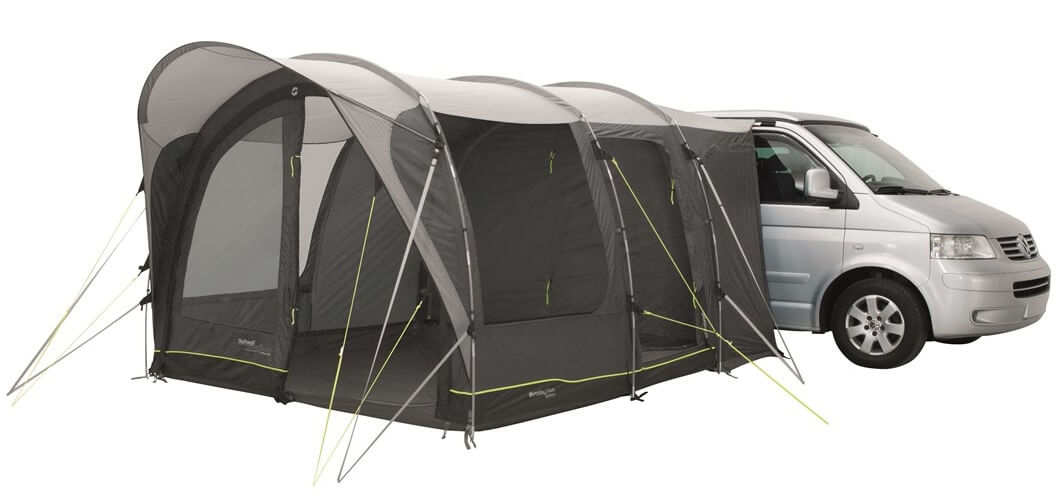 We have created the CampRest portal for people who value freedom and travel on their own.
Enjoyed reading this article? Share it!