A two-week trip to Istria and Lake Garda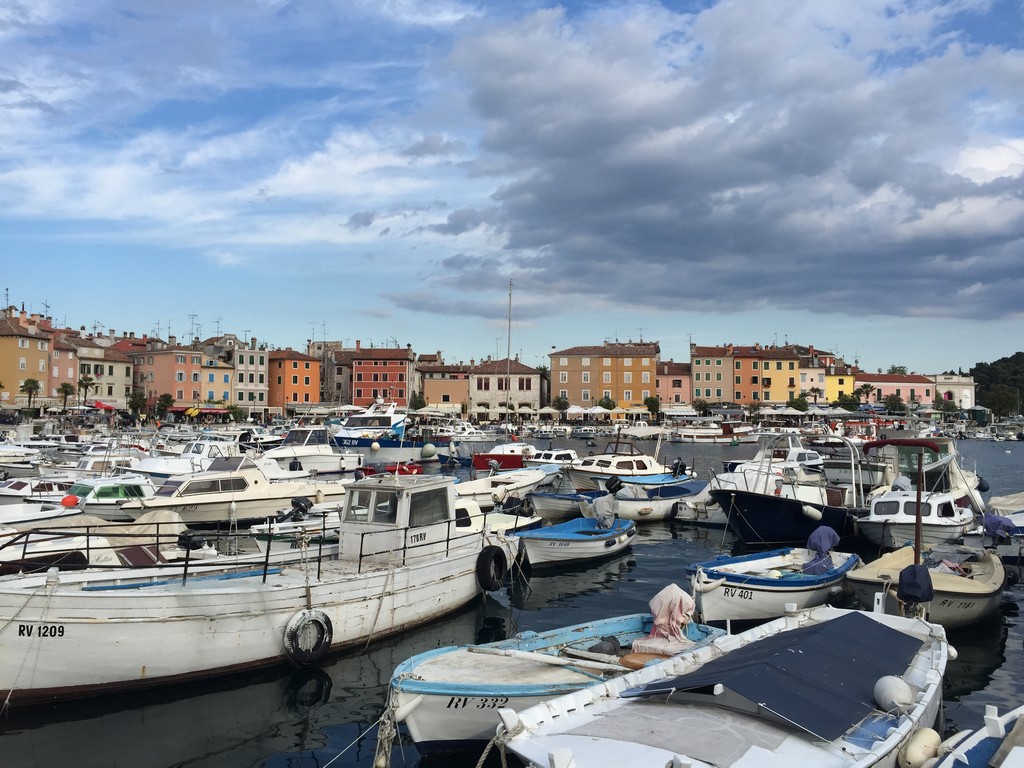 A spontaneous trip without a planned route turned out to be a two-week trip to Istria and the Garda. Our goal was not a specific place in Europe, but to test our new Opel Vivaro called Vivek and to test new camping accessories. While the temperatures in Poland dropped below 15˚C, and snow fell in the Tatra Mountains, we went south in search of the sun.
We bought vignettes before the Polish-Czech border. They cost us: Czech (1 month) PLN 96 and Austrian (2 months) PLN 136, but it is cheaper to buy them abroad, then we would pay PLN 22 less for the Czech vignette and PLN 30 less for the Austrian vignette.
Austria
We are looking for the first place to stay at the heights of Graz. We come to the Herz-Camping Westner campsite (no website: /) located 150km from Villach. The campsite has a complex of indoor and outdoor swimming pools (both heated) with a slide, a children's playground with a zip-line and a beach volleyball court. There are plenty of bike paths around, tennis courts and soccer fields. The camping itself is a stone's throw from the charming town center of Hartberg . We could stay here even for a few days without getting bored.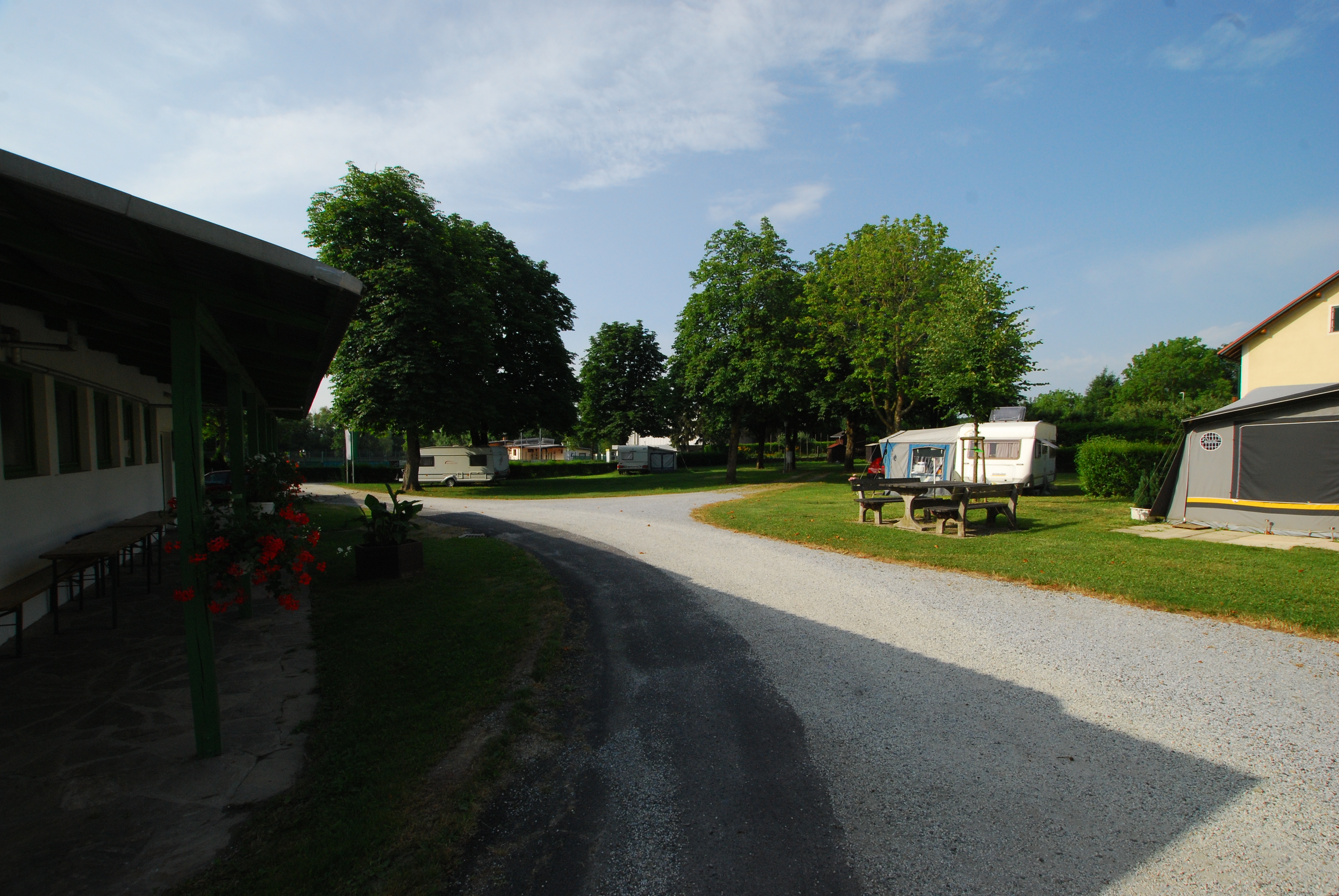 For an accommodation for two people and a car, we pay € 20.40. We would have paid € 2.10 more in high season. The camping is run by a lovely old lady, unfortunately she doesn't speak English. We regret that more Poles used to come here. There are only 70 parking spaces on the campground. Sanitary facilities are clean and heated! The campsite is located 450 km from the Polish-Czech border and 6 km from the motorway exit. Open from April to October.
From Graz, we set off to Villach via the very scenic A2 motorway. On the way, at the height of Klagenfurt, we leave it to go closer to the picturesque lake Worthersee , where we stop for two coffees and an apfelstrudl (10EUR).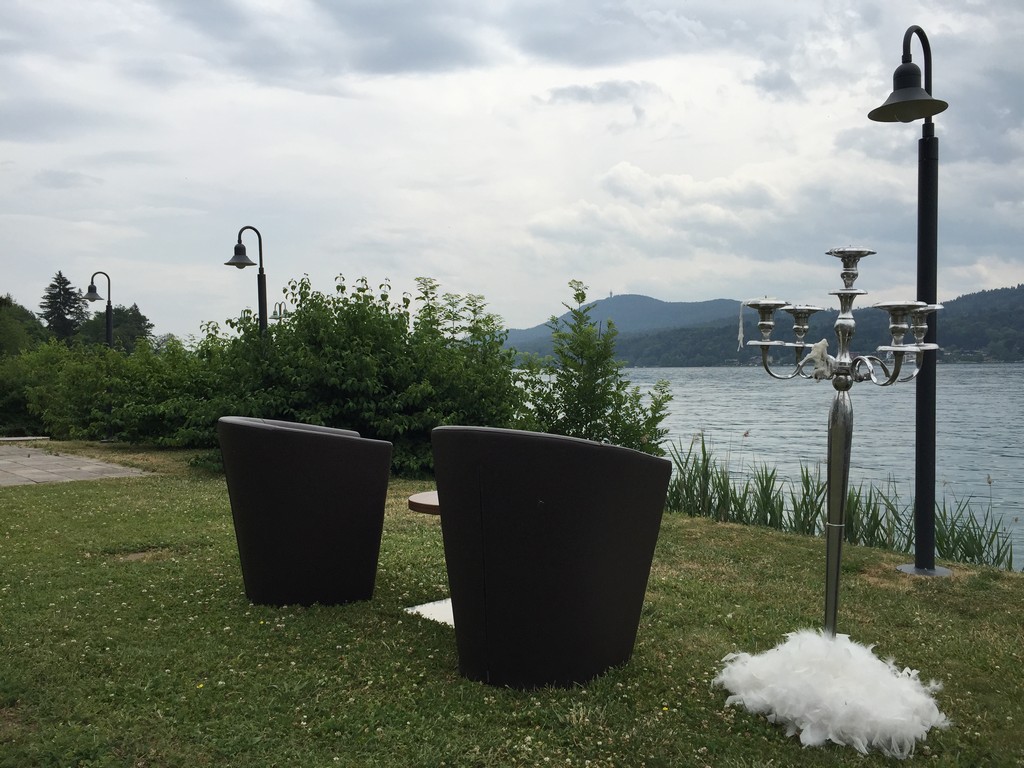 Then, at the height of Villach, we turn towards Slovenia to an even more scenic road in the Limestone and Julian Alps. First, we cross the Wurzenpass , which lies at an altitude of 1073 m above sea level on the border of Austria and Slovenia, and in Slovenia itself through the Vršič pass in the Julian Alps, located at an altitude of 1611 m above sea level. The road that runs through it connects Kranjska Gora in the north with Trenta in the south. The passes are often closed due to bad weather conditions. You have to remember about it when choosing the date of departure. Some climbs have an 18% slope. Our fuel consumption rate shows 29l / km but we think the scale has just run out ... It is worth mentioning that during the Cold War the Austrian armed forces built several bunkers along the entire route on the Wurzenpass, which are now open to public use. And at the top of the Vršič Pass, you can admire a wonderful panorama of the valley.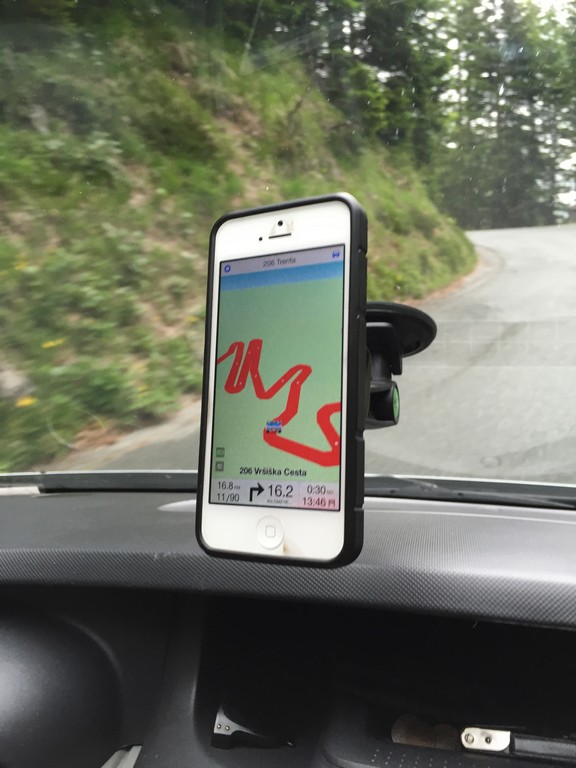 In Trenta, we have lunch in one of the roadside pubs. Game stew (24EUR). We ride along the river, which currently has a very low water level, but rafting can be done there during the spring thaw. Also ideal for cyclists. A bicycle route runs all the time along the river.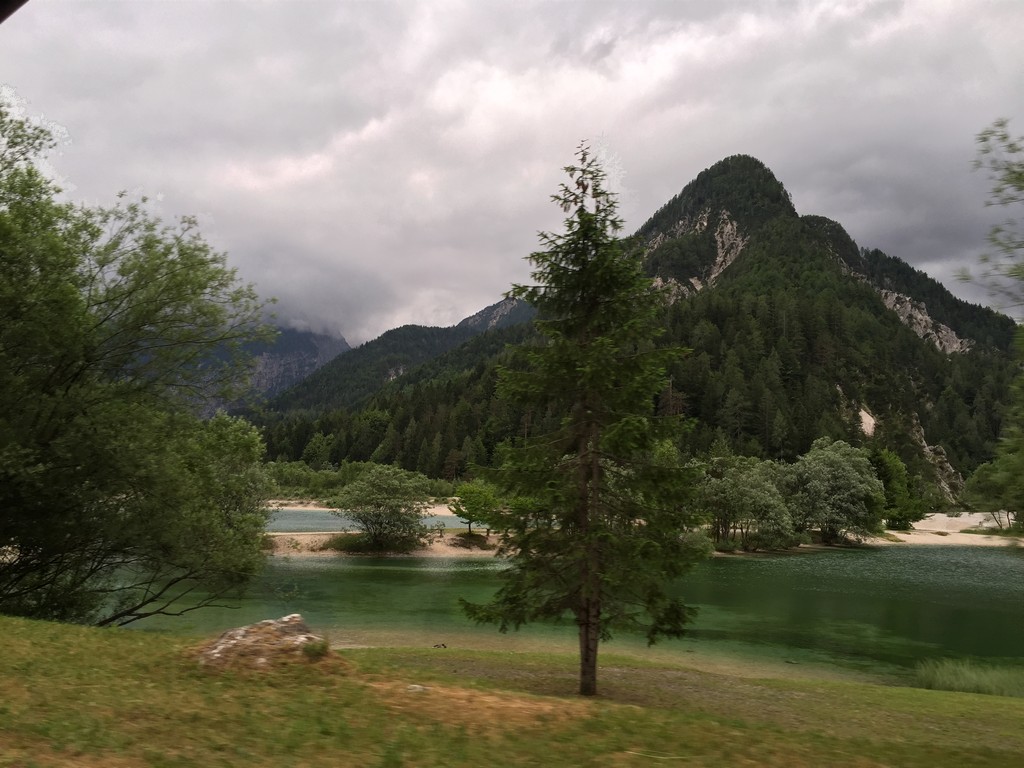 The whole route is not long, but due to the large number of bends and the degree of inclination, we cover it in a very long time and we reach camping in Croatia late and we are tired. You could stay at one of the two tiny, cozy campsites just outside Trenta ...
Croatia
In Croatia, we stay at our friendly Lanterna campsite near Poreč. We choose a camping site 30m from the sea (Stand Comfort Mare) for which we pay 40 € per day (2 people and a campervan). It took us an hour to choose this place, because the camping is huge (over 2000 places). It's almost a town in itself.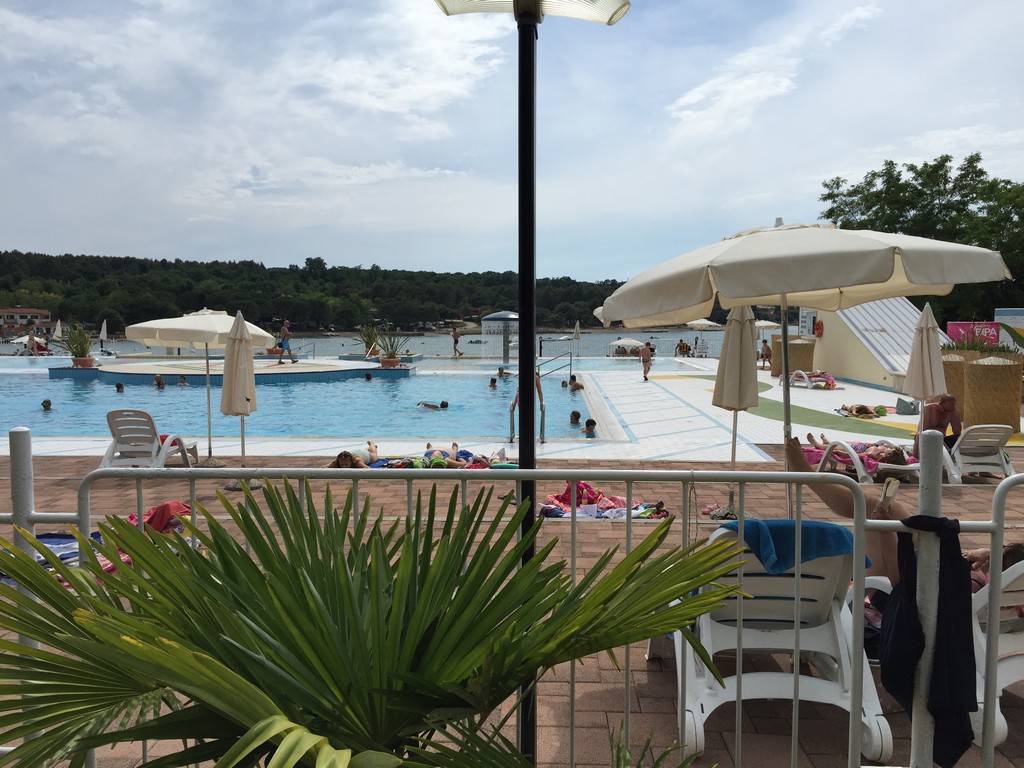 There are 16 to 5 restaurants, including our favorite Tratoria with a beautiful view of the bay, shops, football and volleyball courts, tennis courts, playgrounds on land and on the water (!). A pub with a different live music every day. Sanitary facilities are fully equipped with everything. There are even special bathroom rooms for families with children equipped with specially adapted children's ceramics. It is impossible to get bored at the campground. You can spend the whole week choosing between organized activities for both children and adults. We have wi-fi internet for free and we can get a signal even at our stand.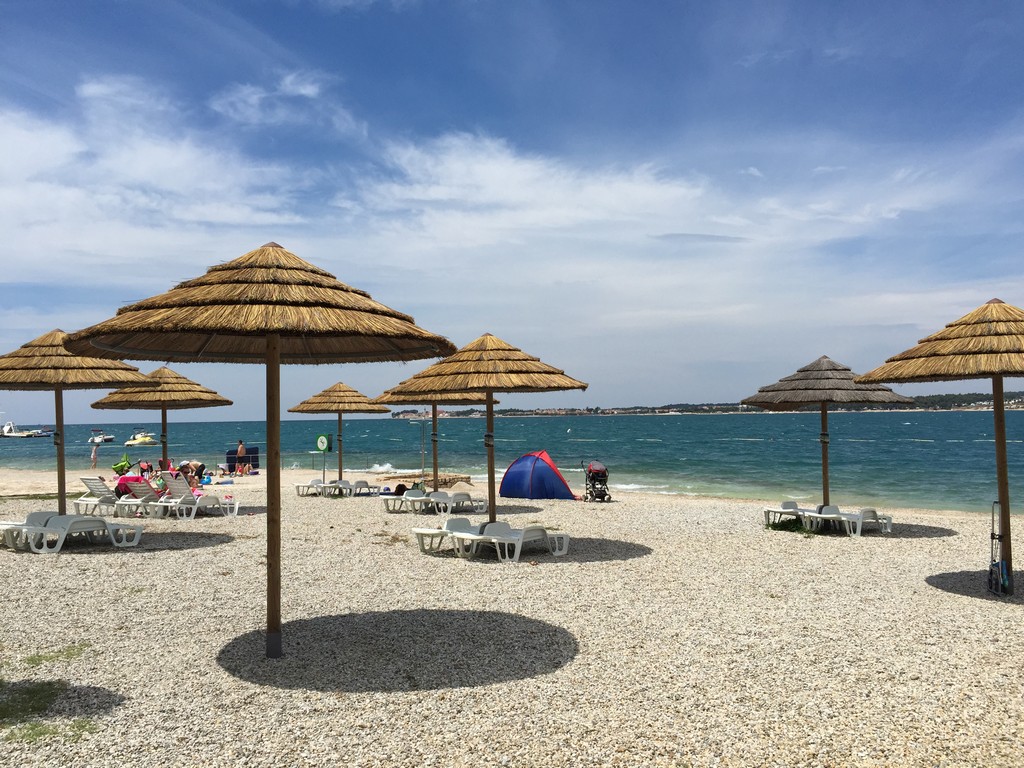 We are 15 km away from Poreč. To Rovinj 45km. These are the only towns in the area that we can recommend for sightseeing. In the nearby Zelena Laguna (approx. 3 km beyond Poreč) you can practice water skiing on a special ski lift ( www.skiliftporec.com ). A very cool place. There is a pub, toilets, showers, plenty of shade, sunbeds for hire (25kn / day) and friendly service. Equipment can be rented on site. A half-day pass (with your equipment) from 10-15 costs us 28 €. (For a full day from 10 to 20 it costs 35 €). You can also buy, for example, 50 rides and use them in a few days.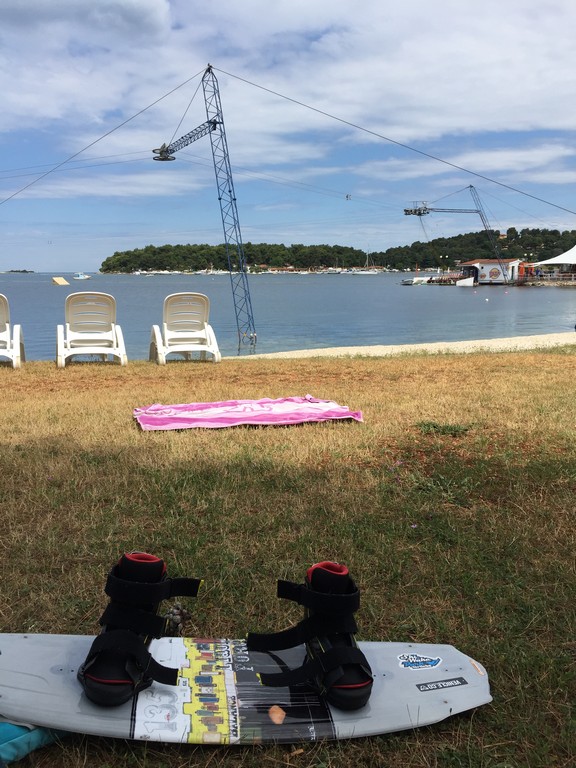 You have to remember that camping in the high season must be booked in advance, because in the high season after arriving at the camping it may turn out that there is not a single free place to rent. In high season, we will also pay for all previously booked nights. In the off-season, we can give up accommodation without any penalty.
In the evening on the fourth day of our stay, we are going to visit Pula, unfortunately, the city let us down and after an hour of walking we went back to Rovinj, where the day before we discovered a nice pub in which the waiter tells us that he visits Poland every year and that he also goes this year. We eat the best calamari and other seafood, and we get the dessert for free :) we love Croatia :)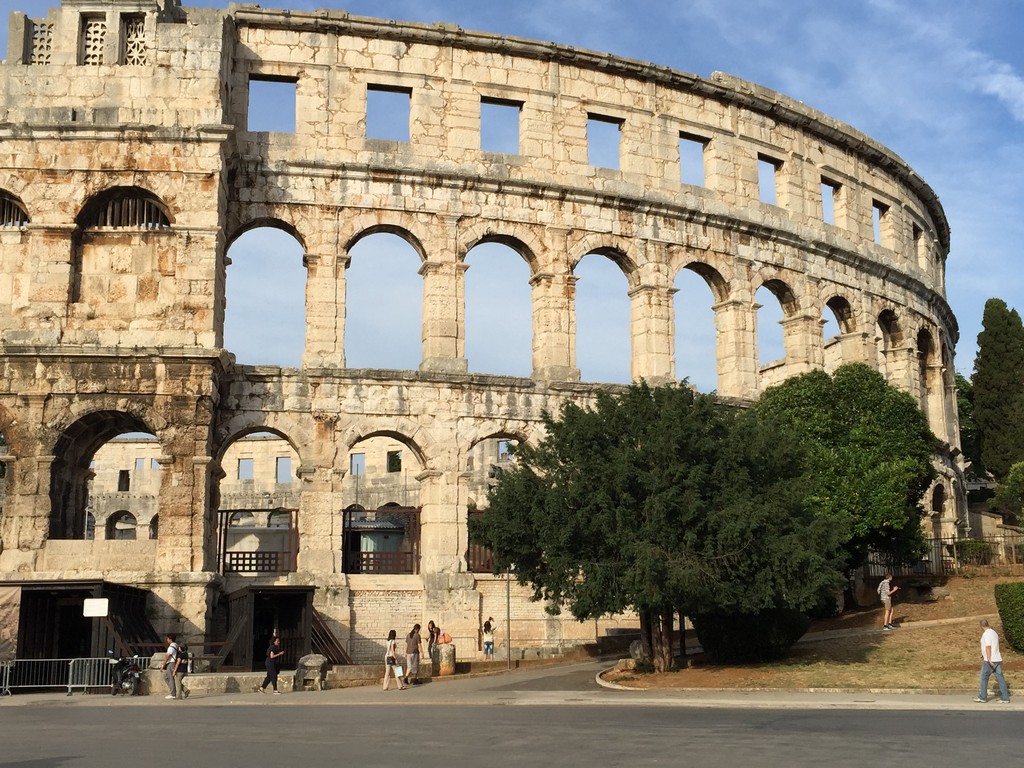 In the morning of the next day, we decide to change places and head towards Italy. Croatia says goodbye to us with clouds, and Italy welcomes us with sunshine and the best coffee.
Italy
At the height of Trieste, we decide not to go to coastal towns and we go to explore Lombardy. Direction of Garda. We find a small camping site (compared to Croatia it is only 200 places) right next to Gardalandia. Camping La Palme next to the village of Lazise. There is a gentle descent to the lake on this side of the lake and we have a wonderful view of the west shore of the lake with its steep mountain slopes. We can't wait for the sunset!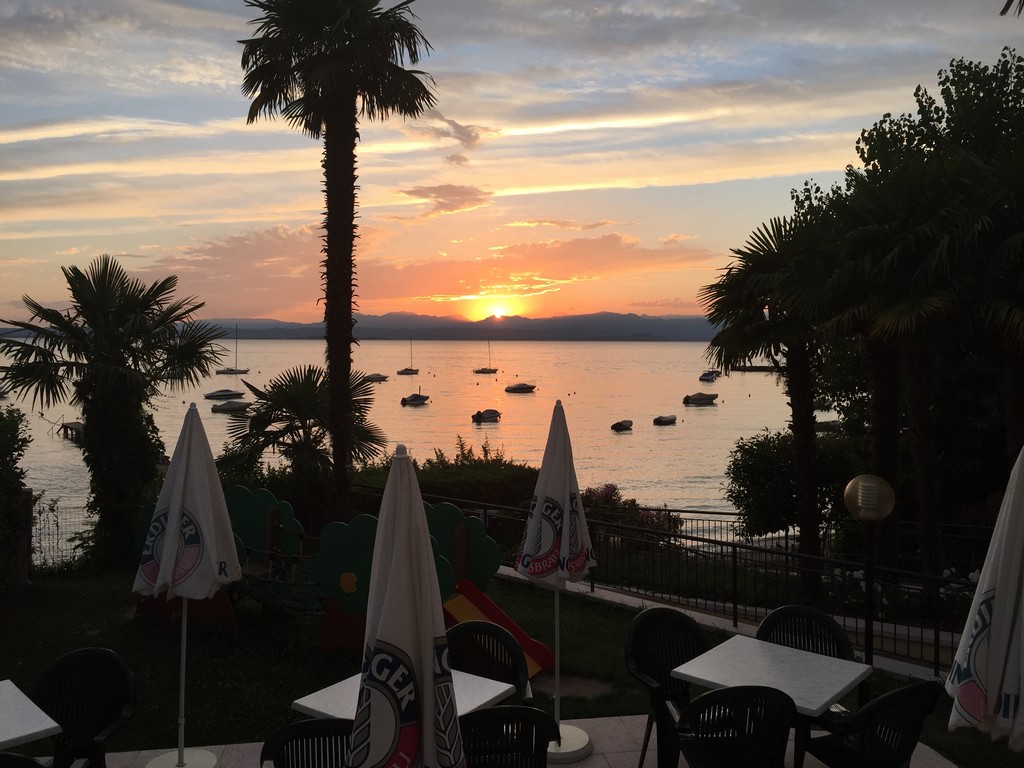 The campsite has a private entrance to the beach with a pier, a heated swimming pool with a slide, a children's playground, a pub with delicious food and a small shop with fresh bread and our favorite traditional Italian cannoli.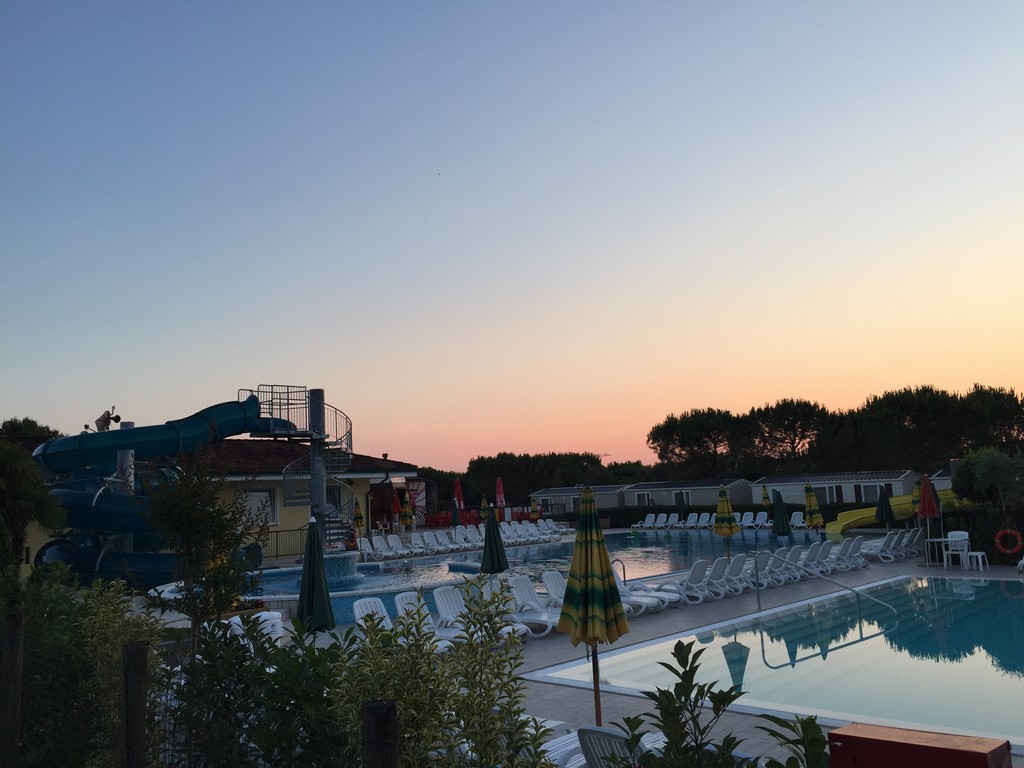 The camping costs us 27EUR per night (two people and a campervan). This is EUR 13 cheaper than in Croatia. The same applies to prices in restaurants and shops. Everything cheaper than in Istria. We pay EUR 12 for a week's internet access.
The campground is very close to Gardalandia , Movieworld amusement park and Caneva aquapark . You can basically walk to all of these places and in the evenings we hear shouts of people riding down the highest roller coaster. The botanical park of Valeggio Sul Mincio ( Parco Giardino Sigurita ) is also worth visiting.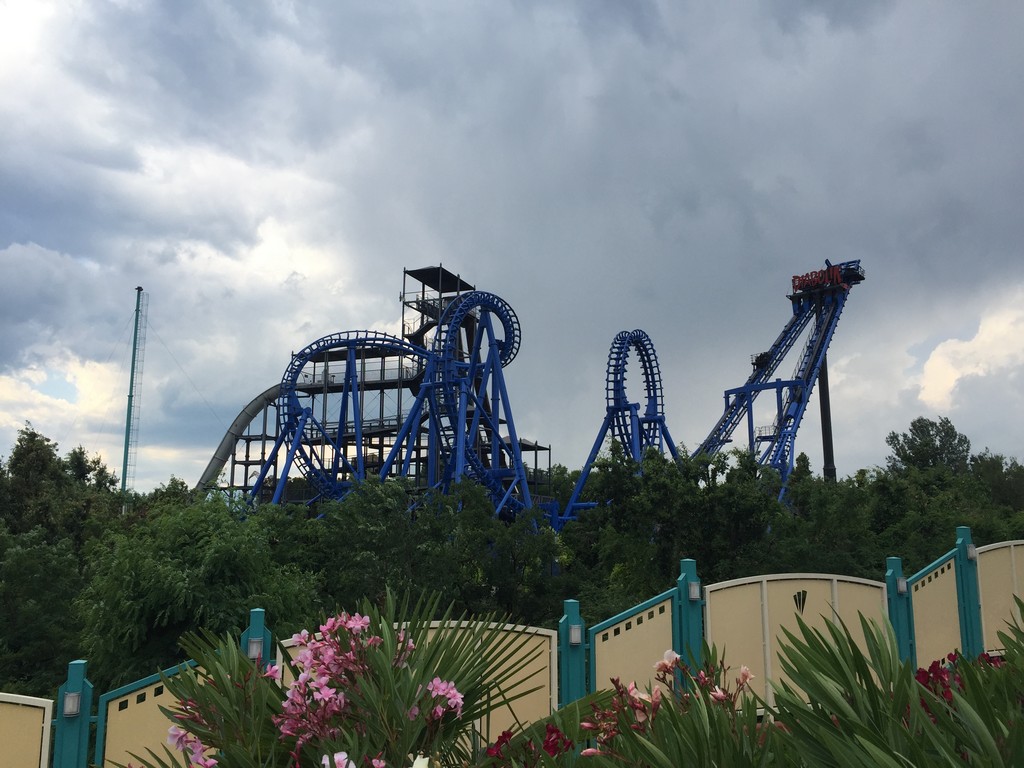 One day we go around the whole lake. It is only 170km, but it takes us all day. We enter charming towns for coffee and pizza and stop to view the views in car bays. Towns worth staying in are (clockwise from our campground): Pescheria del Garda, Sirmione, Desenzano del Garda, Saló, Limone sul Garda, Riva del Garda, Malcesine, Lazise.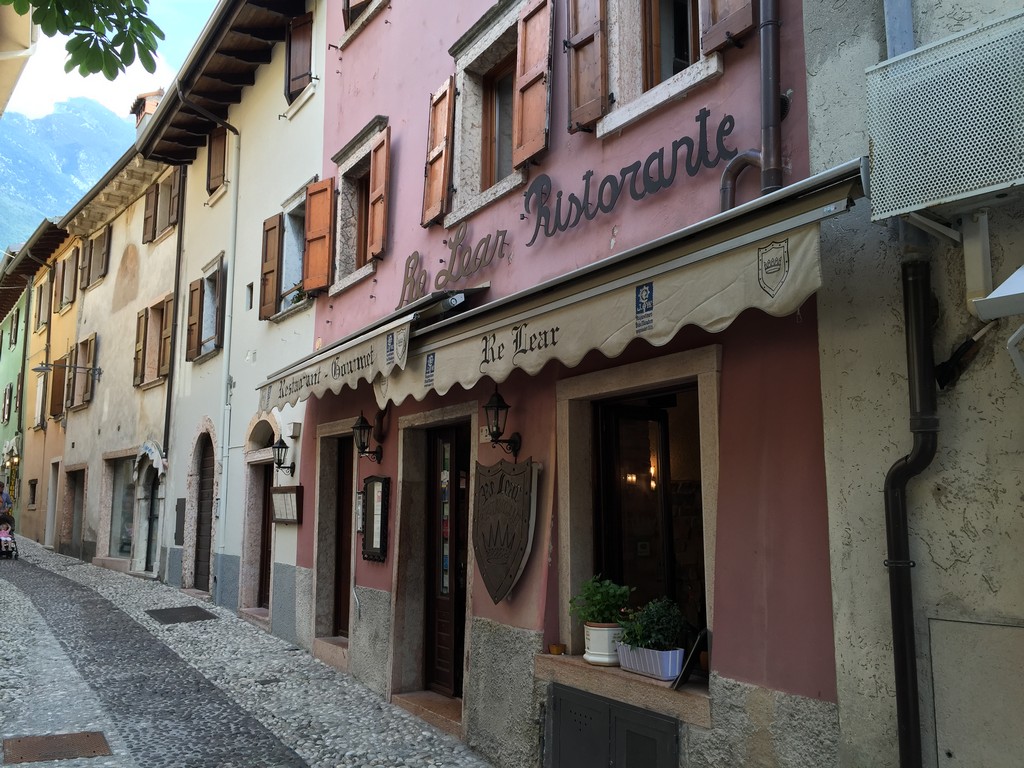 If you have more time to visit Malcesine, we recommend entering the castle from which there are great views of the entire town and taking the cable car to the top of Monte Baldo with two reservations: you have to do it before 9.00 am or after 15.00 (otherwise we stand in line to enter the gondola even a few hours!) and choose a day with a cloudless sky. Otherwise we won't see the lake below. It is worth booking more time to explore the trails at the top or plan your descent down the trails and, importantly, take warm clothes with you. It's very cold upstairs. It is worth remembering that if we do not have that much time or money (22EUR for a trip and a gondola ride per person), we can go by car to the height of the first gondola station (San Michele at an altitude of 463 meters above sea level). There is also a beautiful view of the lake from there.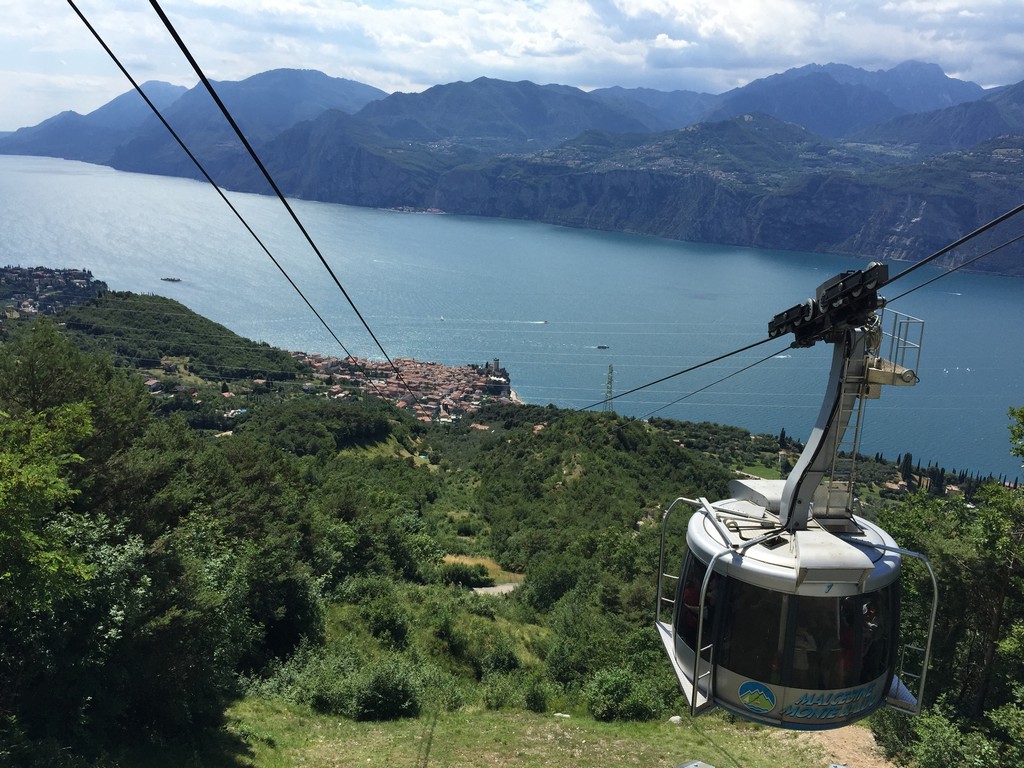 Riva del Garda seems to be the perfect place to stay for longer if you plan to come to Garda for kite or windsurfing, or go boating or catamaran.
In Sirmione, it is worth climbing the castle tower from which you can see the entire peninsula (entrance to the entire castle costs 4EUR).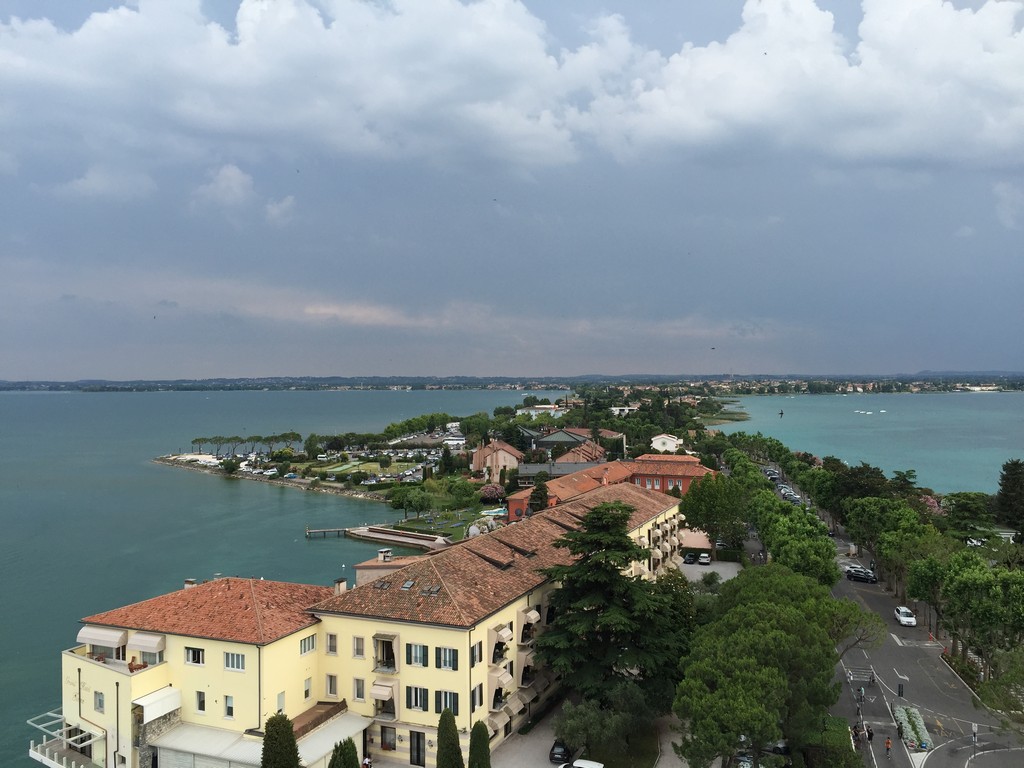 We spend the whole week at the Garda. You can stay here much longer and treat your stay on the Garda as a starting point to visit several larger cities such as Milan, Bergamo, Venice and Verona and many other smaller, but no less charming cities and towns.
Austria
Returning to Poland, we sleep close to Klagenfurt on Lake Wurthensee, which we liked on our way to NA vacation. It turned out that the IronMan competition is taking place in this town on Sunday. The camping was packed to the max, but fortunately we managed to find a place for one night. The camping is theoretically located right next to the lake, but to enter the guarded beach you have to buy an entrance. While sleeping at the campsite, you can buy a weekly entry to the beach for EUR 3, while a one-day entry purchased directly on the beach costs EUR 4. The camping costs us 33 EUR (two people and a campervan). Internet is paid.
We fell in love with Garda. We are coming back next year!
Prices for sample products
All city car parks are payable approx. Istria: 4kn / h, Italy: 1-1.5EU / h.
Ice cream costs approx: Istria 25kn, Italy: EUR 2-2.5 for two scoops.
Beer: Istria: 25kn / 0.5l, Italy: 4-5EUR.
Pizza : from 5EUR for a Margarita to 9EUR for a plump pizza with many toppings.
Coffee in Italy: EUR 1.20 for espresso, EUR 2.20 for cappuccino
Travel expenses
Refueling in Austria Villach: 1.16 € / l total: 74.50 €
Refueling in Croatia: 9.42 kn / l total: 501.90 kn
Refueling in Austria right at the border: € 1.39 / l total: € 108
Highway toll in Croatia: (€ 1.87 x2). 14kn x2 = 28kn
Highway toll in Croatia to Pula and back: 46kn
Motorway toll in Italy: € 20.50
Motorway toll in Italy: € 28.00
An engineer with a passion for traveling. My dream is to drive a motorhome through the USA from coast to coast. I would also like to do a few longer bike trips around Europe, but I have to convince my husband to do that;)
Enjoyed reading this article? Share it!