America by car, part 4/10 - Joshua Tree Park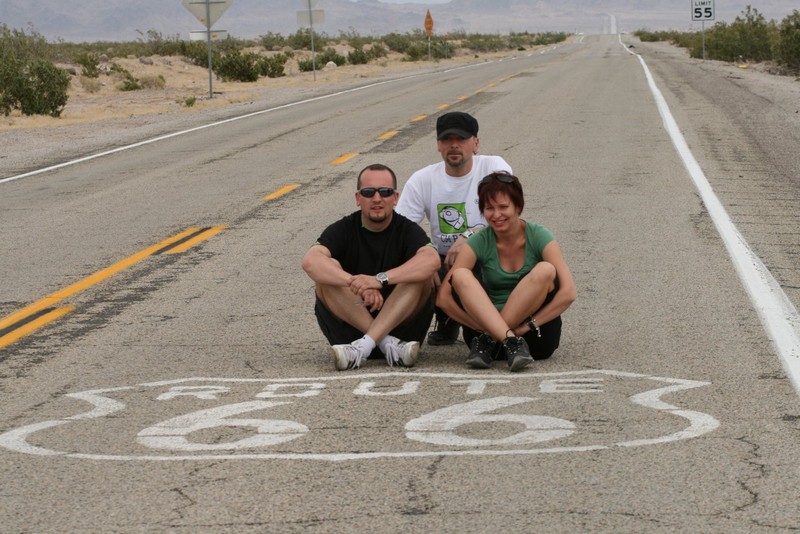 We woke up after 6 am as usual, in a real motel from American horror movies - the Safari Motel Inn - straight out of Hitshckock's Psycho. Plywood walls so all night we heard cars passing and neighbors farting. We know what our motel catches for - well, the slogan "large pool" is displayed.
This time we had a breakfast prepared on our own and went to Joshua Tree National Park. It turned out that we lived (we did not notice it at night) at the entrance to the park. So at 9 o'clock we were already after visiting the Visitors Center, where we equipped ourselves with all the maps and set off to conquer the park. An elderly gentleman (guard), who provided us with the necessary information on moving around the park, recognized us "by the accent" and - probably for the second time so far - it turned out that the Americans recognize our language :-)
At the beginning we were delighted to see Joshua trees, which gave the name of the park, amazing in their appearance. Later, a total change of surroundings - Hidden Valley - a hidden valley welcomed us with fabulous rocks. Including we took a walk to the Skull - Skull Rock (a piece of cool rock ...) We even took a small walk (going back to the car) for a moment losing orientation - and everything around so similar ... Generally speaking: desert, Joshua trees, larger and smaller stones and so few hours.
Kiey View - a view of the cosmic landscape from above - a great vantage point. Every now and then we pass bikers rushing on their machines in the wilderness of an American park.
Finally, a cactus garden. The cacti that looked like hairy tarantulas turned out to be aggressive - they attacked Gmurcie - as the bloodthirsty creatures threw, they DIRT their spines into her leg. Documentation on removing the foreign body from her leg soon. The rescue operation was successful (Jerzu, like an experienced surgeon, with truly watchmaking precision, picked up several dozen needles from Gmurcia's leg.) It was bloody, the operation was successful, the patient survived :-)
And so again, on the route from where we write to you, driving the legendary Route 66. We are looking for some food, but for over 200 km only a desert, the road ahead, and beautiful mountains on the horizon.
It's past 1 am. Of course, the whole company is long asleep. A little more and I will be accused of drawing power from some suspicious "ecological sources" ... This is how it is - on vacation - LIKE THIS - it's a waste of every hour slept, sometimes literally.
In the afternoon, the legendary Route 66 turned into an ordinary "freeway", which significantly improved our speed (from about 60mph to 80mph). We have to admit that from the very beginning we are going "as God commanded" - we only exceed the speed limit by 5 miles (we set the cruise control). Unfortunately, today's "duty" behind the wheel was mostly a chore - speed limit 55 mph - we were trailing (60 mph) less than 90 km / h, which in a situation when you have an empty road, endless space around, visibility for hundreds of kilometers, dry road, ah ... it would be a bit squeezed ... Unfortunately - every now and then there are warnings about "radar control", and the top of everything is the message "radar control by aircraft" ... Hmm, at least it's safe :-)
At one point, we passed a significant mark: "NO SERVICES NEXT 90 MILES". It took us a long time to wonder if this was a joke or not. Luckily we had an almost full tank and a few bottles of water because for the next AT LEAST 90 miles there was nothing ... Ie. yes, there was a beautiful, gradually changing landscape - a DESERT. Sand, bushes, mountains in the distance and no living soul for about three hours in this heat. I would like to add that when I say (by writing?) "Zero living soul" I mean: ZERO LIVING SOUL.
Neither pear nor parsley - Jerzu (then seated as a passenger in the front) shouted: "-Tree with shoes on the right!" At first I thought that the poor fellow was just beginning to be hurt by the heat - in this heat Marcin (Jerzu) probably started to see some hallucinations ... A tree with shoes, sure - and were the socks there too? (one would like to ask…). We went back to this place and… we have some pictures of the tree with shoes! A few miles later, Jerzy shouted: "A tree with panties!" Similarly, this time he was right (I saw), but there were too few panties (recently planted ?!), so we let it go. Our spontaneous idea for the girls to start a new tree at Route 66 - WITH STEPS - unfortunately remained unanswered ... :-(
Much earlier than expected, we reached Flugstaff - a town on Historic District Route 66. Our motel - Travellodge turned out to be a very nice place. Again we have 2 quennsbeds and all the necessary equipment we need. All for just $ 65 (4 all).
I invite you to read the next part about the Grand Canyon
I crossed America by car and I am happy to tell you about it!
Enjoyed reading this article? Share it!