America by car, part 5/10 - Grand Canyon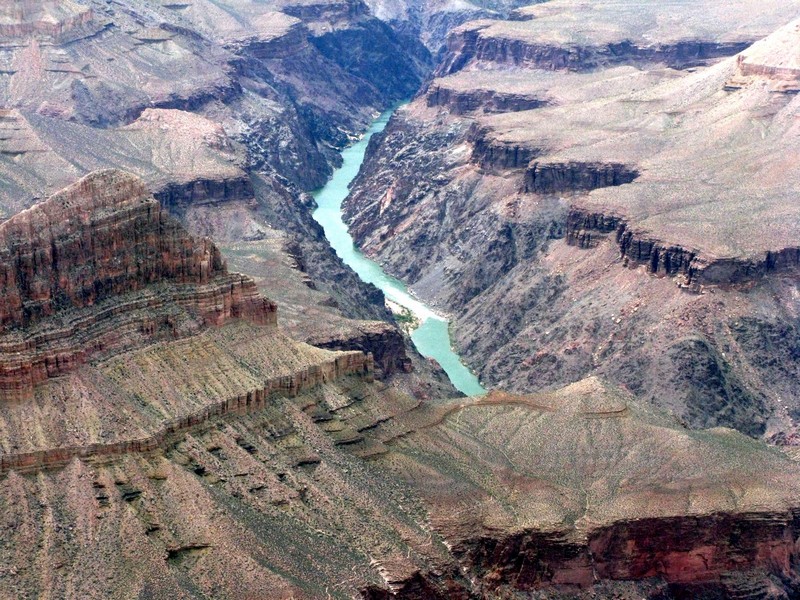 Let me start at the end - it's 10pm and we've just got to Page (pronounced whip), where we'll be spending tonight. When we entered the city it was already dark but we came to the conclusion that it was a city of motels, churches (of various denominations - free market?) And fast food. Unfortunately, at 10 pm everything was closed and we were directed to a 24-hour roadside pub where we took a small dinner (according to Marcin: approx. 700 kcal per person). We went back to the hotel, booked a night in Cedar City for tomorrow so it was close to Bryce Canion and Zion Park, which we are going to visit tomorrow. We also bought an overnight stay in Las Vegas - we have a really cool hotel ( www.stratospherehotel .com ) ... but today it's the first obsówka in the plan, because we decided to stay in the Grand Canyon until the very end, so from the beginning ...
Waking up before 7 without an alarm clock, fast morning toilet - 4 people in one bathroom is quite a challenge J, breakfast which turned out to be "Just cold breakfest" and we were displeased that there were no eggs and bacon. We are already leaving before 9 am. Today Marcin takes the baton of the court driver - the guys are brave enough and despite the pre-departure threats that they will chase us behind the wheel, because they will have better classes, they have not allowed the "woman" to get behind the wheel to this day.
We arrived at the Grand Canyon around 11 o'clock, wanting to first take advantage of the helicopter flight over the canyon and admire the beautiful nature from above. Unfortunately, first of all: it was too windy today and the flights were under a big question mark. Secondly, it turned out that in this part of the canyon, helicopters do not fly between the rocks, because it is the area of the national park - it is forbidden. We found out that there was an option to fly from the eastern side of the canyon and we decided to take a flight from Las Vegas. It is cold and windy, as I have already mentioned, so we have a little dressing up in the car - we jump into long pants and sweatshirts, trying not to throw Kuba's drying underwear from the car shelves.
We enter the park and we are immediately greeted by a few deer - the animals I mean ... They are grazing in the forest by the road. We reach the first vantage point, park outside the designated places (not us alone) and we see an indescribable sight - the reactions of all four of us were similar - uncensored, so we will not quote or quote.
So, being unable to give up such views, we spend the whole day there, moving from place to place and admiring this wonder of nature from different perspectives. We stay until the sunset and we do the most kitschy photos that you will have to watch, whether you like it or not.
I invite you to read the next part about Lake Powell and Monument Valley
I crossed America by car and I am happy to tell you about it!
Enjoyed reading this article? Share it!