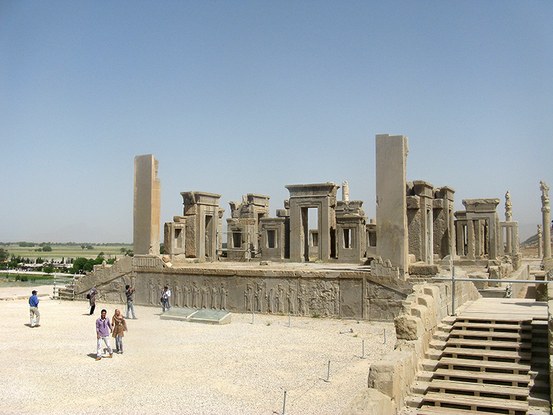 We started our trip to Iran from the north of Turkey, and more precisely from the city of Trabzon. There we went to the embassy, where we applied for a visa (cost approx. 75 euro plus passport photos, ID photos, approx. 3-4 pieces). I would like to add that you have to wait about 2 weeks for a visa in Poland. We filled out the visa forms on the spot, and then we had to wait about 3 hours for the visa to be issued. During this time, you can go to the Sumela Monastery. After receiving the visas, we hitchhiked through Georgia and Armenia to Iran. We did not hitch in Iran itself, because in most cases the drivers still demand payment. At the border crossing, a gang of taxi drivers jumped at us, offering a ride for a ridiculously high price. After a few minutes of bargaining, we chose the cheapest option. At the border crossing, you can also change money, because the conversion rate is quite favorable (note! There are two currencies - the old and the new, so it's easy to make a mistake or be cheated - differences in zeros).

First target - Tabriz
There is actually nothing special to visit in this city, apart from the Blue Mosque, a huge bazaar (supposedly the largest in Iran) and the town of Kandovan (Iranian Cappadocia, approx. 60 km from Tabriz). We spent the first night in a large park with tall tents for 6 people. In the park there is a hotel, shops, restaurants and other attractions, generally families come there to spend their free time sitting on the grass hidden in the shade under palm trees. From what I remember, the park is right next to El-Goli pars hotel (the park may be known as Shah-Goli).
Tehran
We went from Tabriz to Tehran by night coach (and this is how we traveled until the end of our stay in Iran. We did not waste time on journeys during the day and we did not spend money on accommodation. Iranian coaches are cheap, very comfortable and well-kept, everyone gets a small meal. -something like in an airplane). In Tehran, I recommend seeing the Azadi tower (the tower of freedom) and the Milad Tower (the tallest tower in Iran and the sixth tallest in the world - for some, the trip to the top may turn out to be expensive, but it's worth it !!!). In addition, in Tehran (and throughout Iran) there are many beautiful mosques, although in fact they all look almost the same, so after visiting the first few, you get the impression that they do not differ from each other.
The next towns are Qom (Jamkaran mosque), Kashan, Isfahan, Imam Khomeini square, Yazd, Shiraz (Eram garden), Persepolis. In each of these places we saw mosques, old towns and parks. We used the Lonely Planet guide (most of the information is out of date, but it helped us decide what we wanted to see, and what you might have to give up due to lack of time.
A few tips
There is a separate division of seats for men and women on buses. Sometimes this rule is not followed, it all depends on the city and people. When it comes to women, it is best to wear tunics with long sleeves and a head cover (obligatory).
There is a fee to enter many places (mosques, parks). Taking pictures is prohibited in some places.
I would spend about 2 weeks visiting Iran, unfortunately we did not have that much time.
Hotels, taxis and public transport are not that expensive. However, I do not want to give false information, in any case the prices given in the Lonely Planet guide should be multiplied by 2 or even 3.
I do not recommend going to Iran on their national holidays as it may prevent you from going from place to place. Most of the seats on the buses are reserved in advance, and the stations are absolutely crazy. Were it not for the help of one disinterested gentleman, the return to Turkey would have been extended by at least 2 days.
Alicja Pieczonka
Traveling is my passion. I visited, among others Middle East, which you can read about in my travel reports.
Enjoyed reading this article? Share it!