Basecamp - camping capsule from the USA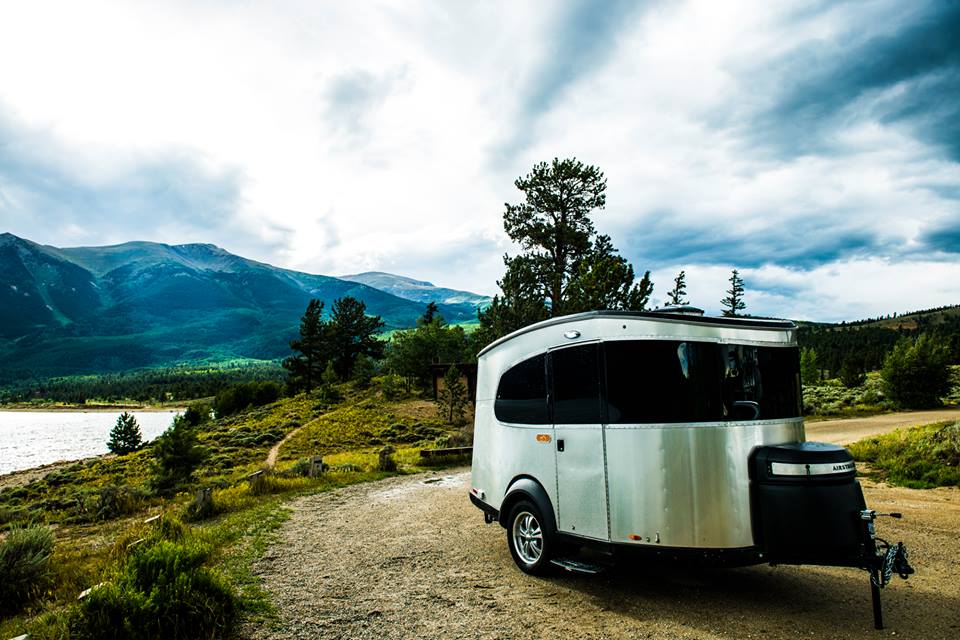 It is hard to find a caravan more characteristic than Airstream. Walls made of bare aluminum connected with rivets are actually one of the symbols of America today. It is possible, however, that the Europeans who dream about the American dream will be able to fulfill their dream more easily. And that's thanks to the new Basecamp caravan.
But space!
If you associate Airstream trailers with huge space vehicles on wheels, it's time to verify this idea. The sizes typical for the American brand and strong curves have given way to slightly more slender lines and a compact silhouette.
Suffice it to say that the Basecamp model measures less than 5 meters in length and was designed as a trailer that fits perfectly with SUVs. Nevertheless, the appearance of the caravan is still characteristic - bare metal sheets and cosmic shapes leave no doubt that we are dealing with a 100% Airstream.
Basecamp measures just over two meters in width and approx. 2 meters in height. It weighs 1,172 kg when unladen, and the maximum permissible total weight is 1,588 kg. The vehicle is equipped with large 18-inch wheels as standard (it should handle off-road as well), and its base price (in the US) was set at $ 34,900 .
Modestly on paper
What can we expect from this trailer? On paper, basically the same as in most other caravans. The basic price includes a fresh water tank (83 liters), a waste water tank (110 liters), a Truma Combi Eco Plus heating system , a kitchen with a refrigerator and a two-burner stove, a bathroom with a shower - it is difficult to talk about any surprising equipment.
Among the more original elements we can find, for example, a Bose wireless speaker system (Bluetooth SoundLink) , or a conveniently located USB socket with a designated place for a charged phone. For an additional fee, we can buy, for example, a microwave oven, solar panels (160 W) , air conditioning, as well as a rear and side tent, perfectly matching the style of the caravan.
Out of this world interior
However, let's not be fooled by the dry technical data. One look at the interior and you can already see that we are dealing with someone else's bold vision, and not just the duplication of well-known standards. The first thing we notice is that the walls inside are not covered with any material - the silver surfaces again bring to mind a space capsule. Everything sparkles and reflects light - including the ceiling.
The second thing is that the entire interior layout has been designed against typical European designs. On the sides of the caravan you will find two sofas with two small tables between them. When we want to rest, the tables can be folded and the couches can be put together , creating a bed the entire width of the trailer. Unfortunately, sleeping is only provided for two people, but they should not complain about the cramped conditions.
The kitchen is located at the front wall of the trailer. As the front of the Basecamp is rounded and glazed, it also imposes a table top layout that surrounds the person preparing the meals . Lots of light and a semicircular table top - these two elements should make cooking very comfortable.
Ingenious patents
Among the amenities that can be found in Basecamp, we can mention, for example , an external shower connector , or various storage systems (including under sofas and on the door). An interesting solution is also a shelf suspended from the ceiling with a fabric bottom, on which we can put many small items.
It is also worth appreciating the fact that the caravan has two pairs of doors . In addition to the side doors, we also have a tailgate, through which you can easily place a bicycle or a kayak, for example.
Well, I must admit that Basecamp is a caravan that looks original, and at the same time gives the impression of being solid and well-thought-out. So if you are looking for an alternative to popular European models, and at the same time do not want to take too much risk with buying a vehicle of a little-known brand, it is possible that Airstream was created just for you.
Sometimes it is better to get lost than to ask for directions too much. Aldous Huxley
Enjoyed reading this article? Share it!