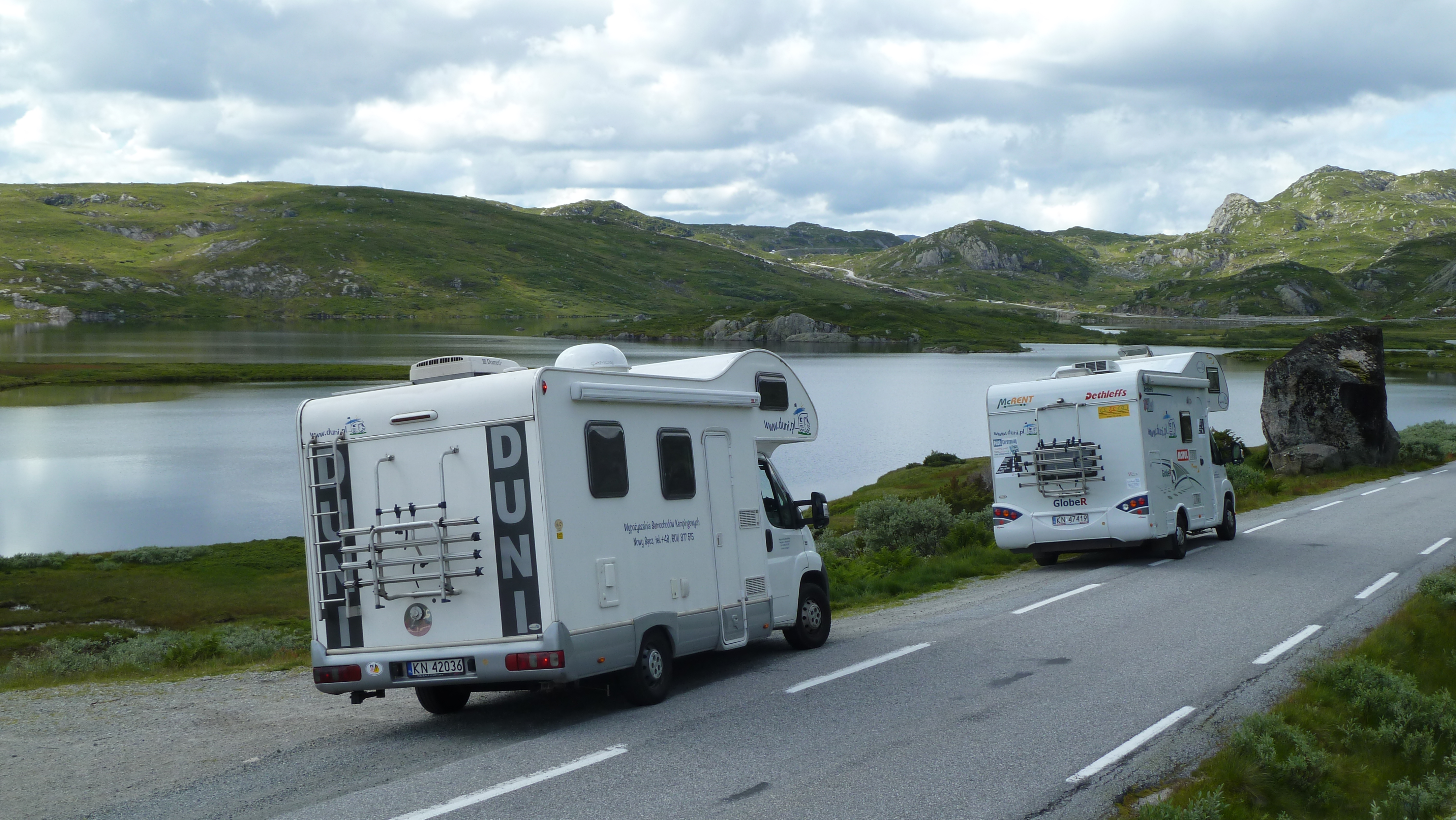 I'm starting my next trip to Norway .
A trip for 8 people with two motorhomes from the DUNI company. The program was initially outlined, but has already changed, instead of Tropical Island, we want to stop in Oslo on our way back. In any case, we have to make the ferry tomorrow, and then spontaneously ...
NORWAY 18.07 - 29.07.2011
Day 0 - July 17, 2011 - 300 km Departure to Kielce, hours. 15.00. Access to the DUNI company and bringing two motorhomes to Kielce. We leave our two passenger cars in Nowy Sącz.
Day 1 - July 18, 2011 - 510 km Departure from Kielce, hours. 8.00 a.m. Arrival in Gdynia in the evening. Night ferry to Karlskrona.
Day 2 - 19.07.2011 - 510 km Departure from the ferry in Karlskrona, hours. 7.00 a.m. Drive on road 27 through Vaxjo, Varnamo, Boras to Stromstad. Access to Stromstad from evening, ferry to Sandefjord from here or overnight.
Day 3 - July 20, 2011 - 380km Sandefjord> E18> 417> 414> 415> 41> 413> 42> 9 to Evje. Then 9> 334> 337> 987> 986> 500 to Lysebotn.
Day 4 - July 21, 2011 - 40km Ferry through Lysefjorden and reaching the Prekestolen rock shelf at Lysefjorden.
Day 5 - July 22, 2011 - 240 km Departure from the Prekestolen area around 9.00 am Arrival in Voss between evening.
Day 6 - 23.07.2011 - 280 km Departure from Voss around 9.00. Arrival in Lom between evening.
Day 7 - July 24, 2011 - 250 km Departure from Lom around 9.00 am. Arrival in Alesund between evening.
Day 8 - July 25, 2011 - 160 km Tour of Alesund (Oceanarium) in the afternoon, departure approx. 14.00. Departure to the top of the Troll Way and descend or overnight on the mountain.
Day 9 - 07/26/2011 - 1000 km (change of plan) Departure from the vicinity of the Troll Road (early morning) and access to the Sweden-Denmark bridge.
Day 10 - 07/27/2011 - 850 km (change of plan) Arrival to Tropical Island near Berlin between evening.
Day 11 - Jul 28, 2011 - 0 km (change of plan) Rest at Tropical Island.
Day 12 - July 29, 2011 - 800 km Return through Nowy Sącz to Kielce. In Nowy Sącz, delivery of motorhomes.
This is the outline of the route, and life will correct it. In fact, driving from Karlskrona will depend on many factors and the schedule will change as you drive.
Day 1
On Sunday afternoon we went to Nowy Sącz to the DUNI company to bring to Kielce two motorhomes based on Fiat Ducato chassis. The choice of the company was not accidental - we needed two six-person motorhomes with bunk beds, air conditioning and cruise control at one time, and in addition, unlimited rental, as the trip is a typical road trip. The boss of the DUNI company approached our trip very kindly and we even got a discount for renting two motorhomes. On Monday at At 8.15 we left Kielce and at 7.00 p.m. we checked into the port of Gdynia. On the way, lunch, last purchases, refueling and some traffic jams on the Toruń bypass ... Unfortunately - Polish roads. We took a ferry from which we could admire the setting sun over the Polish coast.
It is true that beautiful views are a reward for a day trip?
Day 2
Wake up at 6.30 am on the ferry and depart at 8.00 from the ferry. We are heading to Vaxjo, not to take the highway, but to see something more than noise barriers ... We stop at several places to finally reach the border. After the border bridge, we pay the fee by credit card (it is worth having a change of 23 SEK with us), then we go to Stromstad for the ferry to Sjedenfiorden - a long queue for the ferry, we would have to wait until 23.00 (and it is 19.00) and pay for 2 campers and 8 people 158 Euro, So we go 100km further and sail to Harpen for 105 euros. We managed to get on the ferry 5 minutes before its departure, then we are already looking for a place to stay and after midnight we go to sleep.
Day 3
As we went to bed late yesterday, we woke up ... "when we get up, we'll get up". After breakfast and coffee, around 10.15 we went on our way - this time E18 to the west, but because the expressway is not fun for us, we turned to Risor, and here towards the observation deck ... The trip up in camper vans was quite a challenge, but we gave it advice. Amazing sea view. After that, the descent was not so difficult anymore. We went to E18 on the narrow road 411, but the beautiful views were a reward for the effort of driving the narrow road. Fly to the other side of E18 and we are already heading north towards Evje. Lunch break in Simonstad. Here is an old siding with a wagon where you can prepare a meal, bathe and spend the night. Something amazing. Of course, we all used the bath, so the stop was a bit longer. Then overnight in the car park by the river. Several motorhomes are staying here with us. There is a toilet, hot water, tables for dining. Here we celebrate the name day of our friend - he took some familiarity from home, so the feast was great.
Day 4
Departure towards Lisebotn. We take the toll road RV9, so before entering the Kr-service point (gas station), we manage to pay the toll in advance (30Kr per car up to 3.5t). We stop several times for a photo session: fjords, waterfall, sheep ... We go to Lysebotn through a mountain range, sometimes having hill peaks below the level of our route. Before Lysebotn traffic jam… yes traffic jam! Several hundred cars stand on the side of the road and everywhere they can. It turns out that we ran into a roller ski marathon (I don't know what it's called professionally). The competitors made 27 dangerous turns ... uphill. After the end of the competition (1.5 hours of compulsory break), we made these turns down. Then we managed to get on the last Lysefiord ferry to Forsand (cost for two campers and 8 people = NOK 2060). After leaving the ferry, we take road no. 13 north. Overnight at 10.30 PM in Hjelmeland right next to the next ferry.
Day 5
After breakfast and coffee, we catch the first ferry to Nesvik. Earlier, we buy bread in a nearby shop (NOK 7). The ferry journey takes 15 minutes. We continue our journey on road no. 13. It is raining a little, but it does not take away our humor. The plan for today is to get to Flam. We manage to reach Autland. We traveled through the mountains with several kilometers long tunnels and one 11.4 km long, commissioned in 2010. The first night at the campsite, so you can publish a report. Cost for one motorhome, 4 adults and electricity = 280 NOK (showers paid additionally 10 NOK / 4min.
Day 6
It stopped raining, but the tops of the mountains are covered with clouds ... A 25-kilometer tunnel in front of us, or a drive on road No. 243 at an altitude of over 1500 meters above sea level. The decision will be made after breakfast. After leaving the campsite, however, we went through the tunnel. The impressions are certainly different than the "snow road", but in three places places were made, where the rocks are nicely illuminated, the acoustics are amazing - you can stand for a moment and take photos. Behind the tunnel, a beautiful view and some military or forest vehicles standing in the parking lot. Another ferry lasting a dozen or so minutes (these "internal" ferries cost from 200-400 NOK for two campers and 8 people). We arrive at road no. 55, which is attractive for tourists. At first it meanders among fjords and greenery, and then it climbs higher and higher with serpentines, to finally reach a height of 1260 meters above sea level. We eat lunch here in the parking lot. Then we admire waterfalls, greenery and a "twisted" downhill ride. In the village of Lom, we stand in front of a historic wooden temple and enter road No. 15. Then, for a change, we turn left onto road 258. At the entrance, the warning "not recommended for caravans" - but we are motorhomes. Decision - we're going. Well, we drove in ... Indeed, with the trailer, it is better not to drive into it. We reach a narrow lane at an altitude of 1410 meters above sea level. Next to us, snow (in July). We go down to road no. 15 and turn right into the E60. We are heading for Alesund. This is our goal for tomorrow. Overnight in the parking lot 100km outside the city. There is a toilet, hot water and a rustling stream next to it. After such an intense and attractive day, we go to sleep.
Day 7
Not far to Alesund ... On the way we pass the most famous fjord in Norway - Geringer. In Alesund we go straight to the Oceanarium. Cost NOK 140 per person, but we go in. The Oceanarium itself seems small to us, although we read in the guide that it is the largest in Europe. Apparently the guide's publishers were not in ... Gdynia. On the other hand, the abundance of fish, animals and marine plants is amazing. Very nice attractions for children. Then we go to the Center to visit this port town where a large cruise liner is moored today. A real hotel on the water. We visit the center looking for an exchange office. We manage to exchange the euro today only at the tourist information office at the marina (Sunday). Interestingly, in Norway, we did not meet any store open on Sunday. They know how to rest and celebrate. We just admire the panorama of the city from the hill. From Alesund, we go in the direction of Aldansnes and the express road is already in the direction of Lillehammer. We have almost 400 km to the campsite, plus the morning 100 km gives us the result of about 500 km. Along the way, a few interesting places that sometimes have to be reached through a narrow passage. The day says goodbye to us with a beautiful rainbow ... and finally 4 * camping for NOK 265 per motorhome. Higher standard, riverside campsite, lower price. Satisfied with the conditions, we go to sleep. It's close to 1.00, so I'm finishing this post and going to bed as well (alcove above the cabin - I chose a high bed myself).
Day 8
We're leaving the campsite. On the way to Oslo we go down to see the moat created by the hydroelectric power plant. At the dam we see a huge turbine. The rainy weather made the water passing through the locks make an amazing impression. A total of 300m3 of water per second flows through the two turbines. From here we go to Lillehammer - in front of the sports hall we see a strange sculpture, then we drive up to the ski jump. In Hamar, we are looking for the oldest active steamboat, which moors by the coast and does not set sail on Mondays, but we are unable to find it, but we drive to a sports hall in the shape of an inverted Viking boat. Hamar was one of the Olympic villages during the 1994 Winter Olympics. Another destination - Oslo ... After finding a parking lot, we go sightseeing in the center. We start from the Royal Castle, then, walking down the main street, we see the National Theater, the Parliament building, to see hundreds of people, thousands of flowers in front of the Cathedral ... They came to pay tribute to those who died in the attack. A similar crowd in front of the Town Hall. Just today, memorial marches have taken place in many cities in Norway. About 150,000 people participated in it in Oslo. people. Only trolls on the street like always ... On the way back we look for a bread shop and in the parking lot in front of the supermarket I manage to take a picture of a nice yellow set (photo at the beginning of the report). Today we spend the night in Sweden in a parking lot next to a gas station. Next to us there are several dozen motorhomes and caravans. While in Norway there is no major problem with parking lots with toilet next to the road, they are rare in Sweden.
Day 9
We start from the parking lot. We have 377 km to Copenhagen and we want to stop there for a while. Then we spend the night on the road and on Wednesday we swim in Tropical Islands. We take the first bridge (cost 80 euro per motorhome). At some point, the bridge ends and we enter a tunnel under the water. Another call is to find a parking lot in Copenhagen. We manage to find two places next to the bank that has just finished work. Nearby is the church of St. Nicholas - currently a restaurant, as well as the Church of the Holy Trinity. Near the town hall, Hotel Palace is also probably made of a church ... On the way we pass a curiosity - a BMW 6 in matt black and ... a disabled person behind the glass. We visit the Cathedral, next to the University, then the royal gardens and Rosenborg Palace. After leaving, we are left with one more bridge (this time from the 50euro car) and on the leftover fuel we enter Germany, where we refuel and go to sleep. The station is ideally prepared as a parking space for motorhomes - there are even 230V connections (probably payable), showers (EUR 2.50).
Day10
After buying bread in a town close to the station and having breakfast, we go on a boring road on German highways to get to Tropical Islands, from where I can complete my blog. Huge hall - 360 m long, 210 m wide and 107 m high. There are several large car parks quite full. Thousands of people inside ... And I write a blog ... I'm more attracted to traveling than babbling in the water with hundreds of people. Well, but who will ...
Day 11 Boring return by German motorways ... Interesting fact - gas stations are not more often than in Norway. We reached a station just abroad - in Poland, on the last drops.
By passion ... traveler, photographer, but I am primarily interested in the automotive industry. So far, trips rather by car, accommodation or overnight in the car. A caravanner since autumn 2009. He used to travel with Adria, Knaus, BoXerk, and now HYMER B544 has appeared. What next ... time will tell. Maybe someone wants to read my reports, maybe he will follow me.
Enjoyed reading this article? Share it!