sLOVEnia 2010 VW T3 Upper Silesia Club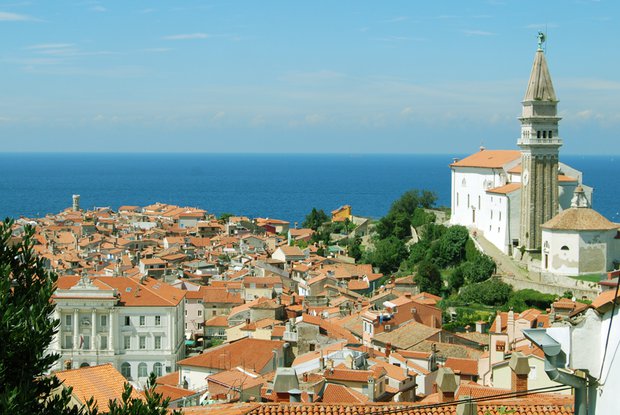 Our trip around Slovenia, in this small, very charming country, lasted only 8 days, but we also saw a lot during that time. We were there in August 2010.
Bled is beautiful with a castle on a hill and a church on the island, all surrounded by a lake of fabulous colors. We also did a hike to the Vintgar Gorge.
There are two campsites here:
Camping Bled Kidričeva 10c SI - 4260 Bled
Conveniently located by the lake, close to the town and
Camping Šobec Šobčeva 25, 4248 Lesce Located near Bled, but with attractions such as a river, an artificial lake and a lot of space in the field, forests, meadows, fields, fishing places nearby, even at the campsite itself
definitely our favorite, because they are similar in terms of price. Ideal for families with children and fans of fly fishing, because you do not even have to leave the campsite.
Bohinjsko Jezero in the Triglav National Park is a beautiful lake, we sailed in a kayak rented at the campsite, the Savica waterfall and a gondola trip to the Vogel ski resort are worthwhile, because the longer path to the waterfalls is on foot.
Going along the lake towards the Savica waterfall on the right there is a campsite, quite cheap with warm water, but with less space as the campsite is relatively small and the surroundings are delightful, so all the best spots are already taken for a long time. A great base for multi-day trips to the mountains.
Camping Ukanc 24265 Bohinjsko Jezero
Ljubljana We walked with pleasure and went looking for a place to stay in Piran and Koper, and there are campsites, but there is no place, because it is known that Slovenia has a coastline of modest length - so we decided to go to Croatia.
Camp Lanterna (Croatia) 13 km from Porec, huge campsite with attractions, everything you need to rest, children, dogs, barbecues, everything has its place here
even night movie screenings, we caught the "Departure"
Porec (Croatia) a short trip, a few years ago we were on a trip to Croatia, then we went all the way down to Dubrovnik, so this trip was aimed at refreshing this town in your mind.
Piran We absolutely recommend it for lovers of narrow streets and red tiles. One of the most beautiful, climatic towns that must be visited. As we often go off-season, we had the chance to visit this wonderful place in peace.
Dill We were a bit disappointed with Piran. Ordinary big port city.
Ptuj , a picturesque town by the river, there is a castle, a campsite located next to the Aquapark and a nice old town with pubs, intimate and nice. We stayed overnight in a large square near the bridge, it was too late to check in at the campsite, we were not the only ones. We love visiting the same places during the day and night, because there are completely different details.
Camping Terme Ptuj Pot v Toplice 9 2251 Ptuj
Maribor Big nice city.
Vienna (Austria) the way back home, we spent the night in the very center of Vienna, and in the morning a ticket for no parking fee, but priceless night wandering around the royal gardens. And Vienna itself is like Vienna, divine

Traveling around Slovenia is pleasant, the information points have a huge number of advertising brochures for anglers, canoeists, lovers of mountain trips and camping.
We are a group of Volkswagen Transporter T3 car enthusiasts, representing VW T3 UPPER SILESIA CLUB. We organize rallies and meetings of fans of this model to share the experience gained during domestic and foreign trips as well as solutions to technical problems and modifications to their cars.
Enjoyed reading this article? Share it!