VW what to play in Silesia part 1 by VW T3 Klub Górny Śląsk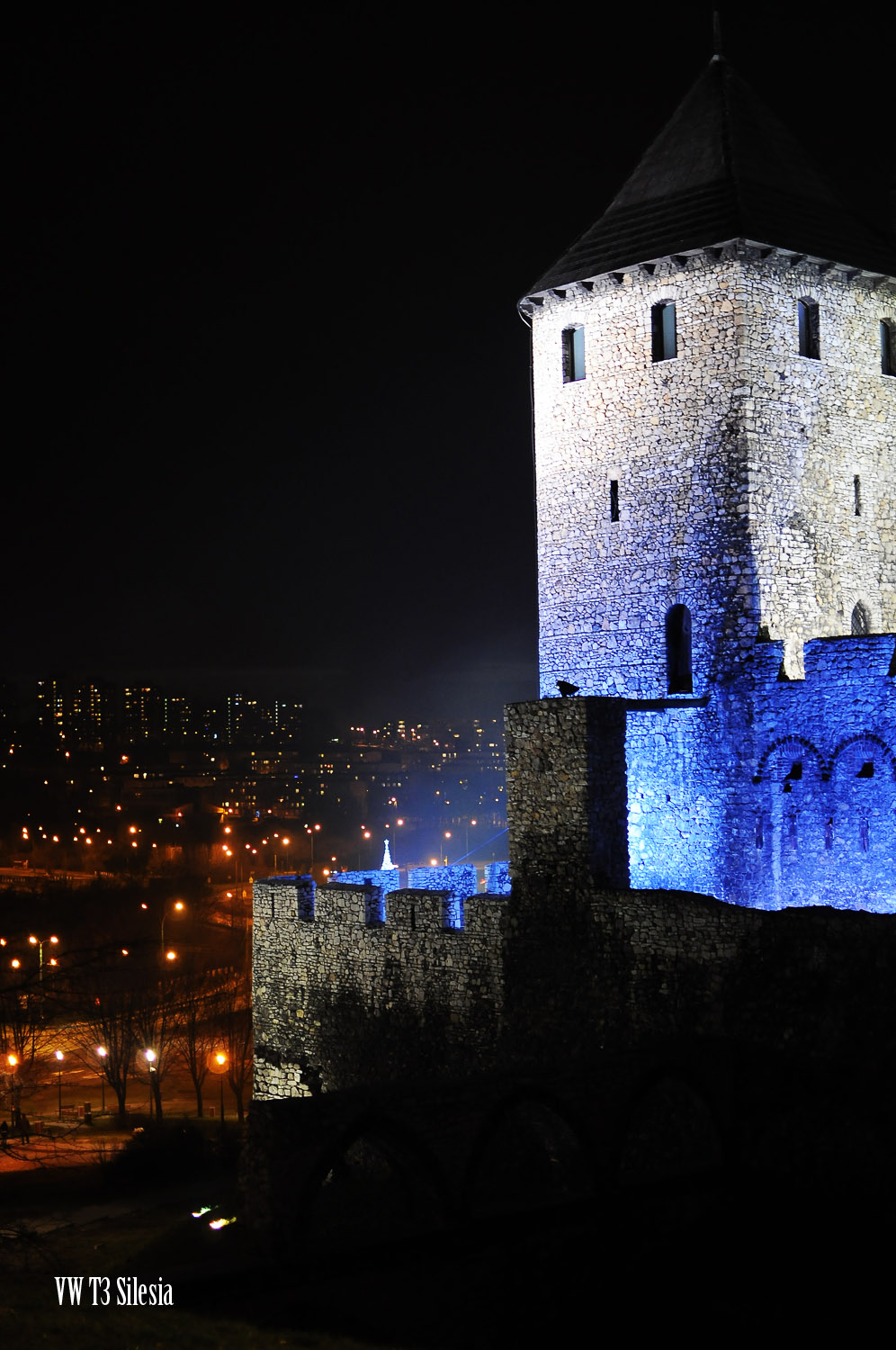 Sometimes we want to go on a trip, short, casual, close and interesting. She learns about such places from friends, sometimes she comes across them by accident. We are happy to drop off a few such places in Silesia. We hope that, in return, someone will describe their region or give us a nice place in our area. We will start with the letter B, b for
Będzin - is our Christmas discovery, the weather was good, so after a family dinner we decided to take a walk. We drove to the very top of the hill, up to the playground for children, you can get there by driving along the walls of the old cemetery. Playground for children of all ages (even those in their thirties will find something for themselves) nice and intimate, enough equipment for a large number of children (slides, swings, spiders, rocks, and even a mini stage). From the square, you can walk to the castle hill along very well-lit paths, walk the reconstructed rampart and see the dugouts. You can see the castle in the background of the city from above, it is also worth visiting the church of St. Trinity, which is also nice to walk around and end the trip under the airline shelter in the basement of the hill (you need to make an appointment in advance by phone from Monday to Friday at 32 267 77 07, on Saturdays and Sundays at 32 267 47 31, more information about Bedzin and the undergrounds http://www.muzeum.bedzin.pl/ )
Mirów and Bobolice - these two castles are located in the Kraków-Częstochowa Jura, about 1 km from each other and at the moment they are the best example of how castles in Poland are doing and how they can be. Of course, it is a moot point, but we like the idea that some of the ruins (at least those that are only a stone wall) could become a castle again, this was the fate of the Bobolice castle. It is worth taking a closer look at what it looked like before and how much work was put into its reconstruction. It makes an amazing impression. A restaurant and a hotel were built at the foot of the castle.
Błędów - a district of Dąbrowa Górnicza, where we can find some surprising attractions, e.g. a campsite at ul. Żołnierska 130, the prices are quite affordable and the conditions are very good, there is a barbecue shelter, bathrooms, unfortunately only 4 places for campers. A nice base for fans of 4x4 and forest walks, near the Błędowska Desert, educational paths and the Jura. h ttp: //www.nocowanie.pl/noclegi/dabrowa_gornicza/camping/58371/
We saw Chudów - the castle on the occasion of the annual great reunion of old cars and motorcycles, in 2014 the event will change its name to Old Cars and will be held on May 11. We plan to go there with our cars, last year they aroused a lot of interest. If anyone is interested in the schedule of events, http://www.kolum-bus.pl/ , because something interesting happens every week in the season.
end of Part 1
VW T3 SILESIA
We are a group of Volkswagen Transporter T3 car enthusiasts, representing VW T3 UPPER SILESIA CLUB. We organize rallies and meetings of fans of this model to share the experience gained during domestic and foreign trips as well as solutions to technical problems and modifications to their cars.
Enjoyed reading this article? Share it!