One-screen command center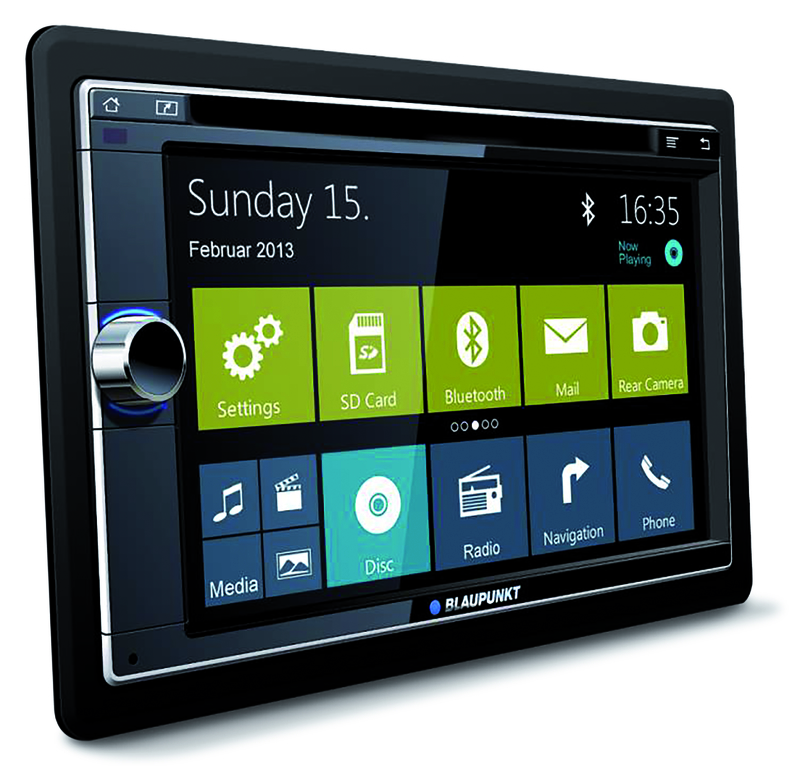 Thanks to modern technology, traveling in a motorhome or car with a caravan can be not only more pleasant, but also safer. A modern multimedia system combined with a special set of maps and cameras can become a convenient command center during each, small and large, expedition.
Anyone who is interested in caravanning a little knows the Dometic / Waeco brands. However, not everyone knows that among accessories for motorhomes you can find not only individual elements supporting safety, but also entire systems for navigation, reversing and multimedia. The manufacturer has combined its cameras and other components with Blaupunkt devices and maps, and the result of this cooperation are ready-made and versatile sets.
A multimedia harvester
The most technologically advanced navigation is called Naviceiver Blaupunkt Columbia 945 and, like other models from the Waeco range, it can be combined with a rear view camera.
What is surprising about Columbia is its great functionality. A device equipped with an anti-reflective screen with a diagonal of 6.8 inches can display the image from the camera, navigation of 44 European countries for motorhomes (including the use of the campsite base), but it can also be a radio tuner (optionally also with support for digital signal stations) and player of any files (including video).
If we add to it four USB sockets , an advanced hands-free kit using Bluetooth, the ability to mirror the phone display and Wi-Fi support , we get a really surprising device. Navigation can be controlled manually, with the use of a convenient knob that facilitates navigating the Android system , as well as using a remote control.
Less demanding people can opt for the Los Angeles model with a screen diagonal of 6.2 inches . Although this system will not have all the features of the higher model, it still offers full functionality in terms of navigation, radio and music playback.
Waeco also offers the MC 402 without navigation. Although it does not include maps, it has most of the features of the other models.
Seven cameras to choose from
Waeco gives its customers a really large selection of cameras. They all convey the image in color .
The CAM 44 model seems to be a good choice. This camera is best mounted at the rear edge of the motorhome or caravan roof, so that it shows the image behind the vehicle from above. Two lenses are placed under one cover that closes and opens automatically (it protects against dirt or damage).
One is for a close-up image at a 140-degree angle , the other allows you to see further, including the view behind the vehicle (50 degrees diagonally). The camera is equipped with a microphone , thanks to which we can hear sounds coming from behind the vehicle, it also has LED diodes that illuminate the objects, allowing the lenses to work effectively at night.
A novelty is the CAM 604 model, which offers one camera, but equipped with a zoom . The device allows very large viewing angles: 153 degrees in the near perspective and 83 degrees in the far. The camera is heated and the image from it can replace the interior rearview mirror.
The CAM 29BK model stands out among other cameras, because it is practically… invisible. The "invisible" camera is integrated into the Fiat Ducato brake light housing .
Even more security!
However, if the camera is not enough, it is possible to install a system consisting of four or even six cameras ! A suitable video signal splitter can transmit the image from up to four cameras to the monitor. You can also use a digital radio link and then we will be able to receive both image and sound from up to six receivers.
By the way, it is also worth mentioning parking sensors , which can be a cheaper alternative to rear view cameras or supplement them. Waeco offers a system with six sensors and appropriate cabling, so even installation in a tall and wide vehicle should not be a problem. The sensors can be placed both in the bumper and in the upper part of the vehicle (so that the driver does not catch on branches or the roof is too low).
Parking sensors can be programmed, so they can work in different modes - e.g. differently with the installed bicycle rack and differently without it. The sensitivity can be set in three ranges .
What do all these devices and systems have in common? Each of them can make us avoid unpleasant surprises during the desired trip, and replace unnecessary stress with relaxation.
Sometimes it is better to get lost than to ask for directions too much. Aldous Huxley
Enjoyed reading this article? Share it!