Refrigerator for four seasons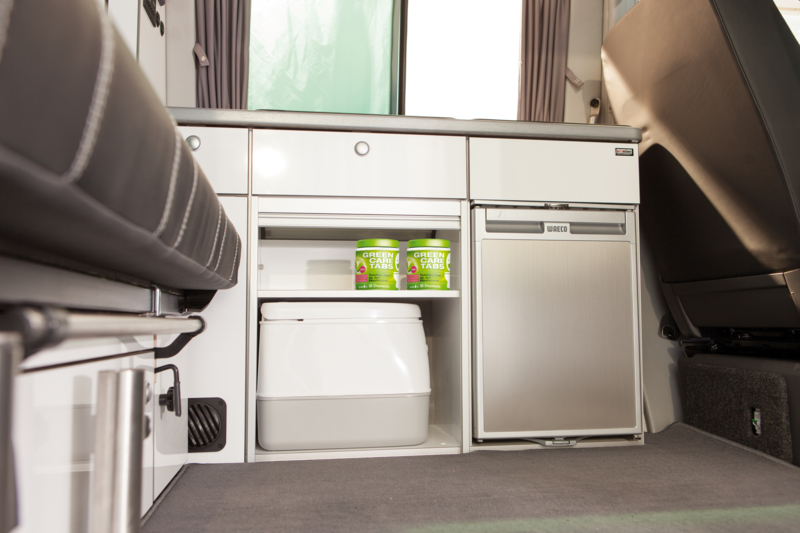 Today it is difficult to imagine a summer holiday without access to a refrigerator. As it is an important element of equipment, it is best to choose a permanently installed device in the case of a motorhome or caravan. You can be sure that - just like at home - it will be useful regardless of the season.
The offer of Dometic / Waeco brands - the most popular on the Polish market in terms of equipment for tourist vehicles - includes two types of built-in refrigerators. We have absorption and compressor refrigerators to choose from. While the latter offer the greatest cooling capacity, the former are the most popular. This is due to their unique advantages.
Absorptive Versatility
Possibility of frequent change of place of stay and independence - isn't this what caravanning is associated with? And for such an idea, absorption refrigerators fit perfectly! Why? Because they give you a lot of freedom when it comes to choosing a power source .
The user of the refrigerator with the MES system independently selects the power source. So he can decide whether he wants to use electricity from the mains (230 V), electricity from the battery (12 V) or gas at the moment. Regardless of which energy source he chooses, he will be able to set the temperature with the use of a thermostat .
The AES system is even more technically advanced. He can independently decide which source to draw energy from, and a solar battery can also be connected to a refrigerator with such a system. However, if someone wants to decide on their own, they can manually determine the method of power supply.
It is worth adding that refrigerators with AES and MES systems have their own electronic ignition module , while the simplest models of refrigerators require manual activation.
Dometic offers absorption refrigerators in many sizes and with many amenities such as adjustable shelves, vegetable drawers or a removable freezer compartment. Some models even have double doors (upper and lower) . Smaller compartments can hide either a freezer or an additional cooling drawer (model RMF 8505). We can choose from a total of 20 models of refrigerators with a capacity of 31 to 190 liters .
Particularly noteworthy are the refrigerators from the new 9 series (RML 9430 and 9435 models). Despite its small width (468 mm), such a refrigerator can have 147 liters of capacity. The device is equipped with a 12-liter, removable freezer compartment, LED lighting, an electronic control panel, a pull-out drawer with dividers and removable shelves.
According to the manufacturer, Dometic absorption refrigerators ensure optimal operation in the temperature range from + 10 ° C to + 32 ° C. An additional advantage of devices of this type is their noiseless operation .
Cold, colder, with a compressor
Among compressor coolers, the choice of sizes is smaller. Waeco offers its customers 11 devices with capacities ranging from 20 to 136 liters . Since they are refrigerators that use the same technology as domestic appliances, they are also just as effective in terms of cooling . This means that even when the outside temperature exceeds 40 ° C, the temperature in a compressor cooler can be kept at around 5-7 ° C. Even in tropical conditions, the freezer compartment should remain at -18 ° C.
Although from the outside, the individual models of Waeco refrigerators are very similar to each other (their fronts are made of or in the color of stainless steel), the differences between them are significant. For example, we can decide whether we want the refrigerator to have classic shelves or to have the form of a top-loading basket.
If there is a shortage of space, the cooling unit can be installed separately on the CRP 40. But if that's not enough, it doesn't mean that we have to abandon the refrigerator altogether. Waeco offers the Cool Matic CD 20 and CD 30 models (the number indicates the capacity), which are in the form of drawers mounted ... in place of the storage compartment (eg under the seats)!
Compressor coolers are normally powered by a battery (12 / 24V), but additionally they can be connected to - via a battery - solar panels .
For more information on cooling food in a motorhome or caravan, please visit www.my-caravanning.com
Sometimes it is better to get lost than to ask for directions too much. Aldous Huxley
Enjoyed reading this article? Share it!