ACE EVO - a motorhome for the (American) masses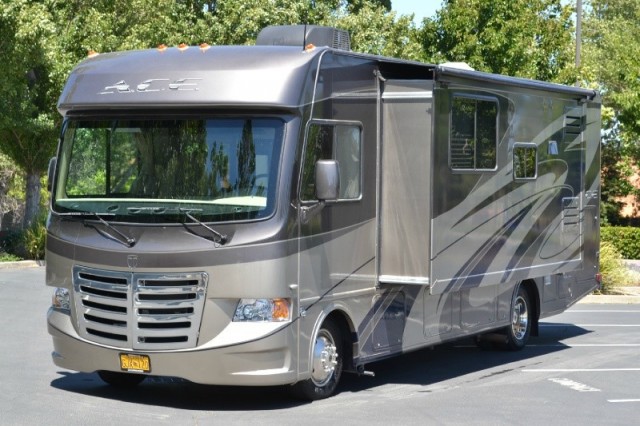 If you want to see how much Europe differs from America, take a look at this car. What is quite average compared to other camping vehicles from the United States would be quite a shock, e.g. on a Polish camping field ...
The manufacturer, Thor Motor Coach , claims that the ACE EVO is a compromise between an A-class motorhome (i.e. a motorhome the size of a small bus) and a C-class (an extended van). This compromise is 8-10 meters long (depending on the version) and somehow it does not suit us in any way to combine it with, for example, a camping Fiat Ducato. But this is America - there the words "standard" and "compromise" clearly have a different meaning than in our country.
Thanks to its "modest" dimensions, the ACE is as easy to drive as a van, but the comfort it offers is comparable to that of much larger vehicles. In the basic version, ACE EVO costs about PLN 89 thousand. dollars , making it cheaper than American A-class vehicles.
TV and double shower
As he is an "American", as standard we will get a 24-inch LCD TV with installation for receiving terrestrial and satellite TV. From the European point of view, however, this is not the most important thing.
We will certainly appreciate a quite spacious toilet and a shower with a large paddling pool , which can be located either in the bathroom or outside it. If we want, we can also connect the shower outside, enjoying the streams of cool water, e.g. on a hot day.
A kitchen worktop and a gas cooker in some versions almost surround us, thanks to which we will have very easy access to everything we need while cooking. The fact that there is an oven, a refrigerator with double doors and a microwave oven, does not even need to be mentioned - it's obvious.
Lockers even in the steps
The interior looks classic, and the amount of kitsch in it can be considered moderate. Cherry-colored or hazelnut-colored furniture, brushed nickel handles, and a stone-tile-like vinyl floor can be enjoyed.
However, the most important are the practical advantages. We can find lockers everywhere - even in the entrance stairs! Right at the entrance there is a double wardrobe for… coats and a broom (this is what the producer says).
Opposite the passenger seat is a glove box with 110 V and 12 V sockets . It is so large that it can easily accommodate phones, tablets and other small devices with cables. The manufacturer even thought about animals - for example, there is a pull-out drawer for animal food in the shower.
Most of the devices are placed under the floor, which reduces noise and temperature inside the vehicle (however, tests show that the car is noisy while driving).
Incredible capacity
There is an electrically lowered bed above the driver and passenger seats. A leather sofa bed is also available. However, the most comfortable night will be spent by those who choose a royal bed measuring 1.8 x 1.9 meters .
Speaking of sizes… From the European point of view, the huge tanks are particularly worthy of attention. Clean water will hold approximately 189 liters (50 gallons) and gray water will hold approximately 151 liters (40 gallons). The fuel tank is a well with almost no bottom - we can pour up to 300 liters of gasoline (80 gallons) there!
Classic Ford with… LPG installation
The base for ACE is a Ford truck (of course the American version), powered by gasoline and LPG. The wheelbase of this motorhome is 4.8 meters and 19.5-inch alloy wheels are mounted on the wheels. In the center, the driver's cockpit is standard, with an automatic gearshift lever on the steering wheel.
It is worth noting how convenient the access to the silicone is. The ACE's dummy radiator has an opening, double door . It is enough to open them to the sides to, for example, check the oil level or refill the washer fluid.
All in all - these Americans are resourceful.
Video: 2012 Ace Motorhome
Sometimes it is better to get lost than to ask for directions too much. Aldous Huxley
Enjoyed reading this article? Share it!