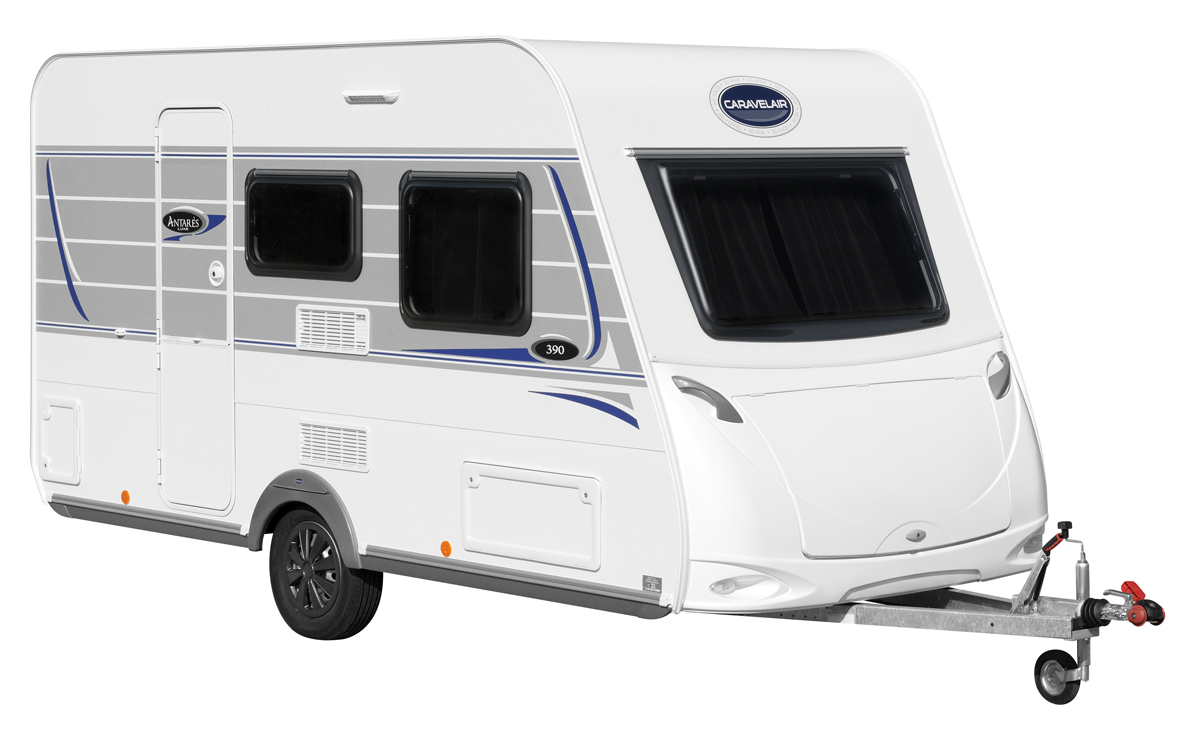 Contrary to the name, Antares Luxe caravan is the simplest, not the most luxurious model from the collection of the French company Caravelair. Prices start at 9,590 euros.
Light, easy to tow, with an intelligently laid out interior, and also inexpensive - this is the Antares Luxe trailer in the opinion of the manufacturer. This model seems to have a favorable price / quality ratio. There are maybe no gadgets or other solutions that would cause delight, but there are also no reasons to complain. Both from the outside and the inside, the caravan seems to be decently made. Good materials, modest but pleasing design, functionality - these features can win over the fans of this model.
Antares Luxe comes in as many as 12 variants - they are designed for 2, 3, 4 or 6 residents. We also have a choice of four different types of upholstery - gray elements can be combined with the color of dark brick or navy blue.
No toilet
Unfortunately, in the cheapest version marked with the symbol 340, we will not find such an important element as the toilet. There is a 3-burner kitchen with a sink, a double bed and a folding bed for a child. The total length of this model (with hook) is 5 meters, and the permissible total weight must not exceed 950 kg. The curb weight of the trailer with equipment is 659 kg.
The basic version of Antares Luxe has only one 230 V socket. The trailer has a 70-liter fridge and a 25-liter clean water tank. The 30-liter waste water tank already requires a surcharge, as does the Trumatic 3004 heating.
A family compromise
A better solution may be the second (counting from the cheapest) version of the Antares Luxe 390, available from 11,390 euros. This caravan is designed for two adults and two children (there are two double beds - small and large).
This trailer model has a toilet (Thetford electrical cassette) with a shower tray, as well as two 230 V sockets. in the shower and in the air heating system. You can also order a mast with a TV antenna.
Better equipment… optional
The most expensive will probably be Antares Luxe 526, although the manufacturer does not provide its price on the website. This caravan can accommodate up to six people. The sizes of the double beds have been designed so that adults can comfortably fit in the largest (140x195 mm), teenagers in the smaller (120x190 mm), and in the smallest - the youngest with their feet facing each other (75x192 mm)
The 526 model is 6.90 meters long and has a gross vehicle weight of 1400 kg. Its curb weight with equipment is 1127 kg. The trailer has as many as 6 windows (in smaller models there are 4) and 3 230 V sockets. In this version, a 150-liter fridge-freezer is fitted as standard. However, you still have to pay extra for a sewage tank, heating or shower. For an additional fee, we can also get a microwave oven, water heater and roof air conditioning.
It is worth noting that, since many important pieces of equipment are available at an additional cost, the final price of the Antares Luxe does not have to be as attractive as it seems at the beginning.
Sometimes it is better to get lost than to ask for directions too much. Aldous Huxley
Enjoyed reading this article? Share it!