ASPIRE - right-hand drive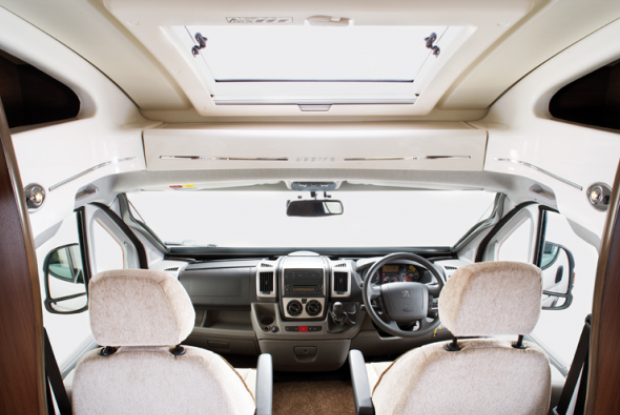 British company Elddis focuses on the production of caravans, but also offers two motorhomes. The cheaper and most popular model is the Autoquest (prices from 33,000 pounds). We, however, take a look at the Aspire model.
The basic versions of Aspire are available at prices of 44-50 thousand. pounds. Like its cheaper brother, Aspire is also based on the Peugeot Boxer . Although it is a twin vehicle to Fiat Ducato, the use of the French model is a change compared to the Italian production that dominated the caravanning market.
Aspire comes in four versions and two lengths. The Aspire 215 measures 6,467 mm, while the other models are 7,368 mm . The shorter model is equipped with a 110hp engine, while the others get 130hp. The maximum permissible total weight is 3.5 tonnes (215 and 240 models), 3.7 tonnes (255) or 3.85 (265).
Elddis boasts that there are as many places with belts in its vehicles as there are beds. However, this is not difficult when only two or four beds are offered (if you need more places, you will only find them in one of the Autoquesta versions).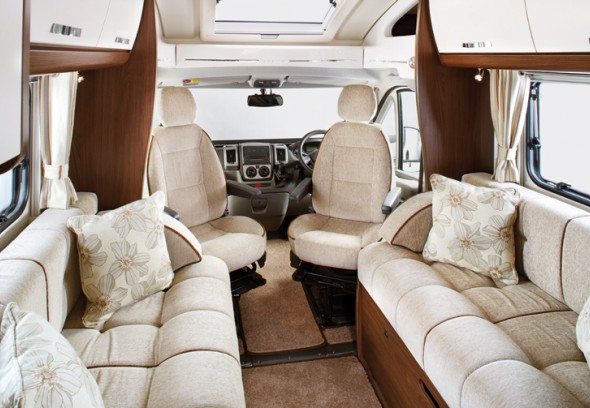 Table? Unnecessary luxury
Aspire is not one of the big motorhomes in terms of size, but it tries to make up for it with a well-thought-out interior. How is it possible? In the smallest version, the kitchen area on the back wall is an interesting solution. Next to it, there is a bathroom with a fenced-in shower cubicle - not bad considering that there is really little space in this vehicle. However, something had to be abandoned, so let's not expect a table . There are only two sleeping places.
What else? All windows, including the roof ones, can be covered with a roller shutter. The Alde heating system is equipped with a 24-hour timer . The vehicle can be fitted with air conditioning with an external and internal thermometer, as well as a camera (also providing night vision). The equipment also includes an LCD TV with DVD and USB .
However, this is not the most necessary thing in a motorhome. It is important that there is a 90-liter clean water tank and a 70-liter gray water tank . The fridge-freezer has a capacity of 112 l. A 3-burner stove and a microwave may also be useful.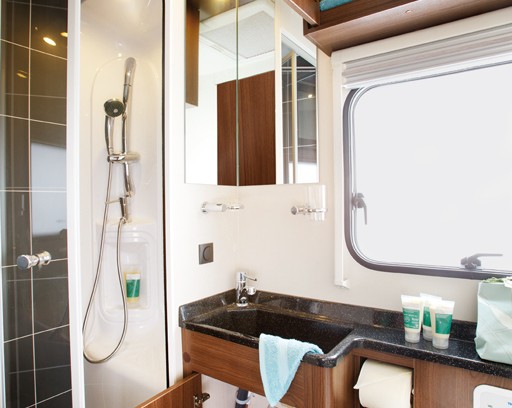 Bigger motorhome - bigger fridge
Only the largest model - 265 has been prepared for four people. In this version, we find a table where (when unfolded) an additional, double bed can appear. The main ones can be found at the end of the motorhome, right next to the bathroom with a shower.
The kitchen is located between the living room and the bedroom, opposite to quite large wardrobes. Unfortunately, there is very little space between the kitchen worktop and wardrobes .
The differences in equipment - compared to the 215 - are minor. The fridge-freezer with 175 liters of capacity is bigger. Coolmax foam mattresses were used in the 265. Each armchair has a separate reading lamp . The kitchen has a pull-out worktop. In addition, the 265 version is the only one with adjustable air suspension .
In each version for an additional fee, you can get, among others roof rack with ladder, air conditioning or a sunroof with rain sensor , extendable awnings and leather upholstery. Foam mattresses can be replaced with spring ones free of charge.
What more could you want? Well, maybe a little more space inside, but for a relatively small motorhome, you cannot expect a spacious palace.
Sometimes it is better to get lost than to ask for directions too much. Aldous Huxley
Enjoyed reading this article? Share it!