Autocruise and its Carrera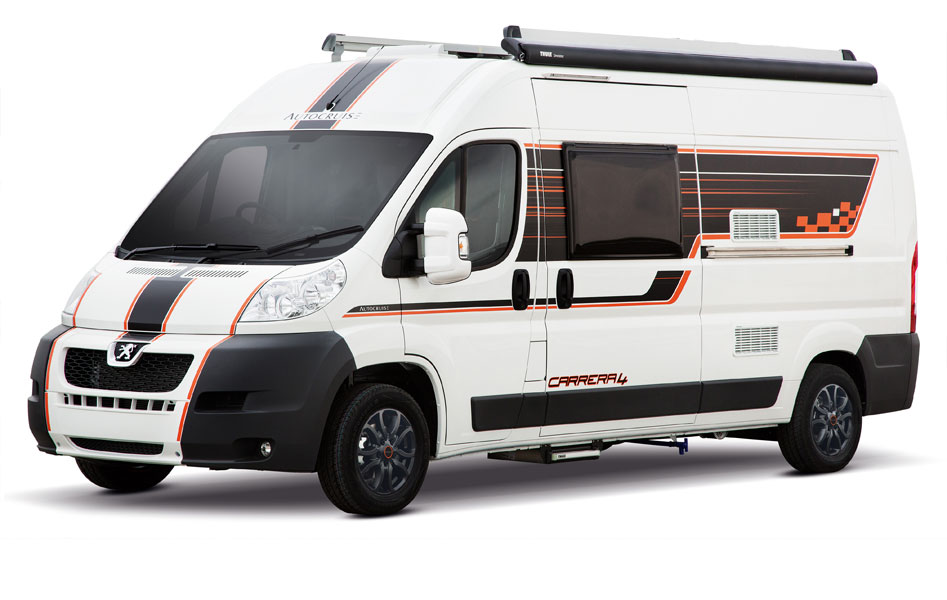 Autocruise is one of the many brands belonging to the British Swift group. Autocruise is responsible within the concern only for the adaptation of camping vans to the needs. A new feature is a new equipment variant - Carrera 4.
Autocruise motorhomes are based on the Peugeot Boxer or - optionally - on the Fiat Ducato. Basic versions cost in Great Britain from less than 41 thousand. pounds to over 51 thousand. pounds.
There are 7 Autocruise models available. There are varieties with sleeping places for two, three and four people. Two shorter models - Rhythm Compact and Jazz - measure 5.41 meters each. Rytm, Accent and Alto measure 6 meters. The permissible total weight of the shorter versions is 3,300 kg, and the longer versions are 3,500 kg.
Porsche name
Each of the cars looks interesting with graphics that are supposed to make the exterior look more dynamic. Particular attention to detail, both inside and outside, can be seen in the latest, best-equipped version - Carrera 4.
Standard here are black 16-inch alloy wheels , tinted windows , a roof rack with a ladder and an awning in a cassette mounted along the side of the roof. A 40W solar panel is also available.
Inside, the sporty look was achieved thanks to black seats with orange elements and original embossing. The cabinets are white and illuminated from the top. The impression of subtle luxury is enhanced by chrome finishing elements.
We will also feel greater comfort thanks to the presence of a 22-inch TV with DVD and a CD radio with USB and an output for an MP3 player or iPod.
Van with bathroom
Each Autocruise car meets the standard known as the third degree of thermal insulation , which means that it can also be successfully used in winter conditions. To make this possible, all models feature new double-glazed windows.
There is also a skylight that can be completely covered. Although there is not much space in the van, the standard is the bathroom area with a toilet and a shower . In some versions the washbasin is foldable and in some it is fixed.
There is, of course, warm water in the car. The Truma Combi 4 system is responsible for heating the cabin, and warm air is also distributed by blowing. In the kitchen you will find not only a 2- or 3-burner gas stove, but also an oven with grill in some versions. For an additional fee, we can order a microwave oven (Carrera 4 is standard).
The Rhytm Compact, Accent, Forte and Carrera 4 versions are fitted with an 80-liter Dometic fridge , while the other models are fitted with a 72-liter Waeco fridge-freezer. Smoke and carbon monoxide detectors are also standard.
In Jazz, Forte and Rhythm Compact models - the water tank has a capacity of 66 liters , and in other models - 100 liters. The waste water tank has a capacity of 40 or 66 liters, respectively. Each motorhome has at least 3 230 V sockets .
And something else ...
Autocruise will not provide users with as much space as a full-size motorhome, but the manufacturer took care of quite original access to the cabin. Some versions of the sofas or the folded bed can be accessed not only from inside the vehicle, but also by opening the double rear doors. On the other hand, opening the sliding door gives access to the kitchen counter, which may - unfortunately - partially block the passage.
Or maybe the idea was to also allow cooking from the outside? It would be quite an original solution, but who knows what is in the minds of British designers ...
Sometimes it is better to get lost than to ask for directions too much. Aldous Huxley
Enjoyed reading this article? Share it!