Bailey Retreat caravan - BIG POSSIBILITIES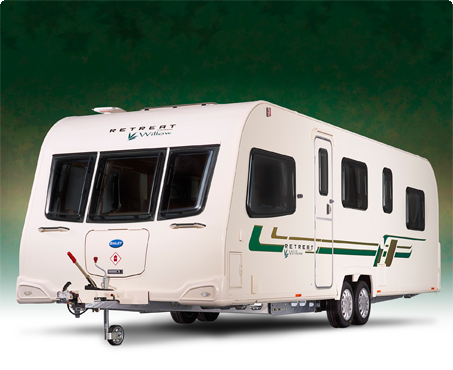 The Bailey Retreat caravan was created for those users who spend a lot of time in the caravan without moving too often. So if you would like to spend your summer at one campground and winter elsewhere, Retrat may be useful for you.
Currently, manufacturers of camping vehicles (but also other products) focus mainly on mobility. More and more often they design light, modular and comfortable solutions with an active lifestyle. Meanwhile, Bailey and his largest trailer model seem to follow the current trends.
Almost like home
Retreat is a caravan for people who do not care about a comfortable and agile sneaking from place to place, but for those for whom comfort is the most important in the place of a long stopover. You can simply live in the Retreat model, and not only during the holidays. The manufacturer declares that there is 25% more space in it than in other two-axle tourist class caravans.
The house with a length of 8,957 mm is probably not easy to maneuver, but the users have 7,292 mm of internal length at their disposal. This, in turn, allows you to organize a very comfortable rest in - as Bailey claims - luxurious conditions.
In this case, luxury does not mean designer flavors or even exceptionally innovative devices. The caravan is modern, but "homely". Light walnut wood in combination with light, flowery upholstery of sofas and cushions as well as rounded glass of upper cabinets (a bit retro style) give the interior a warm atmosphere. On the other hand - Retreat has many chrome elements and smooth surfaces and straight lines, which adds a modern look to the whole.
A big plus for Bailey for the fact that the trailer is very bright. This is due not only to the rich LED lighting, but above all to large windows. In the rear part of the caravan, where there is a seating corner, fragments of the side walls and the rear are glazed, and a large skylight surrounded by six lamps is placed above the sofa.
Willow and sycamore on wheels
The trailer is available in two basic versions - Willow (willow) and Sycamore (sycamore).
The first model is designed for a maximum of four people . There is a large C-shaped couch, a kitchen with an L-shaped worktop , and a table opposite where you can eat. Next, a really large, two-part bathroom was designed. In one part there is a glass shower cubicle, in the other there is a washbasin and a full-size, ceramic toilet . Behind the bathroom area, Bailey had prepared a double bed. A second place to sleep can be obtained by unfolding the sofa.
Sycamore is a caravan with accommodation for up to 6 people . The biggest difference in distribution is in the middle part. The kitchen is on the opposite side of Willow, and it's smaller. Thanks to this, however, the second sofa and the table can fit in - after connecting them, you can get an additional double sleeping place.
To ensure high thermal efficiency all year round, Bailey used the Alu-Tech system developed by him, using glass fiber reinforced plastics (GRP) in the construction of the trailer. The vehicle is properly ventilated and uses ALDE heating on cold days.
Very rich equipment
Retreat models are available in Great Britain from 23 thousand. pounds , but for this money the manufacturer offers a lot.
In the kitchen you will find an oven with grill, a gas cooker with three gas burners and one electric, a stainless steel microwave oven, as well as a 117-liter refrigerator that can be enlarged to 145 liters (by removing the freezer drawer from it).
In the bathroom, among others, about a heated towel rail and a basket for dirty laundry. There are two CD / MP3 players in the caravan, 8 sockets 230V inside and 1 outside. There is also a gas connection from the outside, which can be used, for example, to power the grill.
And as if all this was not enough, Bailey gives a 6-year warranty on the tightness of its trailers and a 3-year warranty on components.
Sometimes it is better to get lost than to ask for directions too much. Aldous Huxley
Enjoyed reading this article? Share it!