Swift Basecamp - lightweight for the price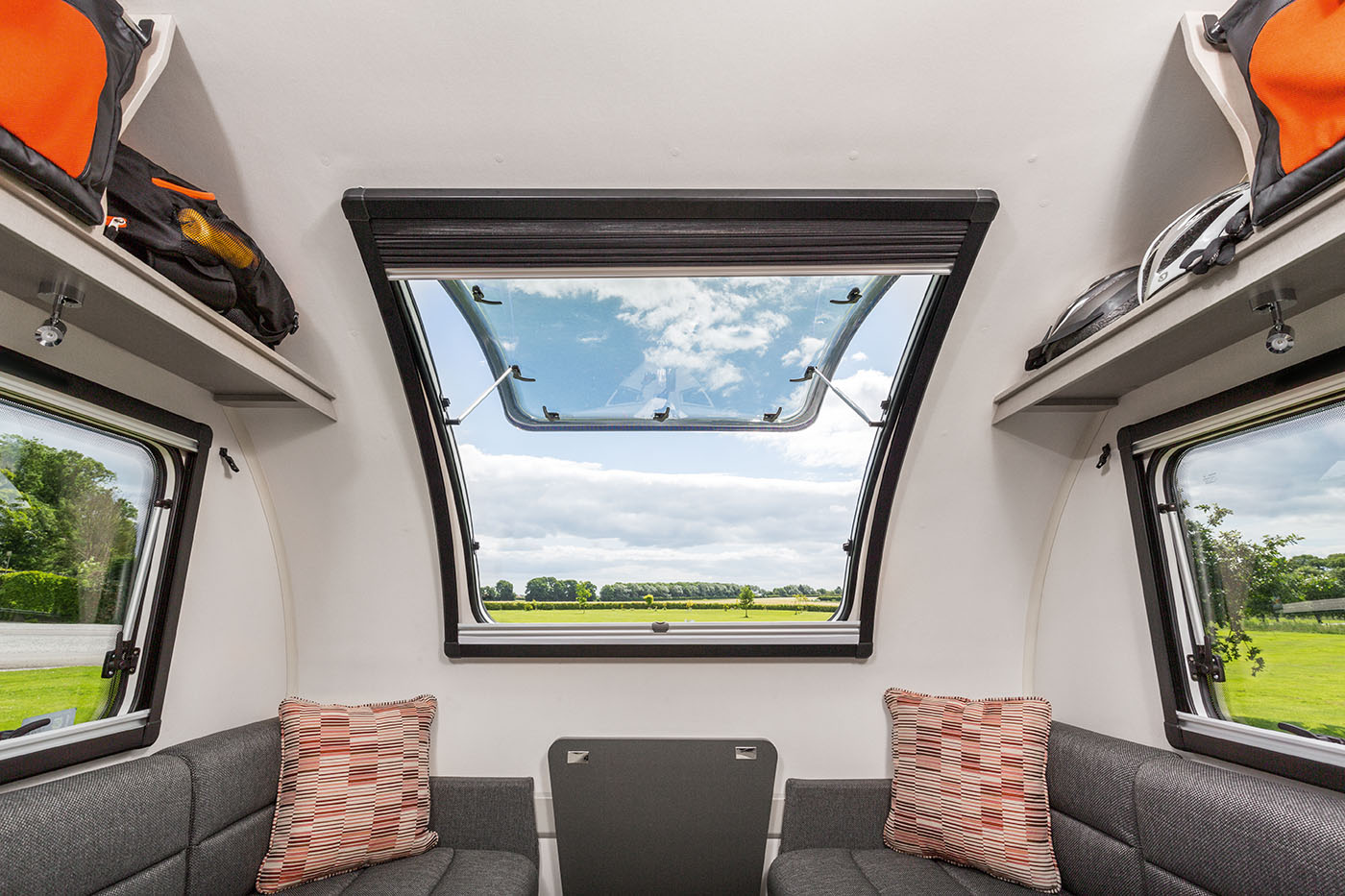 The Swift Basecamp caravan comes from Great Britain and there is no distributor in our country - so there is no chance that it will become popular in Poland. Nevertheless, it is worth taking a look at it, because it is currently one of the most interesting mass-produced trailers on the market.
Basecamp brings together most of the current trends as if in a lens. According to them, the caravan should be small, light, full of light , equipped with modern, modular furniture, and it should also give the possibility to personalize its appearance.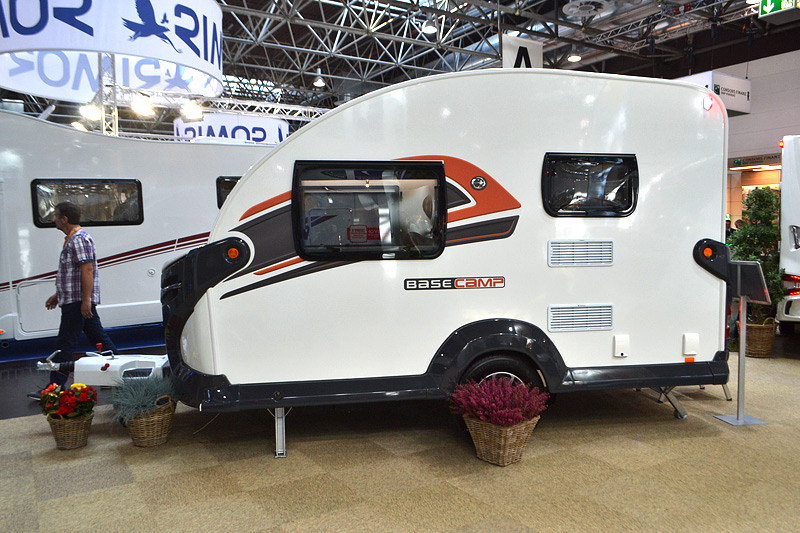 This is what Swift imagines a trailer for a modern and active person . And it must be admitted that he is not alone in this, because the designs of the Dethleffs Coco or Knaus Travelino caravans we have already described are based on similar assumptions.
A trailer like from Ikea
Swift Basecamp already stands out with its appearance - and it's not just the fact that the customer has a choice of 13 graphic themes , thanks to which meeting two identical-looking caravans will not be an easy task. The bevelled rear and the huge curved front window distinguish this vehicle from other trailers.
The interior is also impressive. We enter the trailer through the wide rear door and it feels as if we are entering an open living room . The floor has a pattern that resembles dark wood panels. In front of us - the already mentioned large window, which should let in a lot of sunlight (and if we do not want it, all windows have pleated blinds).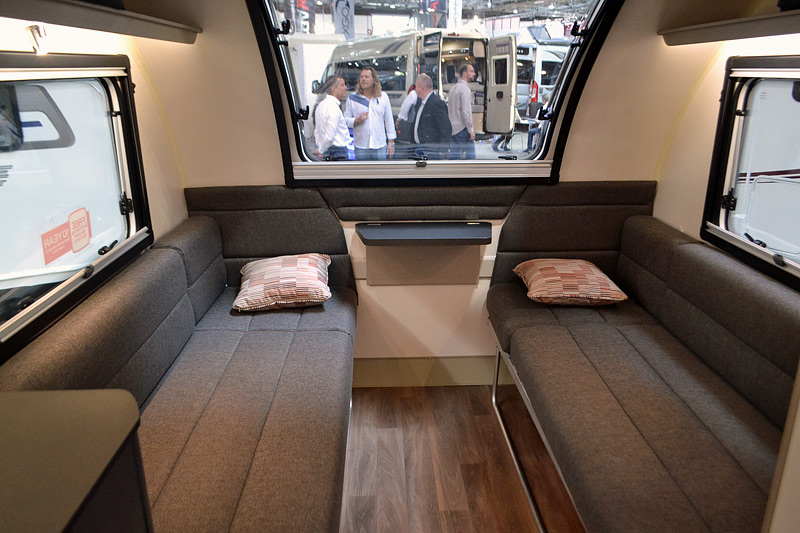 Under the window, on opposite sides, single beds on aluminum frames . Each of them measures 183 x 69 cm, although when unfolded, we can get one surface: 198 x 183 cm. Closer to the entrance, there is a kitchen area with a full-size oven, three-burner gas stove, 85-liter fridge with freezer compartment and a set of cabinets. On the opposite side, a very small bathroom with an economic shower - instead of a full head, we only find a ring with holes.
What about storage space? There is a wardrobe between the bathroom and one of the beds, and there are fabric baskets under the ceiling. We can also put something under the beds. The whole thing is kept in a white and gray style with black and orange rates. A la Ikea style.
The modern miracle diet
Swift wasn't just interested in giving his trailer a fresh look. There is a digital control panel above the door, and the on-board devices can also be controlled via a smartphone or tablet. Even when away from the vehicle, it is possible to determine its location, as well as control water, heating and lighting.
The most important thing, however, is that the Swift in its basic version weighs 891 kg , which means that the trailer can also be towed by small cars with relatively low power. However, it must be admitted that the standard load capacity is not too high, as it amounts to 111 kg .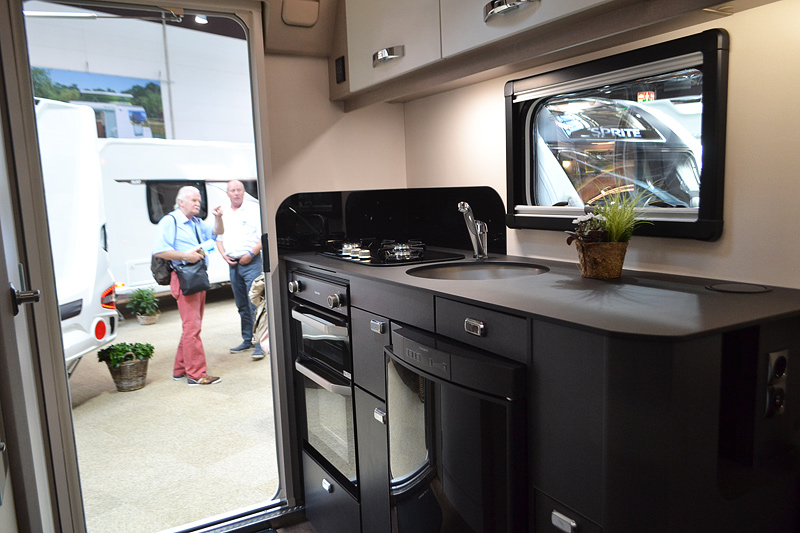 Low weight and at the same time high strength was achieved thanks to the frame made of hard polyurethane . There are no wooden elements here. The sheathing of the trailer and the floor are made of GRP material , which means greater impact resistance (compared to aluminum), and in the event of damage, easier repair.
The trailer measures 342 cm , is 228 cm wide and 258 cm high. The total length (with the drawbar) is 510 cm. Such dimensions, in the opinion of Swift specialists, should be optimal for people looking for a small, light and manoeuvrable caravan for active recreation. The goal here is to be able to quickly throw in the sports equipment you need and move forward, constantly changing your whereabouts.
A great idea, although the price may be a certain obstacle in its implementation. The model we saw during the Caravan Salon 2017 trade fair cost nearly PLN 22,000. euro . For such a small caravan - that's a lot, but the competitors mentioned at the beginning of this article are not cheaper at all. Innovation always has to cost.
Sometimes it is better to get lost than to ask for directions too much. Aldous Huxley
Enjoyed reading this article? Share it!