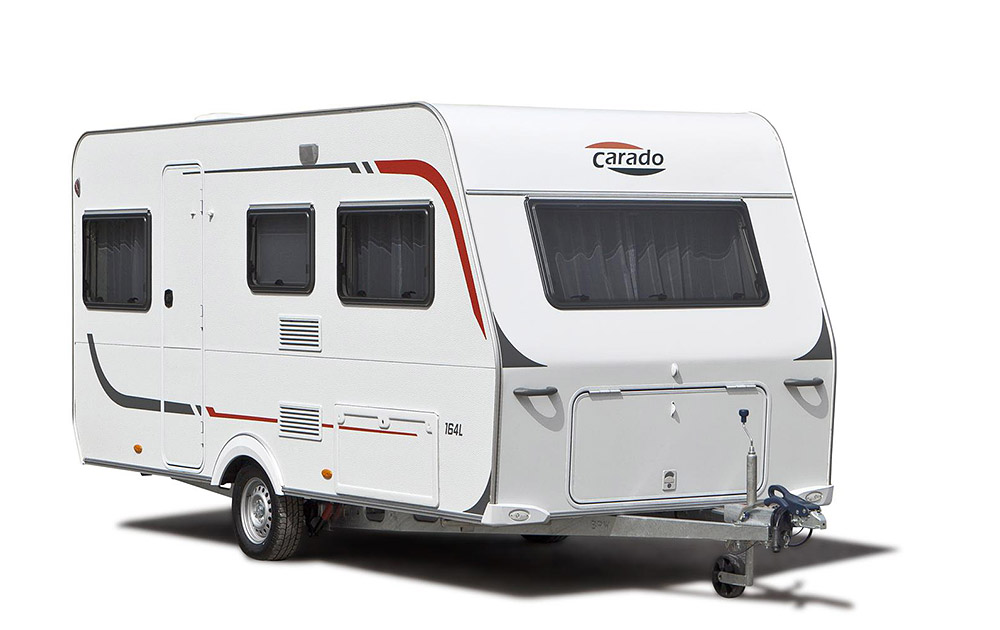 Carado Delight series trailers can be considered the German equivalent of the Polish Niewiadow - their advantage is certainly neither the design nor the equipment. However, they win with the competition in terms of price.
Carado's Delight models are offered in Germany from 9,200 euros. Such a price for a new caravan seems to be a really bargain, even if we compare it with the cost of purchasing another model of the same brand - Carado Caravans already cost at least PLN 14,000. euro.
Four lengths
For this price, we cannot count on "cool" equipment, but this trailer can be an alternative for those who are thinking between buying a new and used trailer.
Carado offers 4 versions of the cheapest model. The C 161 L is the cheapest and the shortest version. It measures 543 cm in total and its width is set at 260 cm. Inside, however, only 433 cm in length and 210 cm in width are available for use.
We can also choose longer and more expensive models. The C 160 L costs 9,399 euros and measures 593 cm. The C 164 L is 613 cm long and costs 9,799 euros. We will pay the most for the C 167 L model with a length of 653 cm. The price is 9,999 euros.
The cheapest model and the C 164 L can accommodate up to four people, while the other two models have only three sleeping places. Interestingly, despite the relatively modest size, each caravan has a place for both the kitchen part and the bathroom area with a chemical, rotating toilet, washbasin and shower tray.
Individual versions differ in detailed solutions regarding the interior layout - e.g. in the most expensive model, the two main beds are single, while in the remaining caravans they are double beds.
Everything necessary
Canadian walnut furniture is relatively modest, although it looks neat and does not lack anything. Each free fragment of space was used for practical cabinets and shelves. The floor is similar to that made of bamboo wood.
Also the equipment is decent. Regardless of which version of the body we choose, as standard we will receive a 89-liter fridge with an 11-liter freezer, storage for two propane-butane gas cylinders, high-quality foam mattresses, wooden bed frames, two 230 V sockets (for except for the C 161 L model, in which there is only one), ventilated storage compartments, Truma S 3002 heater.
The waste water tank (22 liters) is available in a higher version. The standard clean water tank has a capacity of only 12 liters, but for an additional charge it can be enlarged to 45 liters. The extras, however, are not expensive. A portable waste water tank costs around € 65, and an additional water tank (with a 5-year warranty) costs € 349. For 229 euro you can buy accessories for the shower part (shower and curtain).
To sum up, Carado Delight has everything necessary in a caravan produced today, which could be used by two people or a couple with a child. Last but not least, small dimensions will make it easier for novice users to lead. That is why Delight can be an interesting offer for those who are looking for their first, but necessarily new, caravan at an affordable price.
Sometimes it is better to get lost than to ask for directions too much. Aldous Huxley
Enjoyed reading this article? Share it!